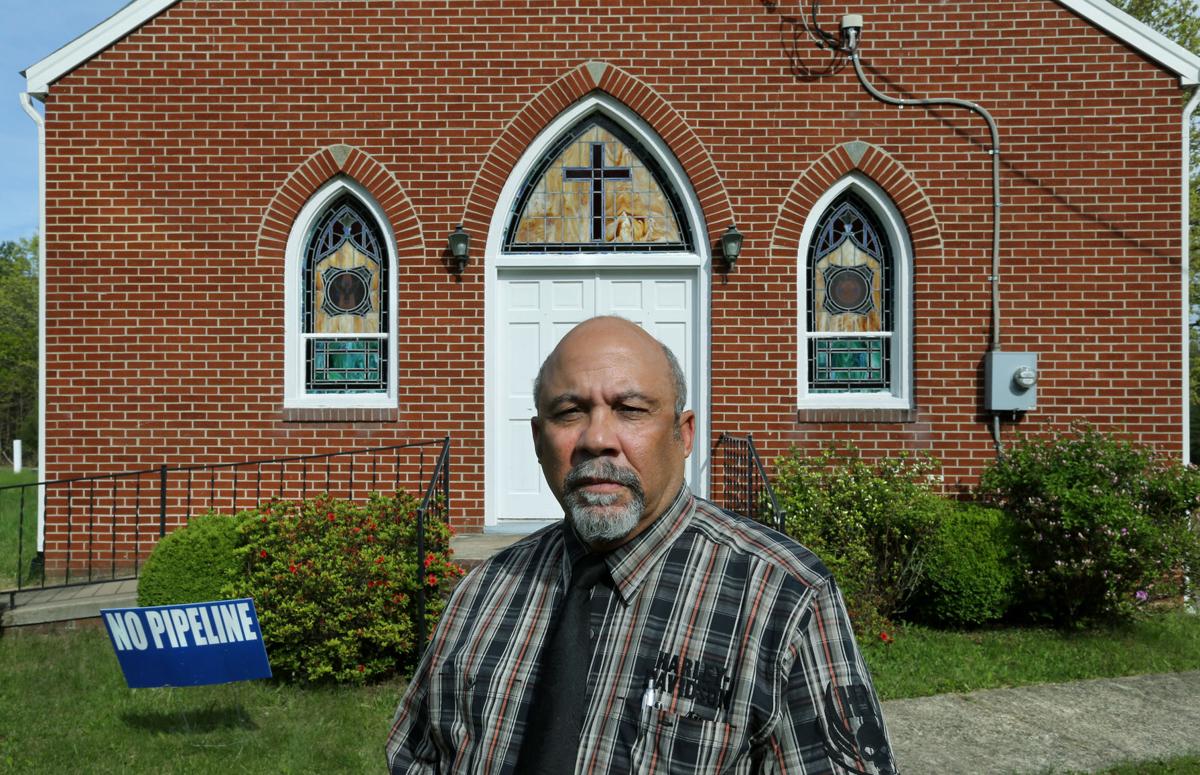 Changes to this story were made on Feb. 3, 2019
Democratic Gov. Ralph Northam's racist yearbook photo speaks to a broader trend of racism and environmental injustice, members of the Union Hill community in Buckingham County said at a press conference Saturday.
Held at the offices of Appalachian Voices in downtown Charlottesville, the press conference featured four members of the Union Hill community who sat quietly around a wooden table, reflecting on their efforts to combat environmental racism and Northam's connection to it.
Union Hill, a historically black neighborhood born out of the freedmen period, is the proposed site of Dominion Energy's natural-gas compressor station, which would serve the proposed Atlantic Coast Pipeline.
For four years, residents of Union Hill have been drawing attention to environmental racism and the dangers a compressor station could cause for the community.
"We still have to remember that this is a Southern state and there are Southern values that are very deep-rooted," said Paul Wilson, pastor of Union Grove Missionary Baptist Church and leader of the movement to stop the compressor station.
Northam's medical school yearbook spread, which features a photo of a man in blackface and another dressed in a Ku Klux Klan robe, is certainly shocking, said Wilson, but not to those who have been following Northam's record.
"When these things flare up, it's hard to just move away from it because you have to look at the individual's record," Wilson said. "It really makes you wonder when you look over his record and his life how much of that kind of thinking was reflected in the decisions that he made."
Though he said he would not be the first to cast a stone, Wilson said it may be best for the commonwealth if Northam resigned.
For years, Wilson and others have been combating the proposed station, and on Nov. 9, two members of the State Air Pollution Control Board expressed concerns about the danger air pollution from the station could pose to the Union Hill community.
Less than a week after expressing their concern, the two members, Rebecca Rubin and Samuel Bleicher, were notified by Northam's administration that they were being removed. Although their terms had expired in June, some say the timing of their removal from the seven-member board was related to the compressor issue.
Union Hill resident Ruby Laury said she was surprised when Northam's yearbook photos surfaced, but she then came back to his actions around the Union Hill compressor station.
"I immediately thought of the actions that the governor took in November when he suddenly dismissed those two board members," she said.
John W. Laury had a slightly more optimistic takeaway from the controversy. If Northam wasn't going to resign, then maybe the scandal would make him more likely to listen to the Union Hill community, he said.
"There was a chance for him to stop this, and he didn't," Laury said. "But maybe now is a chance for him to listen to us."
To Lakshmi Fjord, an anthropologist and Friends of Buckingham Steering Committee member, Northam's actions more than 30 years ago reflect an everyday racism that she and other members of the Union Hill community have experienced in recent years.
"This revelation about this picture on his page and the sort of familiarity with this behavior of that time isn't as concerning to those of us who have been working on the environmental justice issues around the compressor station," she said. "For us, it's the everyday racism that's taking place in all the permit hearings and all the decisions that he has made and were made by former Gov. Terry McAuliffe before him."
McAuliffe was among the first to call on Northam to resign.
Though Fjord said there has been an assumption that the fight is over following a Jan. 9 unanimous vote by the air pollution board to approve the station, none of the members of the community plans to stop fighting.
Fjord said the best way to combat the station's construction at this point is for Dominion customers to let the energy supplier know they're not in favor of the pipeline. The pipeline revolves around money, she said, and minority communities are being targeted.
Tyler Hammel is a reporter for The Daily Progress. Contact him at (434) 978-7268, thammel@dailyprogress.com or @TylerHammelVA on Twitter.