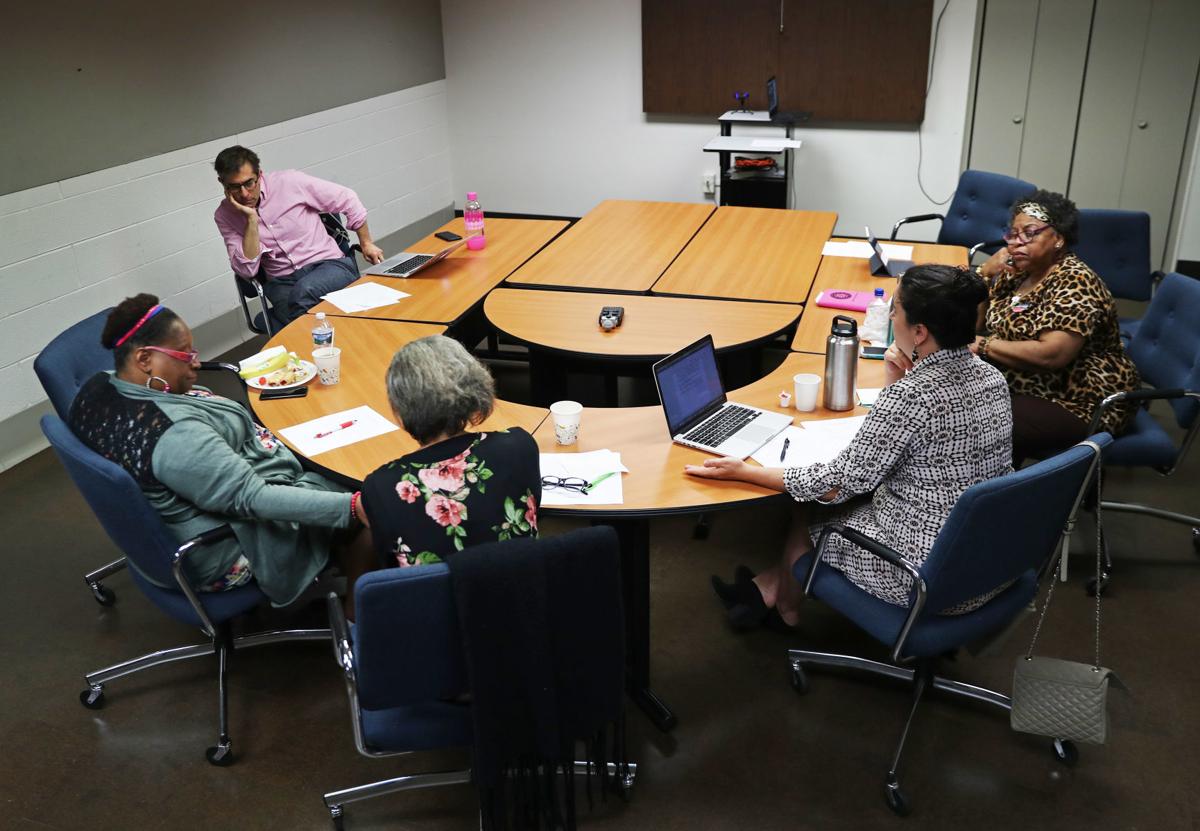 Update 1/21/20: This article was updated to reflect Kristin Schroeder's application. The application was submitted ahead of the deadline, but encountered a file error.
Charlottesville's City Council now has 25 applicants for the Police Civilian Review Board, including an airline executive, three military veterans, a plumber and the former undersecretary of the U.S. Army.
Twelve new applications were submitted ahead of the Jan. 15 deadline, according to Clerk of Council Kyna Thomas.
The council already had 14 applicants and planned to interview them in December, but reopened the process because it wanted to ensure candidates could meet the criteria set for CRB members.
The new candidates are Gwendolyn Allen, Joshua Carp, Brad Carson, Paul Dobryden, Deirdre Gilmore, Dorenda Johnson, Lillian McVey, Dr. Alexander Munjal, Barbara Myer, Michael Parham, Kristin Schroeder and Campbell Turner.
The council approved the ordinance and bylaws for the police oversight panel in November amid public outcry that the final structure was too weak.
The board's purpose is to improve trust between the Charlottesville Police Department and the community in the aftermath of the deadly 2017 Unite the Right rally.
The board will include seven voting panelists and one nonvoting member.
Four of the voting members must meet certain guidelines and it's unclear if the applicants meet those criteria.
Three people will be appointed from a historically disadvantaged community or will live in public housing.
One member will represent a racial or social justice organization. That member can live or work in the city. All other board members must be city residents.
The nonvoting member will be someone who has policing expertise or experience, according to board documents.
Members cannot be city employees, candidates for public office, former Charlottesville Police Department employees or immediate family members of a current employee of a law enforcement agency.
Applicants used the standard application for city boards and commissions and didn't differentiate which seat they might qualify for.
One of the 14 candidates who applied in the original process, Jehu Martin, withdrew his name from consideration.
The 13 remaining candidates who applied in the first round of applications are Lucas Beane, a volunteer data analyst; Bellamy Brown, a financial adviser and former City Council candidate; Nancy Carpenter, who works in the community assisting and advocating for people who are homeless; Stuart Evans, a Title IX investigator for the University of Virginia; attorney Elliott Harding, who challenged Sen. R. Creigh Deeds, D-Bath, in 2019; Vicki Hawes, the University of Virginia's assistant director of off-Grounds housing; Kevin Healy, a former airline executive and CEO of a Northern Virginia consulting firm; Jaree Magee, who has worked in the mental health and child advocacy fields; William Mendez Jr., a retired data scientist; John Pfaltz, a U.S. Navy veteran; Claudia Sencer, a nurse and photographer; Anthony "Tony" Wasch Jr., a retired plumbing salesman; and James Watson, president of a U.S. Department of Defense consulting contractor.
The council will discuss next steps in the appointment process prior to its meeting on Tuesday.
Allen. She has lived in the city for 48 years. In her application, Allen wrote that she was in a situation that "was not handled correctly. I was rushed to make a decision with no guidance or counsel."
She doesn't elaborate on the situation or if it involved law enforcement, but wrote that she doesn't want anyone to be in the same situation.
Carp. A software engineer for the Democratic National Committee, he has lived in the city for six years.
Carp is a member of Indivisible Charlottesville, Charlottesville Democrats and Charlottesville Democratic Socialists of America, a group founded in part by Councilor Michael Payne.
He graduated from Haverford College with a degree in psychology in 2007 and received a master's and doctorate in cognitive neuroscience from the University of Michigan.
Carson. A professor of public policy at UVa, he was one of the top Pentagon officials under former President Barack Obama.
Carson was general counsel of the U.S. Army from 2012 to 2014 and was then appointed undersecretary of the Army in 2014, the second-highest civilian position in the branch.
Obama then appointed him as the acting undersecretary of defense for personnel and readiness in 2015, a role he held for a year. In that position, Carson oversaw human resources, military readiness and education and training for the entire military and implemented several changes, including opening all combat positions to women and allowing transgender people to openly serve.
He served in the U.S. House of Representatives as a Democrat from Oklahoma from 2001 to 2005.
Carson is the only person who voted to authorize the U.S. war with Iraq and later fight in it, according to the Centre for Public Impact, a government research organization.
Carson served as an intelligence officer in the U.S. Navy and received a Bronze Star for his service, according to the Tulsa World.
Carson wrote that while he's only lived in the city for about a year, he wants to help improve relations between the police department and community.
"I believe that the relationship between the police and the city are critical to its success," he wrote.
Dobryden. He is a professor in UVa's department of Germanic languages and literatures and has lived in the city for about three years.
Dobryden received a bachelor's from the University of Michigan and a doctorate from the University of California at Berkeley.
He wrote in his application that police need to be accountable to the community.
"Police are granted extraordinary powers, and should therefore be subject to extraordinary oversight," he wrote.
Gilmore. She is a lifelong resident of the city and a member of the Public Housing Association of Residents.
Gilmore wrote in her application that she wants to represent low-income neighborhoods on the board.
Johnson. She has lived in the city her whole life. Johnson was a member of the city's Human Rights Task Force and served three years on the Human Rights Commission.
Her application focused on a respectful dialogue between the community and police.
"I want to see CPD able to work and get along with every community in a fair and transparent manner," Johnson wrote.
McVey. She has lived in the city for four years and used to work for the city's Human Services department.
McVey has a bachelor's in conflict resolution and analysis from George Mason University and a master's in counseling from UVa.
In her application, she focuses on her work with the Department of Social Services, highlighting how police encounters can lead to trauma.
"As an advocate for people with serious mental illness, my clients talk to me on a regular basis about their fear of the police in this community and not feeling comfortable reporting crimes or acts of violence," she wrote.
Munjal. A psychiatrist at Western State Hospital in Staunton, he has lived in Charlottesville since July 2015.
Munjal wrote in his application that he works directly with people who have come into contact with law enforcement and then ended up in jail or the hospital.
He wrote that he can bring his public and mental health knowledge together to assist the board in its mission.
Myer. She has lived in the city for 25 years and mentioned in her application that she doesn't have the education that a lot of people in Charlottesville have.
However, Myer wrote, she is committed to seeking justice and wants to serve the city on the board.
Parham. He has lived in the city for 25 years and is an intern on the board of the Public Housing Association of Residents.
Parham wrote that he wants to educate residents on their rights and get a better understanding of police procedure in the city.
Schroeder. She has lived in the city for about three years. Schroeder has a bachelors in german studies and a masters and doctorate and art history from the University of Michigan.
Schroeder is a member of the Charlottesville Democratic Socialists of America.
In her application, Schroeder says that she wants to support "the campaigns for racial and economic justice" in the city and that oversight of CPD is an important part of the process.
Turner. He is a UVa student studying global security and public policy.
Turner wrote that he served on the Youth Advisory Council in Winston-Salem, North Carolina, and part of that body's work was partnering with the police department.
He acknowledges his youth, but says he wants to bring that perspective to the board.
"I understand that my young age might cause doubt," he wrote, "but I believe it is a strength."
This article has been updated to reflect Stuart Evans' current occupation.