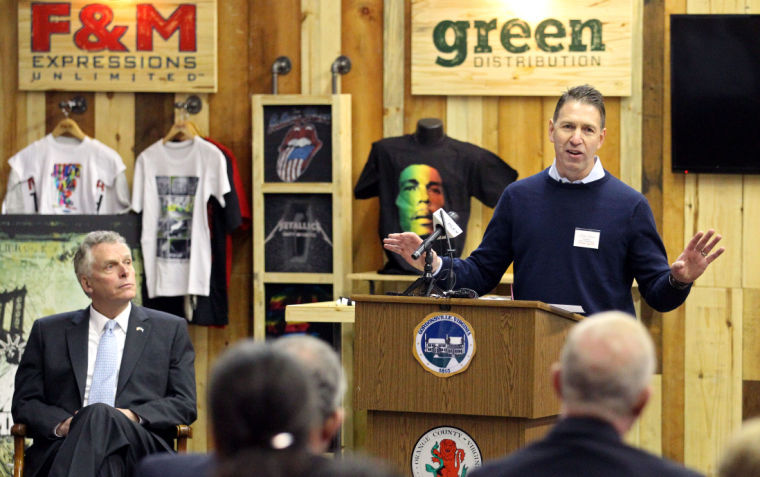 GORDONSVILLE — Green Applications, a textile merchandise printing and distribution company, plans to invest $9.75 million to establish operations in Gordonsville, creating 323 jobs in the process.
Based in Secaucus, N.J., and founded in 2009, Green Applications is a division of Green Distribution. The company designs, screen-prints, produces and distributes graphic art on heat transfers and apparel.
Arriving a few minutes after 11 a.m. Friday, Gov. Terry McAuliffe formally announced the news in front of a wood-paneled backdrop filled with examples of the company's products, which included T-shirts bearing the logos of The Rolling Stones and the likenesses of The Beatles and Bob Marley.
"Several years ago, this facility closed and we lost 130 jobs," McAuliffe said. "Today, we're back here again and this facility is reopening with 323 new jobs. It's truly incredible."
American Press formerly occupied the building. The company closed the Orange County facility in 2011. In operation for nearly 40 years, American Press cited a downturn in business as the main reason for leaving Gordonsville.
Green Applications was considering expanding in New Jersey or Florida. To help close the deal, McAuliffe approved a $540,000 grant from the governor's opportunity fund to assist Gordonsville and Orange County with the project.
"I'm thrilled to be able to look for an employee base here in Virginia that can help us build this business," said Green Applications President Robert Butters. "The decision to move here wasn't easy. … We could have stayed in New Jersey, but business isn't always as easy as they make it on 'The Sopranos,'" Butters quipped.
The Virginia Department of Small Business and Supplier Diversity, through the Virginia Jobs Investment Program, also will provide funding and services to support the company's retraining activities, the governor's office said.
The first machines are slated to arrive at the end of April and "I imagine we'll be heavily in production at the end of the year," Butters said. The company plans to use all of the facility's 170,000 square feet.
"It's really impossible to overstate the importance of this many jobs for any community," Gordonsville Mayor Bob Coiner said during a ceremony that drew scores of business and community leaders from across the region.
The project was facilitated with assistance from the Virginia Economic Development Partnership, the Central Virginia Partnership for Economic Development and town and county leaders, according to an announcement from the governor's office.
"Economic development is a team sport," said Helen Cauthen, president of the Central Virginia partnership. "How it works is when we all work together to make it work."
Maurice Jones, Virginia's secretary of commerce, also was in attendance Friday.
The company's commitment, Jones said, is "a great statement about Virginia's attractiveness to businesses, and that's what it's all about at the end of the day."