The high school experience in Albemarle County is changing, and a pilot center is ground zero for what the future could hold.
Twenty-one high school seniors have taken over part of the second floor of the old Comdial Building in Seminole Place, which is the home to the pilot center that opened this school year. They're working on a range of projects from sculptures to podcasts and earning class credit.
"Now I wake up and don't dread learning," said Joe Rifkin, a senior at Albemarle High School who attends Center One at Seminole Place.
Rifkin has worked with Dylan Shifflett, a fellow Albemarle senior, to make numerous films and music videos. They and other students at Center One sing its praises and enjoy the freedom to decide how they spend their time and what they want to work on.
Center One at Seminole Place, formerly referred to as Albemarle Tech, is the first phase of a plan to re-imagine high school in the county and address capacity issues.
"They come here because they have this strong interest and passion," said David Glover, the head teacher at Center One.
Officials point to the student experiences and their engagement in the projects at the center as evidence of the pilot's success. The division is hoping to add more students in subsequent school years. The center's capacity is 150 students, and the goal for next school year is 60 to 80 students.
The School Board opted for the center model in December 2017 after a years-long conversation about the needs of the division's high schools.
Consultants looked at the high school facilities, current capacities and future needs. Western Albemarle and Albemarle High schools are projected to be over capacity in the coming years. The consultants recommended opening campus learning centers.
"It's looking more at Albemarle County as one big campus with different buildings," said Jeff Prillaman, chief planner for Albemarle's specialty centers. "… It's looking at our division differently than, 'you are here and you only get the programs offered at this school.'"
Students from any of the high schools can apply and there are no set requirements.
"We're trying to attract and pull in students who have a strong interest that they don't get to devote a whole lot of time to," Glover said.
Glover worked at Monticello High School for nine years before moving to Center One. Over the years, he worked in the school's library and taught audio production. He said his classes were grounded in the principles of project-based learning.
"I definitely feel like I was the right person [for this job]," he said. "I spent nine years really preparing for this moment."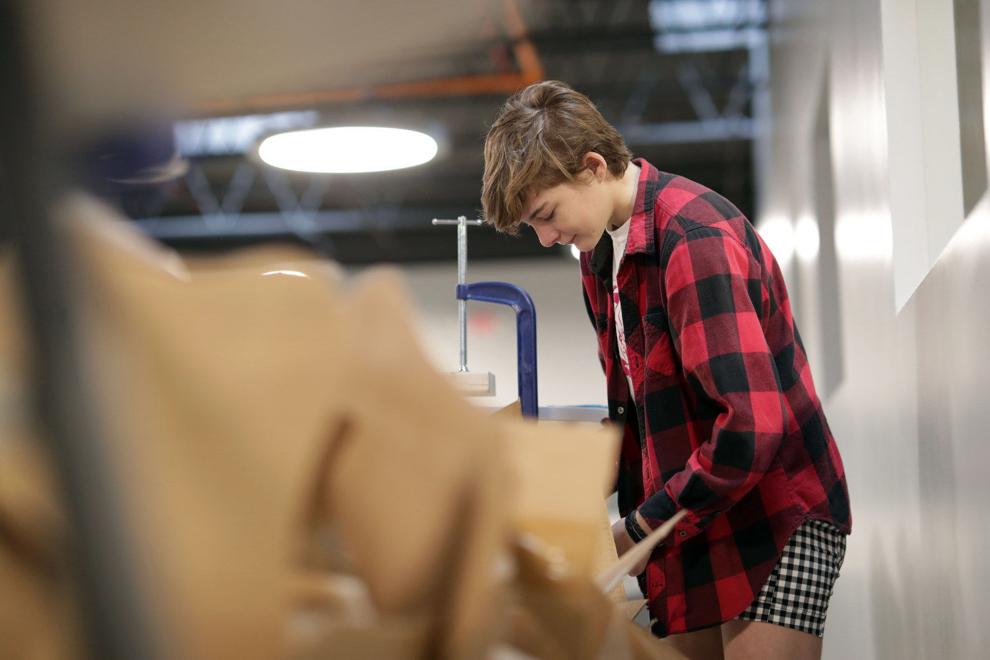 Mia Donalson, a Western Albemarle senior, came to Center One to focus on art.
"Before, I would [work on art projects] after school in my bedroom," she said. "By coming here, I'm able to expand my passion."
She mostly works on 3-D sculptures for an Advanced Placement art class. She's made a ying-yang symbol out of cardboard and a 12-foot dragon, among other projects. The dragon was something she joked about making before starting at Center One.
"I'm actually getting to build what I want to build," she said. "Having the chance to create something that I've jokingly said is amazing. I can't do that anywhere else."
Donalson recently worked on a sculpture outside a studio space. Other students work in studios, small rooms, the workshop or the commons area. Glover said the spaces have evolved during the year based on student interest.
"We designed the learning center so it can be flexible every year," Glover said.
The School Board's funding request for fiscal year 2020 includes $470,793 to continue Center One and grow the staff. A second center with a capacity of 400 to 600 students is planned to open in 2021, but the division is still looking for a location.
The center is a model for High School 2022, an initiative to rethink the high school academic experience. It includes incorporating more project-based learning and interdisciplinary instruction, among other things.
"Center One is this huge interdisciplinary environment where kids are learning all kinds of different skills," Prillaman said.
He said he envisions the second center as more structured, but he and other division officials are still wrestling with how much structure is necessary.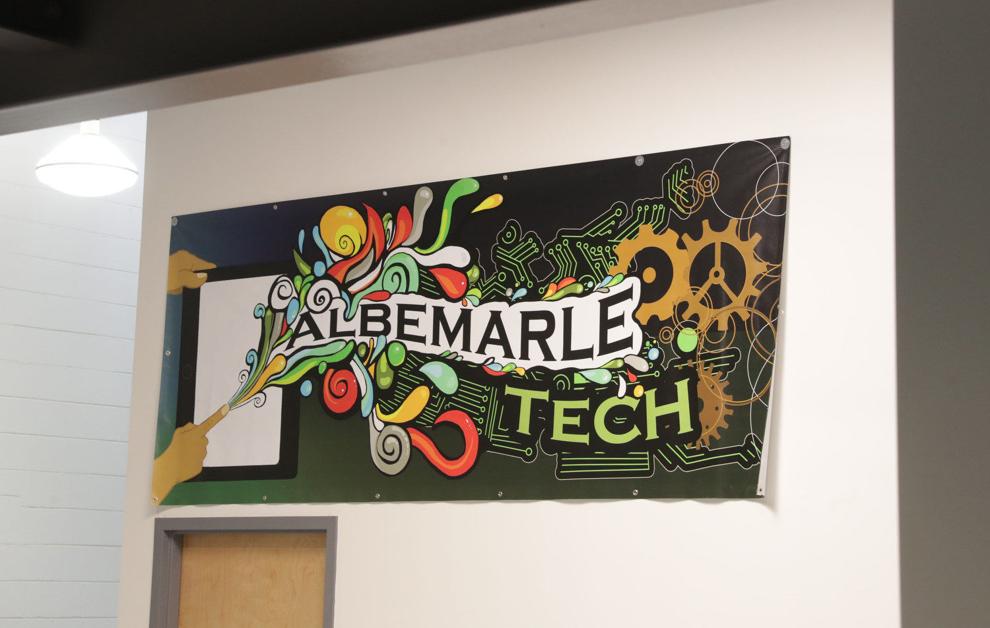 This pilot year has helped division staff to better understand how the center model works and what kinds of classes they can support, he said. Hiring another instructor is included in the funding request.
"We've learned how to be respectful of our neighbors when the students are playing music," he said. "We've learned that every trip to Lowe's to buy stuff costs several hundred dollars. There's a budget component to project-based learning that we need to really have a better grasp on."
Prillaman said each student received a budget for their projects.
"We tried to keep them within that budget," he said. "It's something that's challenging. There are some projects that need more money than others."
Students also have turned to Craigslist and donated items for their projects.
"There's been a lot of scrounging for supplies," he said.
A third of students at Center One are getting credit for core courses needed for graduation while the others are getting credit for electives, Prillaman said.
Matching the course to a student's project requires one-on-one conversations and a personalized approach.
Glover said he thinks of his role as a project manager.
"We want to find a project that connect to students and the curriculum," he said. "We're offering a lot of [career and technical education] credit."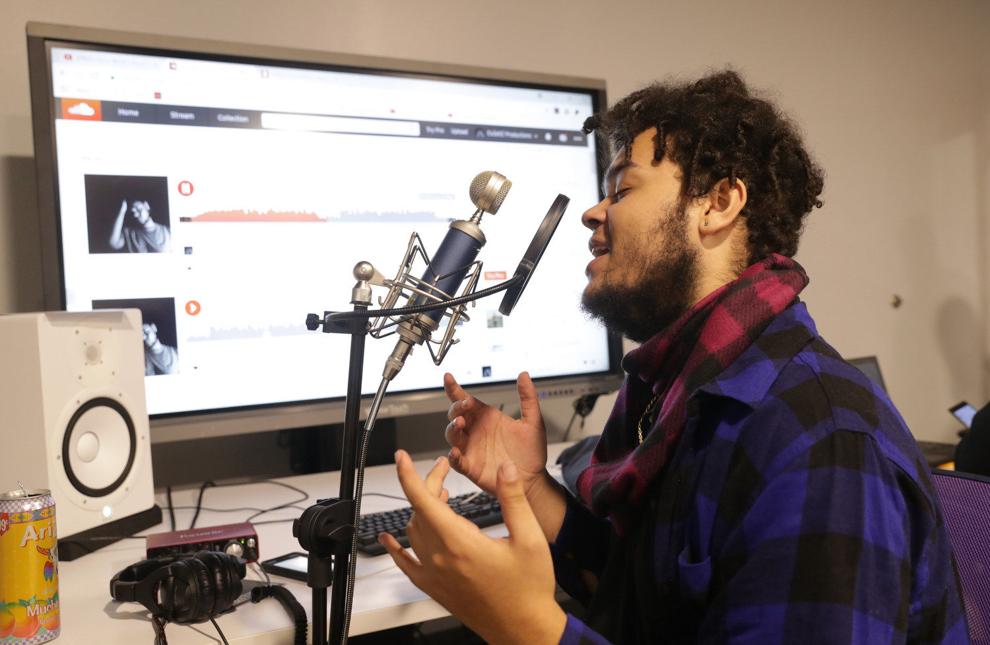 Division staff met with each student in the pilot class to determine which classes they needed for graduation and how Center One could fulfill those requirements. Currently, between Prillaman and Glover, students can take English or math at the center in addition to electives.
Prillaman said he has training to teach math, and Glover is qualified to teach English and career and technical education. Through projects, students demonstrate their competency in the course to earn credit.
However, Prillaman acknowledged that a student's interest doesn't always align with the course they need to graduate. For example, students in his statistics course have a typical 90-minute class twice a week at the center and then return to their projects.
"Some things you can't fit into what it is they are doing," he said.
For seniors who have fulfilled graduation requirements, Prillaman said Center One gives them an opportunity to fill their schedule with more than study halls, early releases and late arrivals.
"Now, they're in an environment where they are learning and collaborating with other kids," he said. "… For some kids, this is a chance to come in and do something and work with people or work with professionals that they wouldn't have if they were at home doing this by themselves."
Monticello senior Jack Kircher came to Center One to work on a sound engineering project. In the first semester, he was able to produce his longest album so far.
"The music that I'm making, this is my best work," he said.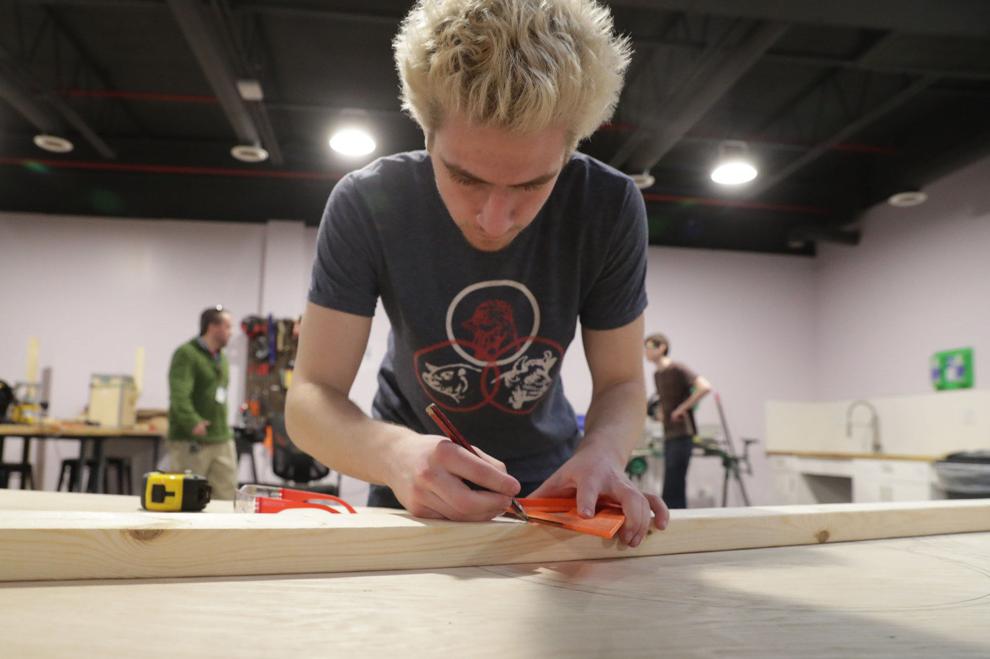 Kircher said music is his hobby, and he's thinking of studying business management. At Center One, he's worked with a team of students on a music performance that included building a stage. Beyond music, Kircher said he's learned construction skills and how to manage people.
"I love it here," he said. "I get to do projects all day."
However, Kircher and other students said their time at Center One has made transitioning back to their base schools more difficult. They enjoy the freedom at the center and not having their schedule dictated by bells.
"At my base school, I feel like we're herded through halls like cattle," he said.
Kircher said his experience at Center One makes him feel more prepared for the transition to life after high school.
Donalson, the art student, said that most of the time she's at Western Albemarle, she wants to be at the learning center, where she's less stressed.
"I have the freedom to express myself," she said.
Katherine Knott is a reporter for The Daily Progress. Contact her at (434) 978-7263, kknott@dailyprogress.com, or @knott_katherine on Twitter.