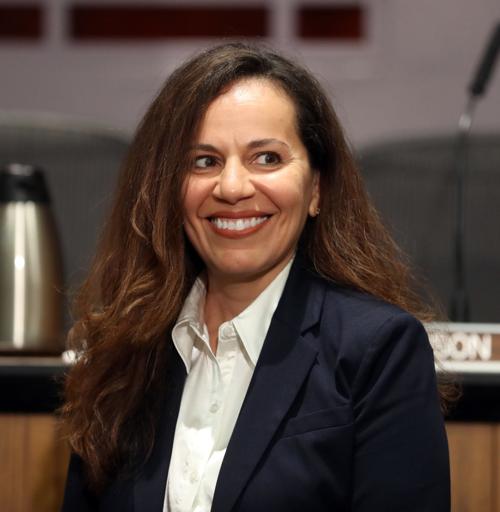 Following City Manager Maurice Jones' recommendation of RaShall M. Brackney for Charlottesville police chief, more past controversies and unfounded accusations surrounding Brackney have come to light.
Jones made the recommendation Tuesday, and the City Council will formally consider Brackney's appointment at its meeting Monday.
Brackney, a retired 30-year veteran of the Pittsburgh Bureau of Police and the former chief of George Washington University's police department, has been tapped to replace Al Thomas. Thomas, the city's first African-American police chief, retired, effective immediately, in December following the release of an independent review of the handling of the Aug. 12 white nationalist rally.
Brackney, if hired, will be the first African-American woman to lead the Charlottesville Police Department. She was the top choice out of 169 applicants.
However, in addition to being sued, Brackney was the subject of a prosecutorial investigation, and a protective order against her once was requested.
Brackney was never found to be in the wrong in any of the allegations.
While serving as a police commander in Pittsburgh in 2007, Brackney was subject to an "extensive investigation" by Allegheny County District Attorney Stephen A. Zappala Jr. after she drove a friend away from the scene of a crash in her own vehicle.
According to the Pittsburgh Post-Gazette, the investigation was ended in 2009 after Zappala cited a lack of evidence needed to file criminal charges against Brackney.
In 2012, Andrew M. Lee, owner of Executive Cigars LLC in Pittsburgh, filed a protection-from-abuse order against Brackney and, according to the Post-Gazette, claimed they had been in a romantic relationship and that she had threatened to use her powers as a commander to destroy his business.
Brackney vehemently denied Lee's claims. An Allegheny County judge dismissed the PFA order, citing a complete lack of evidence of a romantic relationship between the two.
During her time at George Washington University, Brackney was accused of violating Title IX policies in a federal lawsuit in early 2017 after a prospective master's student's admission was rescinded following an alleged domestic dispute. According to court documents, the lawsuit was dismissed with prejudice in September, and each party was to pay its own costs and attorneys fees.
Following a change of guard at GWU, Brackney stepped down from her post after only two years on the job. The department's deputy chief also resigned.
"Experts said the dual resignations could be an indication that new university leadership is dissatisfied with the direction and management of the department, especially with the arrival of a new university president last August," the GW Hatchet reported in January.
The lawsuit did not play a role in Brackney leaving her post, she said last week.
In a Facebook live video last week, Charlottesville Mayor Nikuyah Walker answered a question about the lawsuit.
"There hasn't been any lawsuit against her that's pending, that's founded or anything," she said. "You could probably find a lawsuit against me."
Walker later went on to say that she hopes Brackney actually does everything she said she would do in her interview.
"If I'm wrong about what I heard her say, her energy, I will tell you as soon as it becomes clear to me that I was wrong," Walker said.
Jones said Brackney was forthcoming about the allegations against her in Pittsburgh and how nothing had come of them.
"She was cleared of any wrongdoing and the allegations were deemed to be unfounded by a judge and by her department," he said. "It's obvious by the many awards and recognition she received after she was cleared that the people of Pittsburgh were not fazed by those unfounded allegations."
Brackney could not be reached for comment for this story.
Jones provided a list of those who sat on the community panel that helped to decide the selection for police chief.
The members of the 14-person panel were:
» Janette Boyd-Martin, president of the Albemarle-Charlottesville NAACP;
» Martin Burks, president of the Jefferson School Community Partnership;
» Joan Fenton, chairwoman of the Downtown Business Association of Charlottesville;
» Don Gathers, an activist;
» Michael Gibson, chief of the University of Virginia Police Department;
» Mindy Goodall, executive director of the Charlottesville Police Foundation;
» Brennan Gould, director of programs at the Charlottesville Area Community Foundation;
» Mark Heisey, an activist;
» Richard Hewitt, of Keswick Vineyards;
» Julie Jones, executive director of Advancing Green Chemistry;
» Carlos Marrone of Charlottesville's Human Rights Commission;
» Amy Morris, local probation officer;
» Pat Smith, executive director of Offender Aid and Restoration/Jefferson Area Community Corrections; and
» Phil Sparks, interim president of the Charlottesville Regional Chamber of Commerce.
The City Council will meet at 6:30 p.m. Monday at City Hall to discuss Brackney's appointment. All councilors already have expressed approval for Brackney and she is expected to be hired. Her starting salary would be $140,000.
A public hearing on the city's new Citizen Police Review Board also will be held at Monday's meeting.
Tyler Hammel is a reporter for The Daily Progress. Contact him at (434) 978-7268, thammel@dailyprogress.com or @TylerHammelVA on Twitter.