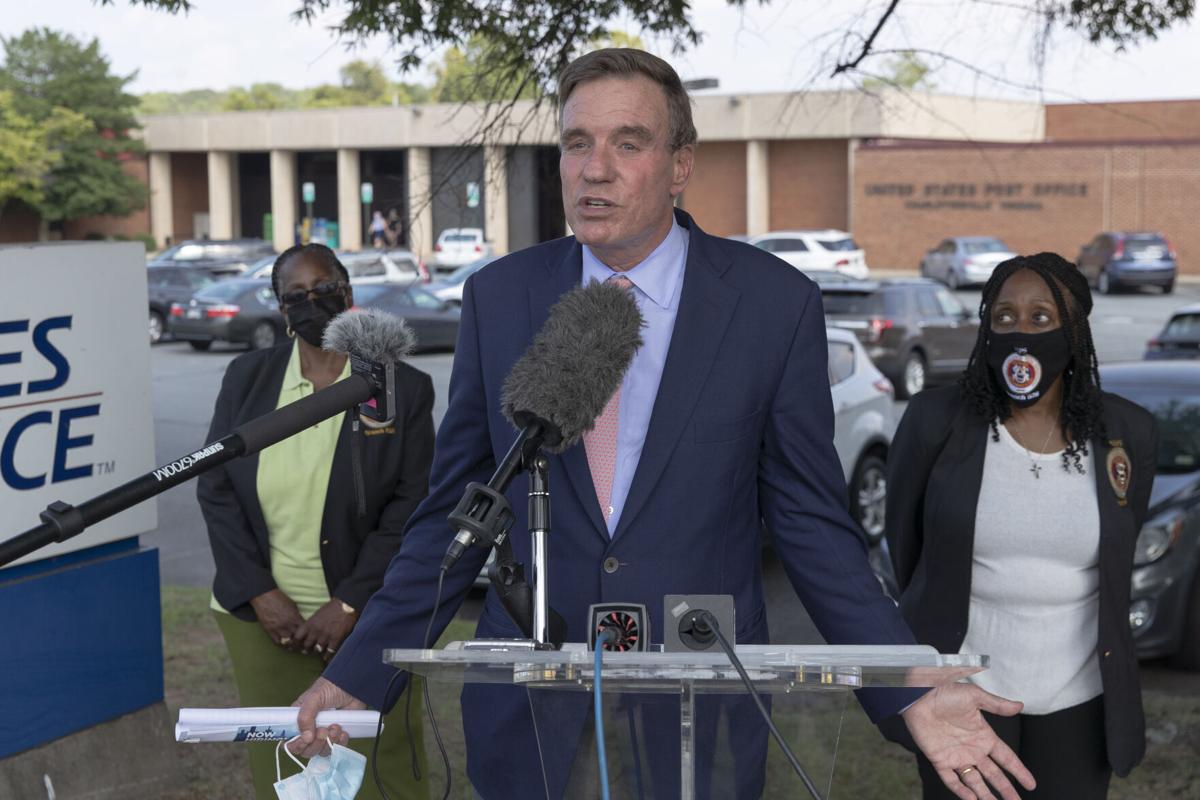 U.S. Sen. Mark R. Warner visited the Charlottesville Post Office on U.S. 29 on Monday to address the hundreds of complaints he said he's received about mail delivery in the Charlottesville-Albemarle County area.
"I've been getting many more complaints about mail delivery in Charlottesville by far than anywhere else in the commonwealth," said Warner, a Democrat.
Area residents have complained that they have had to wait up to two weeks for mail delivery. Warner said he received a large spike in complaints in the past week.
On Monday, Warner and Sen. Tim Kaine sent a joint letter to Gerald Roane, Virginia district manager for the United States Postal Service, voicing their concerns with the mail service in the Charlottesville area.
Warner was given a private tour of the facility and had the chance to speak with postal workers privately before he held a press conference. The senator commended postal workers for their hard work and perseverance throughout the COVID-19 pandemic.
"There's nobody that is more critical than our postal workers throughout COVID. They didn't have a chance to work at home; they had to come in through a challenging environment," he said.
Warner said the major issues resulting in mail delays are understaffing and management problems. The Charlottesville Post Office is short about 14 carriers. Locally, the post office has been holding three job fairs a week and sending out postcards advertising the job openings to local residences.
Warner said the problem comes from the top and he blamed U.S. Postmaster General Louis DeJoy for some of the issues that have trickled down to localities.
"It would be my personal view that a lot of this came when [Donald Trump] appointed DeJoy to be the overall postmaster general. He raised a series of concerns where he was, frankly … doing things that I felt were not appropriate," Warner said.
Warner said he hopes the Charlottesville Post Office's recently hired postmaster will be able to mitigate some of the issues with mail delivery locally.
The problem isn't new. In June, several eastern Albemarle County residents complained of mail delays. At that time, Warner and Kaine submitted a letter to DeJoy about the issues.
Warner said that in many areas of Virginia, the number of complaints he's gotten has declined as mail delivery has improved. But that's not the case in Charlottesville and Albemarle County, he said.
Some area residents have been experiencing more extreme delays over the past several weeks.
Charlottesville resident Tony Wasch has not received mail in over a week, leading him to stand in line at the post office twice to see if he could retrieve any of his mail.
"I know that I have bills in this backlogged mail that need to be paid," he said.
Wasch attended Warner's press conference hoping to get some answers. He is frustrated with the service, but he blames poor management, not the carriers.
"There's nobody that should take their problems out on these people. My mailman … is the nicest person … They did not create the problem. Please don't take it out on them," he said.
Wasch said that while he is a lifelong Republican, he would vote for Warner, a Democrat, if he is able to fix the problems with the mail.
Charlottesville resident Betty Mooney said she and her neighbors didn't receive mail for two weeks, except for Amazon packages. Mooney said on Monday that she found out there is not currently a dedicated mail carrier for her route, and that another carrier will be delivering their mail once a week.
"It's just such a lack of trust now that I have in the Postal Service and I feel really sad about it. It's not the carriers' fault. They're doing all they can. They're working long hours," she said.
Mooney said she is concerned this will create an equity issue, especially for people who don't have internet access to pay bills online.
"[The Postal Service] was the one institution that it didn't matter if you were a Republican or a Democrat, rich or poor; everyone was treated the same," she said.
Representatives from the Virginia branch of the National Association of Postal Supervisors, a management organization representing postal supervisors, attended Monday's press conference.
"I'm here to say we want the post office to succeed. We want them to do better," said Lloyd Cox, president of the association's Virginia branch. "We want them to hire more managers … We want them to hire more employees."
Cox said the biggest issue that postal workers are facing is having to take on additional routes and work overtime on a regular basis to make up for a lack of employees.
Warner said he wants to reassure constituents that he will follow up on the issue if it doesn't improve. He is giving the Charlottesville Post Office three months to get more carriers hired and improve delivery times.
"If we don't see improvement, they're going to have a senator batting down on them within the next three months," he said.