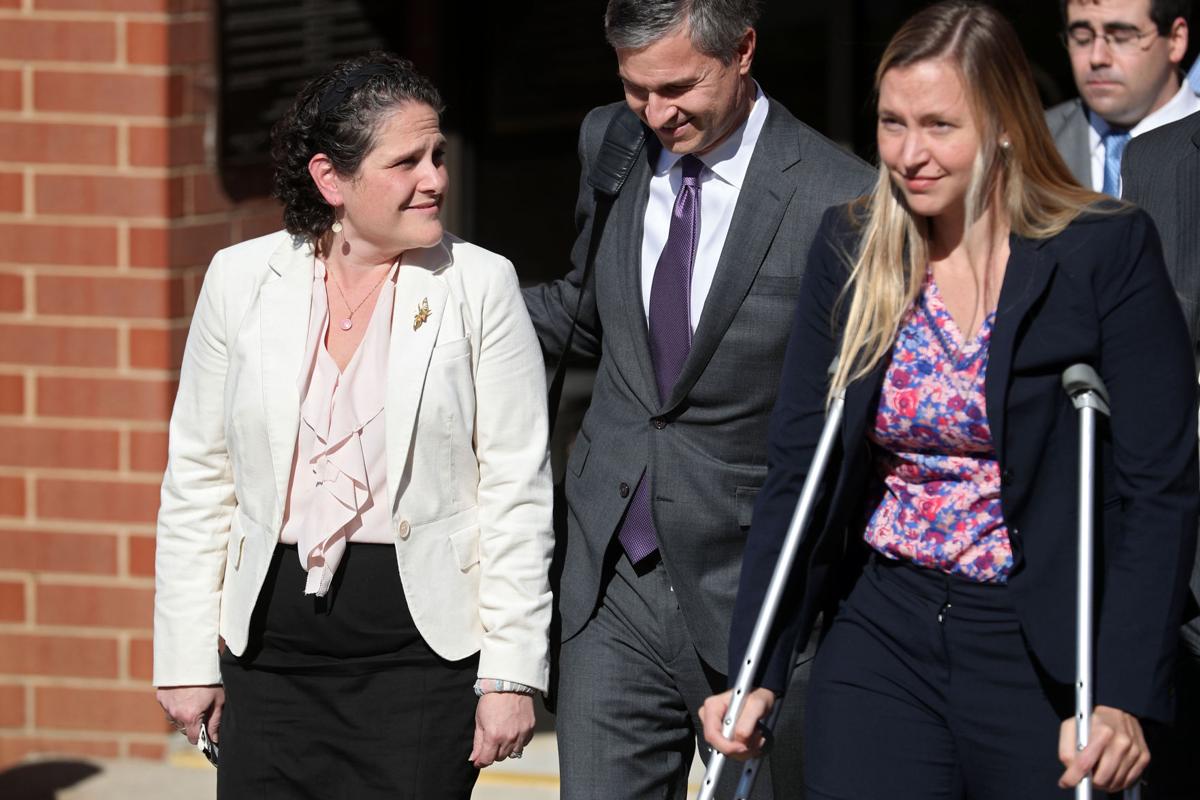 Following more than 20 hours of deliberations, a Charlottesville jury on Friday returned a verdict in favor of University of Virginia administrator Nicole Eramo in the $7.5 million defamation trial against Rolling Stone magazine, its publisher and the author of "A Rape on Campus."
On Friday afternoon, the jury found the defendants liable for damages against Eramo and that some or all of the defendants committed actual malice in one or more instances.
Eramo had claimed that the now-debunked November 2014 article, which focused on a brutal gang rape alleged to have occurred at a UVa fraternity house, defamed her and caused her personal injury. When the jury's verdict was read aloud in court, Eramo's attorney, Libby Locke, put a hand on her client's shoulder as the former associate dean became emotional. Throughout the proceedings, Erdely had kept her eyes on paperwork and did not display any emotion.
Earlier this week, Judge Glen Conrad dismissed part of the lawsuit, saying the article did not defame her by its implications. In his ruling, Conrad said the article did not personally damage Eramo, who claims her health, reputation and career suffered as a result of Erdely's piece.
In its deliberations, the jury was required to determine if statements made in the Rolling Stone article and statements made by Erdely on the "Brian Lehrer Show," on Slate's "DoubleX Gabfest" podcast and to The Washington Post were false and defamatory of Eramo, according to the jury instructions and verdict forms.
Looking at several specific statements made in the article as it appeared online on Nov. 19, 2014, the jury found that all three defendants — Erdely, Rolling Stone LLC and Wenner Media LLC — were liable for the statements, but jurors only found Erdely to have acted with actual malice in two of them; neither the magazine nor the publisher were found to have acted with malice by publishing the statements.
The statements in which the jury believed Erdely acted with malice included one that said, according to the jury verdict forms: "Like most colleges, sexual assault proceedings at UVa unfold in total secrecy. Asked why UVa doesn't publish all its data, President Sullivan explains that it might not be in keeping with 'best practices' and thus may inadvertently discourage reporting. Jackie got a different explanation when she'd eventually asked Dean Eramo the same question. She says Eramo answered wryly, 'Because nobody wants to send their daughter to the rape school.'"
Erdely also was found to have acted with malice when she was interviewed Nov. 26, 2014, on WNYC's "Brian Lehrer Show" and said: "Jackie was kind of brushed off by her friends and by the administration … And eventually, when she did report it to the administration, the administration did nothing about it, they did nothing with the information. And they even continued to do nothing when she eventually told them that she had become aware of two other women who were also gang-raped at the same fraternity."
Erdely also was found liable for four statements she made on Slate's "DoubleX Gabfest" podcast on Nov. 26, 2014, but she was found to have acted with malice in just two of the statements.
In one of those statements, Erdely said, "When [Jackie] does actually run into some of her alleged assailants on campus sometimes, just the sight of them, obviously it's a shock, but it also tends to send her into a depression. So it just goes to show sort of the emotional toll something like this would take. I just think it would require a great deal of support for her to move forward … She really hasn't had any of that support from her friends, from the administration, nor from her family."
The jury also found Erdely to have acted with malice when she wrote in an email sent Nov. 30, 2014, to The Washington Post: "As I've already told you, the gang-rape scene that leads the story is the alarming account that Jackie — a person whom I found to be credible — told to me, told her friends, and importantly, what she told the UVa administration, which chose not to act on her allegations in any way … THAT is the story: the culture that greeted her and so many other UVa women I interviewed, who came forward with allegations, only to be met with indifference."
The jury also found that all three defendants were liable and acted with malice, according to the jury verdict forms, by publishing the story in the December 2014 print edition of the magazine with some of the same statements made in the article as it appeared originally online.
When the jury was excused for the day, Eramo's attorney, Locke, spoke to reporters, praising the verdict.
"Nicole was vindicated," Locke said. "We've said it all along — Rolling Stone published a false and defamatory article, and the jury concluded that was the case. It feels very good to have a jury of Nicole's peers come back and vindicate what we have known from day one."
"The jury was very deliberative, very careful, and we really appreciate all the time and work they put into it."
After Erdely and the editors for Rolling Stone left the courthouse, the magazine put out a statement lamenting the mistakes they made in their reporting.
"In our desire to present this complicated issue from the perspective of a survivor, we overlooked reporting paths and made journalistic mistakes that we are committed to never making again," the statement said.
"We deeply regret these missteps and sincerely apologize to anyone hurt by them, including Ms. Eramo," magazine officials said in the statement. "It is our deep hope that our failings do not deflect from the pervasive issues discussed in the piece, and that reporting on sexual assault cases ultimately results in campus policies that better protect our students."
Jurors will return at 8 a.m. Monday to determine what damages they think Eramo is due.