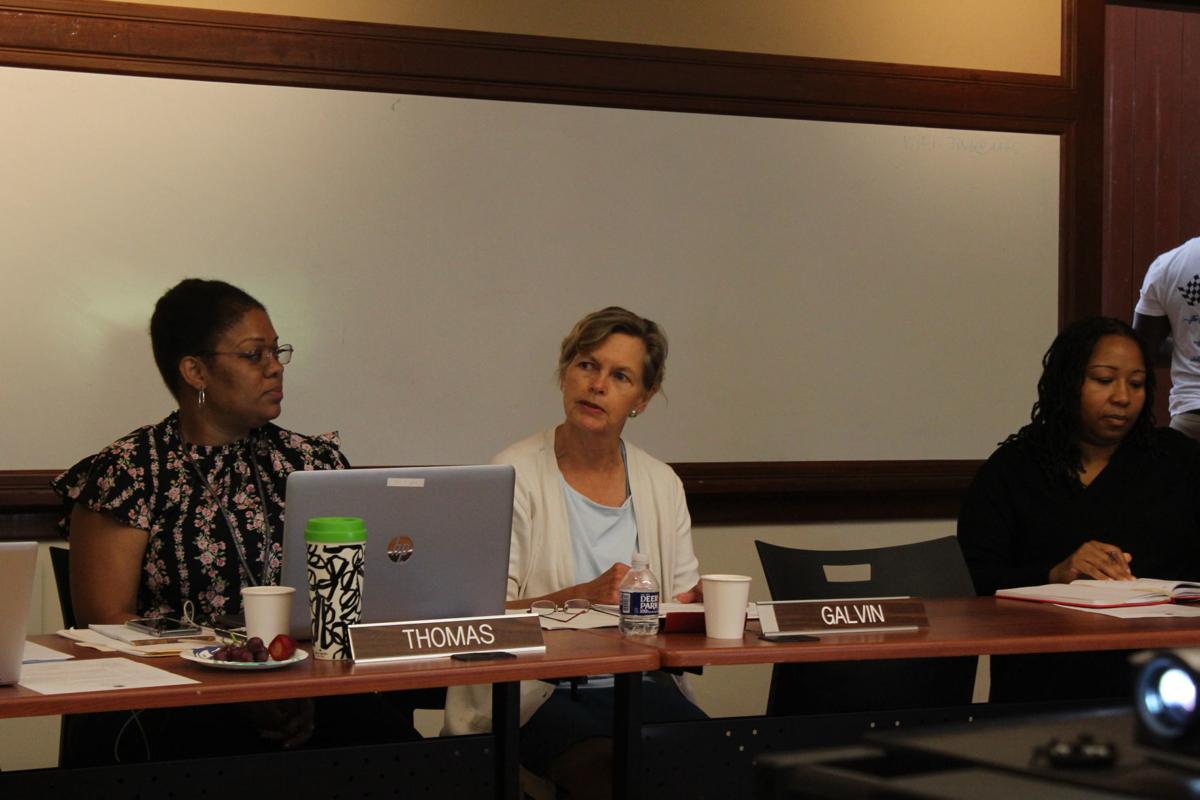 Charlottesville City Manager Tarron Richardson has made several changes to the city's management organization and is eyeing efficiency improvements in the coming months.
Richardson discussed the reorganization with City Council during a daylong retreat on Wednesday at the Jefferson School African-American Heritage Center.
The new management structure took effect on Monday.
The biggest change is that, rather than have two assistant city managers, Richardson has created four deputy city manager positions. The new title gives those employees legal authority to act in his place if he's absent.
Mike Murphy is now deputy city manager for human services. He will oversee parks and recreation, Charlottesville Area Transit, Human Services and Social Services. He will also be a staff liaison for City Council.
Leslie Beauregard is now interim deputy city manager for finance and administration. She is responsible for budget and performance management, human resources, economic development and information technology.
Beauregard was already an assistant city manager before the restructuring. Richardson said she is in an interim role as he sees how the new organization works.
Public Works Director Paul Oberdorfer is the interim deputy city manager for operations and oversees public works, public utilities and Neighborhood Development Services.
Murphy, Beauregard and Oberdorfer will report to Letitia Shelton, who started Monday as deputy city manager/chief operating officer. She was Richardson's deputy city manager in DeSoto, Texas.
Shelton's position is a recent addition to the city payroll. Her annual salary is $158,000.
Shelton will report to Richardson, who also oversees the police and fire departments and communications.
Richardson also announced the hiring of Garland Williams as CAT director and Sunny Hwang as IT director.
Richardson said the new alignment allows administrators to work with departments that are more related and "operate more efficiently and effectively."
The changes for existing staff don't come with salary increases.
Richardson also discussed several other initiatives to improve operations.
He wants to review an efficiency study conducted in 2016 and determine what steps have been taken.
The city needs to invest in professional development for employees and train people to take leadership roles and move up within their jobs.
Richardson also plans to start a compensation study. He said some employees are being hired at higher pay rates than longtime staff.
Deputy City Manager Mike Murphy said Charlottesville hasn't conducted a comprehensive salary study in 22 years.
Richardson is starting a vacancy report to determine how many positions are budgeted throughout the city and how many are filled. He wants to know what positions haven't been filled for long periods to determine whether they should be cut.
The city also will update its human resources policies, which haven't been revised since the late 1990s. He said the manual is also not available online, noting that he wasn't able to review it when applying for his job.
"I physically had to come here and talk to the folks in HR," he said.
Richardson is also planning to include funding in the next budget for a design and feasibility study to improve City Hall, the City Hall annex and the police department.
Richardson is also planning to centralize information technology. One suggestion is that the city use one cellphone carrier. For example, City Council uses AT&T, while the police department uses Sprint.
Richardson will also implement a new type of financial planning called zero-based budgeting.
Departments will start with budget lines at $0 and have to justify each expense at the start of the budget cycle. Directors will need to show the functions for all employees, and funds will be allocated accordingly, independent of any previous budgets.