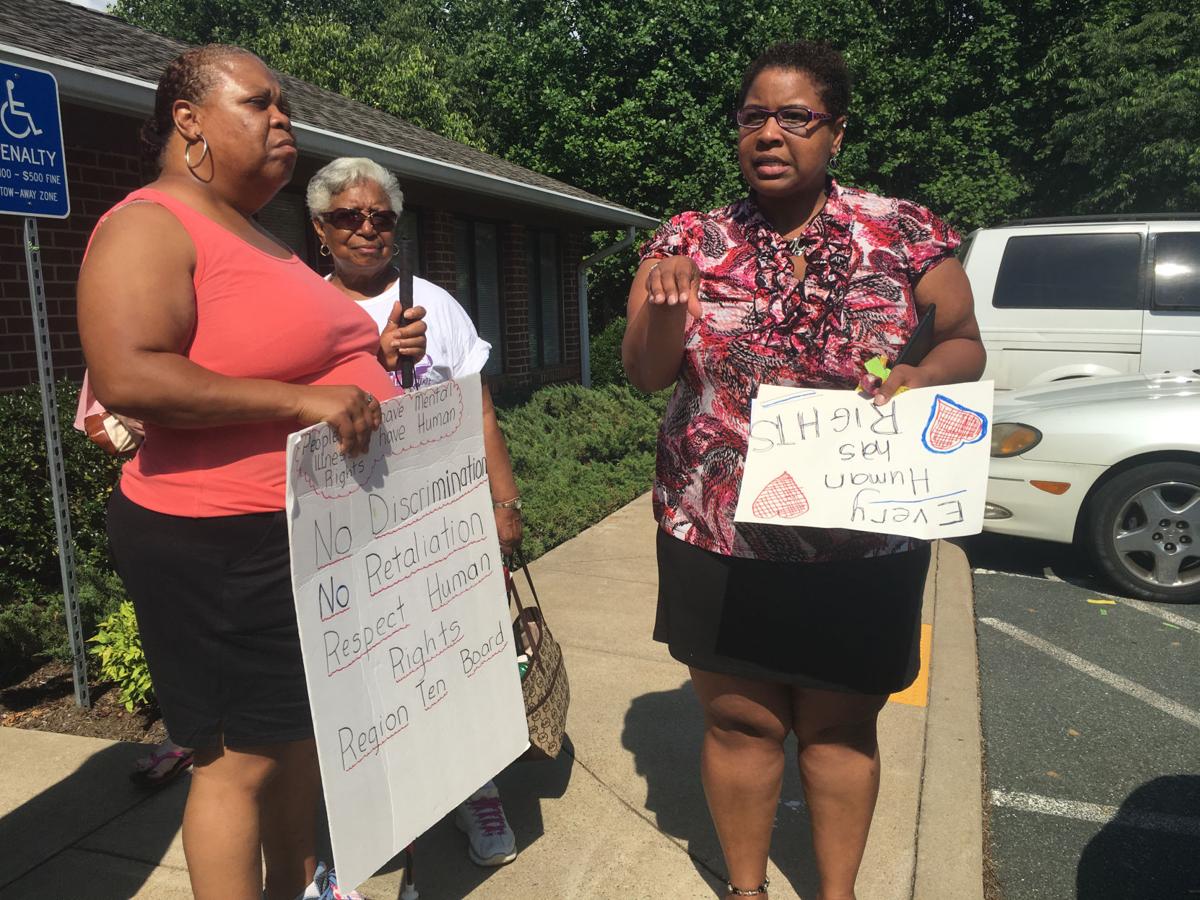 A Charlottesville woman who alleged that she faced discrimination and retaliation from the Region Ten Community Services Board is now asking for the removal of the agency's leader.
At Monday's meeting of Region Ten's board of directors, Myra Anderson and about a dozen of her supporters used the public comment time to argue for the removal of Executive Director Robert Johnson.
Anderson claims that, because she filed complaints against the mental health services provider from 2006 to 2010, Region Ten terminated her case and she was denied treatment for post-traumatic stress disorder and major depression.
"I know it is deeply perturbing to hear these things can come from an executive director of a community services board — a place for people to go to seek help and not to be harmed any further — but that is what I'm asserting here today, and that is what has happened."
"Anyone who acts in an unethical manner, I don't feel deserves to have a license and does not deserve to lead an agency."
In May, the Virginia Department of Behavioral Health's state-level Human Rights Committee decided by unanimous vote that Region Ten terminated the service of a client in retaliation to multiple complaints she had lodged about her case.
Combined with findings from the Charlottesville-area Local Human Rights Committee in February, Region Ten now faces a total of 12 violations based on Anderson's case.
In response, Johnson said he was not aware Anderson was asking for his removal until an hour after the meeting. Citing 40 years in the mental health profession, Johnson said he did not know where the attack was coming from and that he has never violated anyone's human rights.
"It upsets me quite a bit," Johnson said. "I support the right of any consumer to say anything he or she wants, but this seems more like a personal attack."
While Johnson said he cannot discuss individual cases, citing federal law, he said he has never completely terminated anyone's mental health services. He said that even if someone is not receiving regular services from Region Ten, they can always receive emergency services.
"This is an attack on my character, my career and my professionalism," said Johnson. "I have a lot of passion for the work we do. This distresses me."
When she made the complaints, Anderson said Region Ten told her she would need to sign a behavioral contract or her services would be terminated. She claimed the contract was put together without her input and would limit her ability to receive services.
A behavioral contract (now referred to as a patient participation agreement) is a document used when a client is considered to be harmful to themselves or others, according to Johnson. He said it is a way to keep people in treatment, but out of the hospital.
When she heard that the contract was reportedly used to ensure the safety of herself and others, Anderson said it was not accurate reasoning.
"I don't know whether to laugh or cry about that," Anderson said. "While there are many [clients] at Region Ten who have extensive criminal records, who have been in jail, I'm not one of those people."
At Monday's meeting, Anderson was surrounded by about a dozen supporters, including Veronica Fitzhugh, who has made headlines in recent weeks in the controversy surrounding Charlottesville's Confederate statues. In her statement, Fitzhugh said Anderson does not stand alone in her concerns.
"I know the narrative that is pushed of an angry, violent, too-demanding black woman," Fitzhugh said. "I know what it feels like to be alone in the struggle. Myra is not alone. Her community is with her and she is none of the things that people claim her to be."
Following the meeting, Patricia Hughes, chairwoman of the board, said she and her colleagues would carefully investigate Anderson's claims, as well as evidence presented to the human rights committees.
"I assured Ms. Anderson that we will respond to her, but we're going to need a little bit of time," Hughes said. "We're going to be thoughtful, we're going to be careful, and we're going to be respectful of everyone's dignity."
"This was very upsetting to me," she said.
Hughes said she hopes to have a better understanding of the violations — and some answers for Anderson — in the next few weeks.
Johnson is set to retire in September and is currently taking a few weeks of sabbatical. Rather than allow him to retire before investigating her claims, Anderson said she wants the board to remove him from office as soon as possible — to send a message.
"If they wait until September and let Mr. Johnson have his retirement as planned, that does not in any way validate or substantiate all of these violations," said Anderson. "I feel that they will not have properly addressed it. There is no need to wait; the time is now to send a message."
Anderson also said she has filed a complaint against Johnson with the Virginia Department of Health Professionals.
Get local news delivered to your inbox!
Subscribe to our Daily Headlines newsletter.