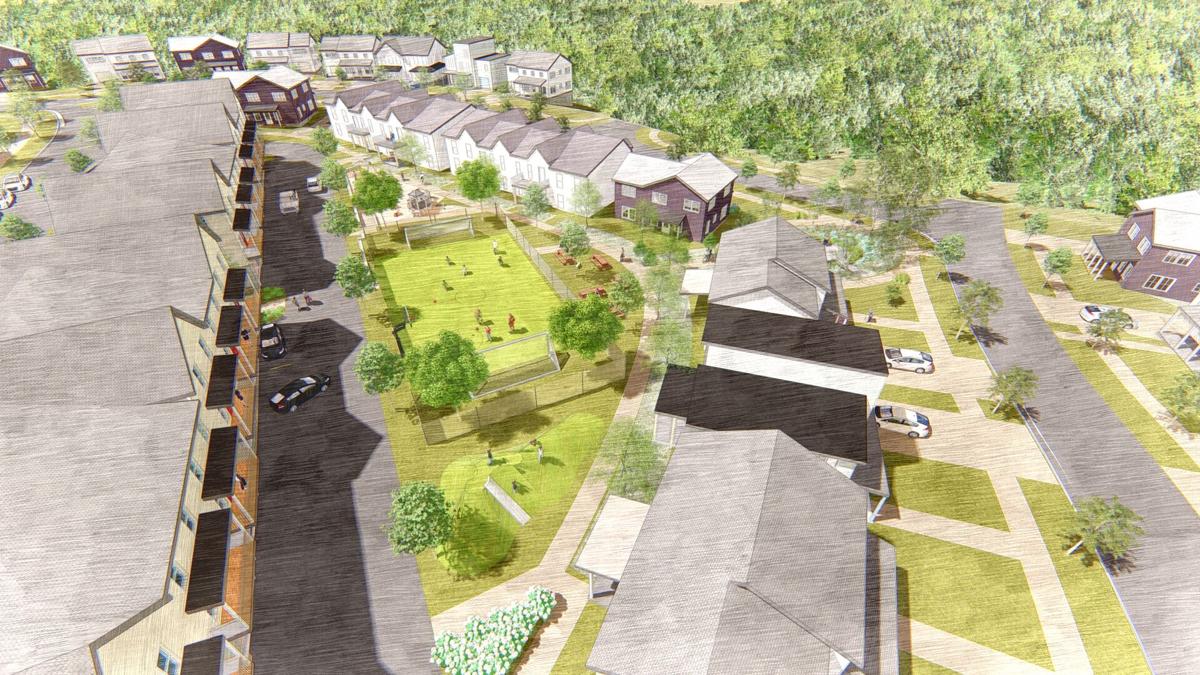 With a recently approved grading permit in hand, earth will soon be moving in the first phase of the redevelopment of Southwood Mobile Home Park.
After some delays, Habitat for Humanity of Greater Charlottesville received a grading permit on Friday from Albemarle County, and can begin clearing and grading the site.
"The first big yellow tractor is out there, so within a week or so, you should start seeing real signs of progress," said Dan Rosensweig, president and CEO of the local Habitat.
Habitat bought the property off Old Lynchburg Road near Fifth Street Extended in 2007, and it plans to redevelop the site into a 700- to 800-unit mixed-income, mixed-use neighborhood. Habitat expects to do the project without displacing any residents.
The redevelopment project has been led by residents, who are working together on designs and plans.
Late last year, residents agreed to name the first park in the redeveloped neighborhood Five Pillars Park, after University of Virginia men's basketball coach Tony Bennett's program's Five Pillars — humility, passion, unity, servanthood and thankfulness.
After a recent game, Bennett said he was humbled by the park naming.
"That's awesome, because those aren't my pillars, they're just our program, but they suggest the right kind of stuff," he said. "... I thought it was neat, and that'll go far beyond."
Bennett, currently in his 12th year as coach at Virginia, led the Cavaliers to the team's first NCAA national championship in 2019, and a program-record seven consecutive seasons with at least 23 wins.
Community members working on the first village began discussing road names, and originally considered naming a road after Bennett, or his wife, Laurel, Rosensweig said.
"There were some second thoughts on the part of folks in Southwood about naming roads for people, so they started turning their attention to things that were more abstract," he said.
One of the road names will be Cardinal, while the main road is going to be Horizons, because residents like the idea of Southwood being "a new horizon for everybody."
"They still wanted to talk to Tony because they felt like his values, the five pillars, were very consistent with their values of community, affordability, togetherness, and so I invited Tony to join them for one of their planning sessions and it was just really great," Rosensweig said.
Bennett said that on the call, residents shared their vision for what they want to do and why they wanted to name the park after the pillars.
"I thought it was one of the cooler things that I've been a part of, so I was really grateful to hear that, and that means a lot," he said.
Rosensweig said they've been working with the United States Soccer Foundation, which has found a sponsor to build a mini soccer field in Five Pillars Park.
"It'll be a little urban soccer field, with a fenced-in, durable surface, with goals and everything, so it's just going to be the dream for kids," he said.
When Faulconer Construction starts working on the site, it also will instruct residents as part of a job training program.
"They've offered to do a job training program and pay Southwood residents to actually train on the heavy machinery, with guaranteed jobs with Faulconer, so it's a job training initiative, as well," Rosensweig said. "We're excited about that."
The next group of Southwood residents is working on designs for the second village, and at the same time, Habitat is working with the community to develop a process to come up with the next rezoning package. Rosensweig said Habitat is planning to submit the next rezoning application by the end of the summer.
Rosensweig said the majority of Southwood residents currently participate in the redevelopment planning.
"But the other folks have said, 'Look, when we see the first yellow tractor out there, then we know it's coming, and we'll get involved,'" he said. "The first yellow tractor is out there, so it's a pretty exciting time. It's just become less abstract, more real and more exciting, frankly, for everybody."