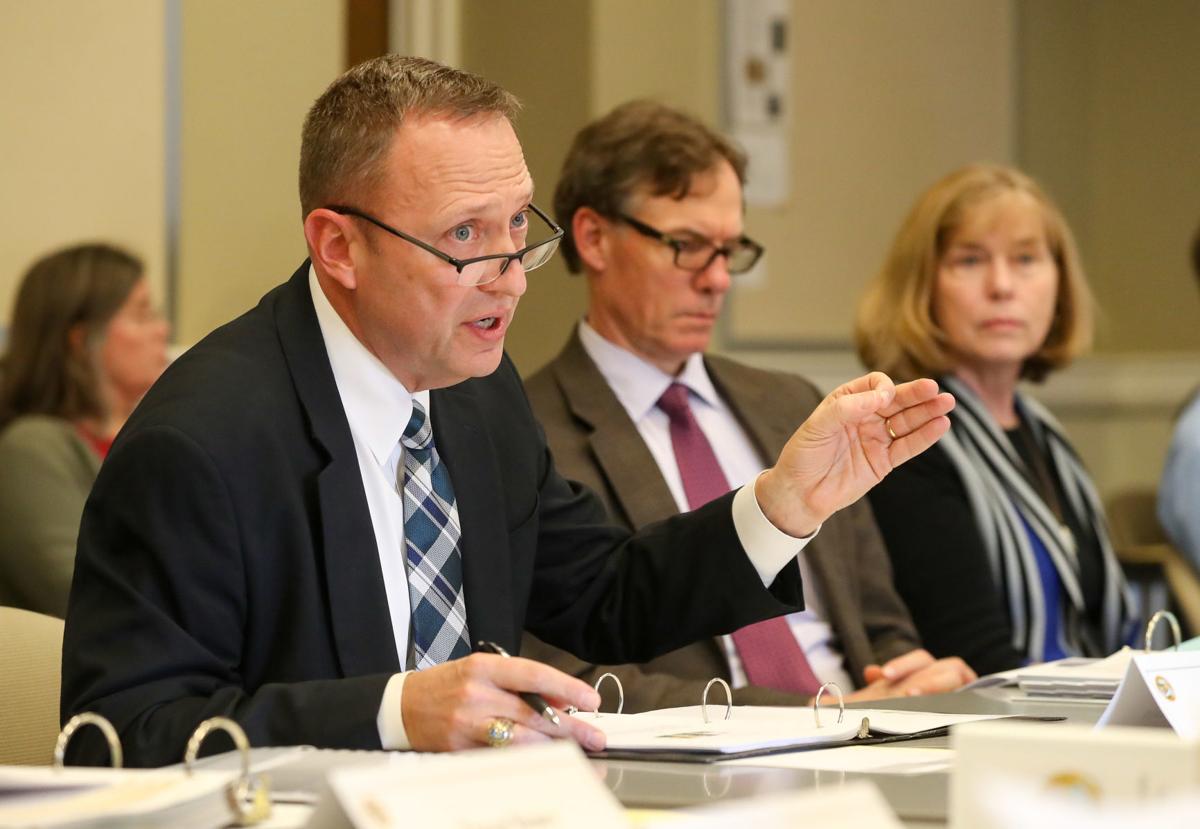 Albemarle County Executive Jeff Richardson has proposed a balanced budget for Fiscal 2021 that is about 1.3% smaller than the current adopted budget and includes no tax rate increase.
The Albemarle County Board of Supervisors on Wednesday received the proposal for the fiscal year that begins July 1, which projects $451 million in revenue and expenditures for capital and operational costs. The current year's adopted capital and operations budget is $457 million, according to county documents.
Ahead of the meeting with the supervisors, Lori Allshouse, the county's director of management and budget, said the main reason for the decrease in the overall budget was the timing of capital projects in the county's Capital Improvement Plan, which is a five-year plan with only the first year included in the actual budget numbers.
Richardson said a tax rate increase initially recommended by the CIP Advisory Committee to pay for anticipated capital projects can be delayed a year.
"The staff, by consensus, looked at our continued economic indicators and suggested that delaying that tax rate increase by one year would not in any way affect our ability to execute in year one on these projects," Richardson said.
Under the proposal, the real estate tax rate remains 85.4 cents per $100 of assessed value. The latest reassessment of county real estate represented an average increase of 3.4%.
Richardson on Wednesday focused on the general fund, which supports county operations and represents the majority of the county's revenue and expenditures.
In the general fund, revenue is expected to grow by $14.8 million, or 4.8%, compared with the current budget.
The proposal includes a 2% raise for county employees and funding for 19 full- and part-time positions added since the last adopted budget. The new positions proposed include 12 new fire-rescue positions, which Richardson said will allow for 24/7 staffing of Advanced Life Support ambulances at the Pantops and Ivy stations.
Instead of additional funding to provide daytime staff at Crozet Volunteer Fire Department, which the department requested, county staff are proposing a system-wide reallocation of existing personnel, in which supplemental weekday, day-shift staff currently located at Stony Point Volunteer Fire Company and East Rivanna Volunteer Fire Company would be redeployed at the Crozet Volunteer Fire Department and Pantops Public Safety station.
Richardson's proposal also includes level funding for Charlottesville Area Transit, with a proposed contingency fund of $387,562. CAT initially requested about $667,000, or 80.5%, over its current budget from the county. The budget document says the increase stems from projected declines in federal and state revenues and fares, as well as increased personnel and operating costs.
The budget document says CAT requested funding to help convert 20 temporary transit drivers to regular transit drivers and add three operations supervisors, three mechanics, a night maintenance supervisor and a transit analyst. A budget work session on transit is scheduled for March 11.
The budget proposal also includes an increase of $277,641 for JAUNT, which is lower than the transit service's request.
It also includes funding to raise the minimum wage for general government employees, including temporary employees, to $15 and addresses compression in the lowest nine pay grades.
"With the school divisions assistance with some one time revenue sharing, we're able to go to $15 an hour and implement that in tandem with the schools on July 1," Richardson said.
He later said that the one-time funding from the schools totals $400,000.
In the fall, the county's CIP Advisory Committee, which includes Supervisors and School Board members, recommended that a transportation leveraging program, economic development public-private partnerships and expansions at Cale and Crozet elementaries be the top new capital projects for the next five years.
Richardson's budget proposes $22.75 million over three years for transportation leveraging, $4 million over three years for economic development public-private partnerships, about $6.2 million for an expansion at Cale Elementary, soon to be Mountain View Elementary, in fiscal year 2022 and $20.4 million for an expansion at Crozet Elementary in this year's capital budget.
The Board of Supervisors has scheduled several budget work sessions, public hearings and other meetings for the coming weeks.
The first budget work session is scheduled for 5 p.m. Tuesday in Room 241 of the McIntire Road County Office Building. The first public hearing is at 6 p.m. March 4 in Lane Auditorium at the COB.
The board is scheduled to adopt a budget on April 20.