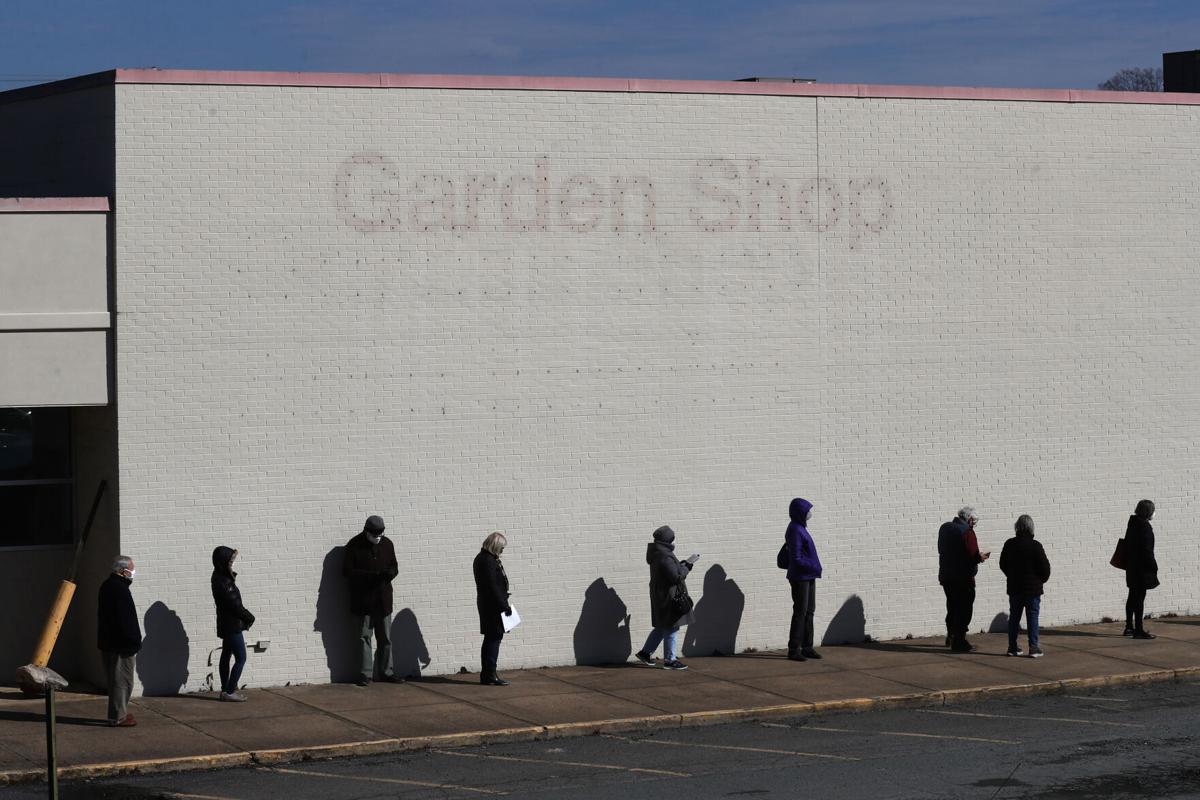 A vaccination clinic that was organized on short notice in an attempt to defrosting Pfizer vaccines in arms quickly went awry Wednesday when the link to sign up for an appointment went to more people than intended. Late Thursday, the Blue Ridge Health District offered more details on what led to long lines and some with appointments being turned away.
"We acknowledge that the clinic did not go as planned," district officials said in a statement late Thursday. "This clinic was organized with short notice. There was a supply chain complication that led to Pfizer vaccines defrosting and needing to be administered before the impending snow storm."
The clinic was intended for 400 people 65 and older who live in Albemarle County, certain essential workers, and those who were on Saturday's waitlist for a vaccine clinic for communities of color. A link to register for appointments through a new system, PrepMod, was sent Tuesday. Those on the Saturday's waitlist did not receive the PrepMod link because they were already pre-registered by community volunteers.
The link to register for appointments was shared with people beyond that group, however, and an overwhelming number of people scheduled appointments.
Many of the people originally invited to the clinic weren't able to schedule an appointment. Others without appointments also showed up to the site.
"This led to more people onsite than the supply of vaccine available," BRHD said. "This resulted in extremely long lines, extended wait times and traffic problems. This also meant we had to turn people away who wanted a COVID-19 vaccine."
The state recently switched to PrepMod, a new vaccine registration system, after technical glitches and difficulties with the previous system, VAMS. PrepMod does not allow health departments to create registration links that can't be shared and reused. State officials have acknowledged the problem and said a fix should be in place by next week.
"We recognize that PrepMod is a helpful tool for scheduling appointments but its link-sharing functionality is highly flawed," local officials said in the statement.
Despite the technical issues, 1,500 people received shots Wednesday over the course of 14 hours and no doses were wasted, according to the statement.
So far in the health district, 65,256 doses have been administered and 19,390 people have been fully vaccinated. The pace of vaccinations has slowed recently because of winter weather disruptions.
The health district has seen a spike in cases following the increase among University of Virginia students. The seven-day average of new cases had been trending downward after peaking in mid-January. But, on Thursday, the district reported a record new 255 cases.
UVa officials said last week that the university has identified the more infectious UK variant of the COVID-19 virus on grounds.
The health district's leadership team discussed Wednesday's clinic, how to avoid repeating mistakes, and how to improve operations moving forward in a two-hour after action review facilitated by Emily Pelliccia, the City of Charlottesville COVID-19 Incident Management Team Incident Commander.
The vaccine is open to people in the 1a and 1b priority groups, which together make up about half of the district's population. Within 1b, the district is focusing on people 75 and older and three categories of essential workers: police, fire and hazmat; corrections, homeless shelter and child care employees; and teachers and staff at public and private schools.
To sign up for the vaccine wait list, go to vaccinate.virginia.gov, the state's new pre-registration system. Anyone who filled out an interest survey for the local health district had their information transferred to the new system.
The state hotline, 877-275-8343 is open daily from 8 a.m. to 8 p.m.
The district is currently receiving 2,850 doses a week to be used for the first shot. The Virginia Department of Health said Thursday that the recent winter storms could delay vaccine shipments for next week.
The health district said on its website that it was rescheduling this weekend's appointments for second doses to Tuesday because it had not yet received vaccines for this weekend.
Dr. Costi Sifri, director of hospital epidemiology at the UVa Medical Center, during a media briefing Friday, said he and others are watching the shipments closely because there's a large influx of second doses needed across the state.
"But right now I think that we're in good shape, especially since we're using the Pfizer vaccine," he said. "I think that some of the impacts may be more significant with the Moderna vaccine right now statewide."
UVa has administered 44,405 doses as of Wednesday, which includes first and second shots. The medical center is switching computer systems and didn't have more specific data available during this week's media briefing.
UVa recently opened a vaccine clinic in the former Big Lots at Seminole Square to operate in tandem with the Kmart facility. So far, operations are going well and the site is open once or twice a week for first doses.
"And in addition to that, in this upcoming week, we'll then be starting to provide second doses of vaccines on some of those same days," Sifri said. "Of course I think we have to be looking forward to the day when we have a lot more vaccines so that we could have operations that are occurring much more frequently than that."