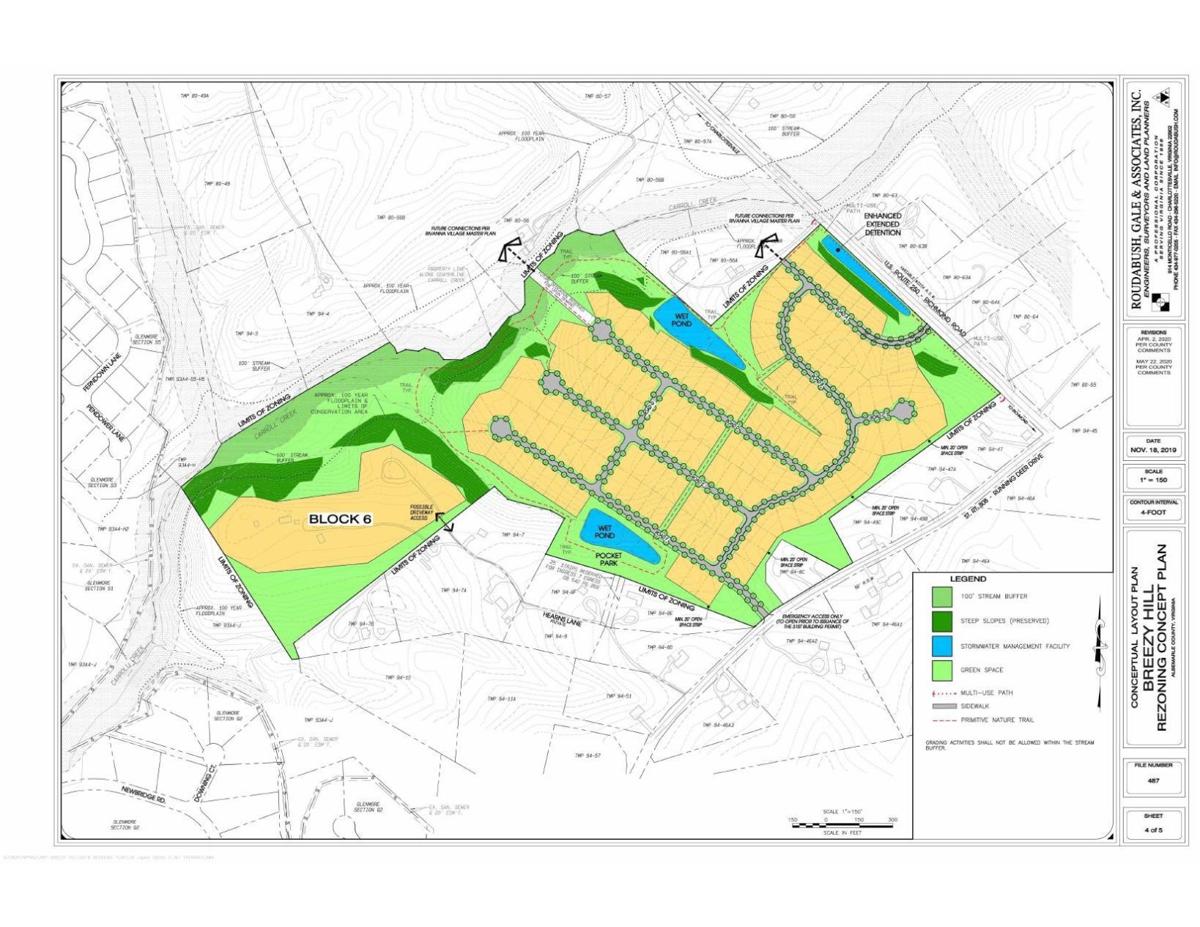 A housing development proposed on U.S. 250 near Glenmore was recommended for denial by the Albemarle County Planning Commission on Tuesday.
Southern Development and Roudabush Gale & Associates are requesting a rezoning of 84 acres from rural areas to R-4 residential to build 160 units for a project called Breezy Hill.
Commissioners voted 6-0 to recommend denial, citing concerns with density and traffic. Commissioner Karen Firehock was absent.
Commissioner Rick Randolph, who represents the Scottsville District and lives in Glenmore, cited the area's Master Plan, which says "it is essential that all of the U.S. 250 improvements be constructed before new development occurs in the Village," as why he was recommending denial.
"People have based their decisions to stay in the community, people have moved in with the assurance that that language was in there," he said. "We get to this issue of, we have to balance what we look upon as being a document of guidance, but it is a document that forms the basis of a compact of trust and confidence of residents in the community regarding their local government, where they expect the local government will not erode any agreed consensual guideposts. To do so otherwise is for government to be negligent."
At a work session on the project last July, commissioners were supportive of a less dense development than what is being proposed.
Many of the commissioners on Tuesday said they thought it was a good project, but it was just too dense.
"I just want to be clear here — we're not saying no. What we're saying is not this density," commission Chairman Julian Bivins said.
The future land use plan in the Village of Rivanna Master Plan, which is part of the county's Comprehensive Plan, shows the area as Neighborhood Density Residential Low, which recommends fewer than two dwelling units per acre. But the future land use and transportation chapter says this area "will have the lowest density of this Development Area," and shows one dwelling per acre.
The Comprehensive Plan is the county's guiding document for its long-term vision for land use and resource protection, and includes master plans for the designated development areas of the county. County staff and the Board of Supervisors look to the Comprehensive Plan as part of the rezoning process.
In a staff report, county staff said that based on one unit per acre, the site would have 84 units using gross density or about 65 units using net density, after factoring out areas designated for "Parks and Green Systems." With two units per acre, the site would have a maximum of 168 units using gross density or a maximum of 131 units using net density.
The proposed 160 dwelling units would be a gross density of 1.9 units per acre and a net density of 2.5 units per acre.
By-right, or without legislative approval from the Board of Supervisors, the developer could build about 24 units on the site.
The Master Plan also states that "future residential development should only be approved if and when transportation improvements to U.S. 250 have been made and sufficient sewer capacity is in place to support that development." The master plan goes on to say, "it is essential that all of the U.S. 250 improvements be constructed before new development occurs in the Village."
According to county staff, only part of one of the six transportation projects mentioned in the plan is completed, an improvement to the bridge at Route 22, and only one other project — interchange improvements at Interstate-64 and U.S. 250 East — is funded at this time.
County staff also recommended denial of the Breezy Hill project.
The developer has committed to providing traffic signalization improvements; $500,000 toward either transportation or school improvements; and affordable housing equal to 15% of total units constructed or $507,000.
Seven community members spoke against the proposal Tuesday evening, many citing the statement about road improvements on U.S. 250 in the Master Plan.
"If this 160-unit project is approved, additional vehicles will be driving to Charlottesville on an already overburdened road that has been projected to have an increase in traffic," said Dennis Odinov. "I can assure you that if this project is approved, our Master Plan will essentially be worthless. And the message to every other development area with a master plan will be chilling."
No other master plans in the county mention that new residential development "should only be approved if and when transportation improvements" have been made.
Two petitions were submitted to the county last year against the project. One, "Stop Breezy Hill!," was signed by 75 people from the neighboring Running Deer area, and objected to the project, as well as to any roads from Breezy Hill onto Running Deer Drive. The second, "Improve 250 Before Breezy Hill!," was signed by 269 people mainly from nearby development Glenmore.
The Board of Supervisors has not yet scheduled a public hearing on the proposal.
Get local news delivered to your inbox!
Subscribe to our Daily Headlines newsletter.