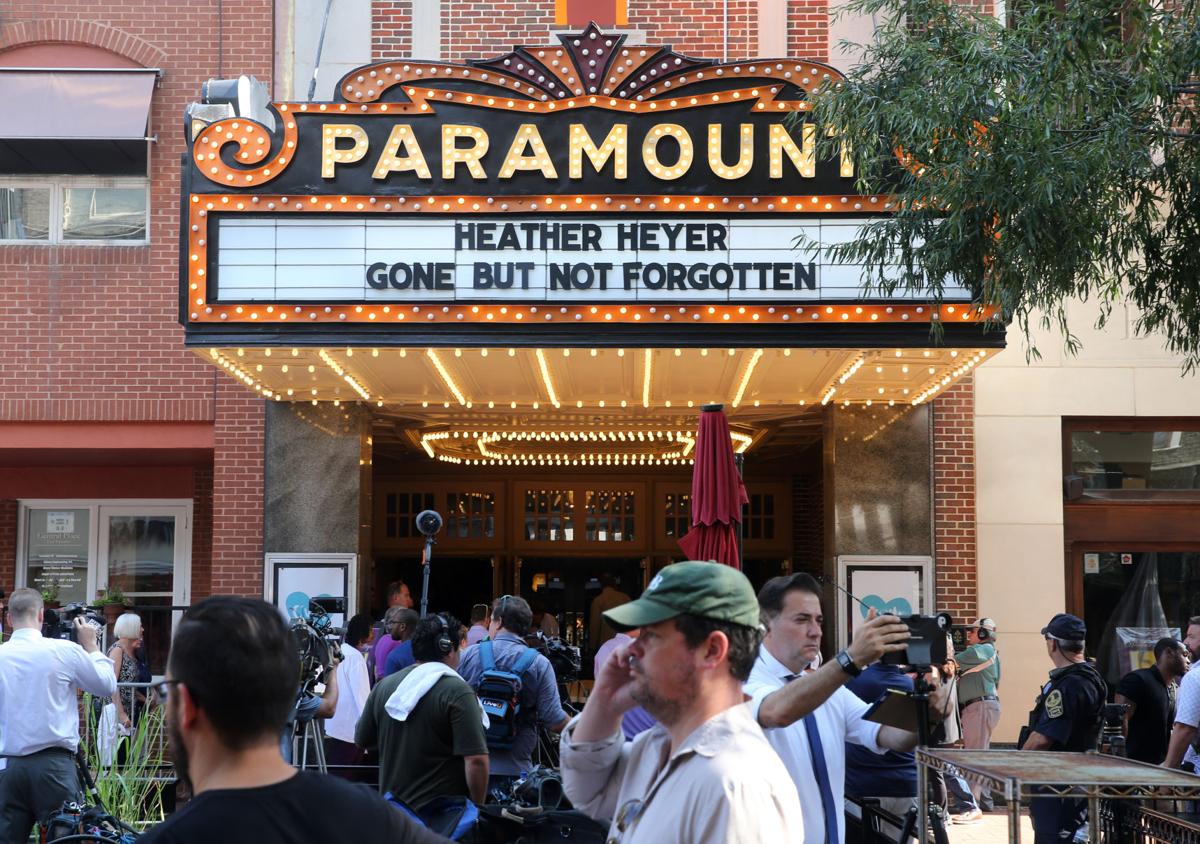 Five of the nine remaining patients at the University of Virginia Medical Center, admitted after  Saturday's fatal car incident on the Downtown Mall, have been discharged, and four are in good condition, according to a spokesman. Information on patients treated at Sentara Martha Jefferson Hospital could not be obtained Wednesday.
The FBI has established a tip line and website for those who wish to submit photos, video or other information about the violence in Charlottesville. After dialing (800) 225-5324, callers should select the option for "Recent Events in Charlottesville, Virginia." Tips can submitted at fbi.gov/charlottesville. Charlottesville police also have set up a tip line. Email cvillerally@charlottesville.org or call (434) 970-3280 and include contact information.
UVa employee suffers stroke
Tyler Magill, a University of Virginia library employee, suffered a stroke Tuesday that is thought to have been caused by clashes with white supremacists at the university on Friday, The Chronicle of Higher Education reported.
Magill was admitted to the UVa Medical Center, where doctors found his carotid artery was partially dissected, which caused a clot that resulted in a stroke. It is believed the stroke is the result of blunt force trauma to the neck.
A spokesman with the hospital would only confirm that Magill was in fair condition.
Magill also was seen Sunday afternoon on the Downtown Mall, chasing after Unite the Right organizer Jason Kessler after his news conference dissolved into chaos.
Education fund for trooper's sons
An education fund has been set up for the family of Jay Cullen, one of the Virginia State Police troopers who died in a helicopter crash Saturday. The GoFundMe, gofundme.com/cullenfamilyeducationfund, was established to help pay for his sons' future college expenses.
Petition: Close off Fourth Street
A Change.org petition wants Charlottesville to bar the Fourth Street crossover to traffic.
"It would be devastating to see cars driving normally at the location where a beautiful soul lost her life, fighting for modern civil rights," the petition reads. "The memorial can become a place of mourning and thought for current and future residents and/or visitors of Charlottesville for the lost lives, as well as those injured and affected by the attack."
Similar petitions have been started suggesting myriad uses for the street, such as a park honoring Heyer and the two state police officers who died in a helicopter crash later the same day.
"Clear Eyes and Full Hearts: Debriefing and Moving Forward after the Events of 8.12.17" will be held at Studio IX at noon Thursday.
The discussion will be moderated by Jennifer Phillips, a strategist, writer and speaker. More information is available at facebook.com/events/125407791420343. Studio IX is located at 969 Second St. SE.
WTJU to air show for 'collective healing'
WTJU 91.1 FM will air "Gather Round Cville" from noon to 9 p.m. Saturday, focusing on community healing, understanding and next steps for the community.
 Listeners can call (434) 218-3329 with their experiences, stories or other thoughts. WTJU particularly wants stories from people with "a first-hand connection to events over the weekend, a connection to post-trauma healing and/or connection to thoughtful ways of helping us understand."
Recorded stories will air multiple times per hour throughout WTJU's regular music programming, noon to 8 p.m., followed by an on-air roundtable discussion from 8 to 9 p.m. For more information, visit wtju.net.
A Peace Rally is scheduled for noon to midnight Saturday on the Downtown Mall in response to the violent attacks last weekend. The Facebook page for the event, facebook.com/events/328140600979404, describes the Charlottesville Peace Rally as a nonpolitical event that is not a protest. Organizers said they would prefer that there be no protest signs referring to various hate groups, or the president, according to the event description.
Benefit concert on Sunday
Come Together Charlottesville, a concert to benefit the Charlottesville Area Community Foundation's Care for Victims Fund, will begin at 7 p.m. Sunday at the Jefferson Theater. Doors will open at 6 p.m.
Scheduled to perform are Jamal Millner, Allen Saunders, Ivan Orr, Vic Brown, Jay Pun, Mike Taylor, Richelle Claiborne, Matt Horn, Atreyu Jackson, Erin Lunsford, Adar, Joe Lawlor, Tucker Rogers, Kristen Bowden and others. Tickets are $10, and the show is open to all ages. Backpacks are prohibited. Learn more at jeffersontheater.com.
Blue Ridge Irish Music School will present Slanu Charlottesville, a benefit concert for victims and families, from 7 to 9 p.m. Aug. 25 at C'ville Coffee. All donations received at the event will go directly to the victims and their families for medical bills and related expenses. For information, visit BRIMStunes.org or call (610) 984-5348.
Staunton breadmaker boycotted
After a Facebook post about Heather Heyer was made by John Sheffer, of Staunton, who makes Merrywhite Bread, stores have pulled his product from shelves.
Sheffer posted about Heyer's death, saying "big f------ deal, I don't have a s--- to give." A longer post refers to liberals and makes a pointed reference to Heyer being in traffic. He also called her "stupid."
Calls poured in to Stanley Meat Market on Monday, demanding that the owner stop selling the bread, and he obliged. Another Staunton convenience store said Sheffer had come to their business and removed the bread himself.
Sheffer told a News Virginian reporter that he had "no comment'' and then asked him to leave the property.
Under pressure, Trump disbands councils
With corporate chieftains fleeing, President Donald Trump announced Wednesday that he is ending a pair of advisory business councils in the latest fallout over his remarks about the Charlottesville protests.
"Rather than putting pressure on the businesspeople of the Manufacturing Council & Strategy & Policy Forum, I am ending both. Thank you all!" Trump tweeted from his home at Trump Tower.
CEOs began announcing their resignations after Trump's first comments. The resignations accelerated after he re-emphasized his earlier remarks and on Tuesday blamed "both sides."
Baltimore removes monuments
Four Confederate monuments in Baltimore were quietly removed and hauled away on trucks in darkness early Wednesday. Mayor Catherine Pugh said the removal was done overnight deliberately, in order to avoid attention, The Associated Press reported.
Meanwhile, in Los Angeles, a stone monument at Hollywood Forever Cemetery commemorating Confederate veterans was taken down Wednesday after hundreds of people demanded its removal. In Tampa, Florida, the Hillsborough County Commission decided that if enough private money isn't raised to move a Confederate monument to a private cemetery it will remain on public property.
U.N. experts: Charlottesville exemplifies rising racism
Three United Nations human rights experts decried rising racism and xenophobia in the United States, citing the white nationalist demonstrations in Charlottesville as the latest example and urging U.S. authorities Tuesday to punish perpetrators of hate crimes, The Associated Press reported.
The call by the experts in a sharply worded statement — along with comments by politicians in Germany and Britain — demonstrated that the Charlottesville violence has the international community paying attention to the racial climate in the United States — regarded by many as a standard-bearer on human rights principles.
University denies Spencer event
The University of Florida on Wednesday denied a request by a group headed by white nationalist Richard Spencer to rent space on the campus for a September event, and his supporters vowed to file a court challenge.
UF President W. Kent Fuchs said in a statement that the decision was made after assessing risks to the campus, community and law enforcement following last weekend's deadly violence.
"Such a brazen attack on free speech from a public university is infuriating," Spencer said in a text message.
Meanwhile, Michigan State University said it hasn't decided whether to rent space to Spencer's National Policy Institute. It's closely reviewing the request "in light of the deplorable violence" in Charlottesville.
Daily Stormer offline again
A neo-Nazi website's publisher says he he's "effectively been completely banned from the internet" after mocking Heather Heyer and lauding her alleged killer as a "player."
Andrew Anglin told The Associated Press in an email Wednesday that he is "figuring out the next step" after four domain registrars refused to service his site, The Daily Stormer, which is named after a Nazi propagandist newspaper.
After briefly reappearing under a Russian domain name, the site was again offline Wednesday afternoon.
Anglin also said by email that San Francisco-based Cloudflare Inc., a company that protects websites from denial of service attacks, had dropped him as a customer.
Former presidents Bush issue statement
Former presidents George H.W. Bush and George W. Bush issued a joint statement Wednesday, denouncing bigotry and hatred: "America must always reject racial bigotry, anti-Semitism and hatred in all forms. As we pray for Charlottesville, we are reminded of the fundamental truths recorded by that city's most prominent citizen in the Declaration of Independence: We are all created equal and endowed by our Creator with unalienable rights. We know these truths to be everlasting because we have seen the decency and greatness of our country."