It started with singing, praying, slogan chanting and flag waving and turned into violence and the death of one protester and two members of a Virginia State Police helicopter crew.
Alt-right marchers and counter-protesters beat each other with fists and sticks and sprayed each other with pepper spray as Saturday's Unite the Right rally ended in violence before it could begin.
A 32-year-old woman was killed and 19 people were injured after a driver sped into a crowd of counter-protesters at Fourth Street Northeast and Water Street mid-afternoon.
The crash occurred after the rally had broken up and a large number of protesters were marching down Water Street. A Dodge Challenger sped into the crowd at Fourth Street Northeast, slamming into pedestrians and into the rear end of another car. The Dodge backed up the street quickly and sped away despite heavy front-end damage.
The driver, James Alex Fields Jr., 20, of Maumee, Ohio, was arrested and charged with one count of second-degree murder, three counts of malicious wounding and one count of hit and run with injury.
About two hours after the car crash, two state troopers were killed when their police helicopter crashed and burned near Old Farm Road. The helicopter was involved in providing surveillance and information during the day.
"Shortly before 5 p.m. Saturday, a Virginia State Police helicopter crashed into a wooded area near a residence on Old Farm Road," said Corinne Geller, state police spokeswoman. "The pilot, Lt. H. Jay Cullen, 48, of Midlothian, and Trooper-Pilot Berke M.M. Bates of Quinton, died at the scene."
Geller said the crash is being investigated but no foul play is suspected.
All in all, police said at least 35 people downtown were treated for medical issues, including 14 treated for injuries from altercations, police said.
Several dozen people attended a small vigil at McGuffey Park on Saturday evening in memory of the woman who died in the car wreck. Flowers were brought in from nearby churches and handed out to those in the park, who, one by one, placed them at the center of a circle of attendees. Candles were later placed around the flowers.
The Unite the Right rally was scheduled to start at noon but it never happened. By 11:30 a.m., with demonstrators and counter-protesters fighting in the streets, Charlottesville and Albemarle County officials declared a state of emergency and later declared the rally an illegal assembly, slowly clearing the park.
 "It could have been a lot worse today," said Charlottesville Police Chief Al Thomas. "The premeditated violence is deplorable."
Both sides came prepared for violence, wearing protective helmets, masks and carrying flags. When violence broke out, many of the flags were stripped from the wood handles and the handles were used as clubs.
Both sides brought street medics equipped with bandages and fluids for flushing eyes and skin afflicted with pepper spray.
Alt-right demonstrators arrived at Emancipation Park around 9 a.m. with several counter-protesters already present. While the demonstrators milled about the park waving flags, several protesters prayed nearby and others sang while state police ringed the marchers to keep the sides separate inside the park.
One right-wing group in military garb, carrying rifles and wearing pistols, stood between the pro-white demonstrators and counter-protesters.
As more marchers arrived, flying a variety of flags, including the Confederate flag and battle flag, more counter-protesters also arrived. Taunts and jeers broke out on both sides and scuffles began.
The armed demonstrators moved away from the park when both sides began attacking each other and it appeared no firearms were involved.
During the melee, one protester purposefully attacked news reporters with pepper spray despite efforts from other protesters to prevent it. Alt-right demonstrators splashed nearby reporters with ash mixed with liquid while other reporters were pelted with eggs by protesters.
One African-American reporter was punched by an alt-right demonstrator wearing a T-shirt with a portrait of Adolf Hitler.
Protesters pelted the alt-right marchers trying to enter the park with balloons filled with paint and both sides hurled water bottles, some with urine inside, and other makeshift missiles at each other. As more scuffles broke out, the two sides began clubbing each other with the flag poles, sticks and makeshift clubs. Others threw road flares and other items across Market Street at each other.
After declaring the assembly illegal, the Virginia National Guard took over perimeter locations to allow local police to join with state police in clearing the park. Clashes between the groups continued as they walked away from the park and sporadic violence in the form of fisticuffs and stick fights broke out on the Downtown Mall.
Thomas said the violence came quickly.
"The situation escalated rapidly into violence and we had no choice but to deploy additional personnel from the Virginia State Police and the Virginia National Guard to help disperse the crowd and move people safely through the streets," he said.
Despite the violence, Unite the Right organizers vowed to return.
"This was a monumental event for our movement," rally organizer Jason Kessler said as he joined other demonstrators in leaving downtown. "They had to do whatever they had to do, legal or illegal, to shut us down. This is not over."
But Kessler disavowed the violence that followed. He said in an interview with The Associated Press on Saturday evening that driving a car into a group of counter-protesters was "the wrong thing." He said he was saddened that people were hurt.
Alt-right torchbearer Richard Spencer said he was outraged by what he said was a lack of police protection.
"I have never been so outraged at my government," he said, addressing a crowd of approximately 100 supporters who had relocated to McIntire Park after Emancipation Park was cleared. "We are never backing down. We are going to be back here."
The brief gathering, which featured an appearance by former Ku Klux Klan Imperial Wizard David Duke, was the only opportunity the alt-right activists and white nationalists had to assemble Saturday without being confronted by a large number of protesters.
Speaking after the McGuffey Park vigil, Montae Taylor, vice president for youth and college divisions of the NAACP for Virginia who came to Charlottesville from Richmond, said the thwarted rally mirrors stories his great-grandfather told him.
"And the fact that I can look at what's going on and see what my grandfather was talking about is not scary, but it's appalling," he said.
Bob McAdams, president of the Charlottesville Center for Peace and Justice, said the services offered by local churches on Saturday and the sanctuaries they provided at Justice and McGuffey parks during rally were blessings.
"But human minds, our minds, will take a long time to process the events we've experienced," he said.
The rally and the subsequent sporadic violent outbreaks caused many downtown merchants to close their doors early.
Vincent Derquenne, co-owner of Bizou on the Downtown Mall, said he closed 45 minutes after opening.
"The patio was close to full and we had to bring everybody inside," he said. "And everybody came, with their dogs and everything."
He said it was OK that they had to close the restaurant for most of the day.
"It's a small price," Derquenne said. "This is freedom."
Wilson Richey, who is involved in several restaurants downtown, said the July 8 Ku Klux Klan rally and Saturday's have hurt downtown businesses.
"I want to encourage everyone to come in droves on Sunday, if you avoided the mall on Saturday and then, perhaps, maybe lean in heavy on your downtown visits next week," he said.
On Saturday evening, Virginia Gov. Terry McAuliffe and Charlottesville city officials held a news conference and denounced the violence.
McAuliffe thanked local and state law enforcement and the National Guard and said white supremacists are not welcome in Virginia.
 "Our message is plain and simple: Go home," he said. "You are not wanted in this great town."
Charlottesville Mayor Mike Signer spoke about Charlottesville's resilience and the city's ability to write its own story.
"This tide of hatred and intolerance and bigotry that has come to us — this march with torches at the Lawn — is brought here by outsiders and by people who belong in the trash heap of history with these ideas," Signer said. "The work of rebuilding and healing is just beginning today. Tomorrow will come and we will emerge — I can promise you — stronger than ever."
Thomas said police will take the next few weeks and months to investigate and review the events.
"What the world saw today is not the place Charlottesville is," he said. "We love our city. Let us heal. This is not our story. Outsiders do not tell our story."
Daily Progress staff writers Lauren Berg, Dean Seal, Chris Suarez, Michael Bragg and Allison Wrabel contributed to this story.
--------------------------------------------------------------
James Alex Fields Jr., of Maumee, Ohio, has been charged with second-degree murder, three counts of malicious wounding and failing to stop at the scene of an accident that resulted in a death after a car plowed into a crowd on the Downtown Mall.
The crash killed a 32-year-old woman and injured 19 others following an alt-right demonstration downtown.
Fields is in custody at the Albemarle-Charlottesville Regional Jail.
---
Charlottesville Police Chief Al Thomas has been empowered to "regulate, restrict or prohibit any assembly of persons, or the movement of persons or vehicles" on any public property including parks, streets and sidewalks, according to a release from city officials.
The emergency ordinance passed City Council unanimously during an emergency meeting at the Albemarle County Office Building, according to the release.
Mayor Mike Signer was quoted in the release, "The Council's decision to give Chief Thomas the authority to enact a curfew as appropriate was made out of an abundance of caution. We did so, having full confidence in Chief Thomas and regional law enforcement's ability to make the final call."
Chief Thomas has yet to take any action, according to the release.
President Donald Trump has offered his condolences to the family of the woman killed when a car slammed into a crowd of pedestrians on the Downtown Mall.
"Condolences to the family of the young woman killed today, and best regards to all of those injured, in Charlottesville, Virginia," he tweeted. "So sad!"
BEDMINSTER, N.J. — President Donald Trump on Saturday blamed "many sides" for the violent clashes between protesters and white supremacists in Virginia and contended that the "hatred and bigotry" broadcast across the country had taken root long before his political ascendancy.
---
Charlottesville police Chief Al Thomas says a 32-year-old woman was killed when a car plowed into a crowd of counter-protesters on the Downtown Mall. The death is being investigated as a homicide, and the suspect is in custody, Thomas said.
The identity of the woman is being withheld until family can be notified.
Thomas said 35 people were injured during the Unite the Right rally and protests, adding that none was caused by the police.
It is unclear if two deaths caused by a helicopter crash near Birdwood Golf Course are connected to the Unite the Right rally, authorities said, but The Associated Press cited officials in establishing a connection.
President Donald Trump in a tweet said two Virginia State Police troopers died. "Deepest condolences to the families & fellow officers of the VA State Police who died today," he wrote. "You're all among the best this nation produces."
---
The organizer of a rally that drew hundreds of white nationalists and other extremists to Charlottesville says he disavows the violence that eroded it.
Jason Kessler said in an interview Saturday evening that whoever drove a car into a group of counter-protesters "did the wrong thing." He said he was saddened that people were hurt.
Kessler is a local blogger and activist who described the event as a pro-white rally. He planned it to protest the city's decision to remove a Confederate monument.
He also criticized law enforcement's response to the event, which was dispersed before speakers could take the stage.
He said they did a poor job controlling the chaos to allow free speech.
GRAPHIC: Pedestrians struck by car after Unite the Right rally
CDP 0813 CarProtesters183.JPG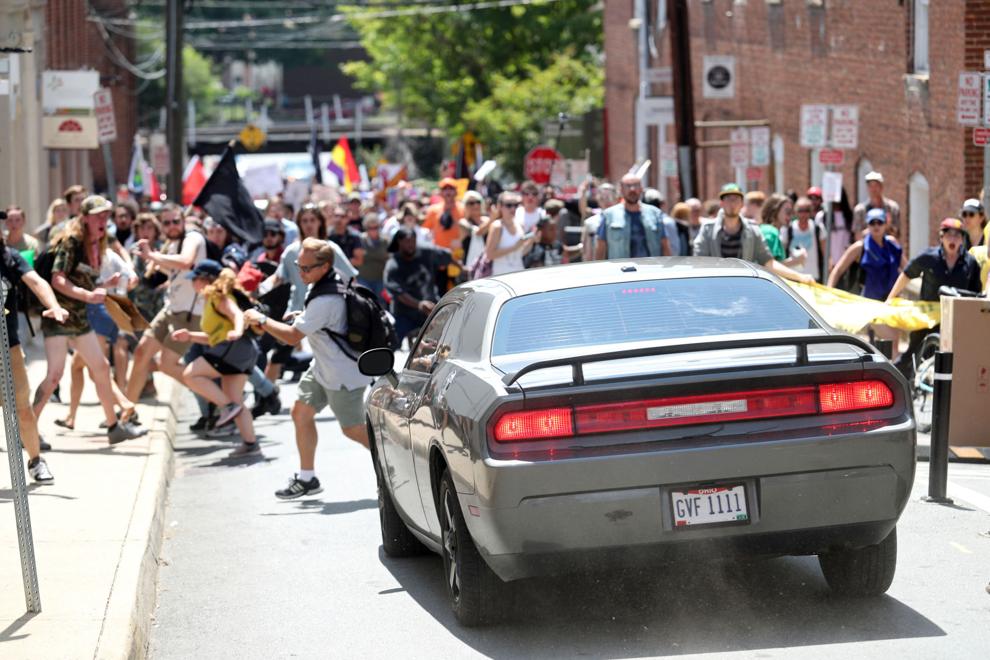 CDP 0813 CarProtesters184.JPG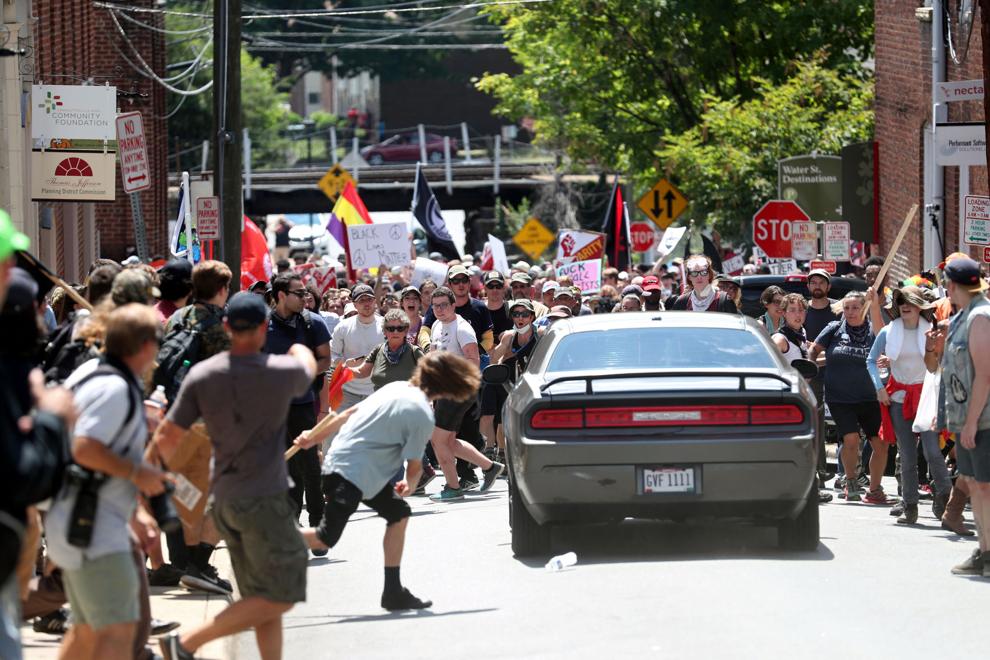 CDP 0813 CarProtesters186.JPG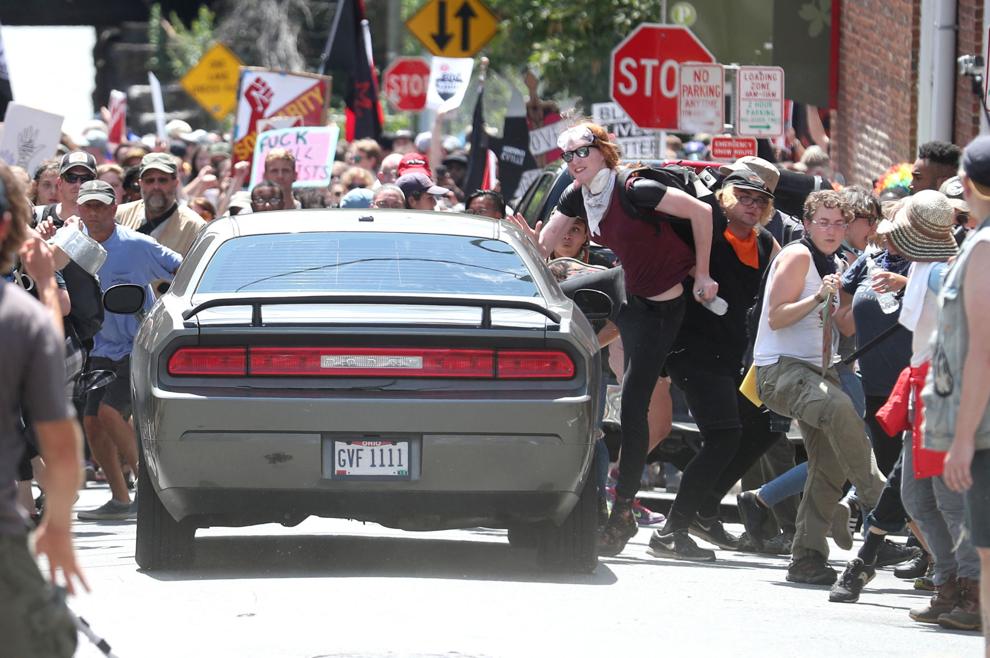 Fourth Street car attack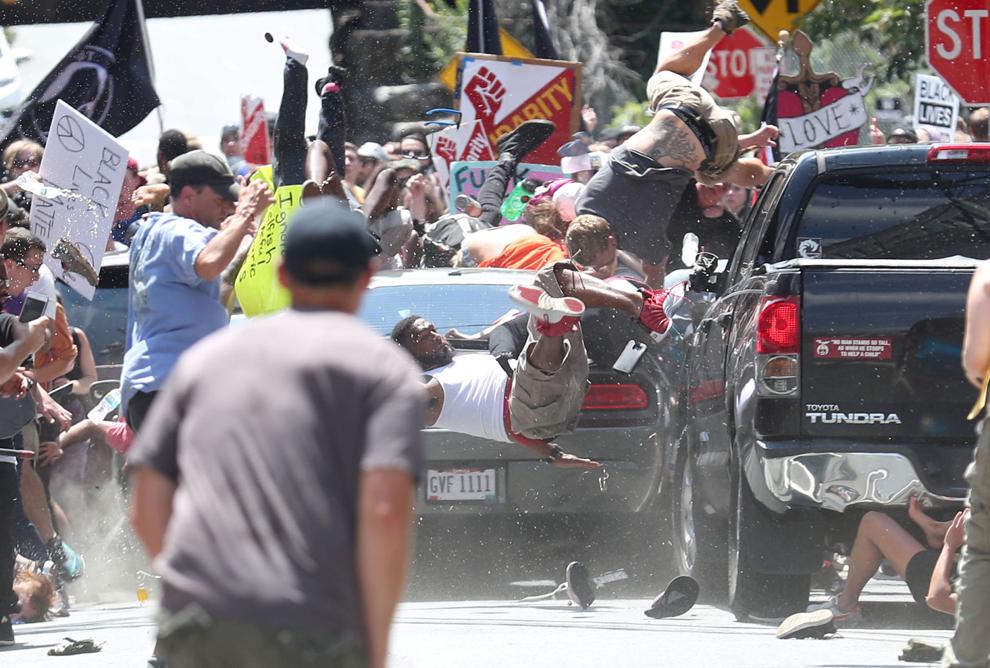 CDP 0813 CarProtesters185.JPG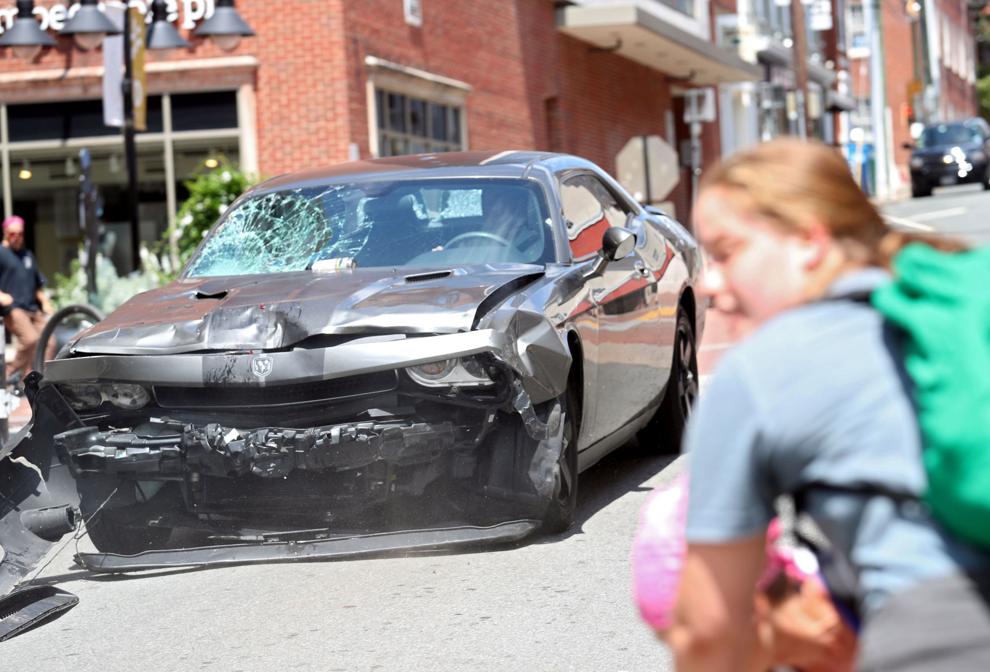 Unite the Right car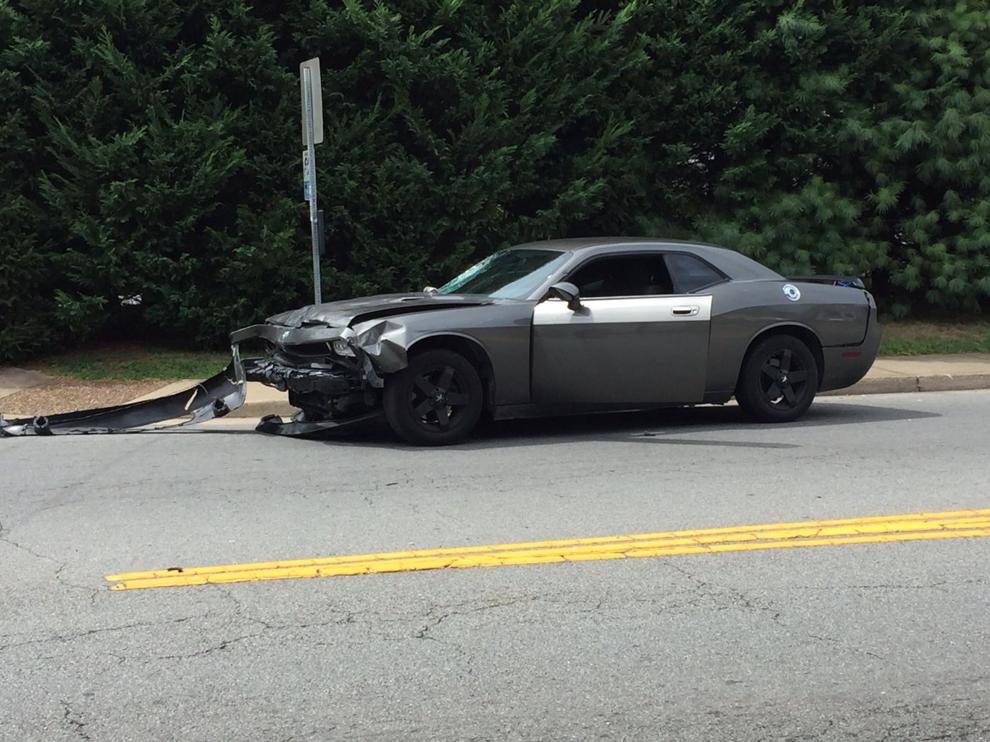 20170812_Alt-Right Rally647.JPG
Unite the Right rally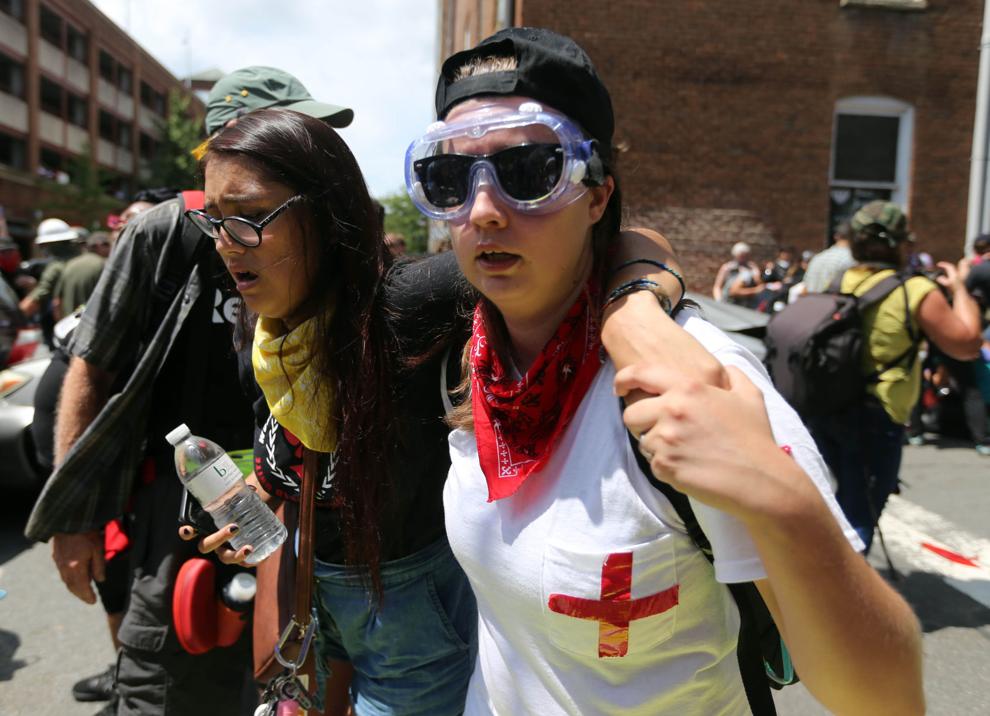 20170812_Alt-Right Rally621.JPG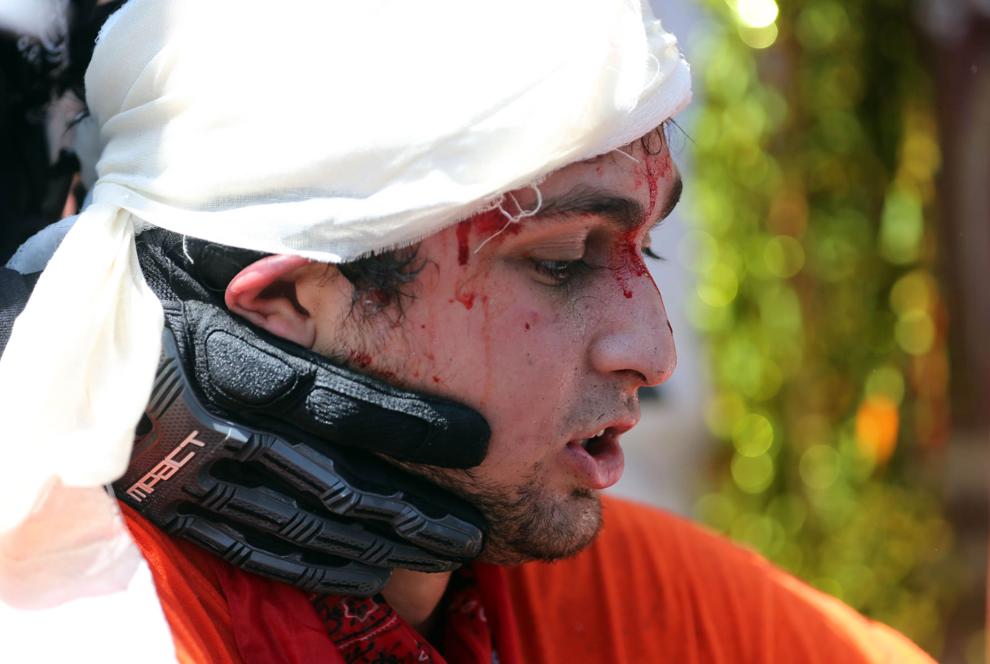 20170812_Alt-Right Rally623.JPG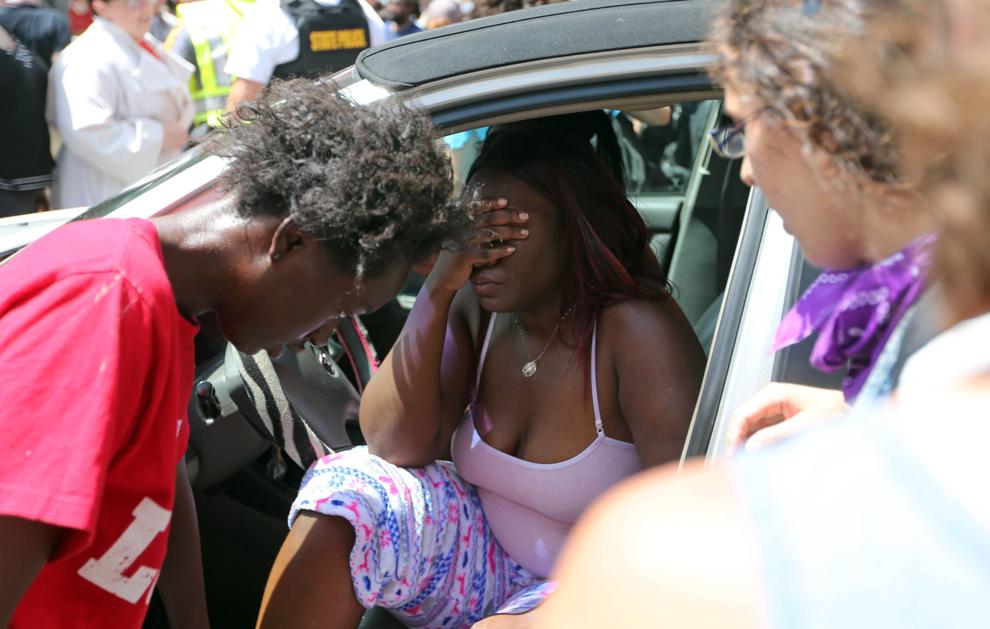 20170812_Alt-Right Rally624.JPG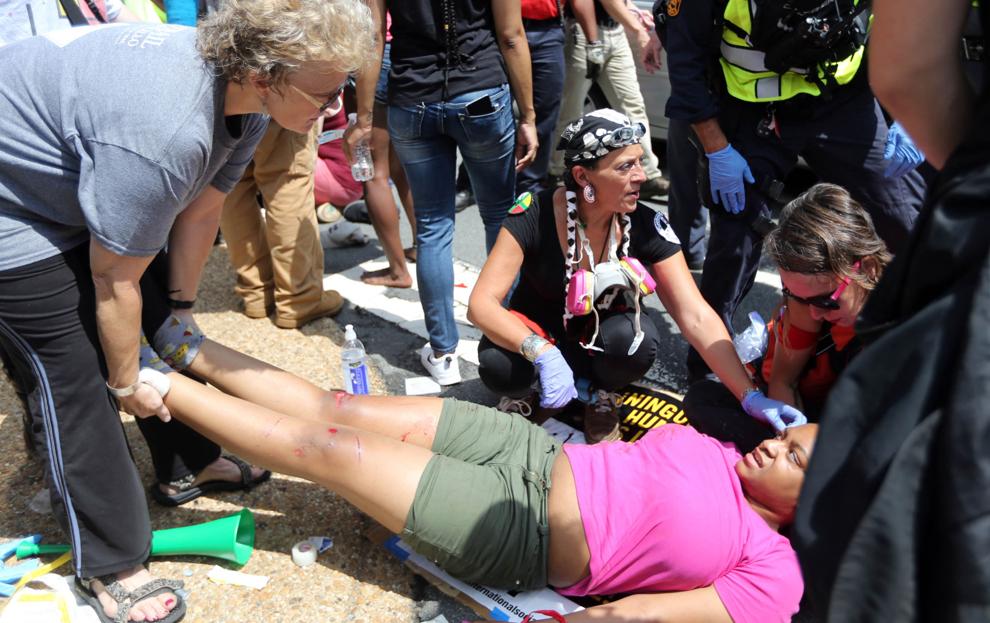 20170812_Alt-Right Rally628.JPG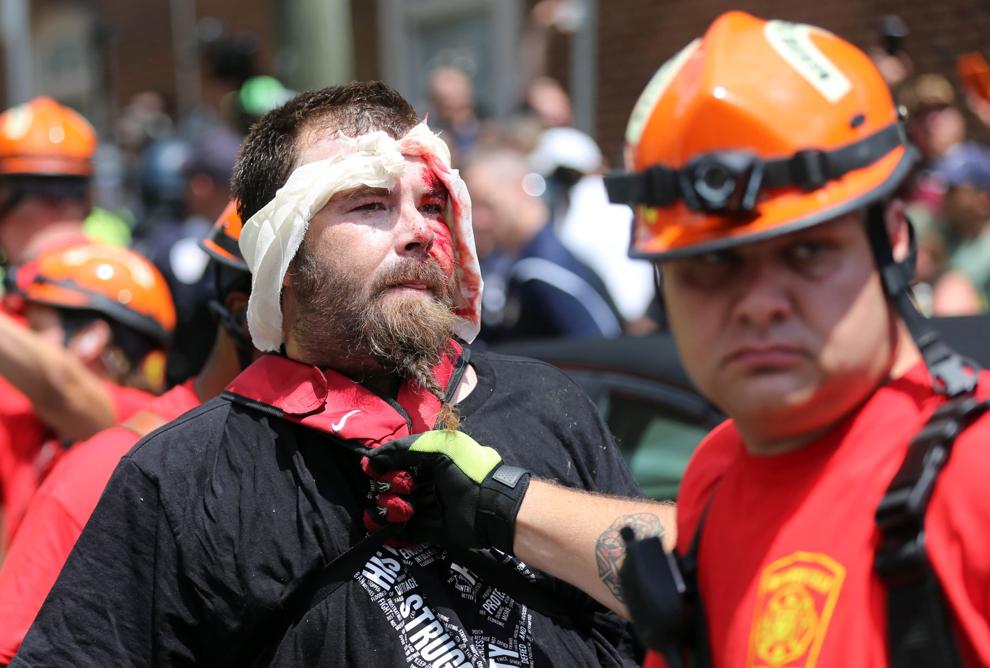 20170812_Alt-Right Rally634.JPG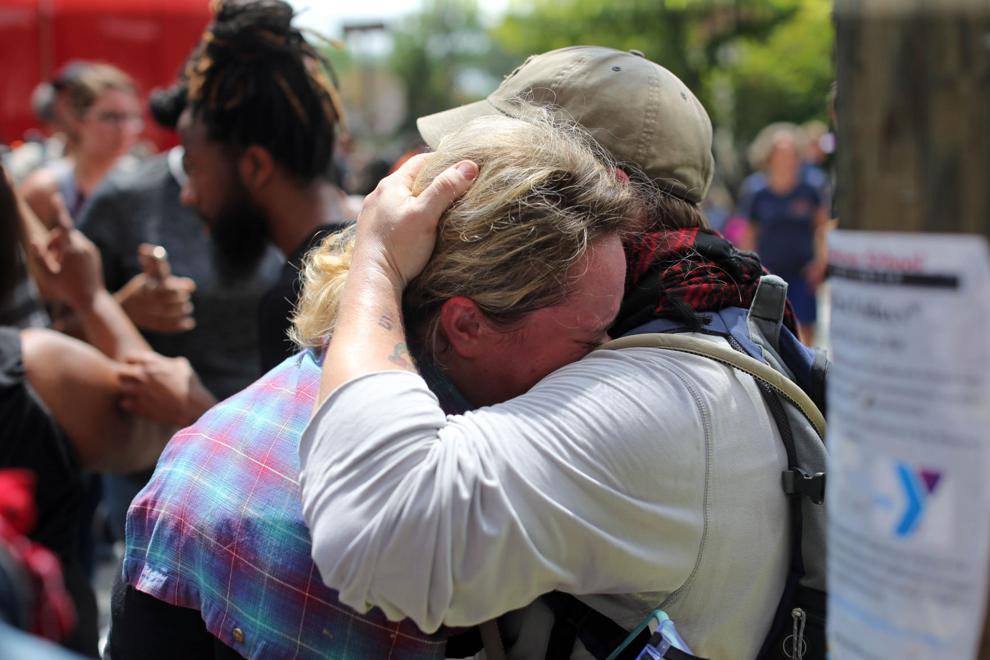 20170812_Alt-Right Rally636.JPG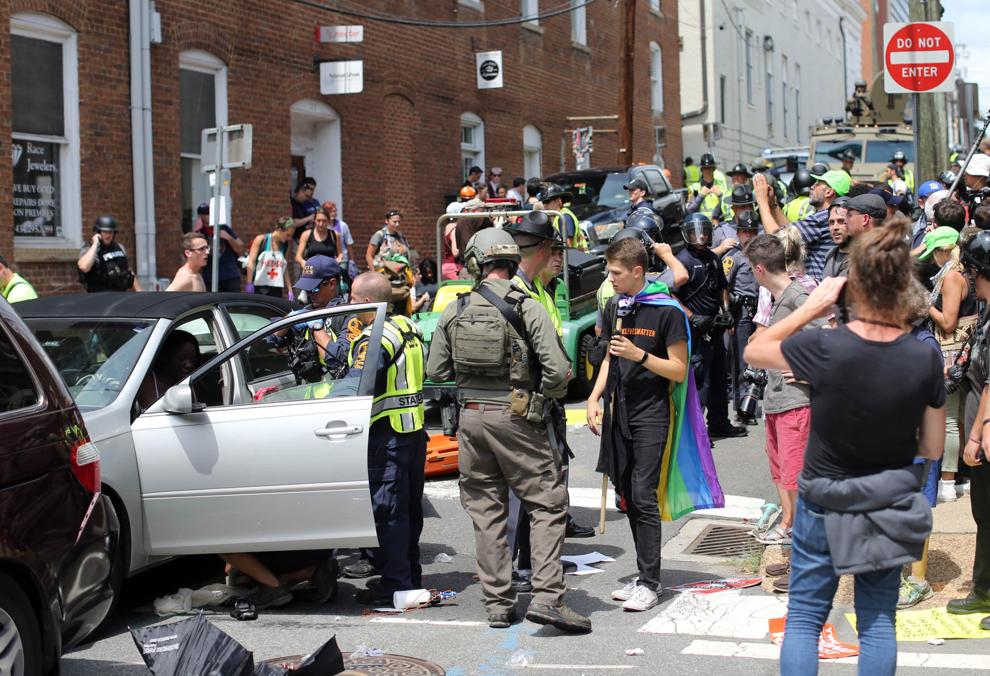 20170812_Alt-Right Rally639.JPG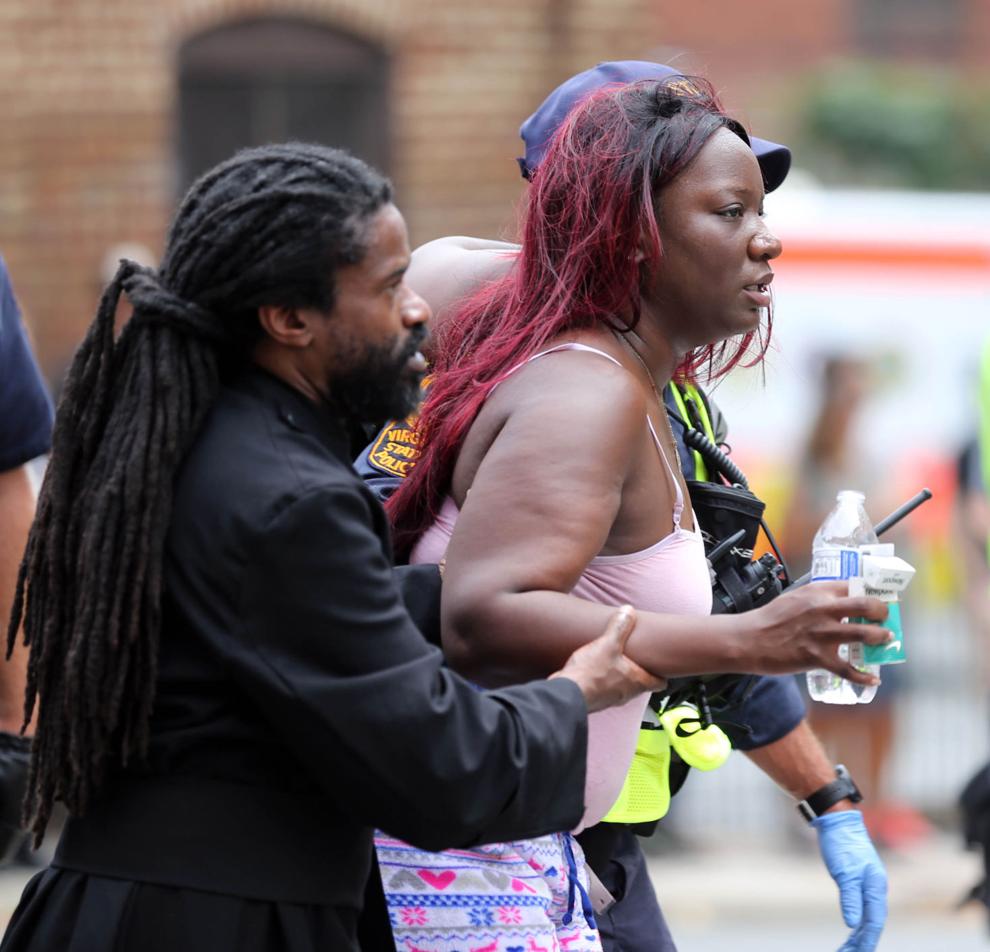 20170812_Alt-Right Rally641.JPG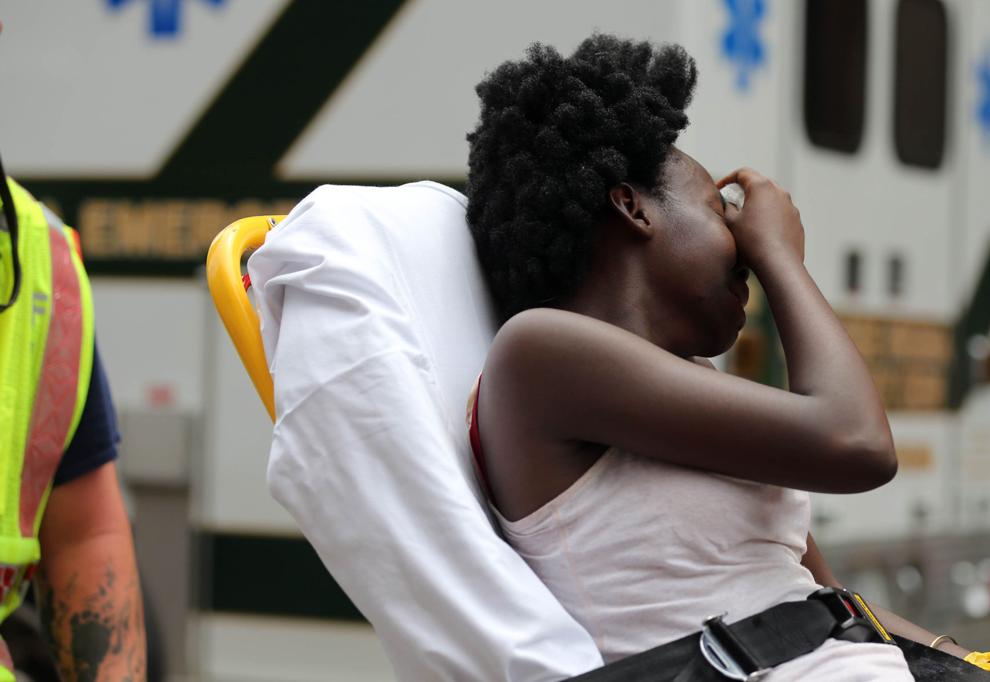 20170812_Alt-Right Rally643.JPG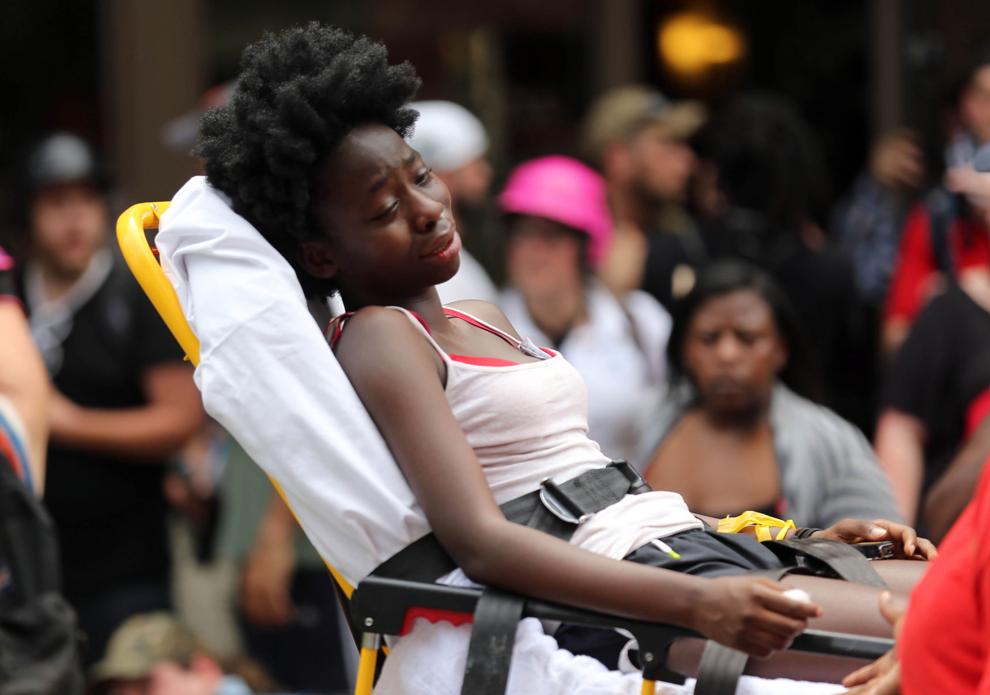 20170812_Alt-Right Rally648.JPG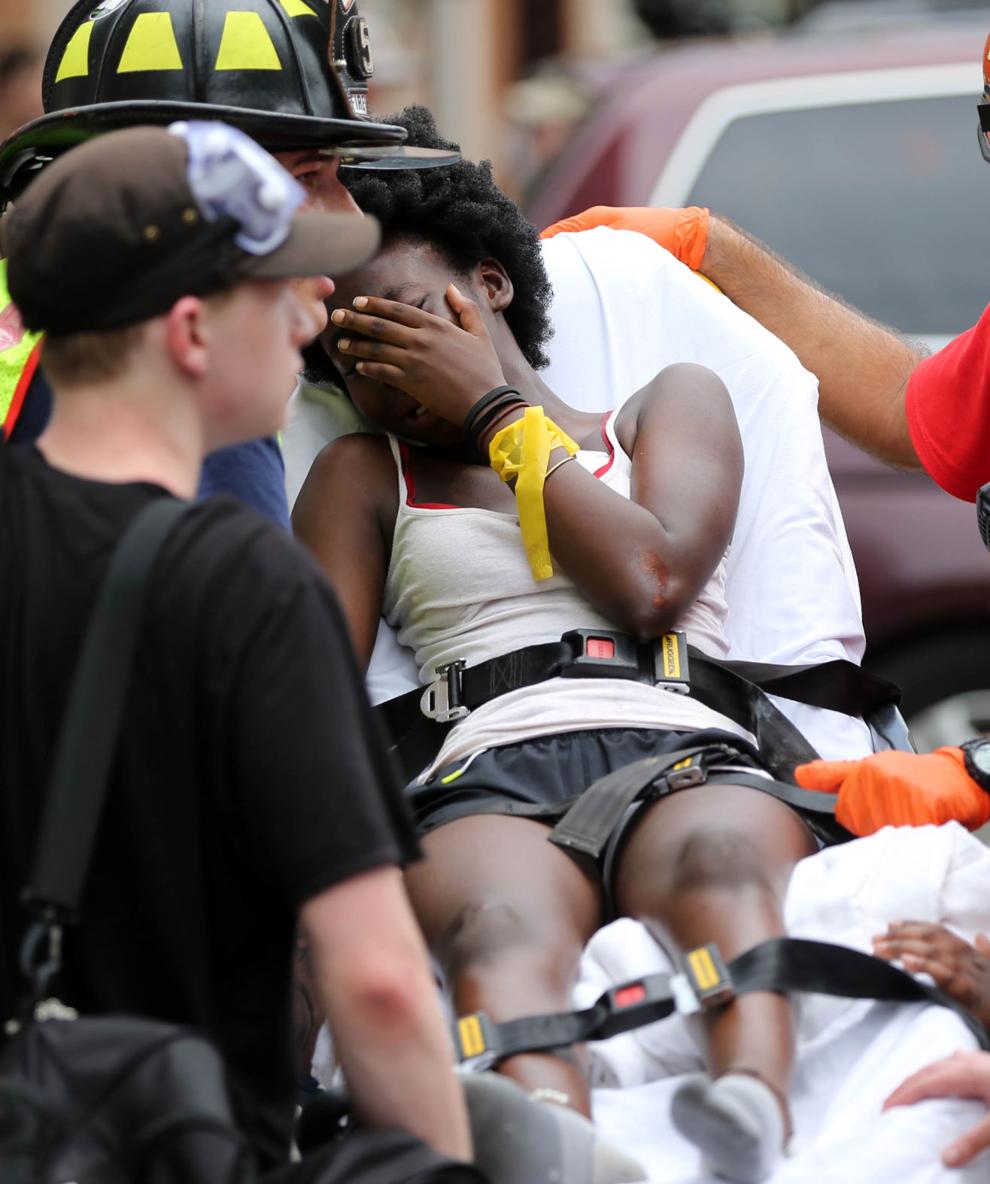 20170812_Alt-Right Rally649.JPG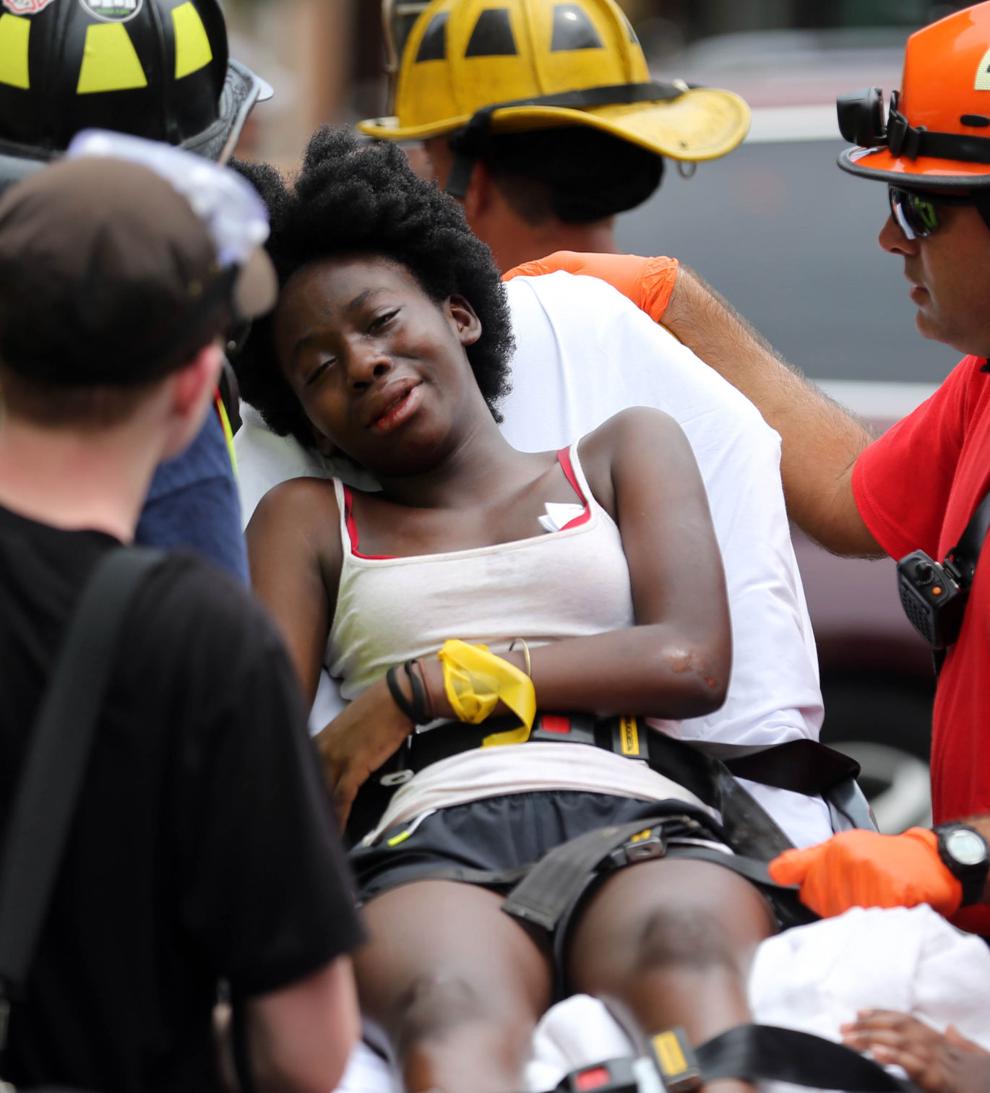 20170812_Alt-Right Rally534.JPG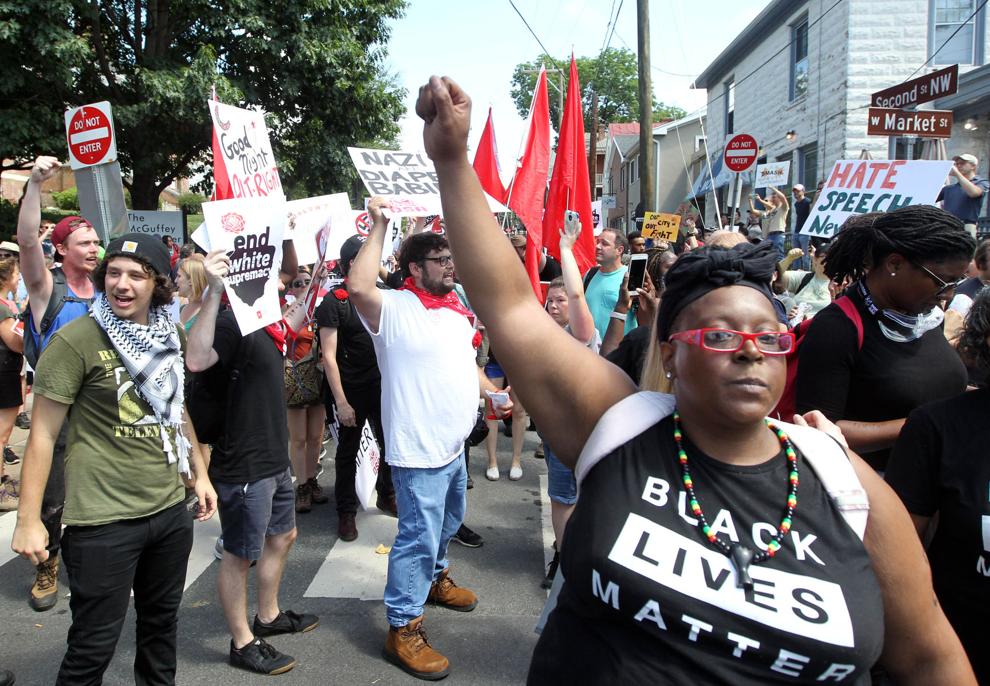 Unite the Right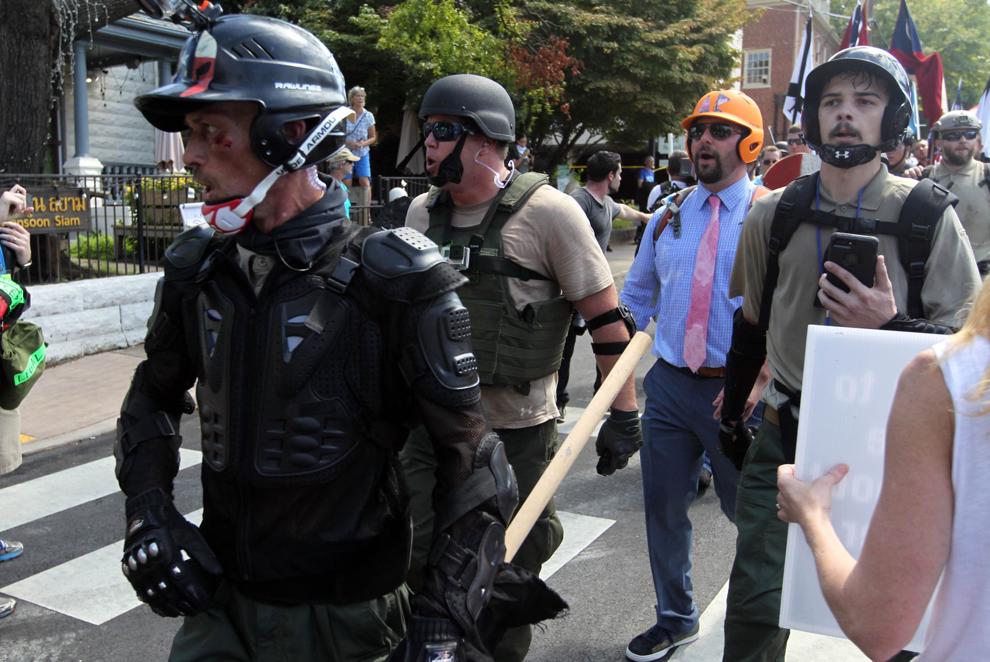 20170812_Alt-Right Rally537.JPG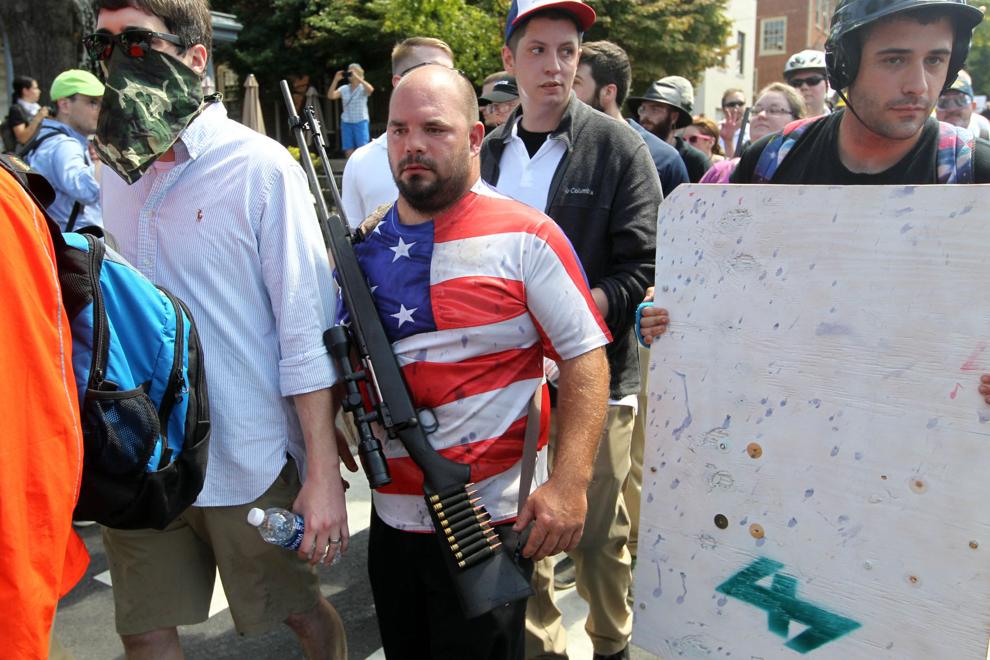 20170812_Alt-Right Rally542.JPG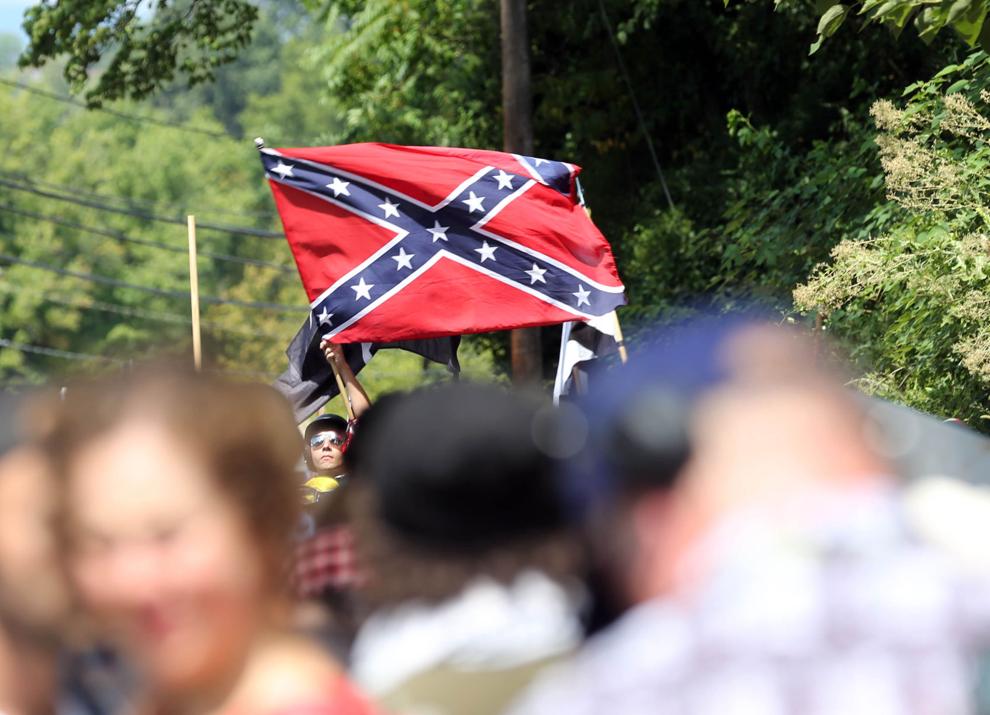 20170812_Alt-Right Rally544.JPG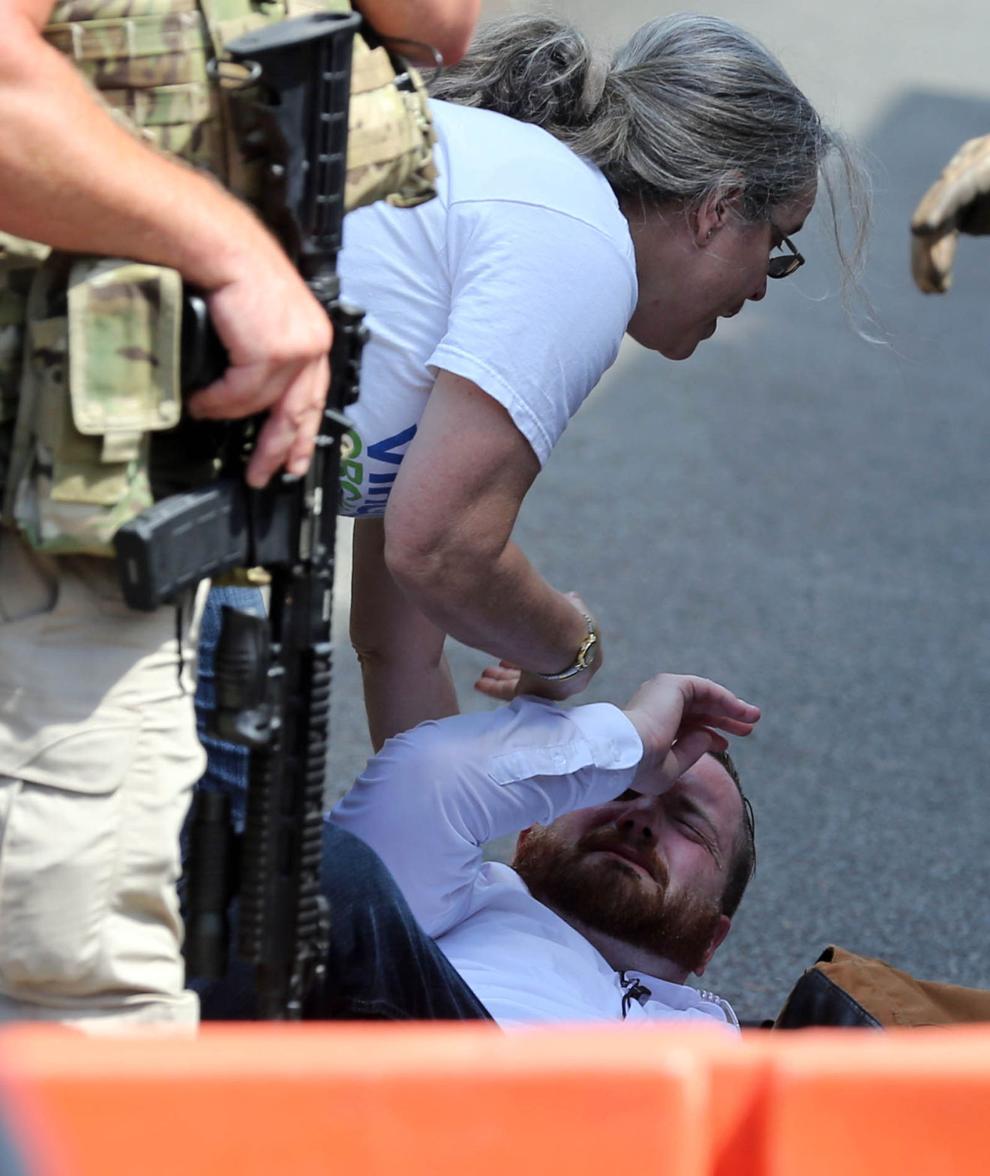 20170812_Alt-Right Rally547.JPG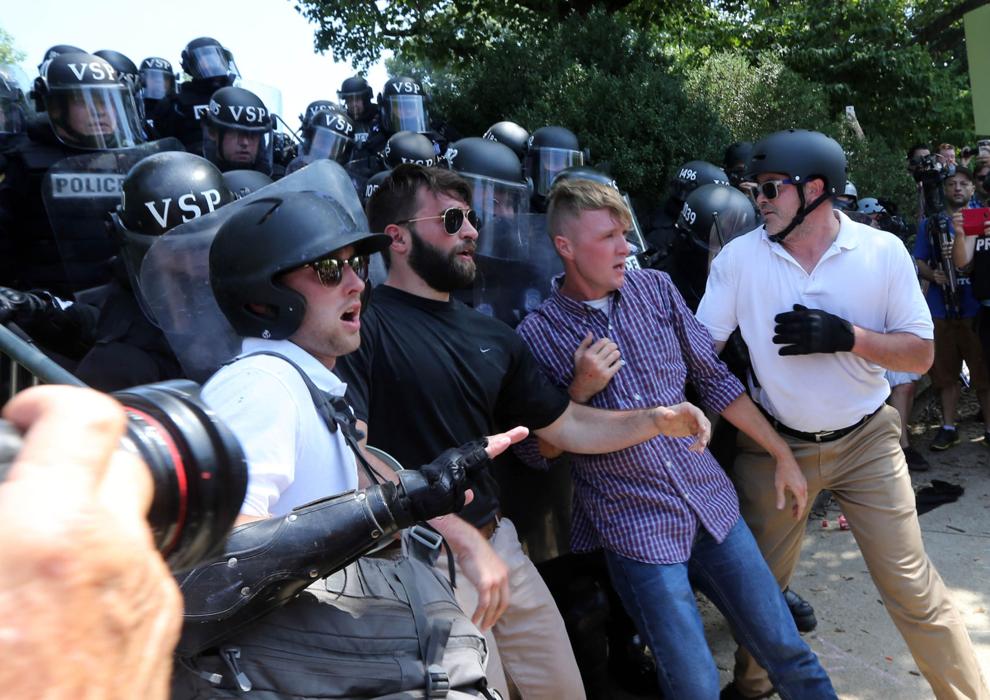 20170812_Alt-Right Rally556.JPG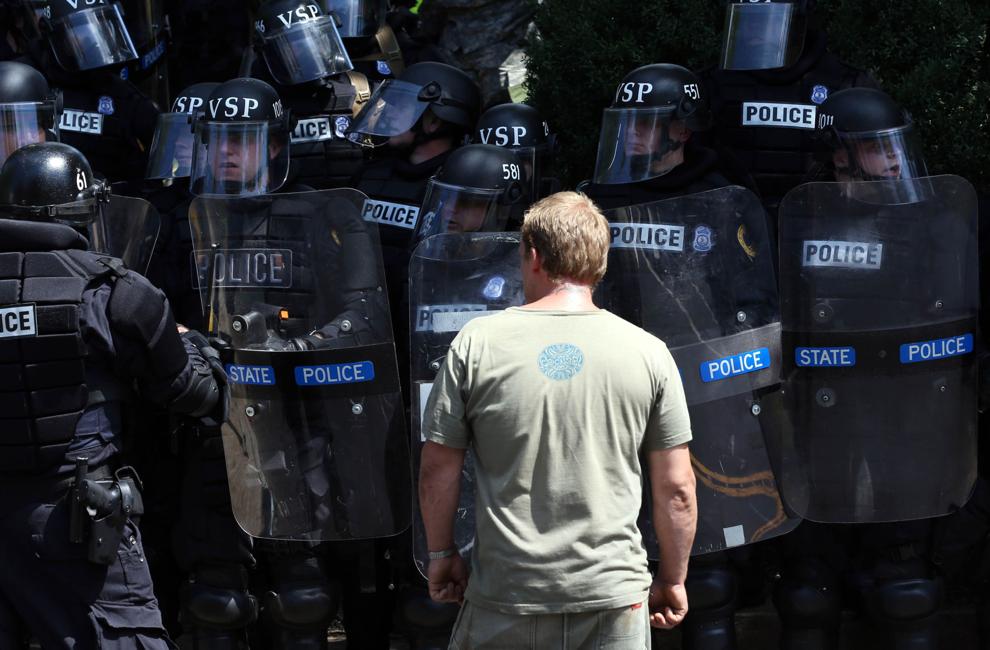 20170812_Alt-Right Rally557.JPG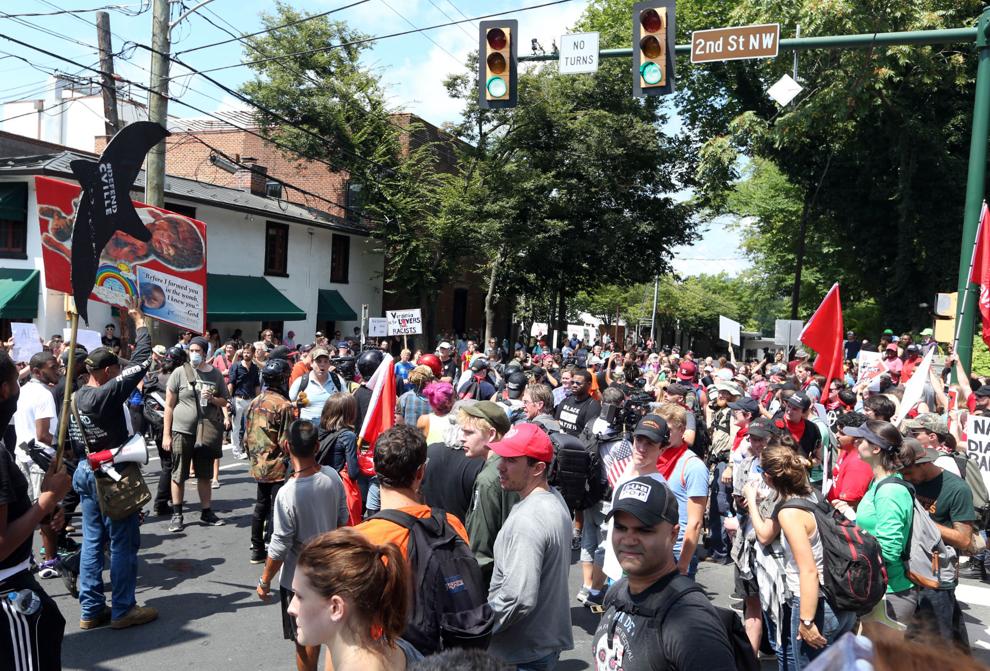 20170812_Alt-Right Rally559.JPG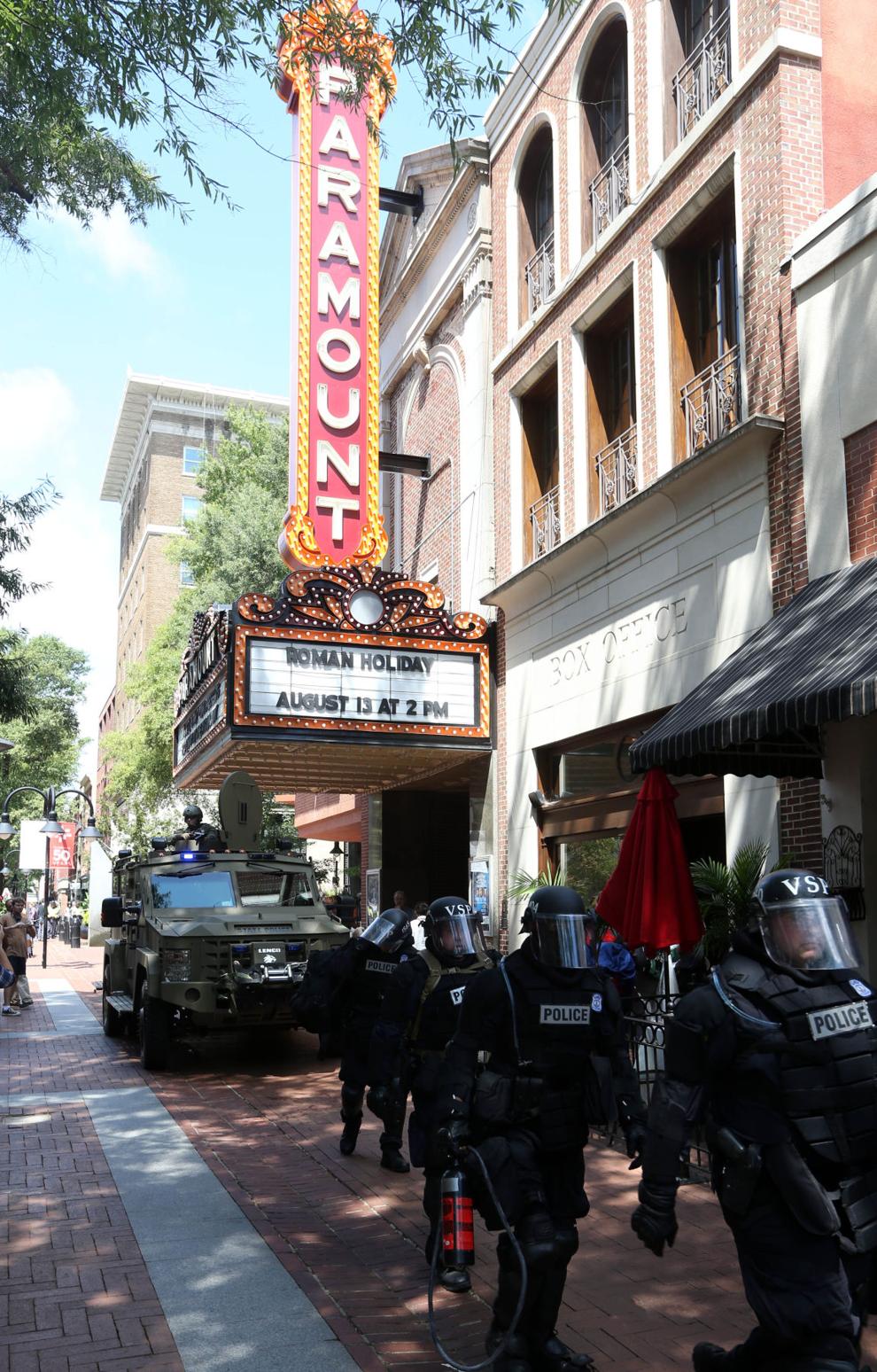 20170812_Alt-Right Rally560.JPG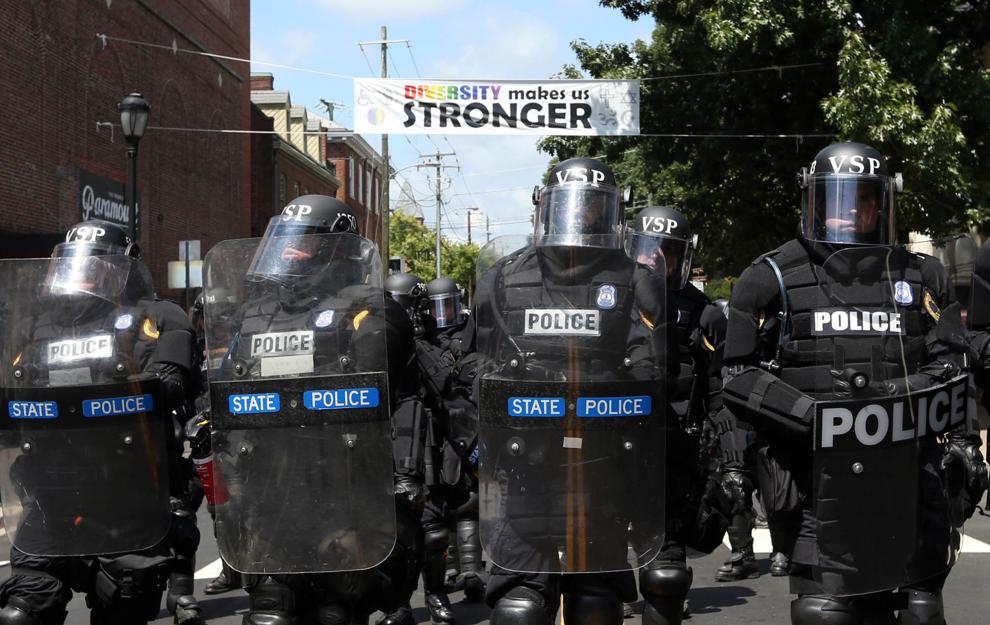 20170812_Alt-Right Rally563.JPG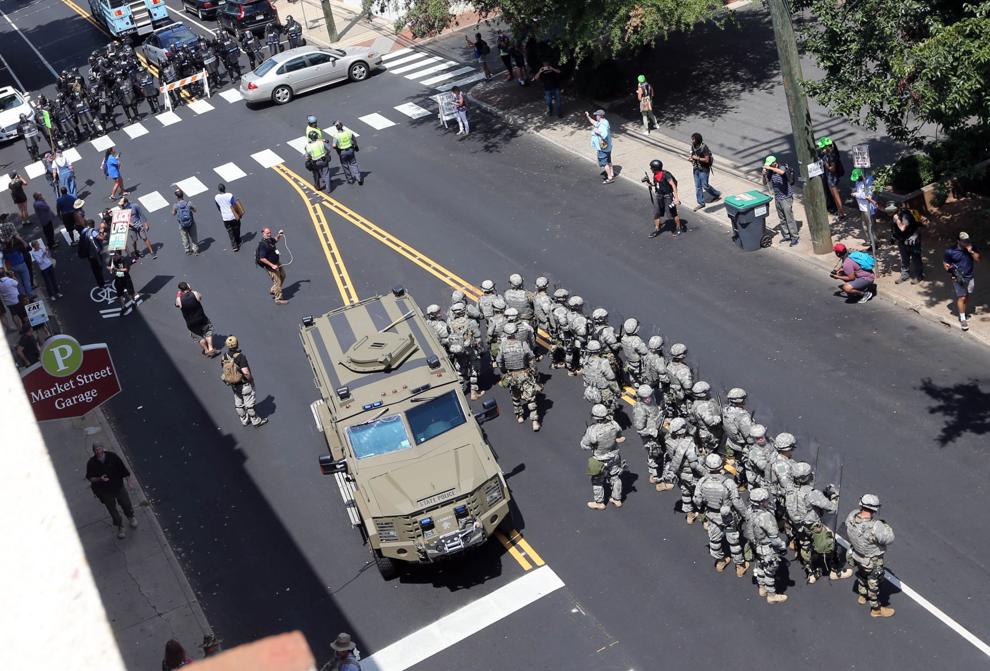 20170812_Alt-Right Rally564.JPG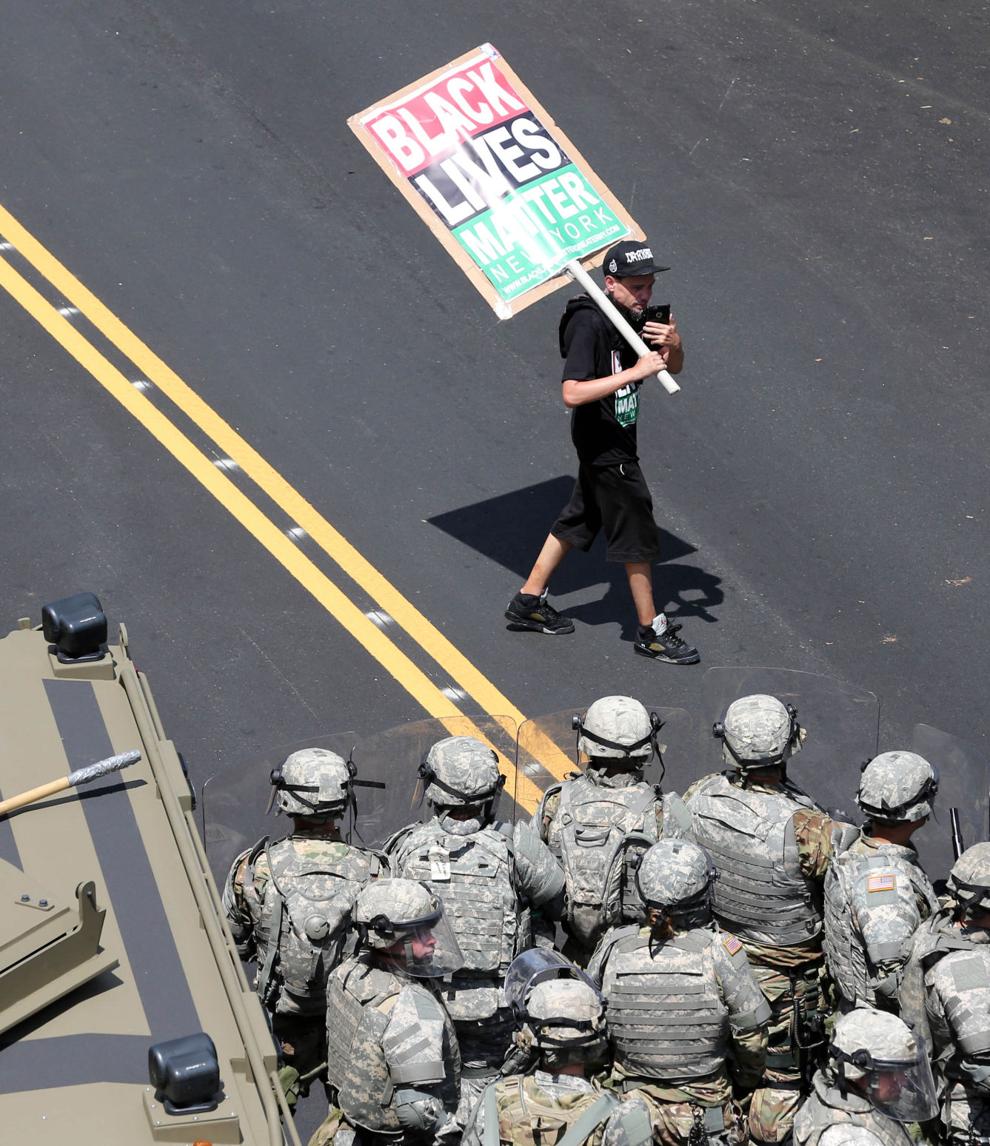 20170812_Alt-Right Rally566.JPG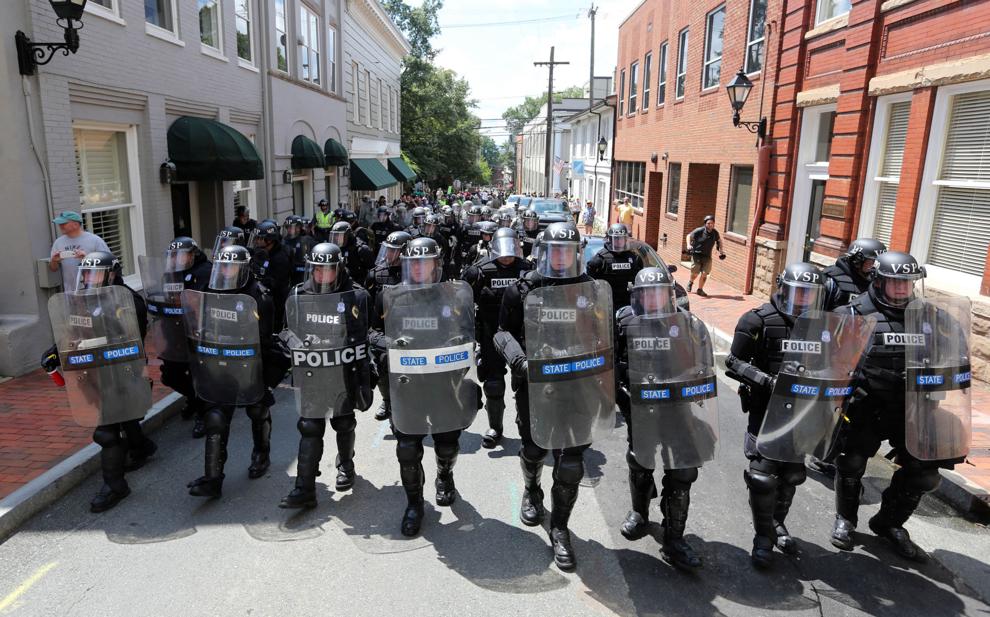 20170812_Alt-Right Rally568.JPG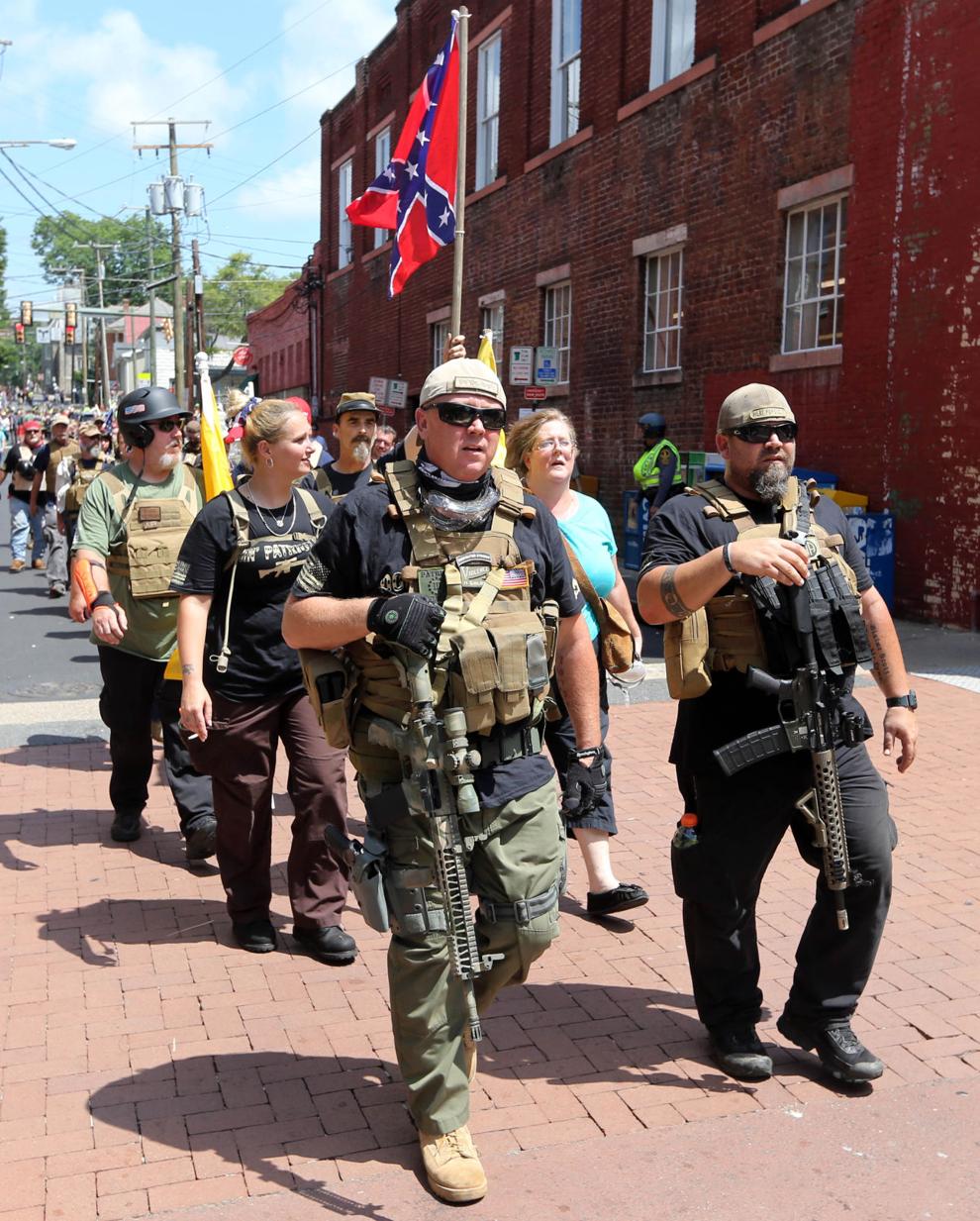 20170812_Alt-Right Rally570.JPG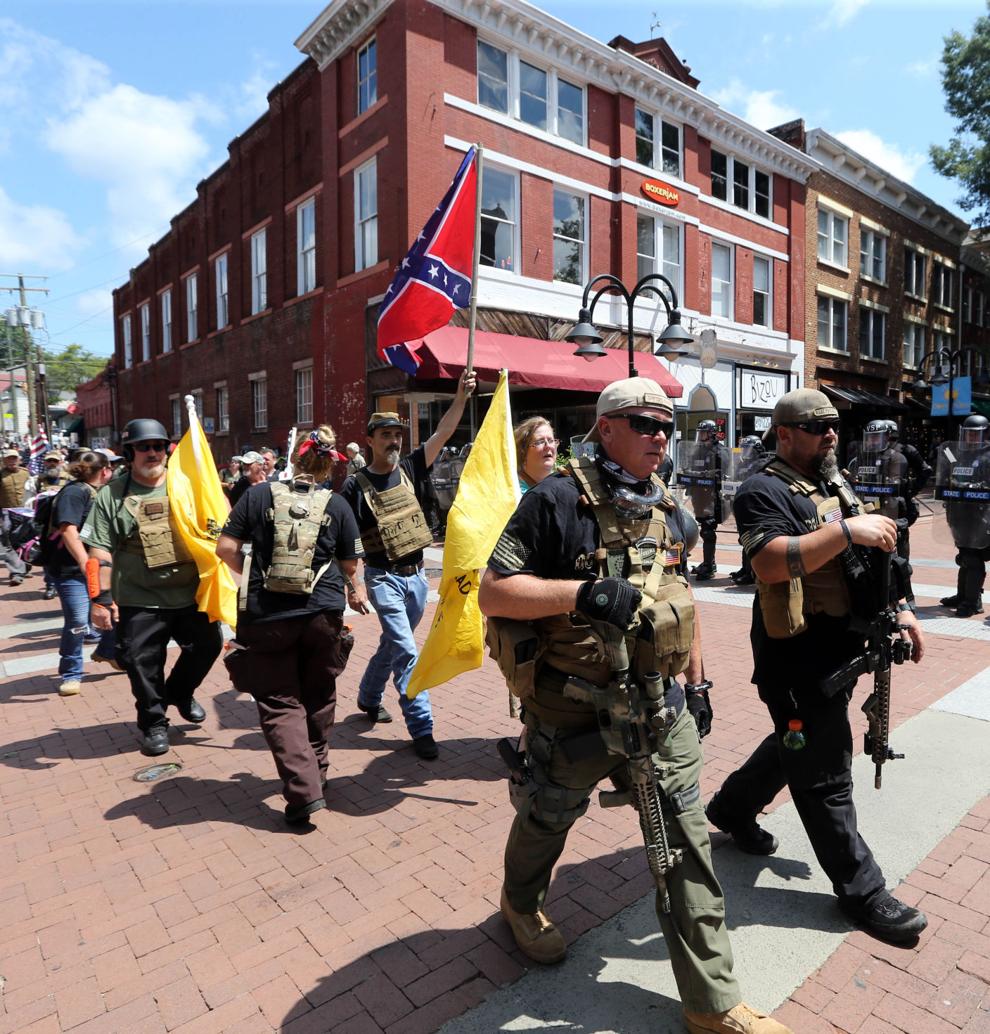 CDP 0813 UniteTheRight189.JPG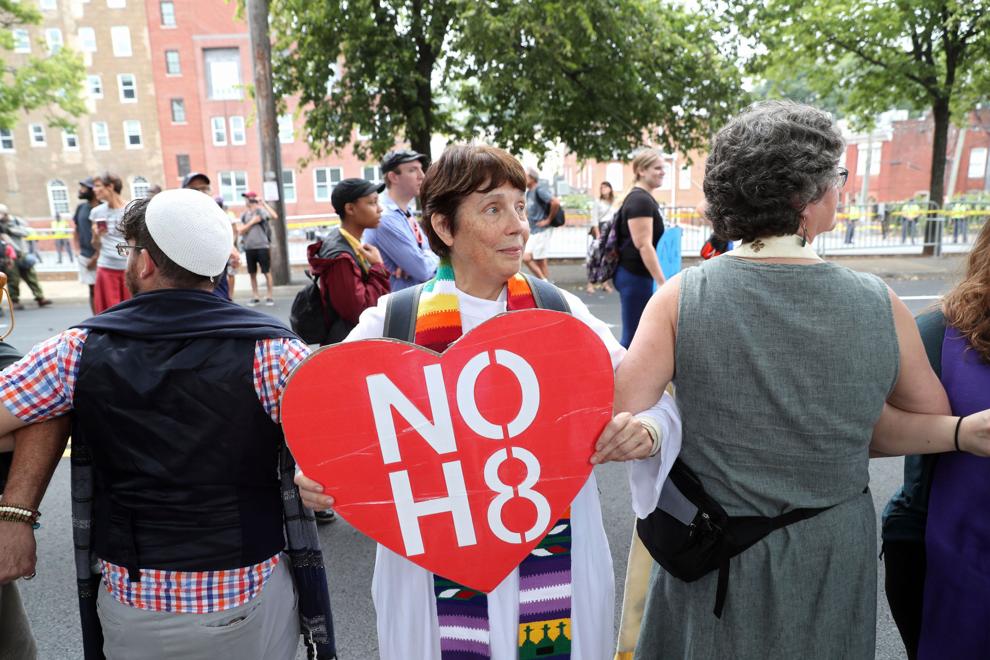 Unite the Right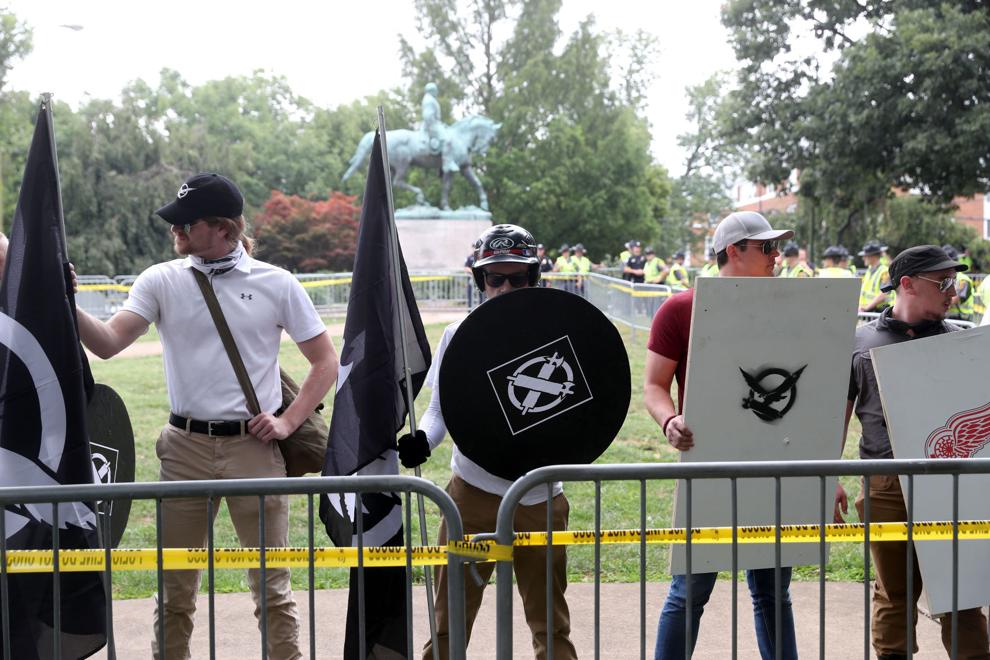 Unite the Right -militia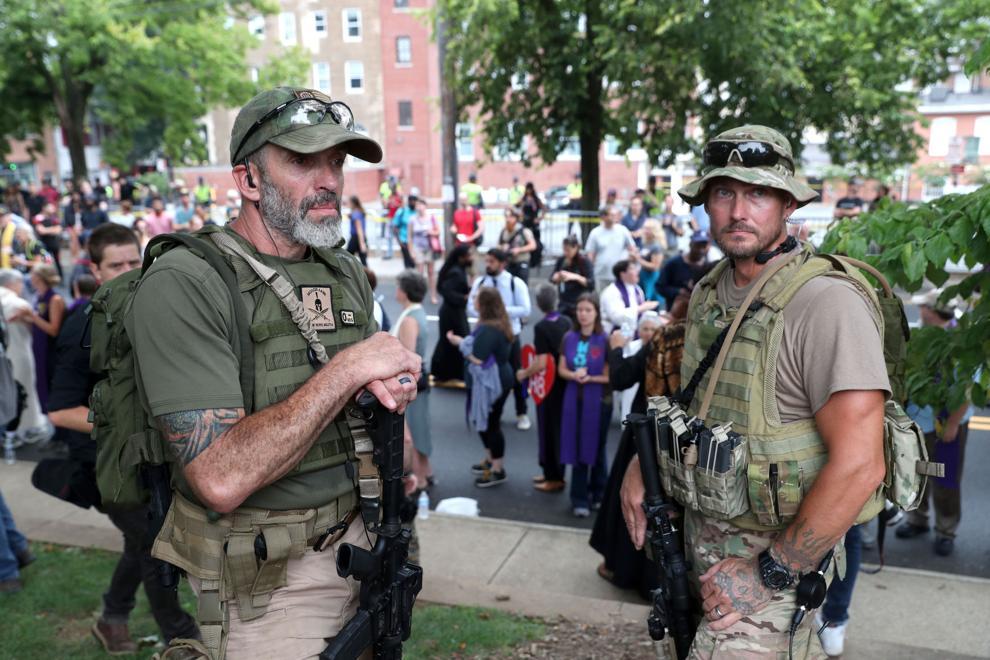 CDP 0813 UniteTheRight192.JPG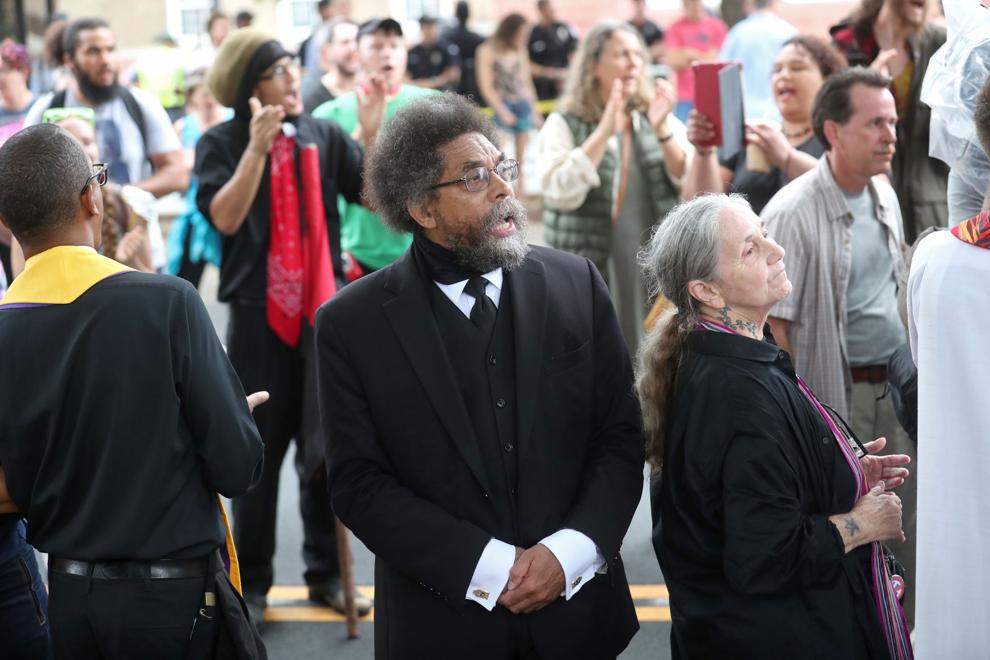 CDP 0813 UniteTheRight193.JPG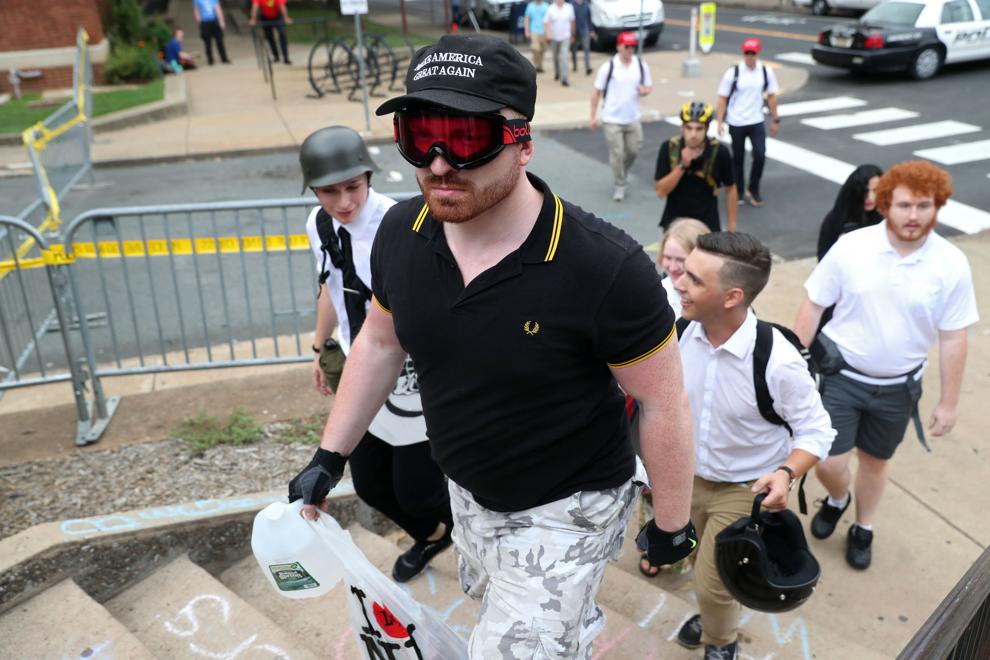 CDP 0813 UniteTheRight194.JPG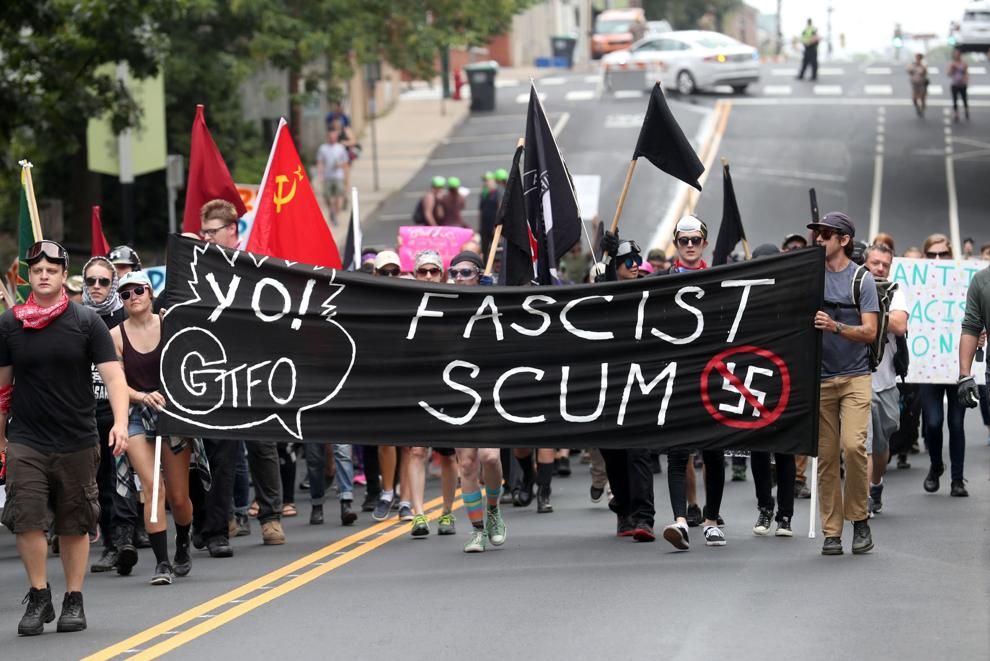 National Socialist Movement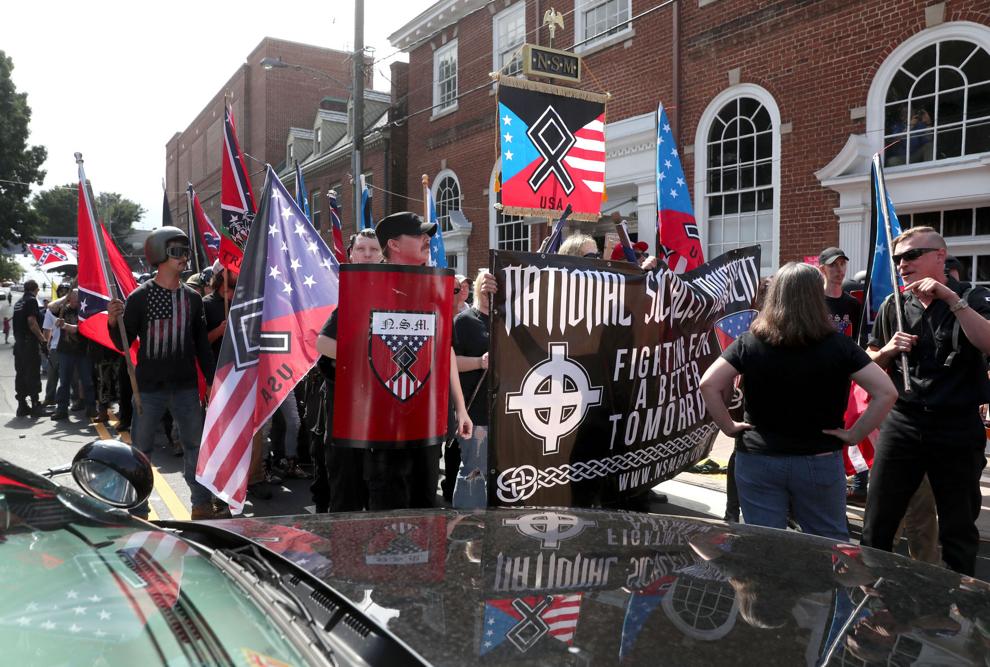 CDP 0813 UniteTheRight196.JPG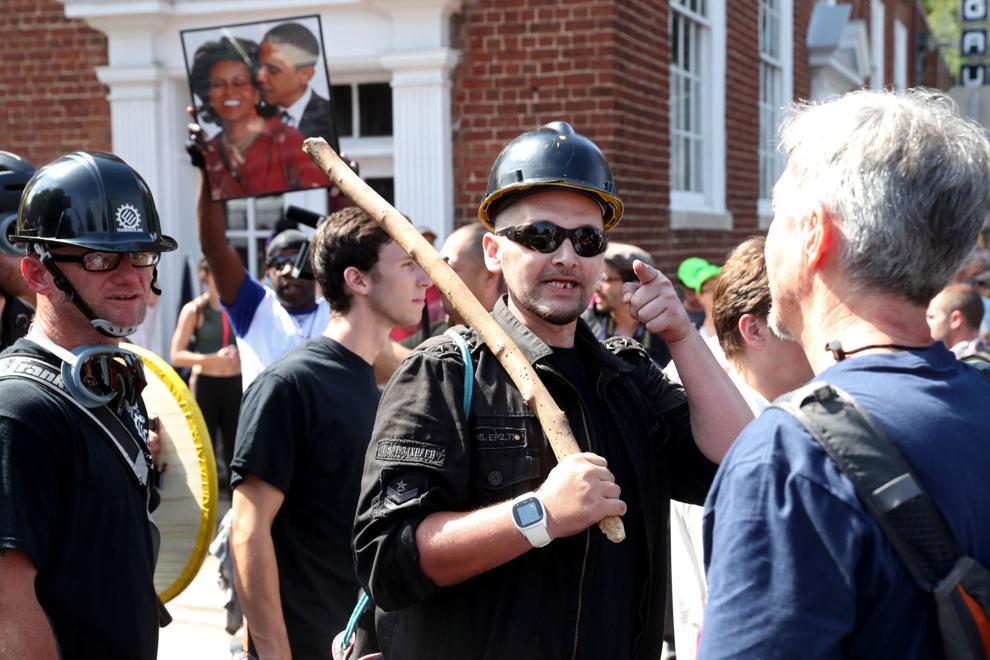 CDP 0813 UniteTheRight197.JPG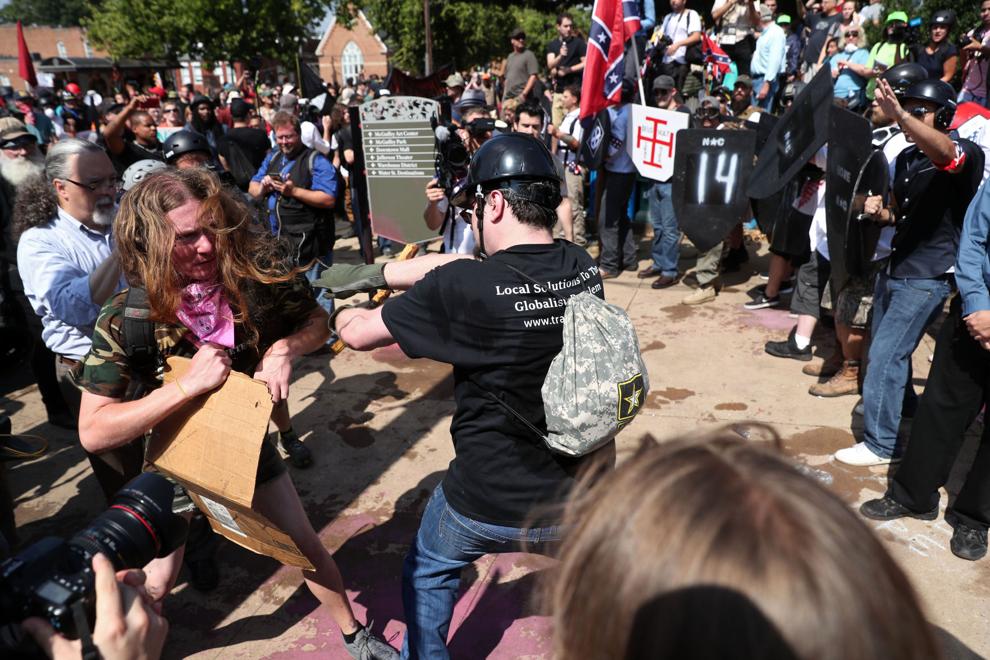 CDP 0813 UniteTheRight198.JPG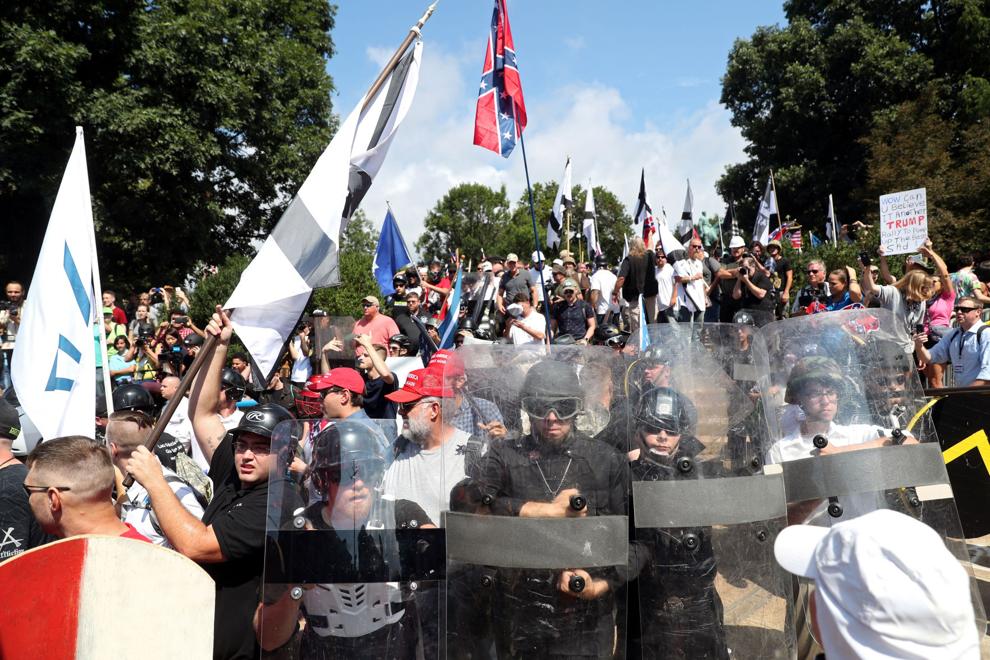 CDP 0813 UniteTheRight199.JPG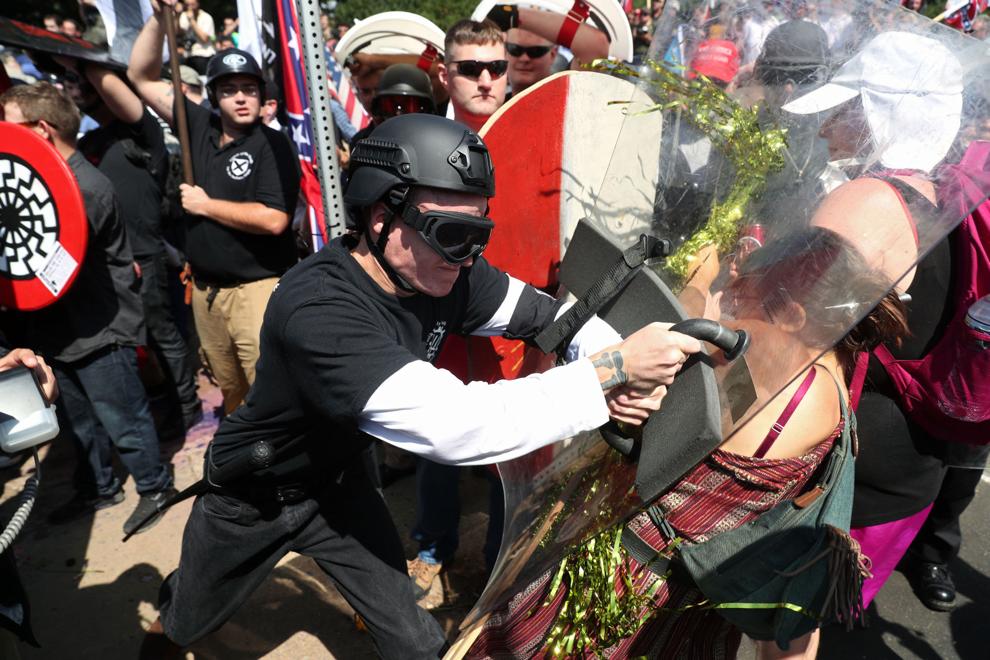 CDP 0813 UniteTheRight200.JPG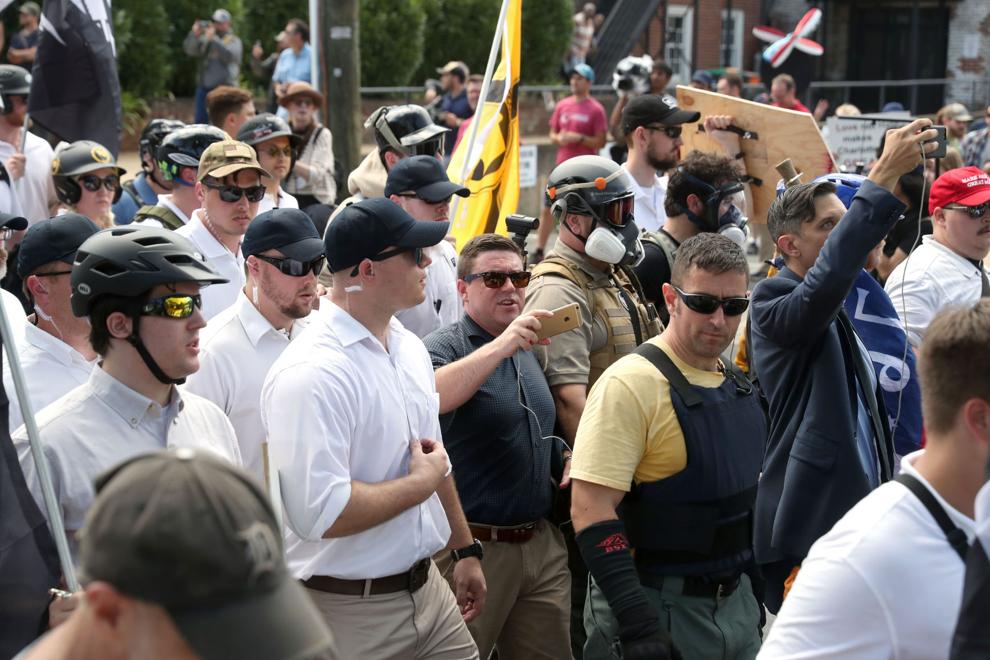 CDP 0813 UniteTheRight201.JPG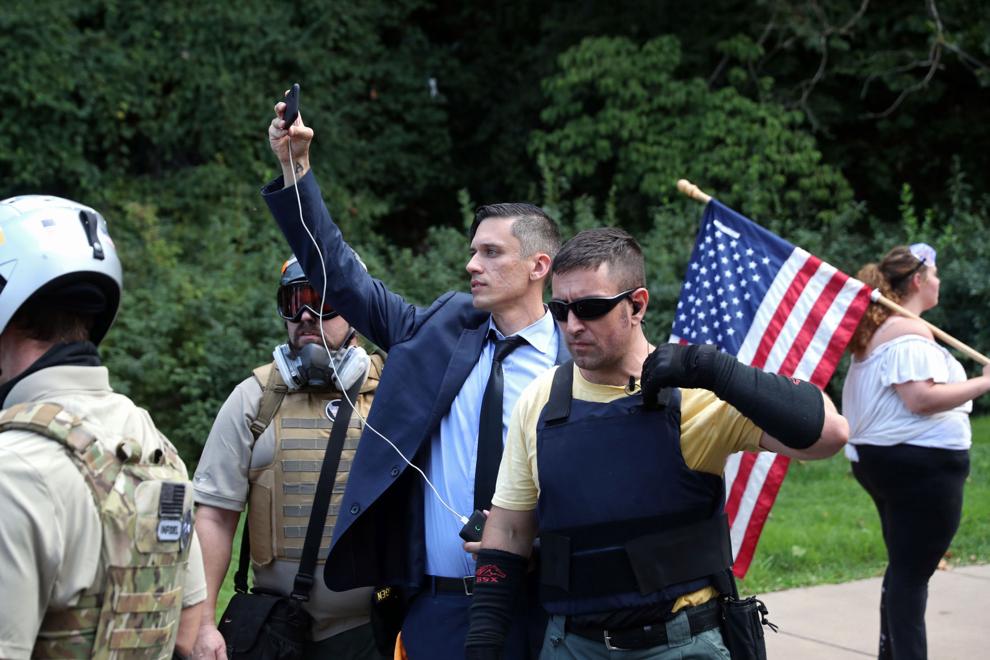 CDP 0813 UniteTheRight202.JPG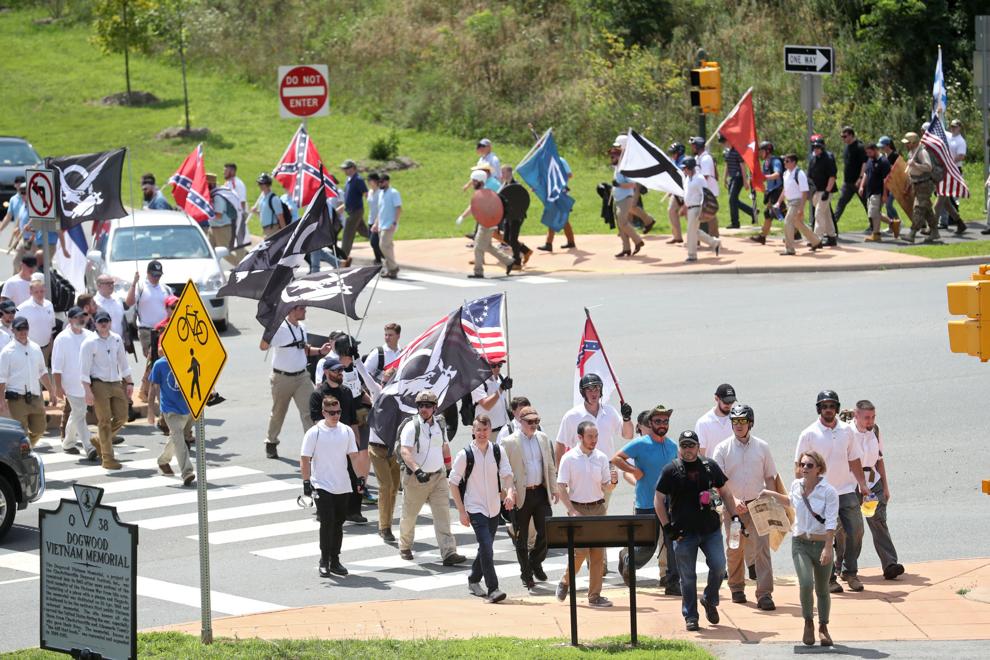 CDP 0813 UniteTheRight203.JPG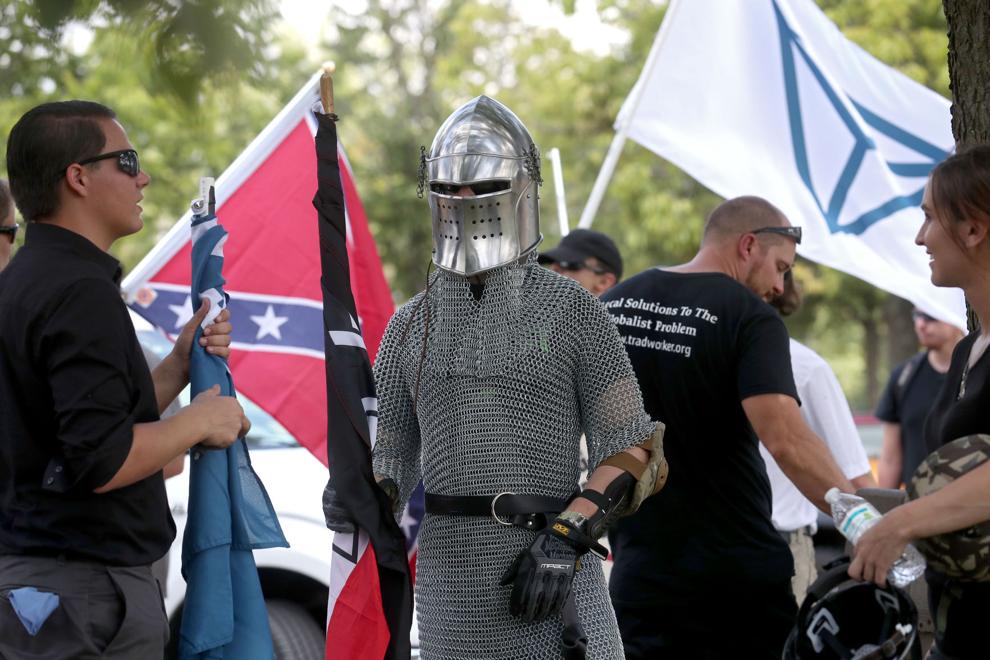 CDP 0813 UniteTheRight204.JPG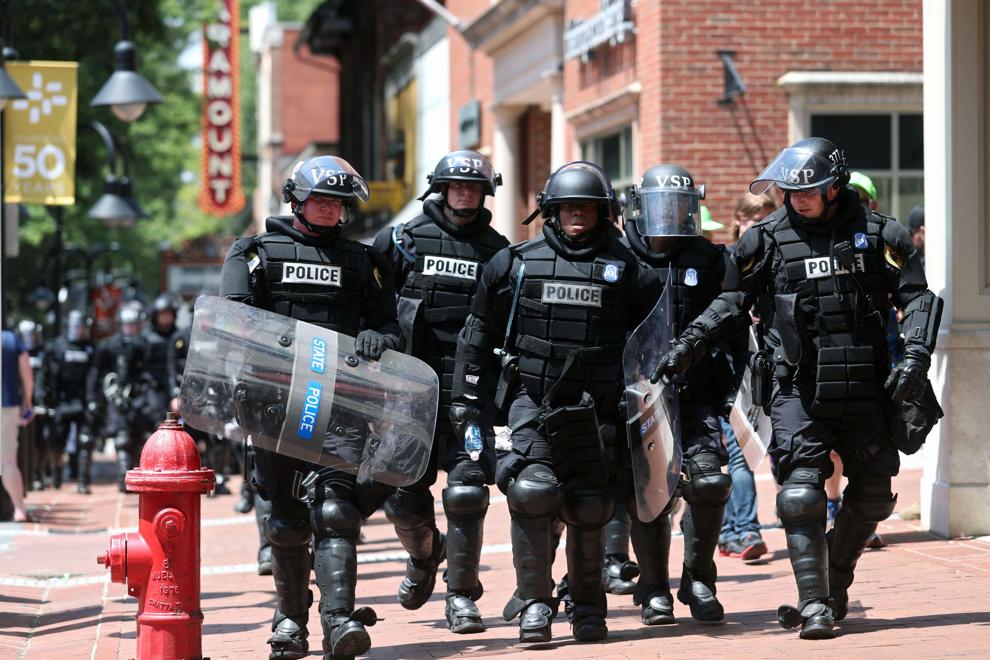 CDP 0813 UniteTheRight205.JPG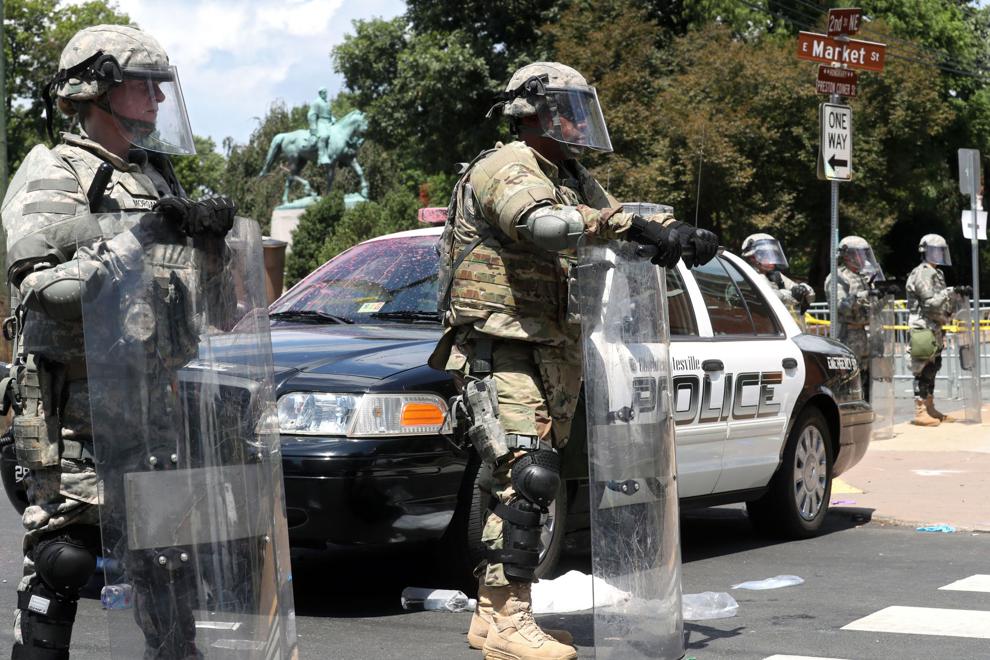 CDP 0813 UniteTheRight206.JPG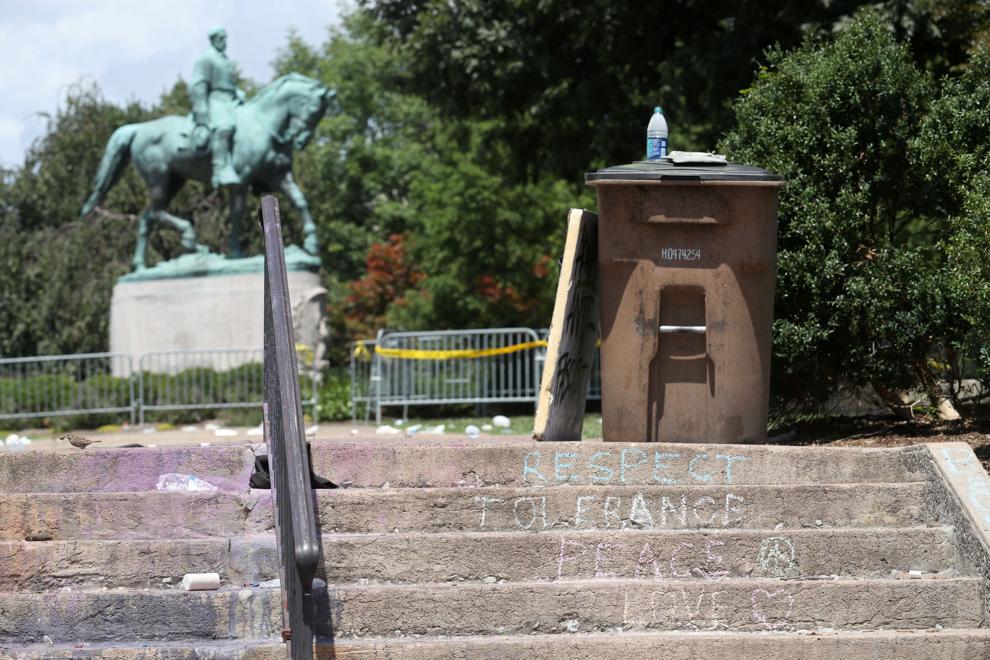 CDP 0813 UniteTheRight207.JPG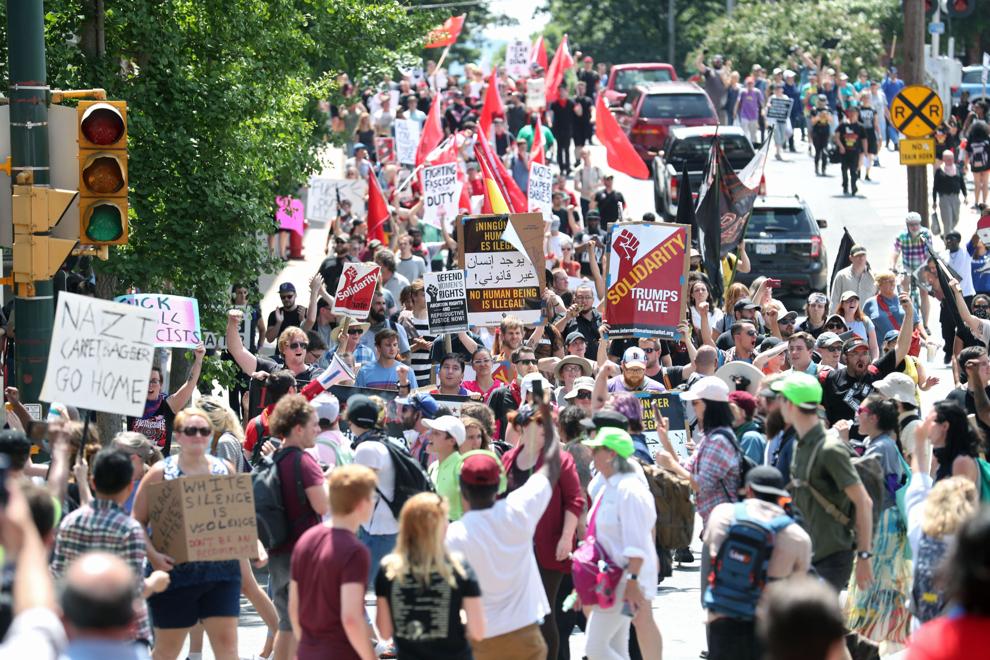 ---
A University of Virginia Medical Center spokesperson says one person is dead and 19 were injured after a car plowed into a group of protesters in downtown Charlottesville.
The person suspected of driving the car is in police custody, according to the Associated Press.
City officials say 15 other people were injured in other incidents related to the Unite the Right rally.
---
Charlottesville Mayor Mike Signer says one person has died after a car plowed into a mass of Unite the Right counter-protesters.
"I am heartbroken that a life has been lost here. I urge all people of good will--go home," he wrote.
Police have not yet confirmed the fatality.
---
City officials released this information about the pedestrians hit on the Downtown Mall:
"Charlottesville Police and Virginia State Police are on the scene of a three vehicle accident at Water and 4th Streets in Downtown Charlottesville. Multiple injuries are reported. People should clear the area to allow emergency medical personnel to respond. We will release more information as we are able."
Video of car hitting anti-racist protestors. Let there be no confusion: this was deliberate terrorism. My prayers with victims. Stay home. pic.twitter.com/MUOZs71Pf4

— Brennan Gilmore (@brennanmgilmore) August 12, 2017
---
A gray vehicle has hit at least five pedestrians on the Downtown Mall near Urban Outfitters, according to media reports and police reports. A Daily Progress reporter at the scene said the car was pulled over by police. An emergency alert reported that several had broken legs.
President Trump address the violence in another tweet: "Am in Bedminster for meetings & press conference on V.A. & all that we have done, and are doing, to make it better-but Charlottesville sad!"
---
President Donald Trump has condemned Saturday's violence:
"We ALL must be united & condemn all that hate stands for. There is no place for this kind of violence in America. Lets come together as one!"
We ALL must be united & condemn all that hate stands for. There is no place for this kind of violence in America. Lets come together as one!

— Donald J. Trump (@realDonaldTrump) August 12, 2017
Vice President Mike Pence echoed the president's tweet: "I stand with @POTUS against hate & violence. U.S is greatest when we join together & oppose those seeking to divide us."
---
City officials say that, as of 12:30 p.m., a single arrest has been reported. Emergency Medical Personnel have responded to eight injuries related to the event.
On Twitter, former President Bill Clinton condemned white supremacy: "Even as we protect free speech and assembly, we must condemn hatred, violence and white supremacy. #Charlottesville"
---
Members of the police, Natural Guard and other authorities have blocked off sections of the city as Emancipation Park has cleared and Unite the Right rally has moved to McIntire Park, where city officials unsuccessfully had tried to move the rally.
First lady Melania Trump condemned the violence on Twitter: "Our country encourages freedom of speech, but let's communicate w/o hate in our hearts. No good comes from violence. #Charlottesville"
---
Gov. Terry McAuliffe has declared a state of emergency "to aid state response to violence at Alt-Right rally in Charlottesville."
The cancellation, according to UVa, "includes all academic programming, the scheduled community discussions taking place in the University Libraries, and all UVa athletic events and programming. The university is monitoring the developments in Charlottesville and continues to coordinate with state and local law enforcement."
The UVa Medical Center remains open, the statement said.
U.S. House Speaker Paul Ryan, R-Wis., tweeted out his condemnation of the rally. "The views fueling the spectacle in Charlottesville are repugnant," he said. "Let it only serve to unite Americans against this kind of vile bigotry."
---
Police have declared an unlawful assembly at Emancipation Park.
---
The city of Charlottesville and Albemarle County at 11:06 a.m. both declared a local emergency in response to the Unite the Right rally, which was set to formally begin at noon.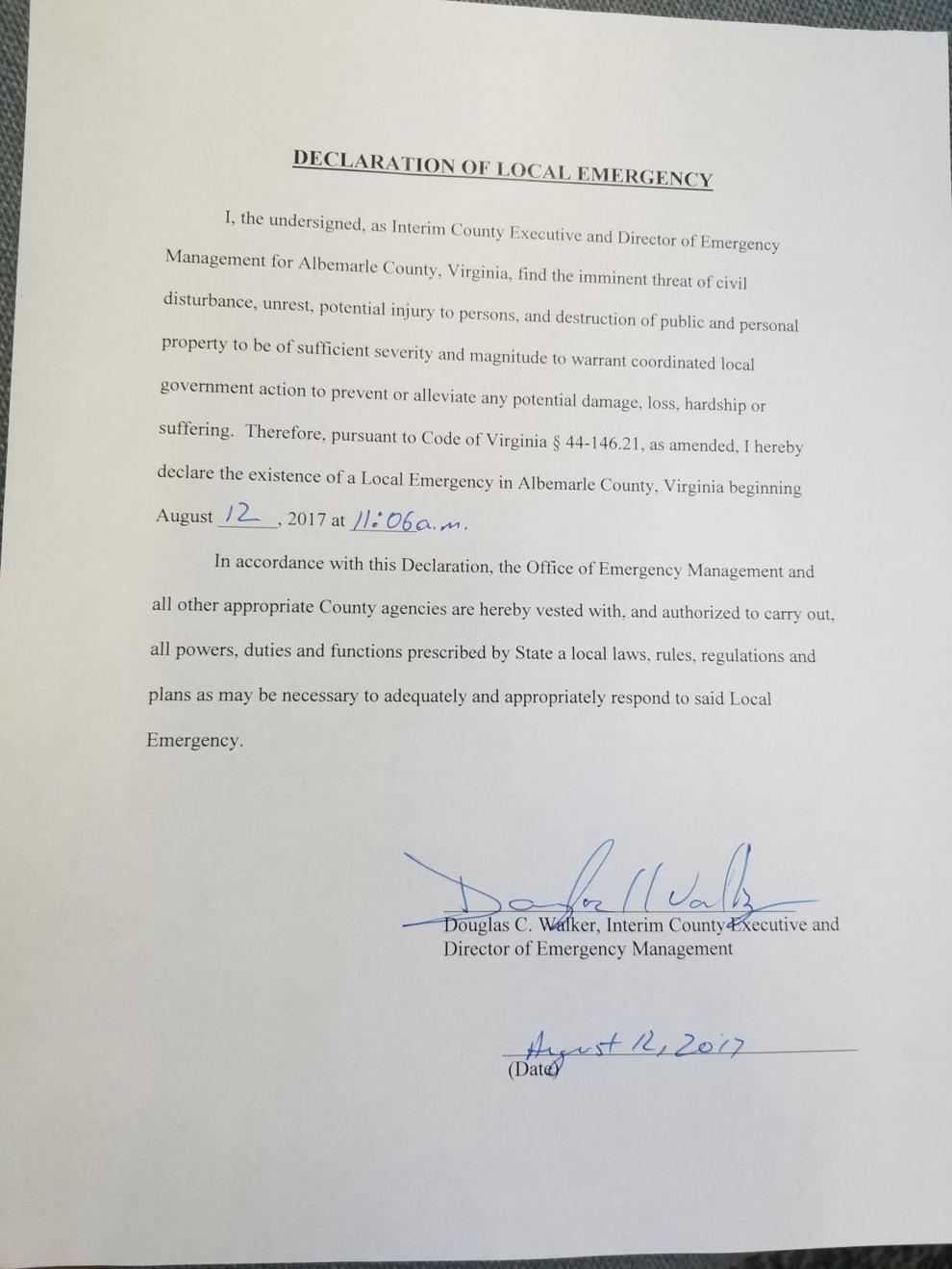 According to city police, "this joint declaration allows local officials to request additional resources if needed to respond to ongoing events in the community which are currently localized in downtown Charlottesville. Scheduled activities outside the downtown area are not impacted by ongoing events or by this declaration at this time. Local officials continue to closely monitor the situation and will provide additional details as they are available."
---
Just hours after their torchlit rally at the University of Virginia Rotunda, members of the white nationalist Unite the Right rally gathered at Charlottesville's Emancipation Park before the scheduled start of their main event.
As of 10:30 a.m., two people had been seriously injured after an altercation near Emancipation Park, according to city officials. Virginia State Police said people in the crowd were using pepper spray on others.
At least one person was arrested, and several people were treated at the scene for minor injuries.
Among those in attendance at the Unite the Right rally: organizer Jason Kessler, "alt-right" leader Richard Spencer, former Ku Klux Klan Imperial Wizard David Duke.
UVa police said Saturday that one protester at the Rotunda rally was arrested and charged with assault and disorderly conduct. Several were injured, including one UVa police officer who was hurt while making the arrest.
UVa said in a statement that police did not utilize pepper spray or other chemical agents, but reports indicated to police that ralliers used pepper spray, however.
The Unite the Right rally, a gathering of white nationalist, neo-Nazi, alt-right and other far right political groups, was scheduled to begin at noon Saturday and last until 5 p.m., according to Kessler's permit.
On Twitter, Gov. Terry McAuliffe wrote that "The acts and rhetoric in #Charlottesville over past 24 hours are unacceptable & must stop. A right to speech is not a right to violence."
Hundreds made their presence known Friday night as their carried torches across UVa Grounds to the Rotunda, which ended in violence and police declaring an unlawful assembly. It echoed a May 13 rally by white nationalists including Richard Spencer, leader of the so-called alt-right movement and a UVa graduate. Kessler was among that group, as well.
The stated goal of the Unite the Right rally is to defend Southern heritage, spurred by an effort by Charlottesville officials to remove a statue of Confederate Gen. Robert E. Lee from Emancipation Park. The park was renamed from Lee Park as part of a wider effort to retell the city's racial history. Removal of the statue is on hold as a result of a six-month injunction.
Charlottesville also announced that City Market, being held near the Downtown Mall, would close at 11 a.m. instead of noon.
A man by the name of James Alex Fields Jr was booked at the Albemarle-Charlottesville Regional Jail Saturday afternoon and faces charges of second-degree murder, three counts of malicious wounding and failing to stop at the scene of an accident that resulted in a death, according to Col. Martin Kumer, superintendent of the jail.
Kumer would neither confirm nor deny whether Fields' charges were related to a car crash that killed one person and injured 19 others, following an alt-right demonstration in downtown Charlottesville. Fields is from Maumee, Ohio, Kumer said.