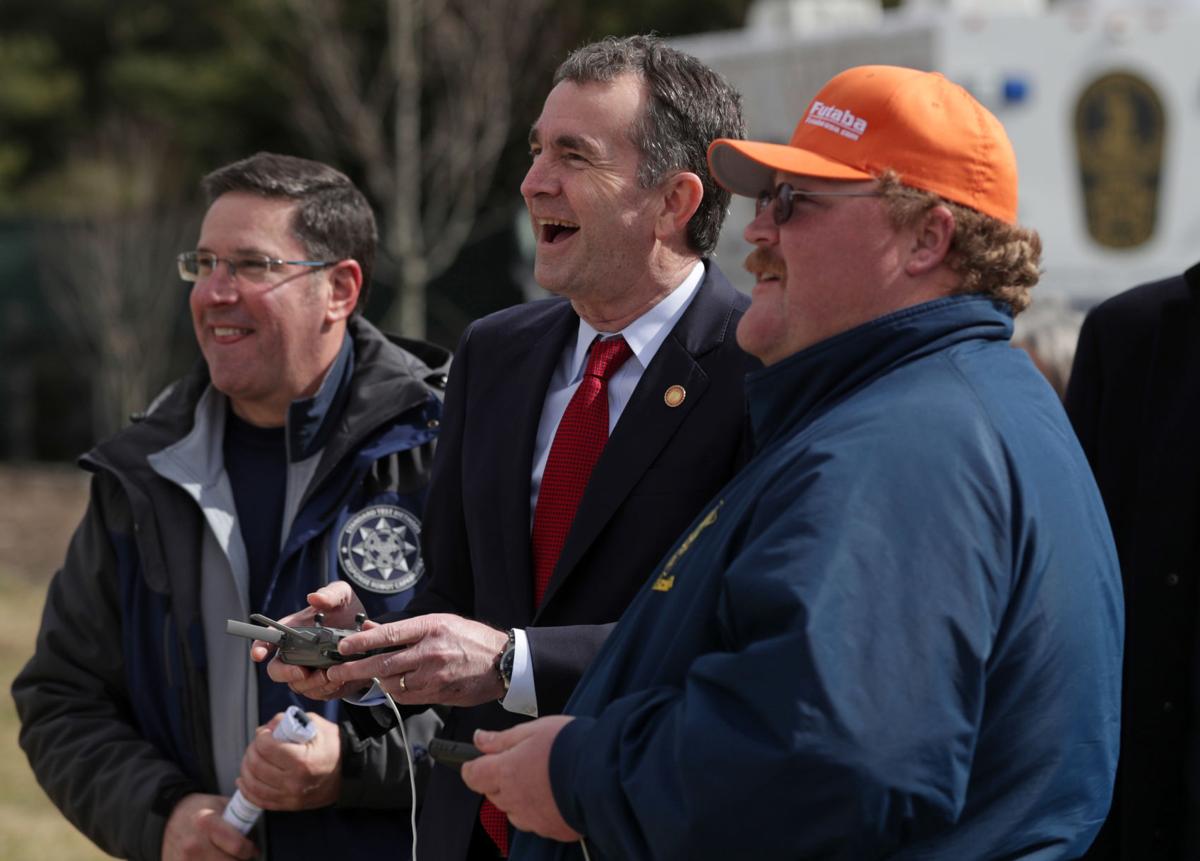 If there's a felon in the woods or a fire in a home, emergency responders are safer when they send in the drones, Gov. Ralph Northam told attendees of an unmanned aircraft systems conference Monday.
It was one of few public appearances by the governor since a photo from his medical school yearbook page showing a man in blackface and another in Ku Klux Klan robes surfaced in early February.
Northam first said he was one of the men in the photo, but backtracked on that the next day during a press conference in which he said he did appear in blackface for a Michael Jackson costume as part of a dance contest in 1984. Many Democrats and Republicans have called for  Northam to resign.
Monday was also the governor's first appearance at the Piedmont Virginia Community College-sponsored event that features public safety experts who use drones for law enforcement, search and rescue, emergency services and disaster relief.
The third annual conference, held at King Family Vineyards outside of Yancey Mills, featured attendees from Japan, Australia and Canada, as well as makers of drones and operating software.
After arriving, Northam spent about 10 minutes watching operators fly their crafts. He did not take questions after his short presentation and left soon after.
"Drones are being used right now in Alabama, where tornadoes killed more than 20 people. They're already being used for search and rescue and security," Northam told the audience, referring to Sunday's storms across the South that killed 23 people.
"It is important that we maintain safety on our streets and in our community and drones allow us to do that without unnecessarily risking the lives of first responders," he said.
The governor noted that drones carrying high-tech cameras are used to inspect bridges and buildings and help to find people in dark or wooded areas. Some, he said, are delivering fast food.
Drone technology may not only save lives and improve security, it could boost the state's economy, Northam said. Drone-related jobs in software, hardware and other industries could be a big boost in jobs and income.
"By 2020, there will be an estimated 7 million drones in the country," he said. "That means [a lot of money], if we do it the right way, here in Virginia."
Northam said efforts are being made to allow public safety drone operators to identify other drones operating in an area to determine if they are authorized to fly or even being flown to spy on people.
"We need to be able to tell a good drone from a bad drone," the governor said. "If we're sitting around on our back deck and we see a drone, how do we know if it's being flown by a good guy or a bad guy?"
Retired Charlottesville Fire Chief Charles L. Werner, chairman of the National Council on Public Safety Unmanned Aircraft Systems, said the federal government is working on that.
He said drones and pilots will be required to have radio identifiers similar to those that identify airplanes. If a drone in the area is not broadcasting an identifier, it likely would not be authorized to fly.
"Drones can be anywhere from 5 pounds to 55 pounds and it makes a difference when you consider its size if it falls on you," he said. "Most small drones the general public buys weigh maybe 2 pounds and don't have the distance, time or altitude capabilities and so are of less concern."
Industry officials, the federal government and national rights organizations are working together on the drone regulations, Werner said.
"We want to make sure that we address these concerns as the technology develops," he said. "These are great tools and they're going to see more use."
PVCC launched its drone program in 2015. In 2016, it became the first college in the nation to receive a certificate of authorization from the Federal Aviation Administration to conduct research and development of small, unmanned aerial systems for public safety.
Since its inception, PVCC has trained more than 250 people from more than a dozen federal, state and local agencies.
Get local news delivered to your inbox!
Subscribe to our Daily Headlines newsletter.