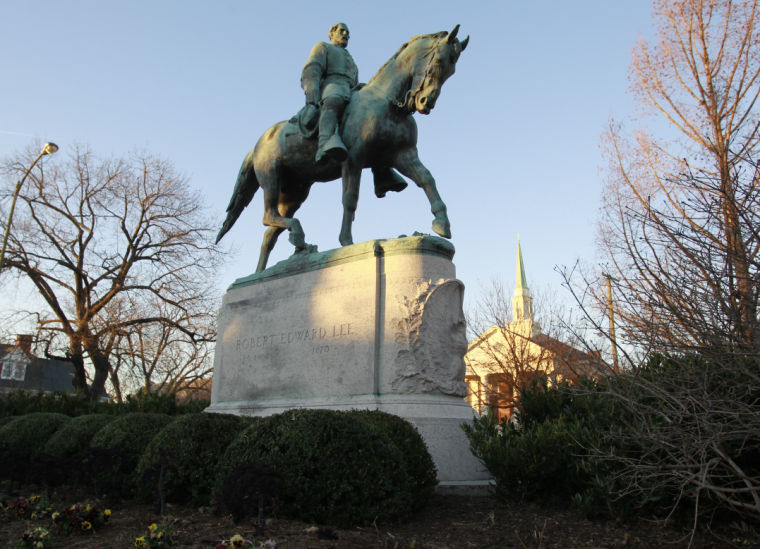 Charlottesville residents who are uncomfortable with a local park could affect a monumental change if renewed protest over a nearly 100-year-old statue gains enough support.
On Tuesday, local community leaders will come together and call on the city's elected officials to rename Lee Park and remove the statue of the park's namesake, Gen. Robert E. Lee, of the Confederate Army of Northern Virginia. 
The news conference is being spurred by a number of recent local and state developments regarding Confederate monuments and the legacy of Lee and Gen. Thomas "Stonewall" Jackson.
Several months after the City Council unanimously decided City Hall would no longer observe Lee-Jackson Day, a state holiday that honors the Confederate generals, the phrase "Black Lives Matter" was spray-painted on the Lee memorial last summer.
The council decision and the vandalism incident were the most recent flashpoints in an ongoing debate over whether reverence toward Confederate heroes and imagery is appropriate in contemporary American society.
In a news release, Councilor Wes Bellamy said a recent veto of a bill attempting to limit localities' authority to remove war-related monuments, including Confederate markers, has shined a light on the issue once again.
Although the bill was vetoed on March 11, state legislators will have an opportunity to override the veto April 20. A two-thirds majority vote in both the House and Senate would be needed to defeat Gov. Terry McAuliffe's veto.
The bill passed the House on an 82-16 vote, but the Senate was almost evenly split with a 21-17 vote.
"This action has been discussed on several occasions, and with the recent development in Richmond, the city of Charlottesville has an opportunity to act," Bellamy said. "The goal of this press conference is to show a united front to the constituents of Charlottesville, while also asking for city leaders to make a concerted effort to create an inclusive and welcoming environment for all throughout the city."
Opposition to the proposal mounted quickly. On Monday morning, The Virginia Flaggers, a Richmond-based group that seeks to preserve memorials to Confederate history, took to social media to condemn the proposal to remove the statue.
A letter to the City Council attributed to Virginia Flagger H.V. Traywick Jr. was shared on the group's Facebook page Monday.
"The call for the removal of the Lee Monument and the renaming of the park smacks of knee-jerk self-righteousness from a myopic Marxist mob," Traywick said.
"Don't belittle yourselves. Leave the statue of Lee where it stands," he said.
A petition by Charlottesville High School student Zyahna Bryant also was cited in Bellamy's release.
"Thoughts of physical harm, cruelty and disenfranchisement flood my mind. As a teenager in Charlottesville that identifies as black, I am offended every time I pass it," Bryant said about the statue in a note that is attached to her petition.
Since learning about the Civil War in middle school, Bryant said she's gradually been exposed to more racism.
"Since getting older and more mature, I've been able to pick it out a bit more," she said about racism. "You can see a lot of it in Charlottesville. There are more people who are OK voicing it. As a student, that makes me uncomfortable."
Bryant's petition, which 330 signatures as of Monday afternoon, is only the most recent call for a change. In 2013, the city sponsored a forum on the topic after Councilor Kristin Szakos suggested several months before that the statue be removed from Lee Park.
Szakos said both the governor's veto and a court ruling last year from a Danville judge who provided a legal interpretation of the state code regarding war memorials mean localities now have a clearer pathway to remove Confederate monuments if they so choose.
"That's what stopped the process before. The legal ability is relatively new," Szakos said.
"The idea of having one of our most prominent gathering places be a celebration of Confederate history is inappropriate," she said.
Szakos once suggested that a new memorial could be erected to provide a balance of cultural representation, a measure Washington and Lee University professor Barton Myers said he could support.
"The Confederate monuments can represent many different things. There's never a perfect solution," Myers said about the nationwide debate regarding Confederate monuments and imagery.
Ideally, he said, keeping the monuments and "contextualizing them" would be a "reminder that this should never, ever happen again — the racial hegemony the Confederates attempted to found."
Myers added that the monuments also have an ability to represent the period of time in which they were constructed, citing that as a reason to keep them, as reminders of the extended history that relates to the monument itself.
In his release, Bellamy said the monument's donor, Paul G. McIntire, provided the city with the gift during a period when "the values and core beliefs of those in positions of leadership differed from the current leadership."
Responding to whether McIntire's gift may have been racially motivated, as Bellamy said some residents believe, Myers said such gestures in the early 20th century did occur.
As an example, Myers referred to Saunders Hall at the University of North Carolina-Chapel Hill. The building was named for a Ku Klux Klan leader who was an alumnus and former North Carolina secretary of state in the late 19th century.
The building was renamed Carolina Hall last summer.
"We need that contextualization so that history is put out there, too," Myers said. "Monuments say just as much about the time they were put up. It says something about the political climate of the time period."
In an email, Charlottesville Mayor Mike Signer referenced the time period in which the memorial was erected.
"As historical photographs document, these installations occurred with parades of thousands of people celebrating the Confederate cause," Signer said. "We can only imagine how exclusionary those events were."
Signer said the council could form a commission to consider proposals and offer a possible solution within the next three months. In addition to engaging the public, the commission would be responsible for conducting a legal review for its recommendations.
"In the weeks ahead, I plan on discussing this proposal with my colleagues and with the community, as we forge, together, a path from the darkness of the past to a brighter future."