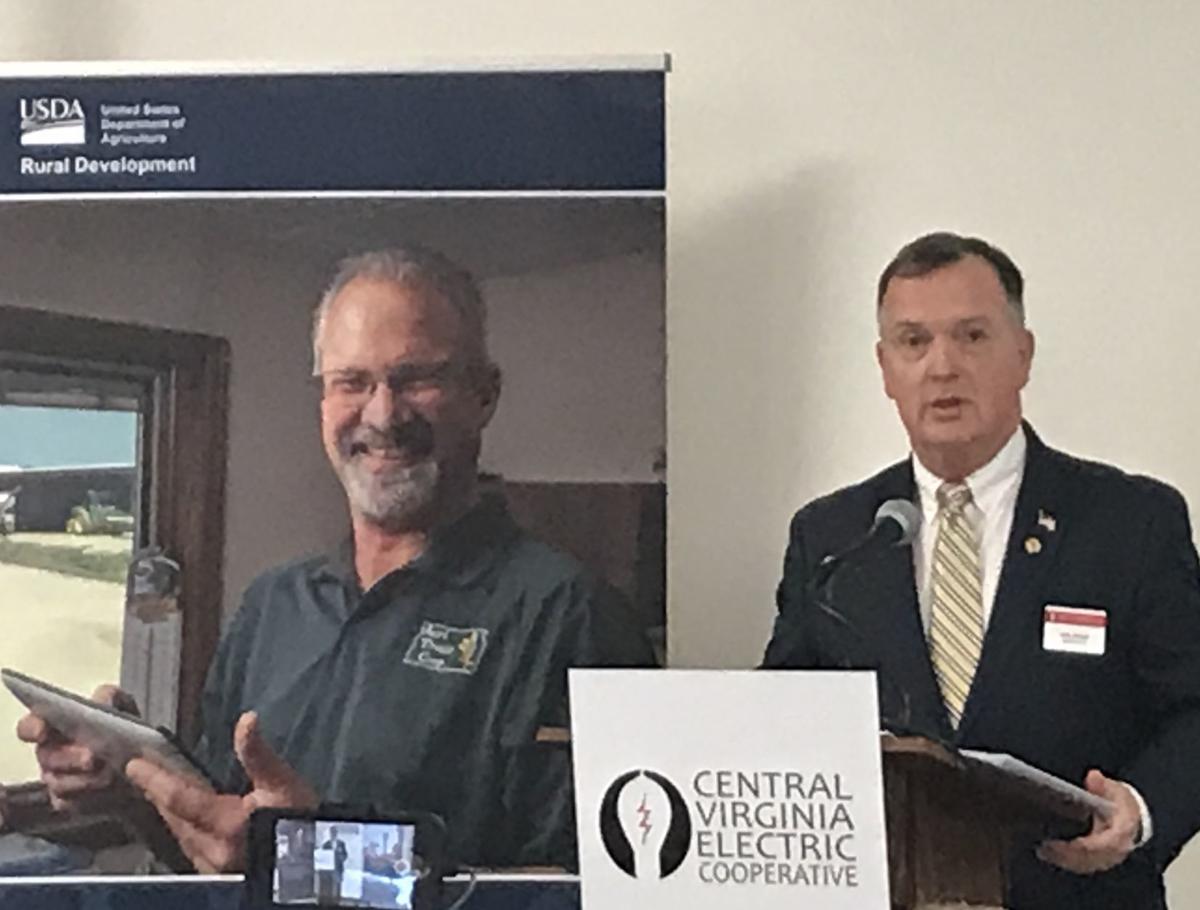 BUCKINGHAM — Central Virginia Electric Cooperative soon will be expanding fiber-optic broadband throughout 14 localities thanks in part to a $28 million loan and grant from the U.S. Department of Agriculture.
Friday, about 200 people gathered in Buckingham County to celebrate the loan and grant, which was awarded through the USDA's ReConnect, a program that seeks to expand broadband access in rural communities nationwide.
CVEC will install and own the fiber-optic cable, and its wholly-owned subsidiary will offer retail internet and phone services to its members through Firefly Fiber Broadband. CVEC staff said the combination loan and grant is expected to cover the first three years of a five-year, $120 million project which, when completed, is expected to extend service to all 37,000 CVEC accounts.
Brian Bates, director of CVEC, said the project is daunting in its scale and urged patience from those in the areas that may not see service until the fifth year. The plan began in 2019 and is expected to finish in 2023.
"It's not going to stop, we're going to build it in five years, everybody will be served. So whatever you see on the internet, don't believe it," he said. "I believe that this project is the embodiment of CVEC mission: Working together to improve the quality of life for our members in a quietly impressive way."
Bates and Gary Wood, president and CEO of CVEC, commended various partners for making the project possible, including the USDA, local officials and U.S. Reps. Abigail Spanberger, D-7th, and Denver Riggleman, R-5th.
The project has been a labor of love, Wood said. Some internet service providers such as Comcast have been uninterested because of projections it will take around 11 years to make a profit from the area, Wood said.
Nonetheless, in November of 2017 the CVEC board of directors approved the start of the fiber project with two provisions, Wood said. The first was to build to areas that are lowest-cost to serve in order to manage risk first, and the second was to find investment partners. He said both have been met.
"We're going to work really hard and get all the folks in Central Virginia connected within five years, but we understand in these rural areas that [CVEC] customers aren't the only ones who need internet so we're going to look beyond that as well," Wood said.
This year, Wood said the cooperative expects to have broadband cables installed at four substations: Curdsville in Buckingham County; Cartersville in the Cumberland and Goochland counties; Kidd's Store in Fluvanna County; and Stonewall in Appomattox County.
Other substations, such as one in White Hall, do not have estimated connection dates yet, according to a CVEC spokesperson. Last year, CVEC and the Albemarle County Broadband Authority were awarded a Virginia Telecommunication Initiative grant of $301,748 to connect a portion of the Midway substation.
Spanberger outlined her support for the ReConnect program in a phone interview with the Progress and attended a CVEC press event later Friday afternoon in Louisa County. 
Last year Spanberger led a push to protect ReConnect funding, helping secure an allocation of $555 million. It was important to protect funding because of the growing necessity of broadband access nationwide, which can leave rural communities behind, she said.
"It affects farmers, who need access to precision technology like cattle monitoring systems to check on the health of their livestock, and it leads to 'homework gaps' between students who have broadband access and those that don't," she said. "It even affects veterans, who may not have access to telehealth services."
Similar sentiments were offered by Riggleman's outreach coordinator, Stephen Harvey, who cited a 2018 Federal Communications Commission broadband report that claimed 24 million Americans lack access to advanced fixed broadband and nearly a third of rural Americans lack access to mobile broadband.
"This shortage has created a substantial digital divide between urban and rural Americans," he said. "The USDA reconnect program is a key component in Congressman Riggleman's work to help bridge that digital divide."
The difficulty of living without broadband access is something Buckingham County resident Virginia Jackson is all too aware of. Jackson, along with her husband, attended the event in Buckingham to learn more about the project.
Currently, Jackson said her household makes do with internet hotspots from their cell phones, which can be tedious, and use a lot of data to stream television.
"It's a balancing act sometimes but we make the best out of it," she said. "We are very excited to see what this project brings to our community."