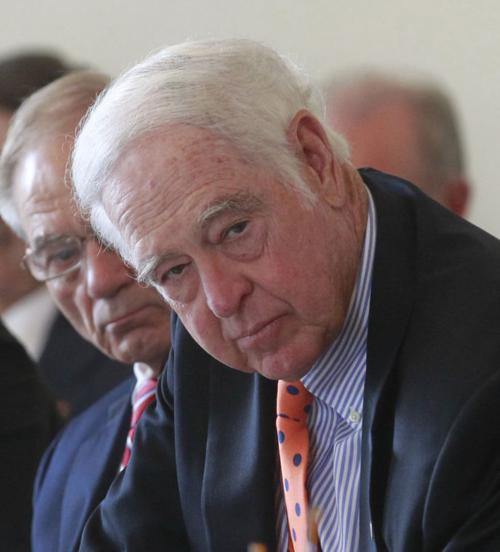 Former Gov. Bob McDonnell's failure to disclose a $23,000 vacation covered by the University of Virginia's vice rector could be used to demonstrate that undisclosed gifts from another wealthy businessman were no accident, according to federal court records.
Referenced in the latest flurry of court filings by prosecutors in the ex-governor's corruption case, the May 2012 trip to the Kiawah Island Golf Resort in South Carolina funded by UVa Vice Rector William H. Goodwin Jr. is cited as just one example of other undisclosed gifts. The McDonnell scandal so far largely has been confined to him and his wife, Maureen, and former Star Scientific Inc. CEO Jonnie R. Williams Sr. Both McDonnell and his wife have been charged in the case.
The trip came roughly a month before the ultimately failed attempt to oust UVa President Teresa A. Sullivan. Amid that controversy, McDonnell named Goodwin a special adviser to UVa's Board of Visitors. In January 2013, the governor appointed Goodwin to the board. The ex-governor cited a $920 gift from Goodwin for a 2012 retreat in his financial disclosures for that year.
A review of campaign finance records by The Daily Progress in September found that UVa board members had contributed $729,529 to McDonnell for his gubernatorial campaign, inaugural committee and related political action committees.
Of the UVa board's 17 members, 14 had contributed in some way to McDonnell; 10 members had donated more than $10,000 each; and two — Goodwin and Marvin W. Gilliam Jr. — donated six figures apiece.
Goodwin, board chairman of Richmond-based CCA Industries, led the way in political donations. He had given nearly $1.2 million to various candidates and political action committees and $199,500 to McDonnell, all before being appointed to the board for a second time. Goodwin donated $51,800 from 1993 to 1994 to former Gov. George Allen before serving on the UVa board from 1996 to 2004.
These figures do not include the cost of the island vacation alleged by federal prosecutors.
Goodwin also is a major donor to UVa, with lifetime gifts totaling more than $50 million.
He declined to comment for this story.
In May 2012, court records state, McDonnell and his family trekked to Kiawah Island for a 10-day vacation on a tab picked up by Goodwin, whose company owns the resort.
State law at the time would have allowed the trip as long as it was documented for public review.
"The general idea behind disclosure laws is so the public has knowledge of any possible conflicts of interest," said Peggy Kerns, ethics expert for the National Conference of State Legislatures.
Most states have disclosure laws, she said. Usually, the laws are enacted following public uproar over a political scandal.
McDonnell and his wife currently are battling a corruption case centered on their relationship with Williams, a Richmond businessman.
Prosecutors argue that Williams showered the McDonnells with undisclosed vacation getaways, loans and other gifts to gain state favors for Star Scientific, a dietary health supplement company.
Defense attorneys contend that the former governor followed state law, which at the time allowed him to accept gifts as long as his disclosures listed anything valued at more than $50.
Prosecutors point to the trip covered by Goodwin as proof of the former governor's pattern of concealing gifts, court filings show.
"The government may introduce evidence at trial regarding the defendant's concealment of things of value received from individuals other than Mr. Williams," one filing reads. "Specifically, during the time of the charged conspiracy, the defendants received things of value from individuals other than Mr. Williams and failed to report them on Mr. McDonnell's Statement of Economic Interest."
Get local news delivered to your inbox!
Subscribe to our Daily Headlines newsletter.