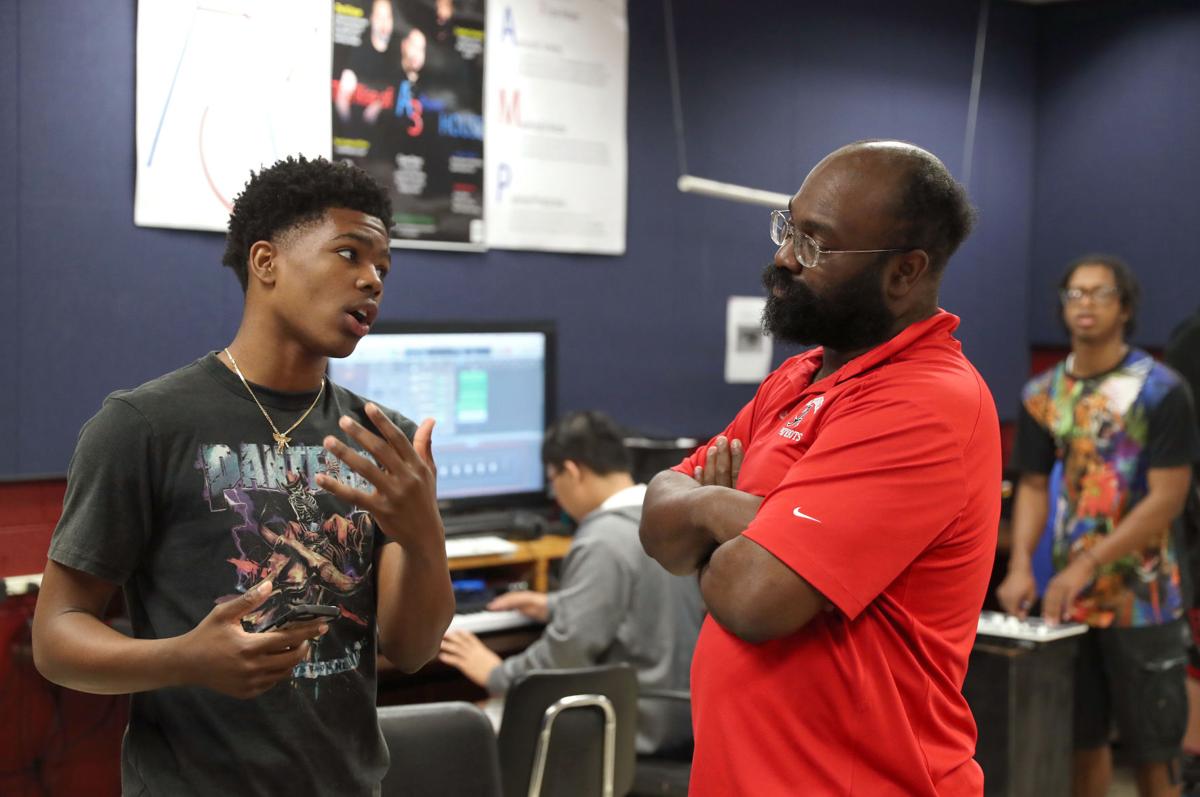 Sam Bwiseze has spent the last few years at Albemarle High School learning how to make beats.
Every time he goes to the recording studio, located at the back of the school's media center, Bwiseze sits in front of an enormous monitor in the middle of the room. To his left and right are other students writing lines, rapping, recording and producing on the studio equipment at their disposal.
It's the students' own fully functional recording studio.
This is where Bwiseze lets his imagination take him somewhere else, away from the school day, to a place where his creativity can shine and he can make music.
On a  recent Monday, he played some of his creations for everyone in the room.
Other students are drawn to the rhythm and thump, looking over to his work space as the volume levels bounce on the screen and the slider glides across color-coded audio channels, the speakers emitting a sound uniquely Bwiseze's.
"I can do my own thing and it just makes me feel good," he said.
AHS and Monticello High School have similar recording spaces, both created with hip-hop in mind. Students in these spaces have the opportunity to work in other digital and visual media, as well.
At A3 House, as Albemarle's studio is called, students have access to computer software and studio equipment they wouldn't normally have access to on their own.
"I've never seen a class like this, ever," A'nija Johnson, a junior, said. "When I came here, I actually was wondering what the studio was, and then when I learned what it was I was so happy to be in it."
At Monticello High's Stang Station, students produce the school broadcast show, but the space doubles as a haven for art forms such as rap. The space, said teacher David Glover, is designed to cater to artistic expression not traditionally associated with a high school setting.
But for any of this to truly mean anything to the students, it is critical to stress authenticity and not hold students back from their full creative potential, Glover and Albemarle teacher Chance Dickerson said.
For some students, this is the class they care most about.
Jose Antonio, a sophomore at MHS whose stage name is Big Rick, said he spends most of his time tuning the day out with his headphones on. But Glover's class is the one where he "can do something" that interests him.
"This class, I actually get to make music, man," he said. "I love it."
Implementing studio space at Albemarle and Monticello took time and interest from students, but the studios' existence wasn't an ideological stretch for the schools.
Division officials have stressed the importance of students taking ownership of their learning spaces, project-based learning and teachers making meaningful connections with their students.
"This gives them an outlet to get their thoughts and their ideas on the metaphorical paper to share those with others, to have access to the tools of creativity, the expertise and the ability to do that," said Chad Ratliff, director of instructional programs for the county schools.
Dickerson started A3 House three years ago, and in that time it has grown from a classroom to a recording label. The typical classroom model didn't work.
"[It] doesn't feel, like, real to me, so that's when we launched the record label, and the record label essentially eliminates the need for a classroom," he said. "So it's no longer a classroom; there's working spaces."
Students said it doesn't feel like school. Instead, it's a place for expression where they feel motivated.
"Basically, your grade reflects how dedicated you are to being you," said Morgan Rose, a junior at Albemarle.
"We're hustling every day, and it's great to see that," she said.
Stang Station started at about the same time as A3 House, and is focused on giving students a place to make all kinds of music, but with a special emphasis on hip-hop.
"I think in the K-12 world there are opportunities for students who are interested in music in a traditional landscape, but … there's no outlet if you're interested in hip-hop in a traditional, conventional high school setting," Glover said.
For hip-hop in education to work, it has to be meaningful and authentic.
Shea Serrano, a writer at The Ringer and author of "The Rap Year Book," said he always thought it was "corny" when teachers tried to force hip-hop into the classroom just to get students interested in a subject.
When Serrano was a teacher, he used rap as a way to connect with students and to be more invested in them as people.
"For me, it just always made more sense if I had a kid who I knew was like super into Drake or something, I would just ask this kid some questions about Drake," he said. "And that was it; there was no academic stuff behind it. It was just straight-up, let's have a conversation, and then we have that conversation in our history."
Dickerson agreed. If the experience isn't authentic, then it's not going to work.
"If you de-authenticize hip-hop then you'll get this, it's almost like a humoristic, playful sort of cartoony application of hip-hop," he said.
The bigger takeaway is how school becomes a place for students to express themselves, discover hidden talents and, for some, find a place in school in which they are interested and feel that they can do something they care about.
Albemarle senior Elisa Maurice found in A3 House a place to leave her comfort zone, and she discovered an inclusive, creative and welcoming space at school.
"In a creative class like this, it gives you a break from the standards of curriculum in a high school and you get to be creative and do what you want," she said. "But it's also original, and people are looking to you to see what you come up with on your own."
"It's not some Socratic seminar where everyone is saying the same thing in a circle, and it's a break from the confines of education," she said.
Anthony Hoang, a senior at Albemarle, said two of his takeaways from three years at A3 are promoting himself and collaborating with others.
"I've also learned how to actually make my own music and the steps into doing it electronically, so not just being able to write down the notes and then figuring out on your instrument or vocally, you're also able to see the effects …," he said.
Even though hip-hop's influence and presence in pop culture are enormous, for many it still carries a negative image.
"I think the stigma is always going to surround the genre, and there's vulgarity in it and there's things that people aren't comfortable with, but that's part of creativity, is stepping out of your comfort zone and doing something that raises questions, or doing something that doesn't cater to the [comfort] of other people," Maurice said.
Glover, Dickerson and Bernard Hankins, an A3 House teacher, agreed that there is a balance between letting the students express themselves and guiding their decision making.
Glover said he hates to censor his students. He jokes that they don't have to sound like Will Smith, but they cannot dehumanize anyone.
For some students, the class might be the first time they've ever been able to speak their minds.
"The thing I've noticed, too, is when you allow everything to come out, you're going to get to the deeper things that that person is hiding," Hankins said, "because there's been some things that have been recorded, when I listen to them, I go, 'Whoa, have you told this to anyone else? Would you have opened up to anyone else in just a normal conversation?'"
"When you feel safe to express who you are through a medium that makes you feel like who you are, you're going to let it out and you're going to let people into a world that you may not normally let them into," he said.
A3 House is where Bwiseze found a place to fit in. At the end of the year, he will have to leave it behind.
"I just want to stay here," he said. "I don't want to graduate no more."
The recording space has inspired him not only to perfect his craft and continue to make music, but it's also helped him to find himself.
"I never knew I could make a beat on the computer and stuff like that, so it just gives me courage to know I can do anything, pretty much," Bwiseze said.
Shaun Woode, a sophomore at Monticello High who goes by the moniker of Swoodeasu, already knows he wants a career in making music, thanks to Stang Station.
Woode said he hopes what he's experienced can continue to thrive, not just at Monticello High, but at other schools.
"I definitely want this to grow because there's so much hidden talent out there and so many people we could potentially work with," he said.