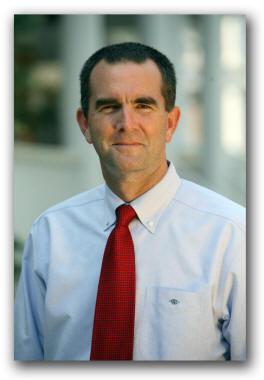 RICHMOND — With Virginia's 2017 statewide elections more than 2 ½ years away, saying you're running for governor now is like putting up Christmas decorations in April.
But there is already evidence that prominent Democrats and Republicans are laying the groundwork for bids to seek the Executive Mansion when Gov. Terry McAuliffe vacates in just under three years.
On Tuesday, in response to a Washington Post reporter's question, Lt. Gov. Ralph Northam, a Democrat, said that he was "planning for the next step — planning to run for governor."
Northam, a pediatric neurologist and former state senator from Norfolk, walked that back somewhat Tuesday evening, telling The Richmond Times-Dispatch that he is in the preliminary stages of assessing whether a run is feasible and could be successful before deciding whether to seek the office.
"We are putting ourselves in a position that if the opportunity is there, we will run," he said.
In Virginia, it would be more of a surprise if a lieutenant governor or attorney general decided not to run for the commonwealth's top job.
Seven of the previous eight men elected as Virginia's lieutenant governor ran for governor. Five secured their party's nomination and four won the office, the most recent being Democrat Timothy M. Kaine, now a U.S. senator.
The previous eight elected Virginia attorneys general ran for governor and secured their party's nomination. Three won the office, the most recent being Republican Bob McDonnell.
"The truth is, these campaigns take four full years," said Larry Sabato, director of the Center for Politics at the University of Virginia. "They are subterranean for a year or two before surfacing into unashamed sunlight.
"The one-term limit for governor is part of this. A new governor is an instant lame duck, and the would-be successors start maneuvering to get in line almost immediately after the last election."
Sabato said Virginia's system promotes early gubernatorial campaigns because the lieutenant governor and the the attorney general are elected independently.
"So from election night we have two lions circling each other," he said.
"I don't see what is to be gained by waiting," Sabato added. "You have to raise many millions of dollars, you are competing for top campaign staff with other candidates, and you don't want to lose out on staffers and donors because another candidate got to them first."
As a state senator, Northam, an Army veteran with a low-key demeanor and quick, dry wit, focused on public health and became a stalwart on veterans, child welfare and women's health issues.
But after he easily defeated Republican E.W. Jackson in 2013, his new role in state government — presiding over the Senate as lieutenant governor — has not afforded the same spotlight that might be available to a leading legislator. It also has not offered the bully pulpit afforded the state's lawyer, the attorney general.
Political observers suggest that is why, as the General Assembly draws to a close and the election year fundraising season officially begins, Northam supporters have been reaching out to donors and political leaders. His backers are testing the waters of how a run would be received, reminding political leaders of Northam's interest and arguing he would be a strong candidate.
Earlier in the month, Northam discussed his political future with Gov. Terry McAuliffe, a prodigious fundraiser, Clinton ally and former chairman of the Democratic National Committee.
A Northam candidacy would almost inevitably set up a showdown with Attorney General Mark Herring, a fellow Democrat.
Herring, a former state senator from Loudoun who served in the chamber with Northam, has spent his first year in office taking aggressive stances.
He backed gay marriage, refusing to support the state's constitutional amendment that defined marriage as the union of a man and a woman. Herring also declared that children of illegal immigrants who are lawfully present in the United States and Virginia under the Deferred Action for Childhood Arrivals program qualify for in-state college tuition.
His positions have raised his profile, and earned the ire of conservative Republicans, who this year introduced legislation seeking to curb his powers.
"I think we're doing a lot of good work for the people of Virginia and I'll make decisions about future elections later," Herring said in a statement to media following the Northam news.
As premature as a candidate confirmation for 2017 may be at this early stage, there is precedent for getting started early.
The plans for former Gov. Bob McDonnell's 2009 run for the Executive Mansion began almost instantly after his 2005 election as attorney general.
And McAuliffe, who lost a three-way race for the Democratic gubernatorial nomination in 2009, hit the road early in 2010 to travel the state and talk up a rerun that led to success in November 2013.
Democrats are not the only ones game planning for an election that is nearly three years and two intervening election years away.
There are early indications that Sen. Mark Obenshain, R-Harrisonburg, will seek the GOP nomination for governor, after losing the 2013 election for attorney general to Herring that went to a recount.
Del. Robert B. Bell, R-Albemarle, who lost the GOP nomination for attorney general to Obenshain, is also said to be actively interested in making another run for attorney general, perhaps on a ticket with Obenshain.
And Northern Virginia businessman Pete Snyder, who lost the Republican nomination for lieutenant governor to Jackson at the GOP convention, is said to be interested in another shot at the state's No. 2 job.
All three were present during a state GOP fundraiser in Richmond Tuesday featuring former Texas Gov. Rick Perry, a Republican presidential aspirant in 2016.
State Sen. Frank W. Wagner, R-Virginia Beach, has also expressed interest in a possible gubernatorial run.
As for Northam's early public statements, Sabato noted that former Lt. Gov. Bill Bolling, a Republican, never hid his interest in running for governor in 2013.
"I don't think I've ever met anyone who ran for lieutenant governor because his or her life ambition was to preside over the state Senate."