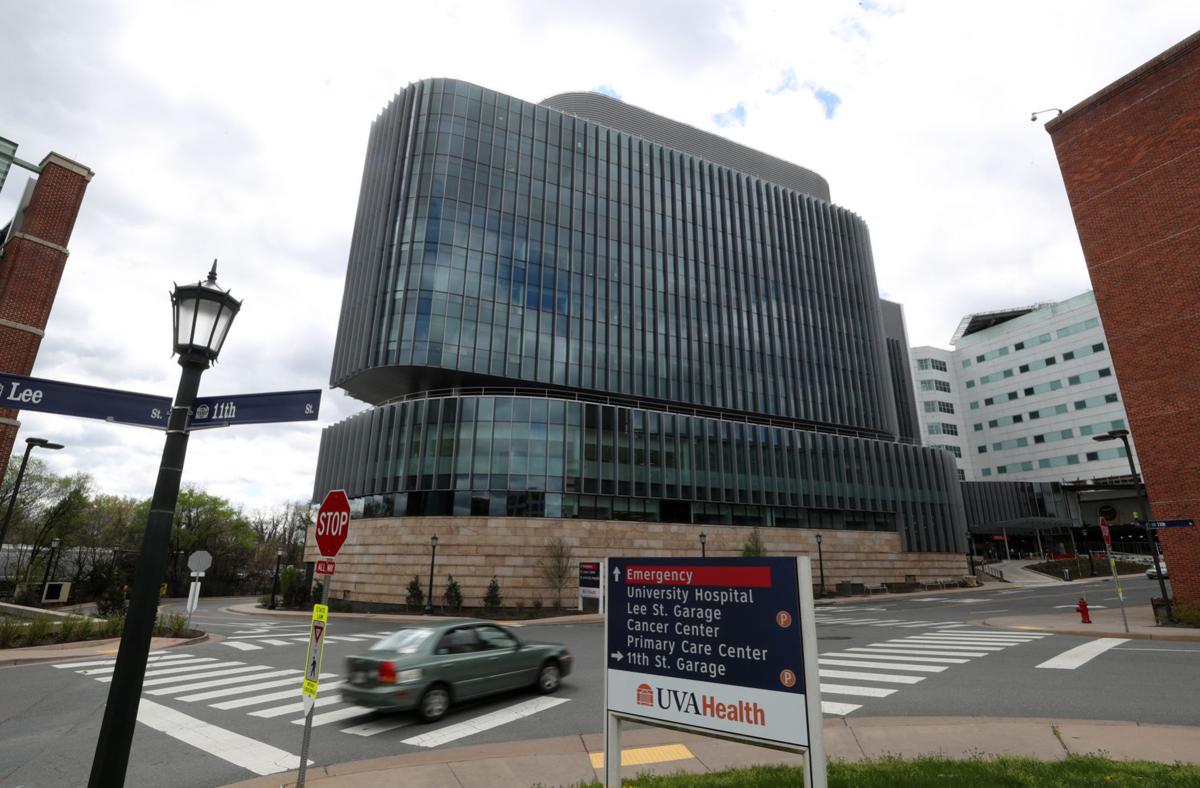 This story has been corrected to reflect the state banned elective surgeries and operations.
Employees at the University of Virginia Medical Center will be furloughed and others will take a 20% pay cut as the UVa Health System seeks to shore up its finances following a drastic drop in surgeries and clinic visits.
"Since the middle of March hundreds of inpatient beds have been empty (our beds are usually full), surgeries have declined by 70%, and clinic visits have been reduced by 90%," Dr. K. Craig Kent, executive vice president for health affairs, wrote in a memo to staff Tuesday. "The result has been a fall in revenue for clinical care and related services that is producing a deficit of $85 million a month. This is a $3 million loss to the health system each day."
A ban on elective surgeries, the statewide stay-at-home order and other safety precautions in response to the COVID-19 pandemic have reduced patient volumes at the medical center and hospitals across the state.
As of April 18, more than 46,000 health care workers have filed initial unemployment claims, according to Virginia Employment Commission data.
Staff treating COVID-19 patients will not see any adjustment to their compensation or their jobs.
Kent said the medical center's financial reserves are diminishing quickly.
"... Within a few short months we will not be able to fulfill our mission of delivering expert medical care to those in need, educating and training the next generation of providers, and conducting critical research," he wrote. "We must act now to secure our future."
Kent announced a range of measures to curb expenses Tuesday, including a 40% pay cut for himself. Other leaders at the medical center, the UVa Physicians Group, the School of Medicine and the School of Nursing, as well as physicians, will take a 20% pay cut through the end of July.
Kent makes $950,000 a year, according to a board resolution authorizing his hiring in December.
Employer contributions to retirement funds will be suspended for all non-physician employees through July.
Non-patient staff at the medical center and the University Physicians Group will be furloughed for up to three months and those affected will be notified beginning May 1, according to officials. The university has created an emergency assistance fund to help furloughed employees, which heretofore has mostly aided contract employees.
"I have been at UVa just over two and a half months and would never have imagined our leadership team needing to make decisions of this magnitude," Kent wrote in a letter to medical staff, which was shared with the Progress. "We will monitor our current situation and evaluate these changes on a daily basis."
Swensen said an estimate of the number of employees affected was not available, and that decisions on work adjustments and furloughs will be made at the departmental level.
Those who work with patients could have their hours cut, depending on need.
In addition to reducing non-essential expenses, The medical center and physicians group also reduce their financial support to the School of Medicine, School of Nursing and the health sciences library, which will mean budget cuts. Decisions about those reductions will be made by the schools, according to the memo.
In a webpage on the university's HR website, a number of questions are addressed, including why additional actions are necessary, if the university is receiving federal funding and if its endowment can be used to help.
Furloughed employees will be able to use paid time off, and all their benefits will continue. Kent wrote the furloughs would be temporary for an initial period of three months.
"This is difficult for all of us at UVA Health," he wrote. "It is our hope that by engaging in these furloughs today we will be able to avoid the widespread permanent layoffs we have seen across the region and country."
UVa says its multi-billion dollar endowment is overwhelmingly made up of gifts to the university for specific purposes, and its legally restricted from spending the gifts on anything other than their intended purpose.
Hospitals across the state and country have either furloughed or laid off employees in the face of declining revenues. The Virginia Hospital and Healthcare Association estimates hospitals in the state will lose $600 million in the 30-day period between late March and late April, according to the Virginia Mercury.
On March 25, Gov. Ralph Northam issued an order prohibiting all inpatient and outpatient surgical hospitals, physicians' offices and others from providing non-emergency procedures and surgeries that require personal protective equipment. On April 23, Northam extended the ban to May 1.
In a mid-April letter, the president and CEO of VHHA asked that Northam not extend the ban, which was set to expire April 24. UVa supported the association's position, Swensen said.
VHHA estimated that 60,000 people have had their non-urgent inpatient and outpatient medical procedures canceled over the past month and 15,000 procedures will be canceled every week going forward.
"We are concerned that continuing to delay their care while we have available capacity to address and/or stabilize their conditions will have long-term negative impacts on health across the commonwealth," Sean T. Connaughton said in the letter.
A number of states have already announced they will lift or ease bans on non-elective surgeries including Ohio, Oregon and parts of New York.
"We will monitor our current situation and evaluate these changes on a daily basis. We are hopeful that this situation will resolve soon as possible," Kent wrote. "However, we are uncertain of the timing. COVID-19 is unpredictable – as we have all learned. The sooner we are able to safely resume clinical care of patients in need, have our researchers back in the laboratory and our students in the classrooms and clinics, the sooner we will return to some level of normalcy."