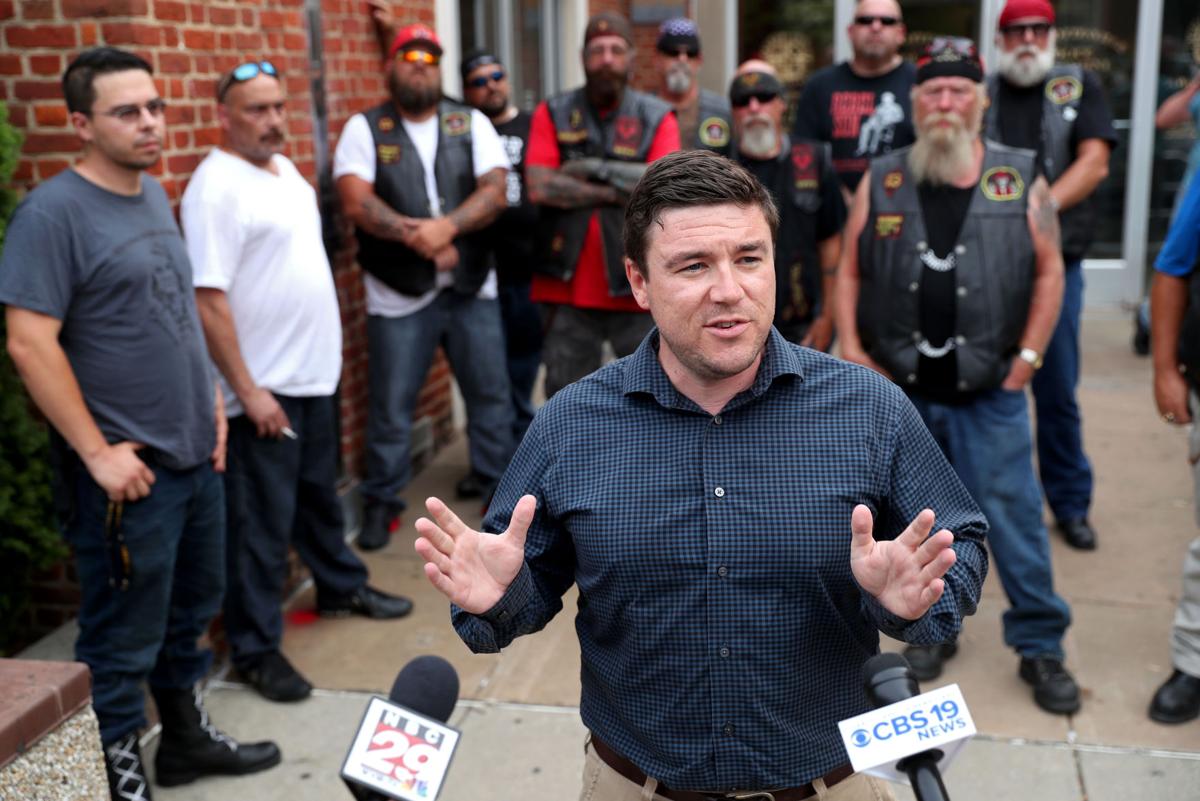 Advocating pro-white viewpoints and flanked by members of the Warlocks Motorcycle Club, local right-wing blogger Jason Kessler spoke outside the Charlottesville Police Department on Tuesday night to discuss his upcoming rally and to denounce his opponents.
Kessler's "Unite the Right" rally, planned for Aug. 12 at Emancipation Park, will take place a little more than a month after about 50 members of the Loyal White Knights of the Ku Klux Klan held a rally in Justice Park that drew more than 1,000 counter-protesters.
Both rallies protest the city's decision to rename two parks that were named for Confederate generals and to sell a statue of Gen. Robert E. Lee — which is on hold because of a court injunction. Those decisions are part of a larger push by the city to better tell its African-American history.
Kessler has distanced himself from the KKK rally, saying that the leader of the Klan chapter that filed for the city permit is an FBI informant and was paid by "left-wing groups to discredit legitimate conservatives."
Kessler, who is the president and founder of Unity and Security for America, a right-wing political advocacy group, said his event is expected to draw "hundreds" of participants — his permit estimates there will be about 400. Far-right individuals such as "alt-right" leaders Richard Spencer and Tim Treadstone (also known as "Baked Alaska") are expected to attend. Kessler has said he does not identify as either a white supremacist or a white nationalist.
When asked if the Proud Boys, a far-right fraternal organization founded by conservative commentator Gavin McInnes, would attend, Kessler said he could not speak for them. Kessler was seen in a livestreamed video in June being initiated into the group on the Downtown Mall.
Kessler said he will have security personnel in place, but declined to go into further detail. He said he also plans to coordinate with city police to keep the rally peaceful.
He also spoke against City Councilors Kristin Szakos and Wes Bellamy for their roles in City Council decisions on the parks and statues.
Many organizations such as Showing Up for Racial Justice Charlottesville have spoken out and demonstrated against Kessler. He said those organizations have used "violent rhetoric" against him and others. The two sides have occasionally interacted on the Downtown Mall in recent months, resulting in misdemeanor charges for two activists.
Kessler said people coming to the Unite the Right event are doing so to express their First Amendment rights. 
"We have a serious double-standard in this community and across this country where people who are white are not allowed to advocate for their own interests," he said.
Kessler went on to say that individuals of "every other persuasion — homosexual, Muslim, Jewish, black, Hispanic, whatever" are supported.
"There is no one who is protecting white people, and that's absolutely unacceptable," said. "If people really care about diversity, if they really care about values like equality, you have to be allowed to have white people advocate for their own interests."
 "People need to be able to come to America and see a majority European country because this is a country that was founded by European Americans," he continued. "… (I)t's absolutely unacceptable for these liberals to have displacement-level policies which are removing the indigenous people from the country."