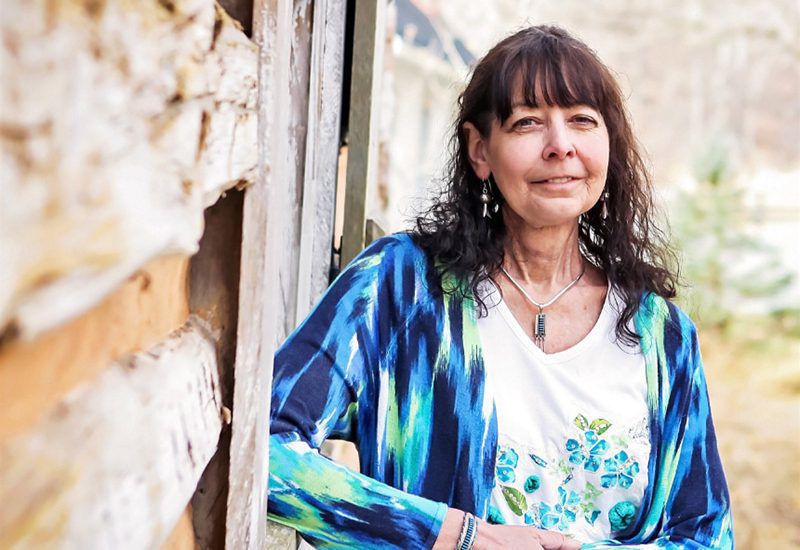 In 2016, Karenne Wood capped off decades of research into Native American history and culture with a piece of paper from the University of Virginia, awarding her a doctoral degree in anthropology.
That accomplishment stands out to her family more than many others: representing the Monacan tribe to the state and to the nation, leading the Virginia Indian Heritage Program, updating state educational standards to include Native American history and publishing books, according to her daughter, Adrienne Brown.
"I think I can speak for most of the family when saying that we are all most proud of her finishing her Ph.D.," Brown said. "My mother did not graduate from high school but persevered and achieved so much more than she ever thought possible."
Wood died July 21 at her home in Kents Store, Fluvanna County, after a long illness. She was 59. She led Virginia through efforts to interpret Virginia Indian history and cultures accurately, sensitively and accessibly, and she helped her own tribe, the Monacan Indian Nation, receive federal recognition.
"We've been cast as an abstract for so long that people don't recognize us. As children, we heard that our ancestors were savages, and as older people, we hear that we died out hundreds of years ago," Wood told The Daily Progress in 2018, after a federal recognition act added six Virginia tribes to the more than 500 recognized across the country. "Some people think that if you aren't wearing leather clothes, you're not an Indian. This is recognition that we exist."
Wood grew up in Northern Virginia and knew her father was descended from Virginia Indians, she told The Daily Progress in 2006, but it was not until the 1990s that she discovered documentation that she was Monacan. She was certified in 1995.
"Finally being able to confirm her tribal identity gave her a more directed sense of purpose, along with a place and a people to call home," Brown said. "There were times when her passion projects kept her from home more than we would have liked, but it was inspiring to watch her work to honor and defend our ancestors."
There are more than 2,000 members of the Monacan Indian Nation, which has its spiritual home in the Bear Mountain area of Amherst County and once populated Central Virginia from the Blue Ridge Mountains to Richmond. They are referenced as early as 1607 by English settlers, and Thomas Jefferson may have excavated a burial mound in Albemarle County.
Racial integrity laws after the Civil War, however, required Monacans to register their racial status as colored, which kept them out of local public schools and erased many from public records. Courthouse fires during the Civil War also made it hard for modern-day Monacans to trace their ancestry, as normally required by the U.S. Bureau of Indian Affairs for the standard recognition process.
"There is something profoundly upside-down about having to prove you exist when you are not just here, but you were here when everyone else showed up 500 years ago," Wood told The Progress.
Wood embraced her heritage and worked to promote Native American events and culture throughout the state. She traveled to Gravesend, England, to commemorate the 400th anniversary of John Smith's voyage to the New World and to address popular stereotypes about Native Americans and how they reacted to the invasion of Europeans.
Locally, too, she protested the placement of Sacagawea near Meriwether Lewis and William Clark's feet on a statue added downtown in 1919, as well as a nearby 1921 statue of George Rogers Clark trampling Native Americans. She worked to increase indigenous visibility at public events and offered a blessing to open UVa's Bicentennial Celebration in 2017, resplendent in gold and yellow regalia. She also wove her artistic and historical expertise into two collections, Markings on Earth (2001) and Weaving the Boundary (2016), as well as numerous contributions to anthologies of Native writing.
She came onto the Virginia Humanities board in 2004 as the first Virginia Indian representative and served on staff beginning in 2007. The organization praised her work in a remembrance on its website, referring to her "lifelong career dedicated to telling a more honest and inclusive history of Virginia's Native people."
Virginia Humanities received the Federation of State Humanities Programs' highest honor — the Schwartz Prize — for her work on the organization's Virginia Indian programs, which included numerous statewide speaking engagements and a printed guide to the state-recognized tribes, according to the organization, and helped update Virginia's Standards of Learning to make sure indigenous people were referred to in the present tense.
In a post on Facebook, the Monacan Indian Nation similarly expressed thanks for her work investigating and advocating for Monacan culture.
"She was a kind soul, loving of animals, poet and weaver of words, an avid gardener who had an eye for detail and beauty in all that she touched," the post stated. "She will be greatly missed."
A celebration of Wood's life will take place at 1 p.m. Wednesday at the UVa Chapel.
In lieu of flowers, donations can be made to Caring for Creatures or Hospice of the Piedmont.