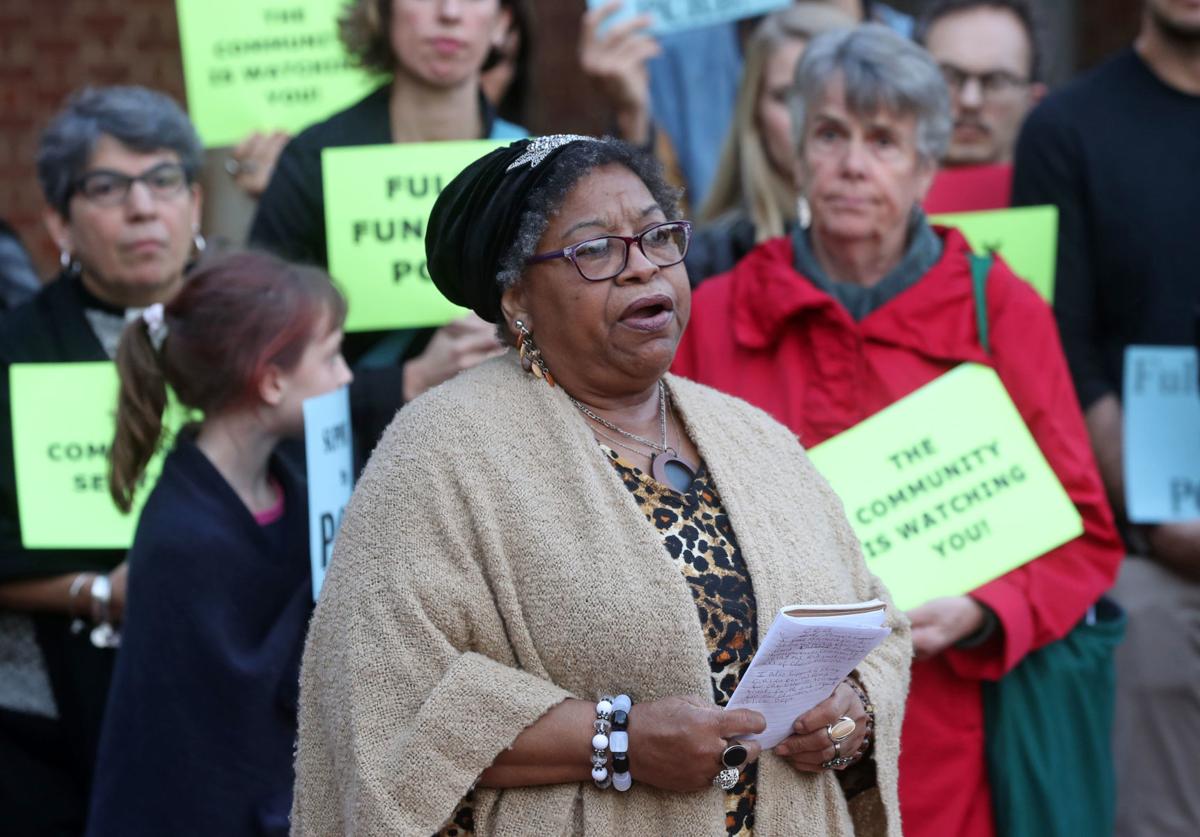 Activists and members of the initial Police Civilian Review Board are frustrated with Charlottesville City Council's proposal for a permanent oversight panel, but officials pushed back during a first reading of proposed rules for the panel.
The bylaws would establish the board's meeting procedures. The ordinance covers the board's composition, staffing and powers.
The initial CRB was appointed in late 2017 after the Unite the Right rally in order to craft bylaws and an ordinance establishing a permanent board. The goal of the panel is to improve trust between the Charlottesville Police Department and the community.
During Monday's meeting, the council set an internal deadline of Dec. 16 for seating a board, although it was the first time the entire council met to discuss the proposal and it requires a second reading.
"It's a little bit frustrating sitting back here and listening to you talk about this," said initial CRB member Guillermo Ubilla, "because all the questions and things you've talked about tonight, we spent a year tackling and we have ideas and suggestions for all of them and they're in the packet we sent you."
The proposals before the council vary in several ways from the initial recommendations.
Most significantly, under the revised proposal, council would not approve a police auditor to work for the board — at least not initially. The position was proposed to study police department trends and data.
Instead, an executive director will provide a report in 2020 about the need for such a position and what it would study.
"What data and information is this person going to be look at? I'm especially sensitive to this considering how little we got access to this year." he said.
Councilors Mike Signer and Heather Hill said the final ordinance should have language about an MOU and the council should be involved in the discussion. Signer said an auditor should have access to "a lot of data."
"I don't think it should be just up to the police chief," he said. "I think we should have a role in that. But I don't know how to write that."
Any changes to the bylaws require City Council approval, which Ubilla said hinders independence.
"I think if we're really talking about independence, as independent as a city board can be, I think it's important the board can change their own bylaws without having to come to future city councils for a vote," he said.
Bowers said it's also important to consider funding for the board to ensure that a qualified candidate is hired for the executive director.
"If you try to do it on the cheap, you're not going to get a person who is equipped to do the job," he said.
The proposal also changes membership requirements and limits the type of investigations and policy review that the board can undertake.
The initial proposal recommended that the board review all changes to Charlottesville Police Department policies, while the revised rules would limit that to policies related to internal affairs investigations.
Councilors were concerned that a broad definition would put the CRB in the middle of routine workplace decisions, such as dress code, and discussed a list of policies that could be subject to review.
Ubilla said the recommendation on policy review was intentionally vague. He said the board needs to become familiar with all policies and then determine what affects interactions with the community and should be reviewed.
He also said the board could help disseminate information to the public about changes to policy.
Ubilla was concerned that the proposal allows the CRB to make comments on policy changes, but the police department doesn't have to respond to those comments.
"The way I read what y'all have put out there is the CRB can make a recommendation on the policy and then it just dies," he said "It would be nice to know that the police at least read what the board recommended and then had a time to respond."
Councilors were receptive to a revision that requires a response from the police department.
Walt Heinecke, an activist and University of Virginia professor, said the community is upset because the revised draft was published last Wednesday, giving residents little time to respond.
He favored delaying a second reading so that the community wasn't faced with another short turnaround for a new draft at council's Nov. 4 meeting.
"I think that process is what's really pissing the community off," he said.
Heinecke was also frustrated that council was talking about job descriptions and the hiring process for an executive director instead of properly establishing the board.
"I'm really starting to ask the question about why are we talking about hiring process before we have the structure set up correctly?" he said. "We have to have it right before we start making decisions about hiring and those kind of things."
"I don't care if the hiring happens in February or April. What I care about is that we get this right."
When community members raised concerns about the December deadline, Walker reiterated a worry she has raised on several issues lately — the November election. Signer and Councilors Wes Bellamy and Kathy Galvin did not seek re-election.
Walker has publicly feuded with Democrat Lloyd Snook and independent Bellamy Brown, who are both candidates for the council. She has shown up to at least one event in support of Democrat Michael Payne. She has not made comments about Democrat Sena Magill or independents Paul Long and John Hall.
"You all do not know who is going to be elected in November and then [there's] the possibility of we not getting to where we are now," Walker said on Monday. "That is a fear of mine. Maybe it's nobody else's fear. … If you have three new members coming, we don't know who they are. You don't how they will feel and you don't know what that looks like."
Walker took exception to some of the public comments directed toward the council, saying that some community members were making "assumptions and accusations" about councilors' level of involvement in the process.
"During this process, I attempted to commit to being in the room every meeting and that wasn't what was wanted," she said. "I think all of us have to own the discord that was created with the initial [CRB] and how that played into us building this together as a community. … We would have been in a different place because we would have been there together helping."
Adeola Ogunkeyede, legal director of the Legal Aid Justice Center's Civil Rights & Racial Justice Program, said that council was "trying to rush a decision" with limited knowledge on civilian oversight.
"If one is not immersed in it, they don't know what is being missed," she said.
Walker said that council is trying to craft the best proposal.
"I think the rushing is us trying to figure out how we can do it," she said. "It's not to push some trash through."