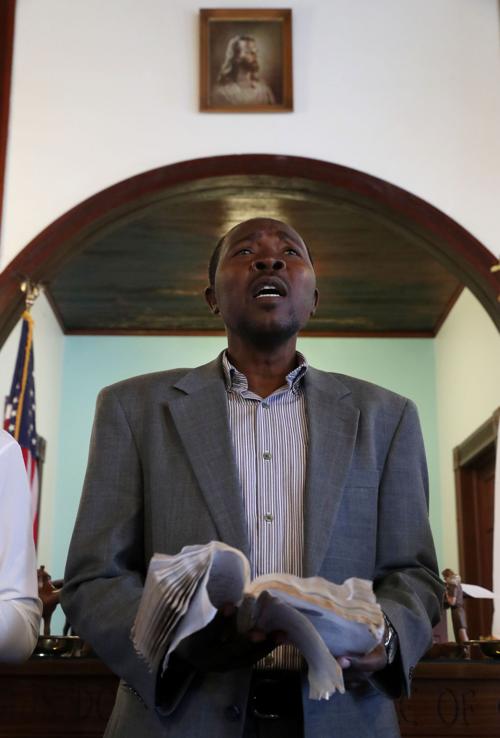 CUMBERLAND — Eight days before Christmas, Pastor Hassan Abduraheem stood at the front of a small Baptist church just a few miles from the Buckingham County border.
He was accompanied by his wife, Awadia, and Fibe, one of his daughters, as they sang a Christmas song in their native Arabic. The rest of his family — three sons, a second daughter and his mother — listened along in a pew toward the back of the church.
As they sang, the word "Hallelujah" rang through Tar Wallet Baptist Church, decorated with touches of green and red to celebrate the holiday season, as churchgoers listened on with full attention.
Abduraheem is pursuing his calling as a minister, but he's not the pastor of Tar Wallet. In fact, he and his family came to the United States from Sudan just months ago and have made Buckingham their new home.
But before they were refugees in the U.S., Abduraheem was imprisoned in Sudan for more than a year, charged with espionage along with two others, both of whom also were freed.
"Here for me, here is just a peaceful place. I am feeling really secure here and safe in this place," he said. "After a long journey, … for me to be here, it's really a privilege and I feel that for me and for my family, it's safe for me here."
Abduraheem and his family were able to come to the U.S. thanks in part to Rep. Tom Garrett, R-5th. The congressman, with others in the House of Representatives, already had been working on the release of Czech Pastor Petr Jasek from a Sudanese prison when he learned of Abduraheem and another man from Sudan, all charged with same crime.
Garrett, who serves on the House foreign affairs subcommittee on Africa, global health, global human rights and international organizations, said he initially was told the three had been charged with aiding rebels.
"What they were doing was giving food and medicine to the minority population in the south of the country," he said.
Christians account for only 3 percent of the population in Sudan, and the nation was again designated a "country of particular concern" in August 2011 under the International Religious Freedom Act, because it allegedly engaged in or tolerated "particularly severe violations of religious freedom," according to the International Religious Freedom Report for 2012 from the U.S. Department of State's Bureau of Democracy, Human Rights and Labor.
By working with the Sudanese Embassy and international groups such as Jubilee Campaign and Voice of the Martyrs, the men were freed. Garrett made a trip to Khartoum, Sudan, during the process.
Abduraheem was first incarcerated in December 2015, and was shifted between a handful of prisons, being interrogated at each stop.
During that time, Abduraheem had no word from his family and no way to know if they were safe.
"I don't know if they're alive, if they left the home or they went somewhere. I don't know anything about them," he said. "And the same, they don't know anything about me."
Abduraheem and his family are here on humanitarian parole, which is offered "due to a compelling emergency," according to the U.S. Citizen and Immigrations Services' website.
"There must be an urgent humanitarian reason or significant public benefit for the parole to be granted," the site says.
The home they have in Virginia was provided by a coalition of churches in the area: Faith Bible Fellowship, Tar Wallet Baptist, New Life Assembly of God, Oak Hill Mennonite Church and Heritage Baptist Church. Individual donors helped out, as well.
"Bringing them here was a partnership between several churches," said Diana Shores, who attends Faith Bible Fellowship.
Robert Johansen, pastor of Tar Wallet Baptist Church, said the house the family is occupying hadn't been lived in for years.
"So, there was a lot of work that needed to be done, a lot of painting, cleaning, and the churches came together, had several work days. They were all excited to do it," he said. "And to me, it was just a joy to be able to participate in that and to see the help, all the stocking of the food — churches donated food — and really they all came together to help out."
Hearing the stories of religious persecution in a country where Christians are very much in the minority made Johansen think about what religious freedom and persecution really mean.
His invocation at the church's Dec. 17 service even included a reference to the freedom of religion Americans often take for granted.
"It gives you a great sense of gratitude that we have this freedom, because you take it for granted every day to live in a country where you're free to worship and express your religious beliefs," he said.
Though Abduraheem and his family have been here only a short time, they feel that they have been warmly accepted into their new church family.
"Every Sunday, we go to the church, we have good relationships with our brothers and sisters in the church," Abduraheem said. "We are adopting their culture here now. We are not seeing ourselves that we're a stranger here."
And while this is the family's first Christmas in America, it's also Abduraheem's first Christmas with his family since his 2015 imprisonment.
"This will be [a] really amazing Christmas outside prison and it will be in the U.S. … it should be really good for us," he said. "It'll be good times just to celebrate with churches here. It is really amazing."