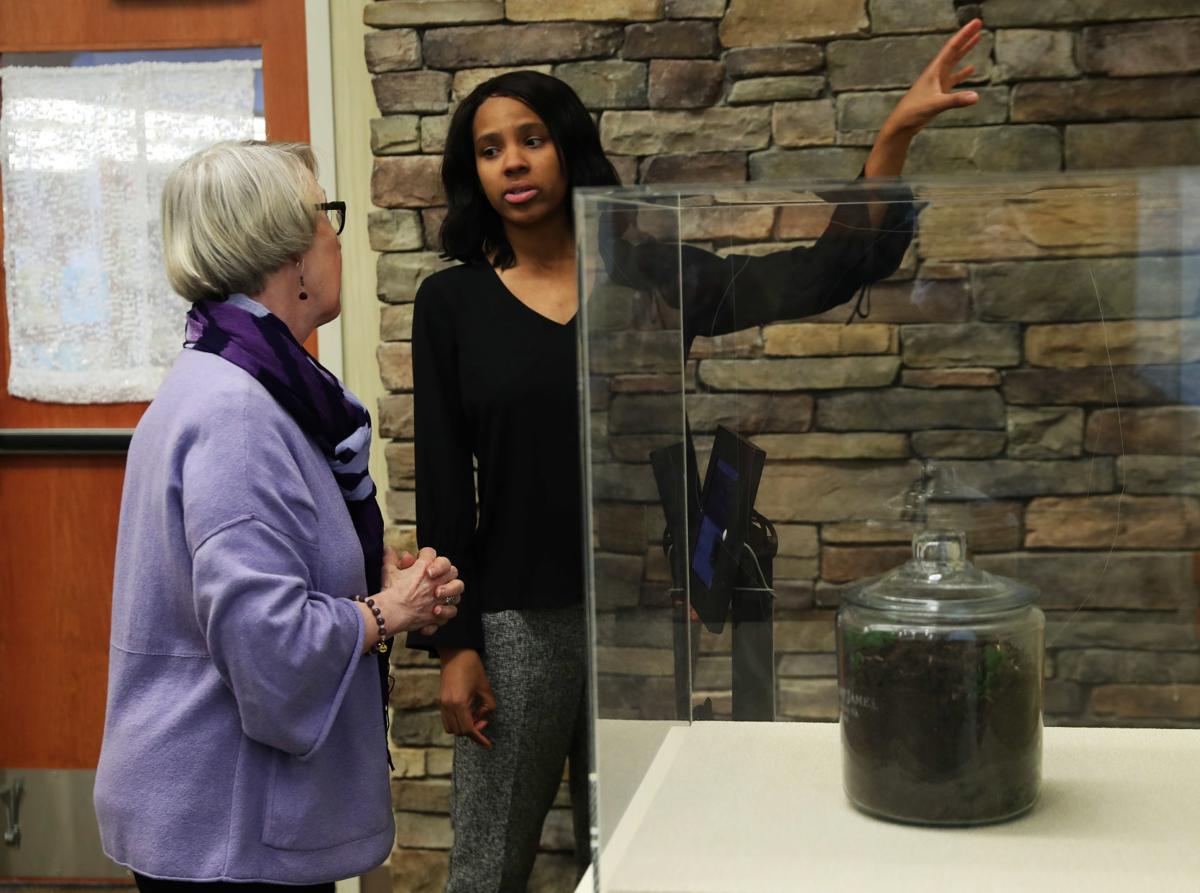 A historic marker commemorating the murder of John Henry James will be installed outside of the Albemarle County Circuit Courthouse.
James was lynched on July 12, 1898, at the Wood's Crossing area of Albemarle, when a mob removed him from a train that was transporting him from a jail in Staunton, where he had been awaiting trial for allegedly assaulting a white woman near Charlottesville.
On Wednesday, the county's Board of Supervisors approved the installation of the marker, as well as a proclamation recognizing July 12, 2019, as John Henry James Day.
Siri Russell, the director of the county's Office of Equity and Inclusion, said the marker is part of the broader community's ongoing effort to participate in the Equal Justice Initiative's Community Remembrance Project.
Last July, about 100 community members took a nearly weeklong trip to the Equal Justice Initiative's Legacy Museum and National Memorial for Peace and Justice in Montgomery, Alabama, to deliver soil from the Albemarle site where James was murdered.
"From the day we started last year to where we are today, thinking about the history of lynching, thinking about America's racial history — it's something that we all understand that we need to face, and I appreciate that you all are doing it so boldly by creating a proclamation and a day to remember it," Andrea Douglas, director of the Jefferson School African American Heritage Center, said Wednesday.
The trip and efforts around the Community Remembrance Project have been organized by Douglas and Jalane Schmidt, a local Black Lives Matter activist and University of Virginia professor.
Supervisor Rick Randolph said the community would not be where it is today without the work of Douglas and Schmidt, and credited the county's support to Russell.
"We are all indebted to all of you for the work that you've done to bring us to where we are today," he said.
The marker will be installed later this month.
Douglas said they have always wanted for the marker to be placed in relation to the courthouse.
"We were interested in the idea of the abrogation of law that lynching actually is," she said. "To have it in that proximity does a lot of work around the tension of legalities, the fact that in front of 75 Virginia courthouses are Confederate imagery, and these are supposed to be places where all people are equal under the law."
Elgin Cleckley, an assistant professor of architecture and design thinking at UVa, helped select the marker's spot on the property, which will be near the corner of Park Street and Jefferson Street.
He also is the creative director of _mpathic design, where he thinks about how to connect with everyone and to make a space feel inclusive.
"I was really certain to think about in the design importance of seeing the slave marker as you're viewing it, and the relation to the courthouse itself, thinking about it's connection with the Founding Fathers of the region and also in relationship with the statues," he said.
People will be able to see the marker from their car or while walking by the site.
"You get this incredible moment where you see tourists walking around the site, too, so it's part of this collection of pieces to tell this complex, historical story, but it also adds this narrative that's really important," Cleckley said.
He said he also wants people to think about the location of where the lynching happened, which is along U.S. 250. Monticello is off in the distance in the other direction from the site.
"I believe it's really important — this is part of my empathy work — of thinking about what happens to the body, the visitor who's there, the visitor experience and locating yourself and not only what's around you, but what's beyond," he said.
Russell said the marker is paid for by the Equal Justice Initiative and will look similar to other standard historic markers.
One side will be specific to the story about James, while the other side will be general information about lynching.
"We know 'racial terror lynching' is not something that only existed here, it's something that existed nationwide and there hasn't been before this effort, that level of recognition," she said.
Russell said part of the reason for the county's participation is about community resilience and addressing history and the community's shared story.
"We believe that part of that recognition of shared humanity is a recognition of shared stories of shared history," she said. "If you look around, this is a place that believes in acknowledging history and memorizing history with markers and with monuments. This is just another one of those."
An exhibit that includes soil from the site where James was lynched has been traveling around Jefferson Madison Regional Library branches and will be at the County Office Building on McIntire Road beginning July 17.
The rest of the exhibit, which is about Albemarle's broader history, will be installed around it in September, Russel said. The county is currently reaching out to the Monacan Indian Nation's Tribal Council to include that history, as well.
The county also plans to include information about the history of Albemarle communities and places that are not as well known.
"There's lots of history that already exists that has been told many times, like Thomas Jefferson, Lewis and Clark, and we want to tell those stories, and we want to tell some of these other lesser-told stories, too," she said.
At the National Memorial for Peace and Justice, 800 six-foot monuments symbolize thousands of lynching victims in this country. A field of identical monuments surround the memorial that will be claimed and installed in the counties they represent, including Albemarle.
Russell said their group is on a list to be notified when the application for the memorial becomes live, and it's expected to put it in the same area as the historic marker.
"We certainly hope to be among the first, if not the first, to receive that," she said.