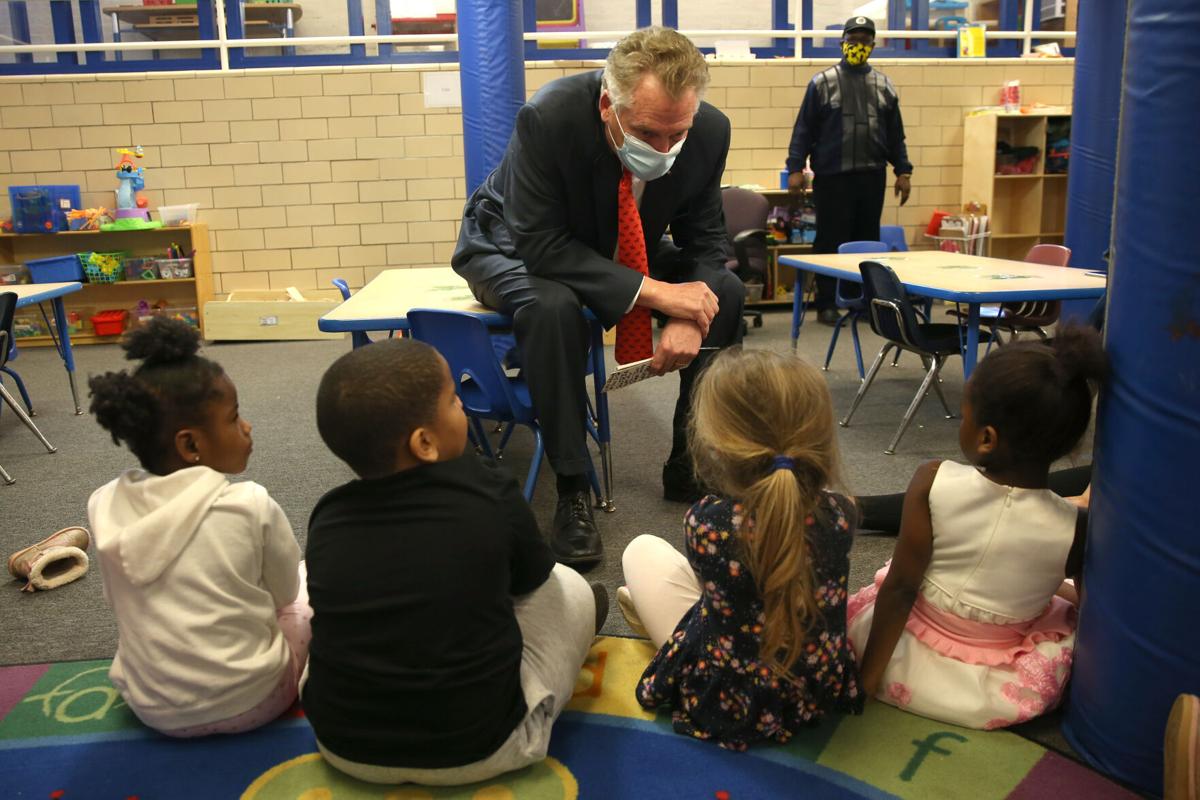 Former Gov. Terry McAuliffe was in Charlottesville on Monday to roll out his plans for health care if he's elected governor later this year.
McAuliffe met with community members at the Jefferson School City Center, and made stops with tenants in the building, including the Sentara Starr Hill Health Center and the YMCA Early Learning Center.
"COVID has decimated us, and this COVID will be with us for years to come," he said. "How we react — we cannot tinker around the edges here in Virginia, we've got to go big."
McAuliffe is among five candidates seeking the Democratic nomination for governor. He served as governor from 2014 to 2018. Virginia does not allow governors to serve consecutive terms.
If elected, McAuliffe said he wants to implement a state reinsurance program; see "massive new investment," both federal and state, into a state exchange; and have a "new watchdog" on health care and prescription drug prices.
"We need to seek the [Section] 1332 waiver for our reinsurance program that we need here in Virginia — go to the federal government, go to Joe Biden and say we need to do this," he said. "Fourteen states have done it. It will bring the cost down by 30% of the premiums. Virginia needs to get in the game."
McAuliffe's plans also broadly include making health care more accessible and affordable; enhancing and strengthening Virginia Medicaid; promoting health equity and eliminating racial health inequities; and modernizing Virginia's public health system.
At the Sentara Starr Hill Health Center, Jacklene Martin, director of community benefit, said Sentara has been part of two recent vaccination events for people of color, where 500 and 700 people showed up, respectively.
McAuliffe asked if the number of vaccines available was the limiting factor.
"We need not only more vaccines, but we need more resources, like people to call and schedule appointments. That's taken quite a bit of time, those sorts of things," Martin said.
The Jefferson School African American Heritage Center hosted a panel with Black doctors about the vaccine to answer questions, and Martin and the Rev. Alvin Edwards said that video and other conversations with doctors have helped to ease concerns and change peoples' minds about getting the vaccine.
"That's made a difference, as well, because people are listening," Edwards said. "Like one preacher swore up and down she wouldn't take it, but when she saw the Black doctors talking about it, it made all the difference in the world."
Edwards and the Rev. Dr. Lehman D. Bates said there are many Black people in the community who want to get a COVID-19 vaccine.
"I think it needs to be understood that vaccine hesitancy is not a race issue, because I've had a lot of conversation on both sides. Especially generationally, it seems like our older generations are more hesitant than our younger," Bates said.
McAuliffe said he was at the center for his announcement because education and health care are related.
"That is the future, and either Virginia jumps on this and becomes a leader, or we're going to fall behind because of the devastation of COVID," he said. "This is a real inflection point for states all over America, and those states that jump up and lead with big, bold ideas are the states that are going to be able to be ready for the next 30, 40 years."
The YMCA Early Learning Center had about 90 children attending before the pandemic, and they've been increasing their numbers since reopening in June up to about 50 children, said Missy Corbin, COO of the Piedmont Family YMCA.
"Nine out of 10 children here are on some scholarship or subsidy assistance, whether that's through the Department of Social Services or our community partner the United Way," she said.
McAuliffe went into three classrooms and gave his governor's coin to children.