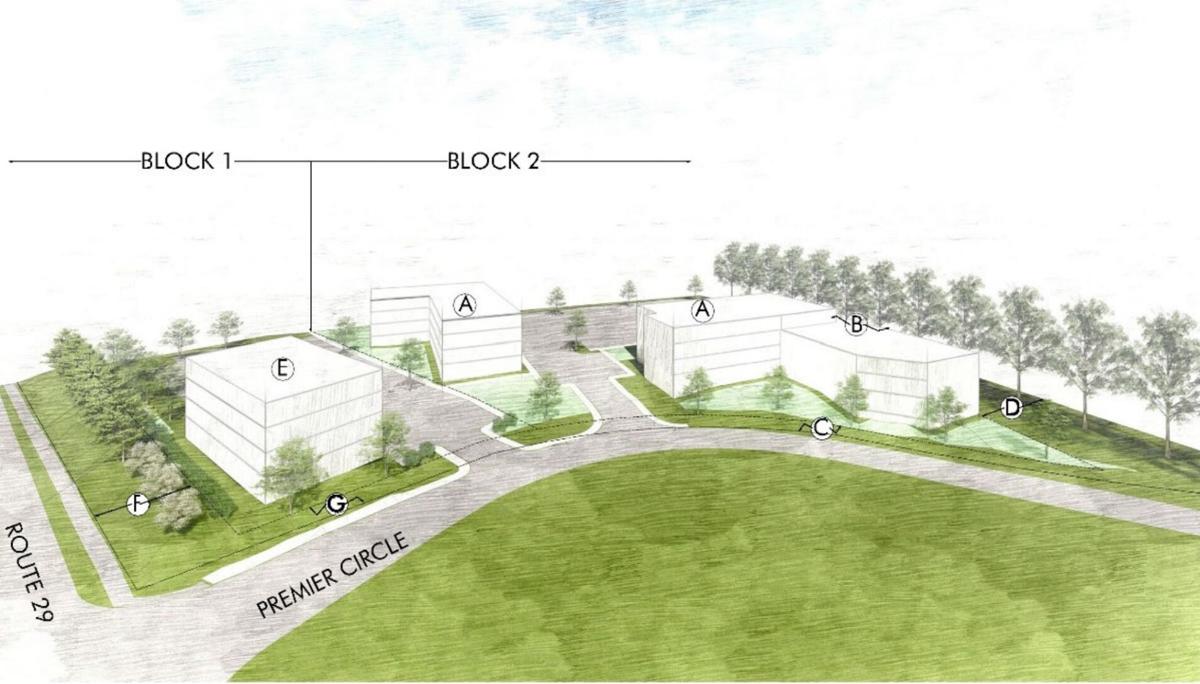 A housing project in Albemarle County geared toward sheltering the chronically homeless has been approved.
The county Board of Supervisors on Wednesday night unanimously approved a rezoning of a property on U.S. 29 currently occupied by the Red Carpet Inn for approximately 140 affordable apartments between two buildings and a commercial building.
Virginia Supportive Housing, the Thomas Jefferson Area Coalition for the Homeless and the Piedmont Housing Alliance proposed the project, which would serve people who are chronically homeless, meaning they've been homeless for at least a year continuously and have a disabling condition.
The board also approved a special exception request to allow for one housing type on the property, which is situated just north of Westfield Road.
The county Planning Commission in December unanimously recommended approval of the rezoning, despite having some concerns with the types of green space in the proposal; the maintenance and adequacy of Premier Circle, which is a private street; and pedestrian access across U.S. 29.
Since that meeting, the changes were made, and the proposed building closest to U.S. 29 now will only contain non-residential uses. A playground was added as an amenity type; a proposed transit stop was adjusted to allow it to be located on site or along Premier Circle, if an easement is granted from the owners; and proffers were offered to address concerns raised regarding the private street.
"In a way, I feel torn because this is a great location for commercial property for Albemarle County, but it's also a good location for what you all have proposed," Supervisor Diantha McKeel said Wednesday.
Currently, the 3.75-acre property is zoned C-1 Commercial, and the organizations asked for a rezoning to Neighborhood Model Developments, which would allow for a non-residential building fronting U.S. 29 and two multi-family residential buildings on the back of the site.
The future land use plan in the Places 29 Master Plan, which is part of the county's Comprehensive Plan, shows the area as Office/Research & Development (R & D)/Flex/Light Industrial. Residential is a secondary use of that designation.
The Comprehensive Plan is the county's guiding document for its long-term vision for land use and resource protection, and includes master plans for the designated development areas of the county. County staff and the Board of Supervisors look to the Comprehensive Plan as part of the rezoning process.
Albemarle's economic development director, Roger Johnson, said he isn't against the development, but if a project is reducing land intended for job production in the community, it would be incongruent with the county's economic development strategic plan.
"One of the goals in there is to prepare this community to accommodate future jobs and investment, and any time we give up job-producing land or investment-producing land that offsets the cost of the tax burden, it's inconsistent with that plan of Project Enable," he said.
Sunshine Mathon, director of the Piedmont Housing Alliance, said it's too early to know what will be in the building that fronts U.S. 29.
"I will say that from our perspective, it would be ideal that it would be a commercial function — it doesn't have to be a nonprofit .... which has some at least secondary benefit to the adjacent uses that we're proposing," he said.
County staffers were concerned with Premier Circle being a private street.
Attorney Lori Schweller, who is representing the project, said it's unlikely the state would accept the road without upgrades, and upgrades need approval from all property owners, as a later declaration for road maintenance and establishment of an association was created shortly after the road.
"So what we think we need to do is to get together with the owners, with the current owner's assistance, to amend and restate the declaration, and so we've proffered to try to achieve that," she said. "In the meantime, though, PHA and the VSH will incorporate road maintenance into their operating budgets for the project, and have proffered to do what they can do legally to improve the current status of the road."
VSH is proposing a four-story 80-unit building composed of 100% studio apartments for single adults, which would be affordable to those making 50% or less of area median income. PHA is proposing 60 mixed-income one-bedroom and two-bedroom units that, depending on financing, would be for those making between 30% and 80% AMI.
Area median income is currently $93,900 per household, according to the U.S. Department of Housing and Urban Development.
The organizations are pursuing Low Income Housing Tax Credits in March for the first building, pending the rezoning request for the site, and construction would begin in 2023. In March 2023, they would pursue a second round of LIHTC.
Before and during construction, the motel would be used as an emergency homeless shelter.
Board Chairman Ned Gallaway asked what would happen to people using the emergency shelter when construction starts and is completed, especially if there's someone who can't transition into one of the new units.
"I fully expect that you guys will have a game plan, and have that game plan and have had that in the past," he said. " It's important for us to hear that and what that is, and that those of us that are educated on it understand what's going to happen."
Anthony Haro, executive director of the Thomas Jefferson Area Coalition for the Homeless, said the long-term development of the project will effectively end chronic homelessness in the area.
"It will not end homelessness overall, there is still going to be a need for emergency shelter in the community, I do want to be upfront about that," he said.
Haro said local organizations that work with people who are homeless are looking at whether it's viable in the future to go back to only congregate emergency shelters, or if the community needs a new model of emergency shelters.
When The Crossings opened in Charlottesville, he said, chronic homelessness dropped by half but it hasn't dropped much since then. Because of the pandemic, the area has more resources than ever to pay rent for people experiencing homelessness, but the limiting factor is the number of units in the community.
"It's not money; it's actually the units," Haro said. "So this development is exactly the kind of thing that we need, where there is the opportunity of affordable housing for people experiencing homelessness to move into a unit, because that's actually a limiting factor for us and helping people get out of shelters, and it will be moving forward as well. But this is the kind of project that addresses that."
Eboni Bugg, Charlottesville Area Community Foundation director of programs, said the foundation, with donors and community partners, is "poised to make" a more than $4 million investment in the project.
Chris Hawk, with the Piedmont Environmental Council, spoke out against the project in December but said on Wednesday that the updated proffers addressed the organization's previous concerns about the private road.