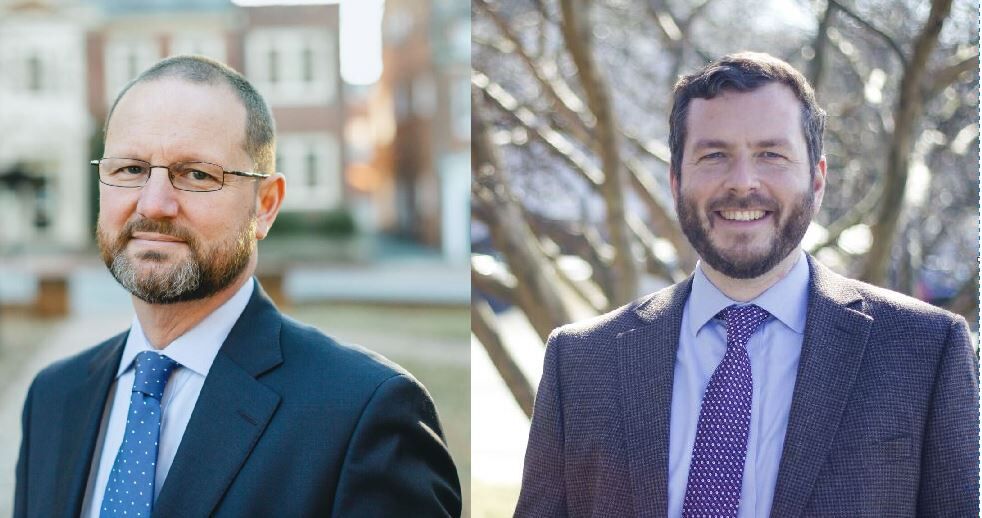 As Charlottesville voters head to the polls Tuesday, one of the few local primaries will see them choose the Democratic nominee for commonwealth's attorney.
Joe Platania is running for a second term against former public defender Ray Szwabowski.
Elected in 2017, Platania's first term has seen him deal with the criminal fallout of the Unite the Right rally, including the prosecution of car attacker James Alex Fields Jr.
Soon after graduating from the Washington and Lee University School of Law in 1998, Platania said he took a job in Richmond defending death row inmates. One of his first cases involved a man who had committed murder and rape when he was 17, but later in his case, mental health issues had been uncovered. Nevertheless, within the first three months of Platania's new job, he watched one of his clients be executed.
Platania said that experience, as well as his later work with the Charlottesville-Albemarle Public Defender Office, gave him insight into advocating for defendants. This experience has been complemented by his time working for and as a commonwealth's attorney, which requires balancing the needs of victims and being just to defendants.
"I've learned over the years prosecuting, and as a commonwealth's attorney, that the job also requires a focus on victims and their family members, their loved ones and their pain, as well as the safety of the entire community," Platania said. "There's a really complicated tension in the work that we do as prosecutors, and to navigate those waters I think you need knowledge, experience and integrity."
Though Platania said he is proud of what his office has accomplished so far, he said there is still much to do, including implementing elements of restorative justice.
In typical fashion, someone is charged with a crime and prosecuted, and this type of adversarial system loses the victim's voice until sentencing, Platania said. Under restorative justice, the system is flipped and the emphasis is on finding justice through an alternative method agreed to by the victim.
"You can't force anyone to do restorative justice, but if the victim is willing and the offender is willing, then the victim can share the harm and the pain that the offender caused them," Platania said. "Then the offender can apologize and make the victim whole through whatever mechanism they agree upon and it makes the victim feel better because they're not in court being cross examined and challenged."
This also, ideally, impacts the offender by making them less likely to commit another crime because they have listened to and witnessed the pain and the harm they have caused, Platania said.
Though the onset of the COVID-19 pandemic stalled the process, Platania said his office has been looking into adopting the process for adult felonies and is currently reaching out to national experts on restorative justice to set up a process and staffing.
In terms of felony drug possession charges, which has become a focal point of the race, Platania said his office rarely prosecutes people on solely felony drug possession charges. According to data compiled by Neal Goodloe, the city's criminal justice planner, Platania said there were 19 felony drug charges in the last two years. Platania said he would likely support decriminalization legislation introduced in future General Assembly sessions, but is hesitant to endorse anything before reading the legislation.
Social justice and racial disproportionality within the criminal justice system are key issues both locally and nationally, Platania said. He is part of a group of local stakeholders that Mayor Nikuyah Walker convened to look at some of those issues and how to resolve them.
"It's a conversation that's happening nationally and certainly locally, but we've been having that conversation locally for a very long time and we've got the evidence-based decision-making team that's been in existence for over 10 years," Platania said. "These are not new conversations locally, but you should never hit a point where you decide you're doing everything right and have nothing to work on."
A focus on restorative justice also has been a significant campaign issue for Szwabowski, who sees the method as a way to avoid disproportional incarcerations of people of color and a way to combat the "school-to-prison pipeline."
Szwabowski, who stepped down as a public defender earlier this year to run for the Democratic nomination, said restorative justice puts the emphasis on assisting the victim. In the current system, the victim is often left by the wayside and may not get the justice or closure they deserve, he said.
"Restorative justice is really about widening the menu of options, so that we don't have one tool for every case, because right now that's what we have; we can prosecute you, we can put you in jail, we can put you on probation, that's the only way that street goes," said Szwabowksi, a University of Virginia School of Law graduate. "It's all contextual, but restorative justice is a different approach where the goal is for everyone to leave feeling like there was some actual healing and some actual progress made."
As an example of a potential local model, Szwabowski pointed to a restorative justice model used in Arlington County that is aimed at diverting juveniles from the court system before they ever get in front of a judge.
This program in particular also would help end the school-to-prison pipeline system, which Szwabowksi said disproportionately affects Black youths. Diversionary methods, such as restorative justice programs, are similarly disproportionately used to benefit white children, something Szwabowski said he is committed to avoiding.
"If we can divert everybody — Black, white, everybody — then we're going to end up with fewer kids in court," he said. "That is vitally important, because when 16- and 17-year-olds mess up, we need to be really careful about ruining the rest of their lives with how we as the adults respond."
Another facet of Szwabowski's platform has been drug charge prosecutions. Szwabowski said he would not prosecute felony drug possession charges, if elected, and would expand the diversionary felony drug court program by adding a misdemeanor drug court program.
The Supreme Court of Virginia likely would need to approve the creation of a misdemeanor drug court, he said, but a lower-stakes program like it would prevent those who fail the program from winding up with a felony on their record. Additionally, Szwabowski said he would seek to expand treatment methods outside of drug court programs, though the program already offers treatment from licensed medical workers.
"We're using police, lawyers, judges and probation officers rather than using doctors, licensed clinical social workers, psychologists and addiction specialists, and I think we need to really pivot and start treating this as a public health issue," he said. "While I think we could still treat some of the cases in drug court, lowering the temperature by creating a misdemeanor drug court and, ultimately, investing in some more robust treatment solutions is the best idea."
Though Platania and Szwabowski share similar views on many issues, Szwabowski sees himself as being more open to reform. He said he has been personally affected by the criminal justice system, growing up seeing his uncle imprisoned for 20 years.
"Even before I fully understood what was going on, I believed that we needed criminal justice reform in this country, and I got into public defense in part to get involved with that movement," he said. "Having worked for five years as a defender, I've only strengthened that resolve and I think the new criminal justice reform movement is the next chapter in the civil rights movement."
The Democratic primary is Tuesday.