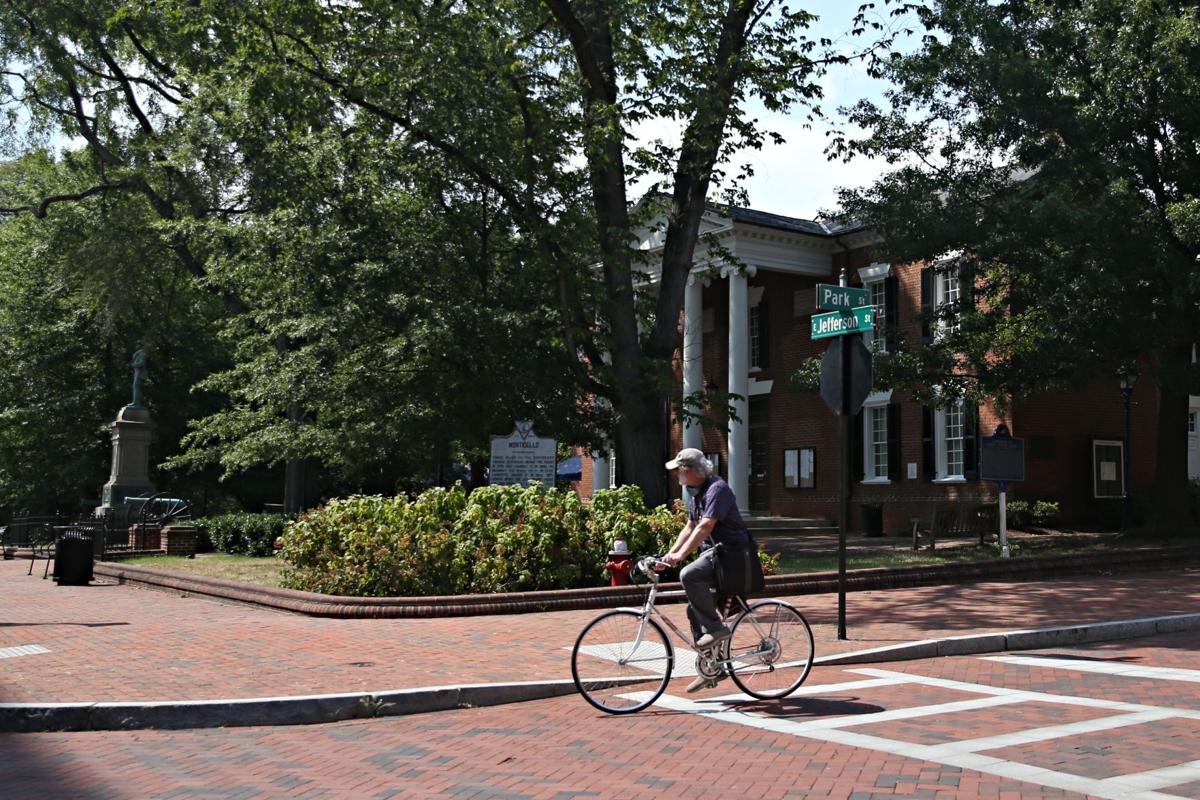 Pushing to include the stories of a wider swath of people and endeavoring to reinterpret historical spaces does not equate to erasing history, a panelist said Monday during a discussion of Albemarle County's property in Charlottesville's Court Square.
Justin Reid, the director of community initiatives at Virginia Humanities, said a more inclusive approach to heritage creation does exist, and that conversations like Monday's put Court Square within the more inclusive cultural landscape framework
"When we begin to reinterpret court square using a cultural landscape framework, we also have to consider things like geology, topography and human geography," he said. "We have to consider the Monacan Indian Nation, free and enslaved Afro Virginians, settlers and immigrants and, most importantly, all of our descendants."
Reid said he often hears that if things were to change that history would be erased or changed.
"History doesn't change; we're not erasing history," he said. "What we're talking about here is heritage, and heritage does evolve and it does change. And each generation has the power and responsibility to create a heritage that better reflects the contemporary values that they hold dear. So let's shift the conversation."
Earlier this year, the county launched a Court Square Community Conversations project designed to give residents a voice in how the grounds could be redesigned as an inclusive public space.
Panelists on Monday evening discussed how the property could reflect a collective heritage of everyone in the community.
On August 6, the Albemarle County Board of Supervisors will hold a public hearing on its intent to "remove, relocate, contextualize or cover" a monument to Confederate soldiers at the Albemarle courthouse.
The monument is a bronze, life-size Confederate soldier in uniform, erected in 1909 and paid for by the county, the city and the United Daughters of the Confederacy. It sits in front of the courthouse on Albemarle property that was never annexed by the city, facing south toward East Jefferson Street.
There are additional markers and monuments on the property, including a marker commemorating Meriwether Lewis' bust being installed in Richmond, multiple Virginia Department of Historic Resources historic markers, a historic marker to John Henry James and a bicentennial tribute marker.
Elgin Cleckley, an assistant professor of architecture and design thinking at the University of Virginia, who helped select the John Henry James marker's spot on the property, said that the moment to rethink public spaces is now, and that he was inspired by the "Monument Avenue: General Demotion/General Devotion" competition in Richmond.
"I think about this idea of bringing in, as Justin masterfully said, a true history and human settlement story in the space, but also a new connection with nature and the environment," he said. "And having this idea of a brief that then outlines this, with an incredible community engagement process, could create these images of what our future could be. It's time to futurescape."
Kirt von Daacke, assistant dean and associate professor of history at UVa, said that the monuments downtown don't actually depict history.
"They're historical and interesting, but as actual conveyors of historical reality about what the Civil War is about, what Robert E. Lee did and thought, they fail," he said. "They're not historical objects in any way, shape, or form ... What you have to do is build new things that actually do tell a history and are grounded in scholarship, and that's the next phase."
He used the example of if the Confederate Gen. Thomas "Stonewall" Jackson statue is removed, which is next to the Albemarle Courthouse but on Charlottesville land.
"Nothing's changed, right? We've not removed the history of white supremacy in Charlottesville," von Daacke said. "We've not done any of that, so our work is next to think about, how do we do that in that place. And the first act, the reason removal keeps coming up, is they have to be removed from their context to get to the point where we can maybe see them as art objects, and then reinterpret that space for the 21st century."
A community conversation on memorials, public spaces and Court Square is scheduled for noon July 24. To join the virtual event, visit publicinput.com/courtsquare.