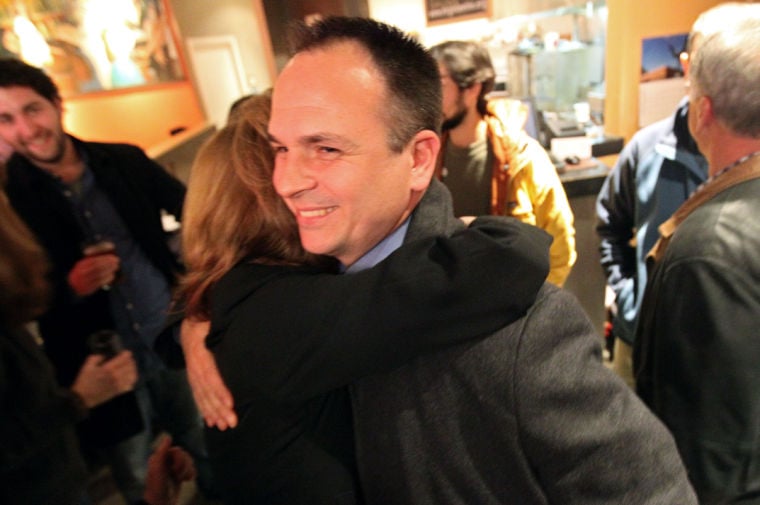 After nearly six years at the helm of area transit provider Jaunt, Brad Sheffield has resigned from his position, effective Monday.
COO Karen Davis has been appointed interim CEO by the Board of Directors, which will start an executive search process to hire a new head for the corporation.
Sheffield's resignation is the latest shakeup among area transit providers. Last year, Garland Williams took over as the director of Charlottesville Area Transit. During his six years, Sheffield led a series of projects to expand and rebrand Jaunt.
Sheffield took the top position at Jaunt in 2015, after longtime Executive Director Donna Shaunesey retired. Of his resignation, Sheffield said it was hard for him to look forward while he was still focused on Jaunt.
"I felt the need to look forward for a little while, but the success that I was seeing at Jaunt and the relationships with the staff, the energy and passion that was going on, would really draw that attention away from continuing to try to look into the future," he said. "It wasn't to try to escape or leave; it was just what are the next steps of my career."
Sheffield had also served one term on the Albemarle County Board of Supervisors, representing the Rio District from 2014 through 2017.
"Brad has done a lot to move Jaunt forward and make it the successful community partner that it is today, I think we're really grateful for his leadership," said Jaunt Director of Public Relations Jody Saunders. "He left it in a good place, and I think we're in really good hands with Karen picking up where Brad left off."
The Jaunt Board of Directors was supposed to hold its monthly meeting Wednesday morning, but it was cancelled.
Jaunt Board of Directors President Randolph Parker did not respond to a request for comment. Board Vice President Lucas Ames declined to comment, referring The Daily Progress to an email sent by Parker, which was similar to what Saunders had said that morning.
Local government officials have been looking for ways to boost the accessibility of public transportation in the greater Charlottesville area — plans that include Jaunt. Historically, Jaunt has provided appointed-based transportation, especially for those with disabilities.
When asked about Jaunt's plans to continue on with projects, Saunders said it was too early to say definitively what will continue.
"Once Karen is up to speed in her new role, she'll begin to evaluate the projects and initiatives that Mr. Sheffield was spearheading," Saunders said. "She'll start to prioritize, I think, with an eye towards organizational resources and capacity, [and] what can we reasonably accomplish with this new organizational vacancy."
Davis began working at Jaunt in 2009 and was promoted to COO in 2015. Saunders said she has been instrumental in things like the Greene County Transit transition, getting Jaunt's Connect commuter service up and running and she oversaw the headquarters renovation.
"She's well positioned to pick up where Brad left off — she's got the experience and the knowledge," Saunders said.
Sheffield said he's not ready to share what's next for him, but said that there is a lot coming down the road for local transit.
"I think for me, my departure is more of a blip on what should be the radar of the community for transit because there's so much potential, and there's stuff that's lining up to really do some quality work to change things," he said.