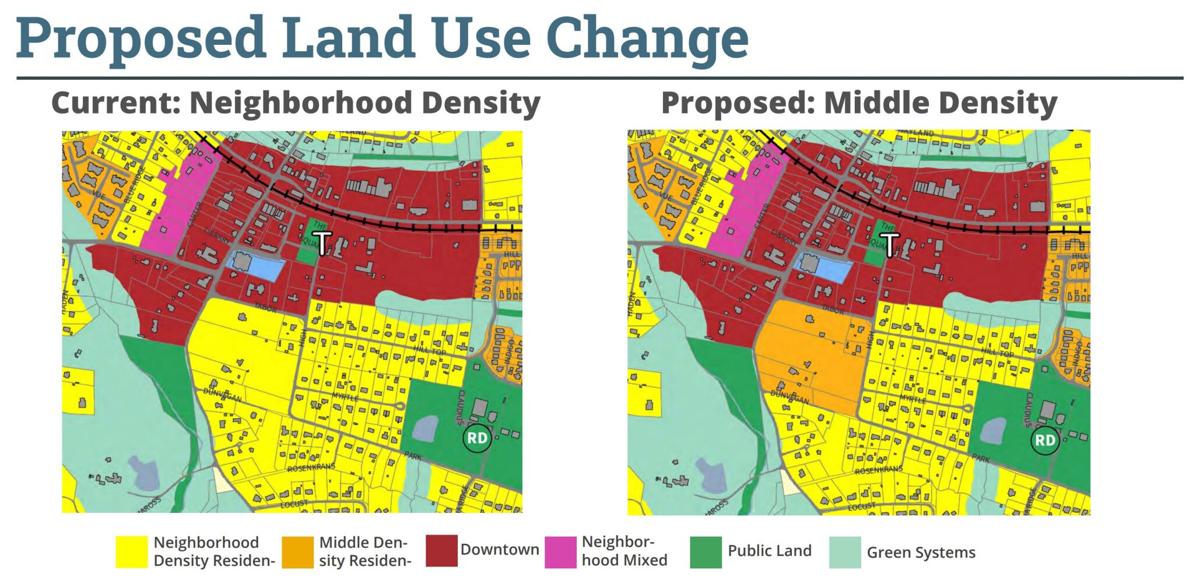 Albemarle County staff is recommending land adjacent to downtown Crozet have more housing in the future.
As part of the Crozet Master Plan update process, county staff is now proposing to change seven parcels that are bordered by Crozet Avenue, Tabor Street, High Street and Dunvegan Lane in the future land use map from Neighborhood Density Residential to Middle Density Residential, which could allow more housing to be built on the land in the future if the land is rezoned.
During a Crozet Community Advisory Committee meeting this past week, some community members were supportive of the recommended change, while others were concerned about traffic and the potential future density fitting in with the surrounding neighborhood.
Committee member Joe Fore said he thought this was a good compromise between what the Board of Supervisors has said it wants and what the community has said it wants. In April, some Albemarle supervisors said they were concerned about the potential difficulties around affordable housing in Crozet.
"We say we want walkability, we say we want bikeability — well, you have to put people near downtown, you've got to put people near the stuff they're going to walk to and bike to," Fore said. "This area is a few blocks from the park and it's a few blocks from the new downtown, so in my mind, it's a perfect place for increased density."
The properties, which are currently zoned for two units per acre, total almost 16 acres and have seven existing dwellings on them. About 14 acres of the land are owned by R&H Partners LLC, owned by the Chiles family.
The Neighborhood Density Residential designation in the draft plan's future land use map recommends three to six units per acre, while the Middle Density Residential designation recommends six to 12 units per acre, with up to 18 for additional affordable units.
Land use categories are assigned to properties to serve as a marker to community members and developers about which kinds of potential projects could be on a site in the future. Ultimately, a developer likely would need approval from the Board of Supervisors to change the zoning of the property to allow for the use.
Rachel Falkenstein, a county planning manager, noted that anyone who wanted to develop these properties or portions of them would still have to go through a rezoning process, where staff and the Board of Supervisors would review any proposed development with the area's master plan in mind.
"Staff would look to these recommendations about preserving the trees and preserving the historic structures, and make sure any plan of development would incorporate those," she said. "We'd actually go as far as recommending a certified arborist develop a plan as to how those trees can be protected."
Staff also would recommend any future development of these properties would provide or partner with the county to provide infrastructure, such as sidewalks, road connections and/or right of way for future street expansion, as part of a rezoning, Falkenstein said.
She said the change was recommended after some supervisors said they wanted more opportunities or affordable housing within Crozet. Some Crozet CAC members said they wanted to see more Middle Density in the area, and some wanted higher densities to be concentrated within the center of Crozet.
"This change is more than just a land use change; it's a set of recommendations — change to middle density on the property off of Tabor supported by some narrative to support the historic context of the property; support those large canopy trees; the transportation recommendations and the expectation that any developer would partner with the county in providing those transportation improvements; and the recommendation to do the corridor design for the Park Road corridor," Falkenstein said.
The Crozet Master Plan update process has been testy between Crozet CAC members and county staff around land use issues and the possibility of adding more housing in Crozet. Some also have questioned whether the community should become a town.
Committee member Sandy Hausman said she didn't think the recommendation for middle density fit with the existing neighborhood and was concerned about traffic in an already high-traffic area.
"I don't think the county's listening to us. I don't think we're going to have any say in the end about this density, density, density," she said. "If anyone would like to contact me, I really think Crozet should be thinking more seriously about seceding, because I just don't see how this works out for us. It's very depressing."
Committee member Marc McKenney said this recommendation was a "very happy medium."
"I think we need to come a little more together instead of the perception of us versus the county," he said. "I know there's a lot of frustration and emotion, but becoming an incorporated town, seceding from the county, is not the right answer. It's a very grueling, lengthy process … I would just like to ask that we talk as a collective group trying to solve problems and not just cut our ties with the county and look at incorporating."
The next phase of the master plan update will deal with implementation, and county staff will be holding a virtual workshop from 7 to 8 p.m. May 25. That week, staff also will hold pop-up events in Crozet, and residents also will be able to provide feedback at publicinput.com/ImagineCrozet.