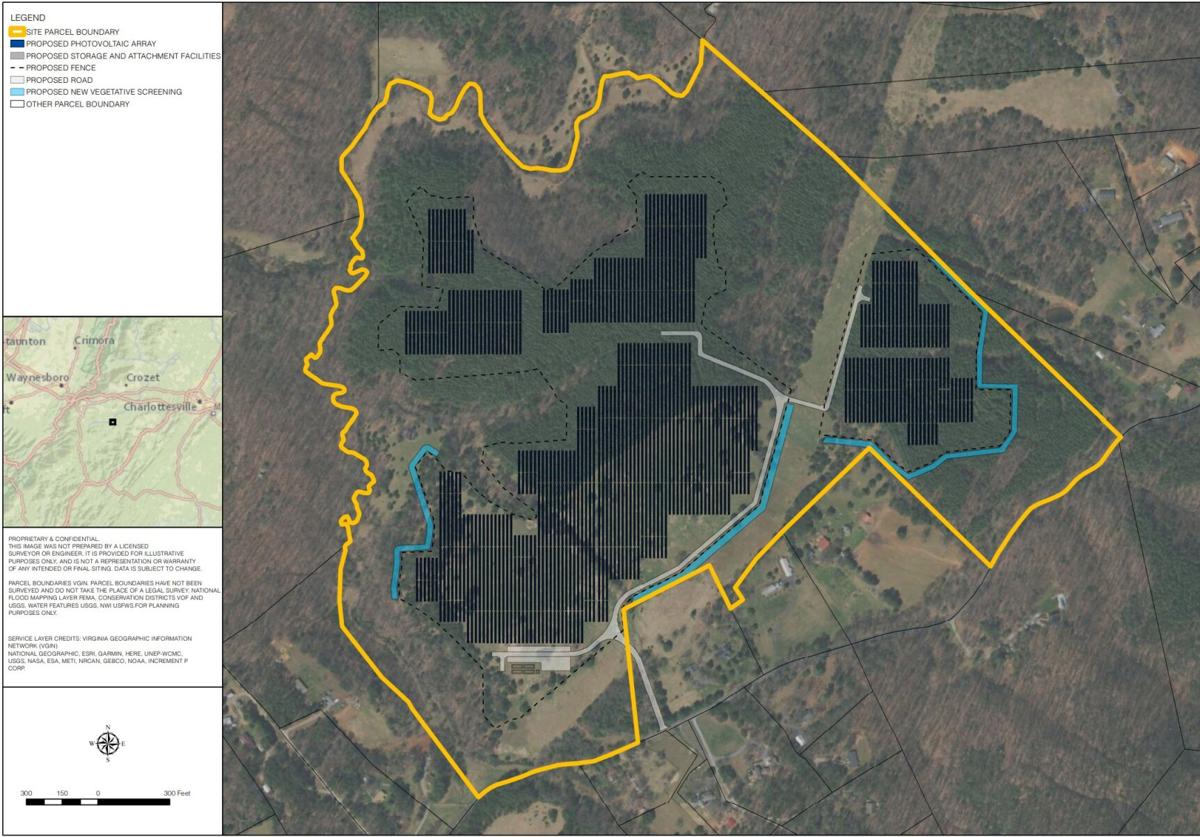 Sun Tribe Development and Central Virginia Electric Cooperative want to build solar panels and a battery energy storage system south of Batesville in Albemarle County.
Representatives from CVEC say the project will produce enough energy to power approximately 2,600 homes for a year, but will help control costs for all of CVEC's customers.
The companies are applying for a special use permit from Albemarle County to build a 8-megawatt solar-energy electrical generation facility and 4-megawatt battery energy storage system on about 80 acres of a 136-acre parcel, almost two miles south of Batesville along Craigs Store Road.
A 2017 change to the county's zoning ordinance allowed solar in rural areas when the project obtains a special-use permit, said Bill Fritz, an Albemarle County development process manager. The permitting process is a legislative review by county staff, which then goes before the county's Planning Commission and Board of Supervisors.
In late 2020, the Albemarle County Planning Commission and Board of Supervisors approved removing the property from the Batesville Agricultural and Forestal District at the request of CVEC, which said it had plans to apply for a permit for a solar project.
At a virtual community meeting Tuesday, representatives from both companies explained the project and answered questions.
Andrew Cotter, a power supply specialist with CVEC, said the project would give the co-op the chance to control where and how it gets its power, and will help it control the long-term rates for all of its customers.
"Then, when we combine this system with a battery, what we can do is we can take advantage of this low-cost power, charge up the battery and displace what is typically the most expensive power we purchase all year," he said.
CVEC purchased the property in 2020 for $850,000, according to county records.
Bobby Jocz, a senior developer for Sun Tribe, said of 80 acres of the site set aside for the project, approximately 32 will be cleared from current timber farm areas. He said the project will follow the county ordinance about visual buffering, and would have evergreen trees planted at a minimum height of four feet, which would grow to eight feet in three to five years.
Sun Tribe has completed a number of environmental studies on the site of streams and wetlands, cultural and historical resources and wildlife.
"These studies largely showed no existing sensitive cultural, historic or wildlife resources on the site," he said. "However, we'll continue to coordinate with agencies such as [Virginia Department of Environmental Quality], Department of Historic Resources, Department of Conservation and Recreation and the Department of Wildlife Resources throughout the project's development, to make sure we identify, and if we identify, mitigate properly for any cultural, historical or wildlife issues that we might find on the site."
The project will have limited noise that "should be impossible to hear from adjacent properties," according to the presentation from Sun Tribe.
Jocz said the company organized a real estate impact study, which looked at similar projects in Virginia and North Carolina, which found that these facilities have no impact — positive or negative — on the real estate value of surrounding residences.
If approved, Jocz said construction would begin in spring of 2022, and would take approximately six months. Once the facility reaches the end of its life, the site will be restored to its original condition, he said.
During public comment, people expressed concerns with the location, lighting, noise during construction and the potential effect on property values.
"I'm in general in favor of solar development," said Paul Miller, who lives down Craigs Store Road. "I'm not so sure about this particular location. When I look at opportunities for development on top of buildings and more urban areas, just at face value, it doesn't seem like the best location or use of that piece of property."
Cotter said CVEC has a net metering program for retail and commercial customers, and he works with those who want to put solar on their roofs. Those customers consume that power first, and any excess power that gets put on the grid CVEC would have to purchase, he said.
"In the case of the net metering, the beneficiary goes to the customer who installs it first, with the rest of the power coming into the basic power pool, versus the solar where that power is going to the entire Central Virginia Electric Cooperative power pool," Cotter said.
Miller also encouraged them to add grazing opportunities for small ruminants, like sheep, for vegetation management underneath the system, to layer in solar and agriculture and "build some goodwill."
Mark Tueting, who also lives on Craigs Store Road, asked the county for the definition of "substantial impact."
"While there might be a study that they commissioned that said property values aren't changed, I think most of us who live in the area … we probably wouldn't have bought here if there was a power plant next door," he said. "What is the alternative from the county's point of view, would we have to get somebody different or independent to look at property impacts or how would that go?"
Fritz said substantial detriment is one of the factors that the county considers when looking at special-use permits.
"Substantial detriment is a very high bar," he said. "Substantial detriment that planners use is that the impact is of such severe impact that it denies the right to use another property."
He said the "mere fact" that the project could be seen from another property would not be a substantial detriment. The county looks at other factors though, such as if the use is consistent with the character of the area and if it's consistent with public health, safety and general welfare.
"These are not well defined," he said. "... It's an art, not a science, and so we'll go through and do an analysis and we'll provide that analysis to the Planning Commission and Board and then each Planning Commissioner and board member will apply their own judgment to the particular application."
Fritz said the site entrance design will be done at the site planning level, if the special use permit is approved, and truck traffic will be coming from the west, along Route 151 Fritz and Jocz said.
Mike Stanton, Vice President of Development for Sun Tribe, said lighting on the project is for when maintenance occurs.
"That lighting tends to be focused around the interconnection equipment, and the access gate into the project itself," he said. "But it is shielded, so it's pointed down towards the ground so that it does not spill out beyond the exact area where it's meant to be focused and can also be motion activated."
Fritz said the county's review process is just beginning, and in addition to the Planning Commission and Board of Supervisors, the Agricultural and Forestal District Committee will also give its thoughts, as the property is adjacent to an agricultural forestal district.