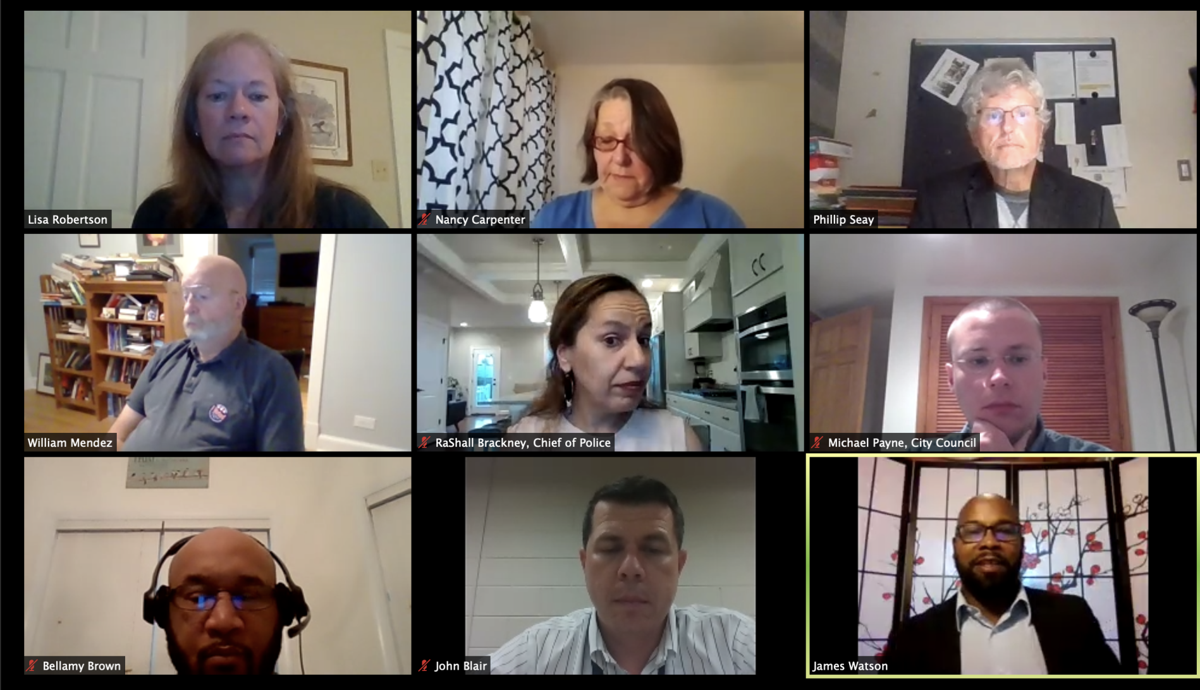 Charlottesville's Police Civilian Review Board is starting to find its footing.
The board discussed finer details of its mission and how to review complaints during its meeting Thursday.
The board is hammering out the details of logistically reviewing complaints, holding hearings and receiving materials, especially amid the coronavirus pandemic.
Acting City Attorney Lisa Robertson said Interim City Manager John Blair will perform some duties of a CRB executive director until someone is hired permanently for the board. Board Chairman James Watson said 55 people have applied for the position.
The board has received six complaints, with one requesting a hearing. The board is targeting a mid-January hearing.
The procedures haven't been finalized, but will come before the board at a future meeting.
Watson also provided an update on the search for independent legal counsel and said one law firm submitted a proposal by the Oct. 2 deadline and the city is entering contract negotiations.
Council liaisonIn other business, Councilor Michael Payne gave an update on his work to provide a rationale on the council's changes to the board's structure when approving its ordinance and bylaws.
An initial panel worked from August 2018 to July 2019 to create a draft of the bylaws eventually approved by the City Council.
Payne wasn't on the council when the ordinance was approved. He's creating a spreadsheet showing all of the differences between the initial and final proposals and listing rationales for each of the changes.
Phillip Seay, a non-voting member of the CRB, asked why the law enforcement representative was made a non-voting position.
"We want to engage law enforcement and have them be a part of the solution and not part of the problem," Seay said to Payne.
Earlier in the meeting, Police Chief RaShall Brackney discussed the department's internal affairs review process. Brackney discussed how complaints are filed against the department, who reviews them and what actions could be taken.
The board asked questions about repeated complaints against officers and if the department knows an officer's history before they are hired.
Brackney said the department requests internal affairs information from applicants' previous employment and, if they aren't given access, the person is not hired.
"It's just not worth the risk," she said.
Brackney listed actions that could come from complaints, ranging from a performance improvement plan to termination and decertification. Brackney said in her more than two years as chief, she has used a performance improvement plan twice and a third plan is in the works.
Brackney noted that the state has extremely narrow guidelines for decertifying officers. State code practically only allows decertification if an officer is convicted of a crime, although the Virginia Department of Criminal Justice Services can grant exceptions.
Brackney said she requests an exception for any officer who is fired or resigns before they can be fired.
The department has started updating internal affairs reports on its website every 30 days and is providing a summary of the complaint, rather than vague descriptions that were previously posted.
Board member Dorenda Johnson said the department needs to take more action on officers who have ongoing issues, citing an unnamed officer who has allegedly had run-ins with minorities. She called the officer a "ticking time bomb."
"We have a problem in getting people to trust you enough or get the people to trust the police department enough to file a complaint," she said. "You can have all the intervention you want … but if it's in that officer's heart that they have a bias to a certain group of people, that training isn't going to do jack."
Brackney declined to discuss individual officers, but said the CRB needs to be leveraged to help rebuild trust with the community.
Brackney highlighted collaborations with the board, saying Watson and board member Bellamy Brown have been invited to weigh in on finalists for a Fourth Amendment analyst. The position would examine department data, particularly stop-and-frisk data.
Get Election 2020 & Politics updates in your inbox!
Keep up on the latest in national and local politics as Election 2020 comes into focus.