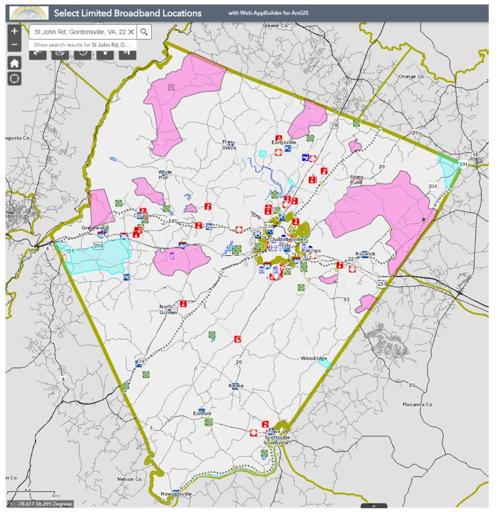 The Albemarle County Broadband Authority has applied to get state funding for a project that would bring fiber internet to more than 2,300 homes and businesses in rural Albemarle.
The authority and CenturyLink are requesting nearly $3.8 million in grant money from the Virginia Telecommunication Initiative.
Authority board members think the project has a good shot at receiving funding, but, currently, there is only $19 million budgeted for this year's program. Governor Ralph Northam has asked for additional funds in proposed state budget amendments to expand access to broadband.
Mike Culp, Albemarle's director of information technology, told the broadband authority board members at a virtual meeting earlier this week that he and others have started a letter from ABBA to support the additional funding.
"I would recommend that the Board of Supervisors take that same action and maybe go direct to the heads of the Finance Committee, and our elected leadership that serve on that committee, whether it's a senator or a delegate," he said.
Projects in Albemarle have been successful at receiving grant money in the past: an ABBA and CenturyLink project was awarded $231,000 earlier this year that will bring fiber to 837 homes, Central Virginia Electric Cooperative and ABBA were awarded $301,748 in 2019, a Comcast and ABBA project received $473,366 in 2018 and Albemarle and CenturyLink received $118,400 in 2017.
The 2021 Albemarle project proposal, which would provide fiber to homes and businesses in 11 parts of the county, will cost approximately $5.7 million. CenturyLink is contributing nearly $1.4 million and the Albemarle County Broadband Authority is contributing $640,000. The 11 sections include Boonesville, Gilbert Station Road, Jones Mill Road, Campbell/ Cobham, Snow Hill Lane, Jarmans Gap, Bucks Elbow, Milton Hills, Box Holly / Taylors Gap, Advance Mills / Fray Road, Tilman Road / Meriweather Hill and Old Garth Heights.
The funding announcement will happen late this year or early next year.
Earlier this year, the authority put out a request for proposals to partner with internet service providers to expand service to unserved and underserved homes and businesses. Culp said they are still in negotiation, and it's likely they can leverage some of the Coronavirus Aid, Relief, and Economic Security, or CARES Act of 2020 Coronavirus Relief Fund money for the project.
"We have to wait until those negotiations are finished and then the next big thing will be a notification, meaning we have to be cautious as well as participatory with the school division since they're part of the process," Culp said. "So, the messaging that both ABBA, the Board of Supervisors and the school division provide to the community have to be practically, if not the same."
He said they're working on building a communications plan regarding the project.
Culp said they will also be opening WiFi hotspots at the Greenwood community center.
"...Which will allow people to drive up in a significant parking zone and be able to access the WiFi from their vehicles, but we also have the opportunity to put either tents up in the relatively big courtyard and we also have a covered pavilion there, which will allow people to come in and socially distance and connect to the internet and do work from the community center so that's a positive," he said.
They are also considering additional sites for WiFi hotspots.
Get Election 2020 & Politics updates in your inbox!
Keep up on the latest in national and local politics as Election 2020 comes into focus.