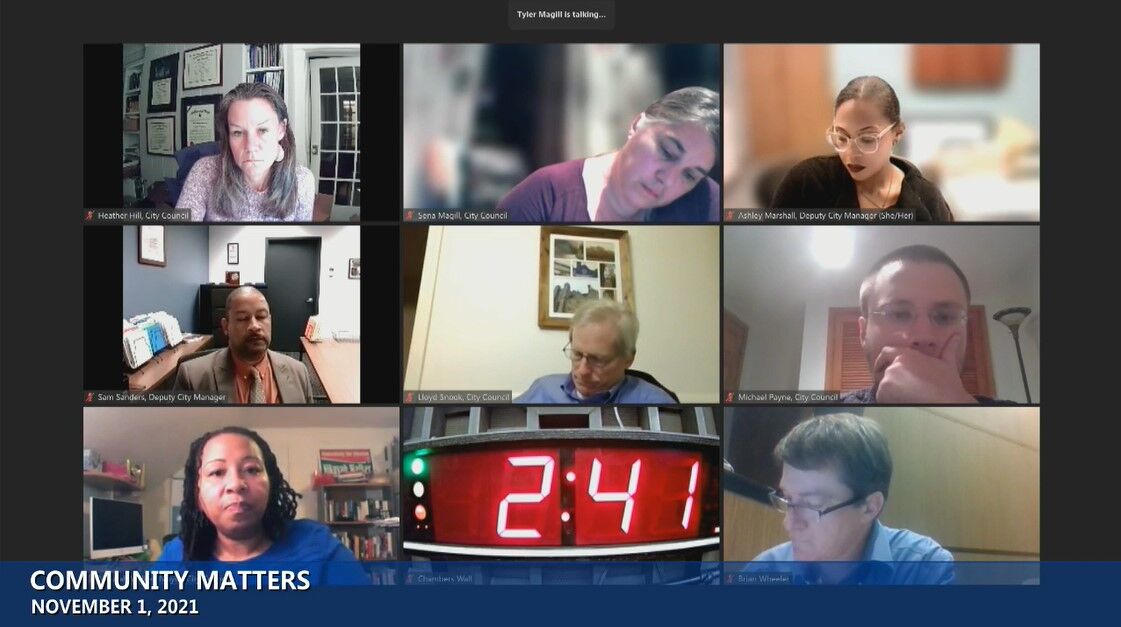 During the public comment portion of Monday's Charlottesville City Council meeting, a handful of community members said the city should demand an apology from the Lincoln Project for a political stunt that evoked images of one of the darkest days in the city's history. Some councilors agree.
Dressed in the white shirts and khaki pants and wielding unlit tiki torches, five individuals posed in front of a Youngkin bus and claimed to be supporters, drawing widespread condemnation and raising questions about their suspicious appearances. After the stunt was widely decried as tasteless and both Youngkin and his Democratic opponent Terry McAuliffe denied involvement, the Lincoln Project released a statement that took credit but offered no apology and said they may come back.
"Today's demonstration was our way of reminding Virginians what happened in Charlottesville four years ago, the Republican Party's embrace of those values, and Glenn Youngkin's failure to condemn it," the Lincoln Project wrote in a statement on Friday.
"We will continue to hold Glenn Youngkin accountable. If he will denounce Trump's assertion that the Charlottesville rioters possessed 'very fine' qualities, we'll withdraw the tiki torches. Until then, we'll be back."
The Lincoln Project is a political action committee made up of former and present Republicans who opposed former president Donald Trump's leadership. Trump made a statement endorsing Youngkin on Monday night during a phone rally. The Lincoln Project endorsed McAuliffe for governor.
Tyler Magill, a survivor of the deadly 2017 rallies, was the first to ask City Council to demand an apology on Monday night.
"This is important. We're tired of our pain, the pain of our community being used as a prop. We're tired of our community being used for everything but the uplift of our community," Magill said.
Magill suffered a stroke and sustained life-threatening injuries after being struck with a tiki torch while protesting white supremacists rallying at the University of Virginia on Aug. 11, 2017. Magill worked for the UVa Library at the time and received the American Library Association's 2019 Paul Howard Award for Courage in recognition of his acts that night.
"I propose that council demand money to be provided by Lincoln Project to be given to local equity groups and any groups that are still helping the people who are affected by Unite the Right," he said. "I think that there's still a lot of pain in this town. And it still needs to be addressed largely by UVa and also by City Council. But most of all, by people who come into our town, use us and leave."
Magill is married to Vice-Mayor Sena Magill.
Others joined Magill in asking City Council to demand an apology from the Lincoln Project.
Andrew Shelton voiced his frustration with political campaigns using footage from the Unite the Right rally in TV ads as well as the Lincoln Project stunt.
"This is not fodder for political campaigns on either side. And they both attempted to exploit it throughout the day and the day that followed. We're almost just numb to seeing the events and footage from that day get played out in political ads, but it is crossing a whole new line to have people come and cosplay as Nazis in this town to make some kind of point," Shelton said.
"I really feel that it's important as a municipality to just say something about that and express our great displeasure with this and the exploitation of our collective trauma," he said.
Sally Duncan suggested that City Council should ask the Lincoln Project to make a financial contribution to Integrity First for America. IFA is a nonprofit representing the plaintiffs in the Sines v. Kessler trial.
"That picture was one of the most appalling things I've seen, and I was a witness to the Unite the Right rally, so I've seen a lot of appalling things. It's just incredibly inappropriate for an organization to come and use this community's pain to score cheap political points. And to do it during the trial is even more tasteless," Duncan said.
"A letter from the city of Charlottesville demanding an apology and monetary restitution would make it clear that the pain that people experienced in standing up to hate is important and should be tended to and cared for and not exploited."
In response to the comments, councilor Lloyd Snook condemned the Lincoln Project's stunt.
"I find people who are not from Charlottesville don't realize the extent to which I think Charlottesville is still suffering from PTSD from that experience four years ago, and how even the TV ads that we're seeing are triggering for a lot of people in Charlottesville," Snook said.
"The so-called prank that the Lincoln Project thought they were pulling for publicity was just incomprehensible to me. I agree with people who are outraged by it. Particularly if the Lincoln Project is thinking they're going to do it again, I absolutely want to let them know that that is not not welcome."
Snook said he agreed there needs to be a response from the city, and councilor Heather Hill echoed the concern that the Lincoln Project's statement says they may come back.
"It's implied in some of the things that I read that they [The Lincoln Project] aren't done, and so I think it's important that we are really clear that this is not something that's welcome and and truly distasteful," she said.
Mayor Nikuyah Walker said she didn't have any comments about the Lincoln Project stunt but said the city needs to address trauma that affected the community long before the Unite the Right rally in 2017.
"Understand that there are people in this community who had pain and trauma and suffering long before 2017 … the trauma that some people have had for centuries that has been passed down and if you understand that process of the stories being passed down through generations and the heart and heartache and pain being passed down at a cellular level, that is the main problem that we need to focus on in this community," Walker said.