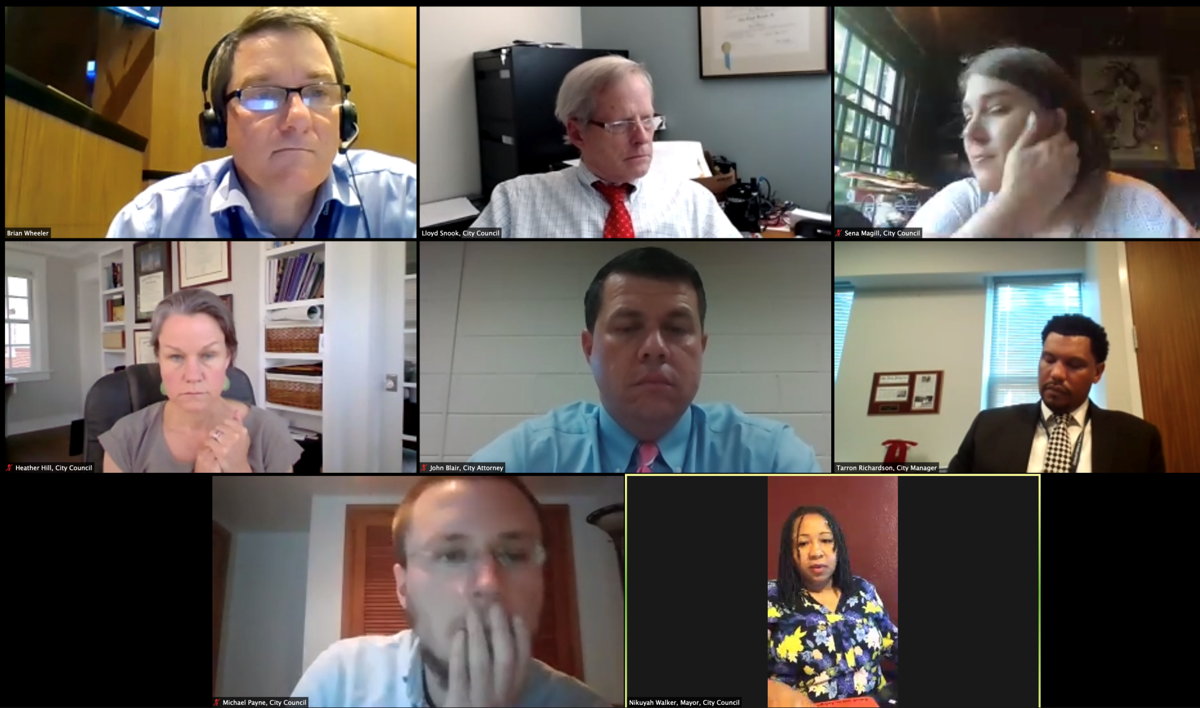 The public will have the chance to weigh in on several Charlottesville road projects and a townhouse development next week.
The City Council will hold a public hearing on four applications to fund road projects during its meeting Monday, followed by a public hearing on a planned townhouse development near 5th St. Station.
The city is seeking funding for four projects under the next round of the Virginia Department of Transportation's Smart Scale program, which scores projects based on a variety of factors, including safety and cost.
The first proposal is for $7.9 million to cover phase three of the West Main Streetscape project.
The estimated $31 million streetscape project will redesign West Main between Jefferson Park Avenue and Ridge-McIntire Road. Phases one and two are funded through a combination of state and local money.
Phase three focuses on West Main between Eighth Street Northwest and 10th Street Northwest.
The project includes widened sidewalks, redesigned bike lanes, intersection improvements and landscaping.
Phase one is expected to start in 2021 and includes removal of the statue commemorating the Lewis and Clark expedition.
The statue depicts explorers Meriwether Lewis, who was born in Albemarle County, and William Clark, accompanied by Shoshone interpreter Sacagawea. The City Council voted to remove the statue as part of the project in November after more than a decade of criticism for its depiction of Sacagawea by Native Americans and others.
The second application is $5 million for improvements on Ridge Street.
The proposal would include a continuous bike lane in both directions from Cherry/Elliott Avenue to Monticello Avenue by eliminating on-street parking on the west side of Ridge Street. It also includes curb extension on the east side of the intersections of Ridge and Oak Street and Dice Street.
City staff held a virtual public engagement meeting Tuesday to discuss the plan.
The project would connect Preston and Grady, and Preston would T-off toward downtown. It includes sidewalks, bike lanes and improved public transit facilities.
The project was slated to receive $5.9 million last year, but the Commonwealth Transportation Board instead gave money toward the intersection of Ridge Street, Fifth Street, Cherry Avenue and Elliott Avenue.
In a virtual community meeting last month, residents said the city needs to conduct a larger study of the area and that they were concerned that the new configuration would dump traffic onto Grady Avenue.
The final application is $4.5 million for the second phase of a project along Emmet Street.
The proposal would improve bicycle and pedestrian access along Emmet Street between Arlington Boulevard and Barracks Road. Improvements include widened sidewalks and shared-use paths, bike lanes and aesthetic work.
The applications will be submitted in August and the state will select proposals in 2021. Funding wouldn't be available until 2025.
Following the first public hearing, council will hold a hearing on a rezoning request, critical slope waiver and right-of-way realignment application for a townhouse development near 5th St. Station, where Wegmans is located.
Belmont Station LLC, which is owned by developer Charlie Armstrong, is seeking to rezone about 10 acres from residential to planned development for the Flint Hill project.
The triangular property is off Flint Drive and sandwiched by Longwood Drive, Moseley Drive, Shasta Court and Moores Creek.
The City Council denied a rezoning request in May 2019 for 50 townhouses on the parcel with a minimum of five units that would be affordable for 10 years. As part of the conditions offered with that rezoning request, three acres would have been donated to the city for a park.
The council denied the request over concerns about internal roads and the type of affordable housing that would be provided on the site.
Armstrong submitted a new request this year for 37 single-family homes and two eight-unit condominium buildings.
The proposal has a maximum density of 60 units, or six units per acre. Armstrong has offered that 15% of the units will be affordable for 30 years at 25% to 60% of area median income. There is no plan to give the city parkland, but 4.7 open acres are left along Moores Creek.
The Planning Commission unanimously recommended approval of the application last month.