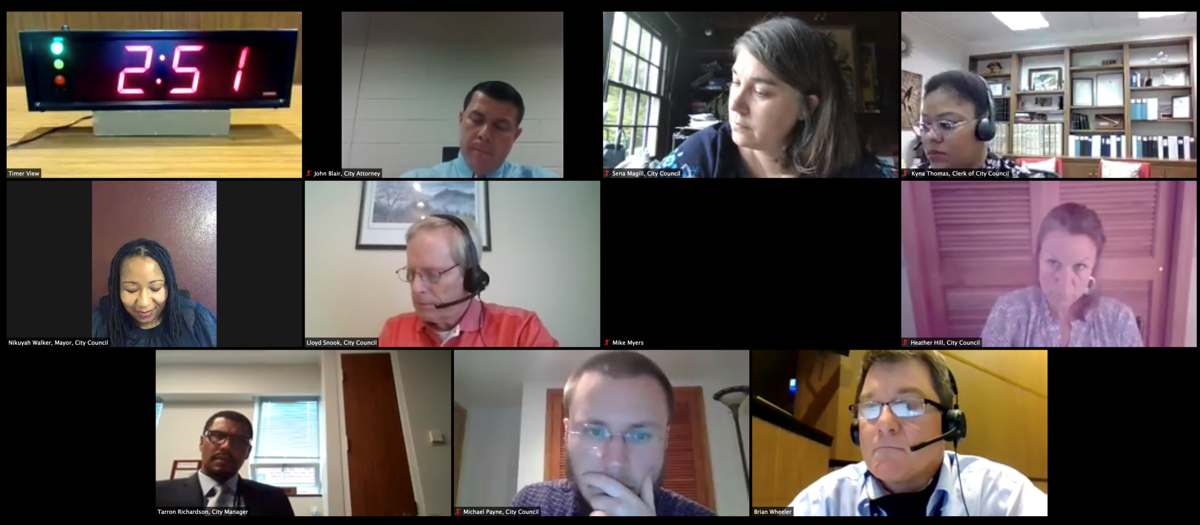 Charlottesville appears ready to join Albemarle County in tightening restrictions to slow the spread of the coronavirus.
The City Council will hold a virtual special meeting Monday to consider an ordinance related to the virus.
The ordinance largely mirrors Albemarle County's plan to go back to something akin to Phase Two of the state's reopening plan.
The ordinances would make masks mandatory in public, limit restaurants to 50% occupancy indoors and restrict certain public and private in-person gatherings to a maximum of 50 people.
Notice of the city's meeting, which was posted Friday afternoon, says that the council will "consider, discuss, and take action on an emergency ordinance to address the containment of the novel coronavirus."
The county was scheduled to vote on its ordinance earlier this week, but delayed a vote to give Charlottesville and the University of Virginia time to review the ordinance.
The county is moving forward with the ordinance, it appears, without permission from Gov. Ralph Northam. County officials have said the locality has the authority to implement stricter regulations, although areas such as Richmond and Northern Virginia had to request authority to delay moving forward with loosened regulations.
A spokesman for Northam said Friday that the statewide Forward Virginia phases represent a floor for regulations, not a ceiling. As of Friday, the governor had not heard from the city or county about changing regulations.
When asked if localities need permission from the governor to move back in regulations, spokesman Grant Neely said, "Most city and county charters give their governing bodies a mechanism to take emergency action at the local level, but I'm not aware that any has done so."
Albemarle officials pointed to a section of state code that says a county may adopt measures "to secure and promote the health, safety and general welfare of its inhabitants which are not inconsistent with the general laws of the Commonwealth," including "the adoption of necessary regulations to prevent the spread of contagious diseases among persons."
The city plans to focus on Section 14 of its charter, which allows it to establish "such quarantine regulations against infectious and contagious diseases as the said council may see fit, subject to the laws of the state, and of the United States."
Through Friday, the Thomas Jefferson Health District reported 1,551 cases of the virus, with 129 hospitalizations and 46 deaths. Cases have increased 67% since July 1, with 625 cases so far this month, compared with 926 between mid-March and the end of June.
A majority of the cases are in Charlottesville and Albemarle, which combine for 1,090 cases, 72 hospitalizations and 18 deaths.
Under the county's proposed ordinance, indoor occupancy at food establishments, farm wineries, limited breweries and limited distilleries would be capped at 50% of the lowest occupancy load, or not more than 50 people. Workers do not count toward the limits.
Rather than farm wineries, breweries and distilleries, the city's ordinance focuses the same regulations on micro-breweries, micro-wineries, micro-distilleries and small breweries.
Both ordinances also would prohibit all public and private in-person gatherings of more than 50 people, except for gatherings for religious exercises, including religious ceremonies, and wedding ceremonies and receptions. People working do not count toward the limits.
K-12 schools and higher education institutions also would not be subject to the smaller limit on gatherings.
Violations could result in the business or property owner being charged with a Class 3 misdemeanor, which carries a $500 fine, and those attending could be charged with a Class 4 misdemeanor, which carries a $250 fine.
The ordinances include a face covering mandate in public places, except for children ages 10 and under, those for whom wearing a face covering "poses certain risks" and employees of a public place for which regulations established by a state entity apply.
Face coverings would not be required to be worn during outdoor activities so long as people maintain six feet of distance between each other, or while eating food or drinking.
County officials have said that "hired ambassadors" would conduct enforcement at first before the Albemarle County Police Department started enforcement. It's unclear what approach the city will take with the ordinance.
News of the county's plans has riled business owners. On Friday, the Virginia Restaurant, Lodging and Travel Association sent a letter to Albemarle officials opposing the ordinance.
The letter, signed by President Eric Terry, says his organization understands the need to take appropriate measures, but "the hospitality and tourism industry have been one of the most heavily impacted" by the pandemic.
"If the county has funding that can be allocated to place additional restrictions that are not supported by public health data on food vendors, the county should provide a restaurant-specific fund to offset their loss of revenue," the letter says. "Imposing new standards will create additional financial hardship and loss of economic activity that will further harm the local recovery."
The Board of Supervisors meets at 3 p.m. Monday to discuss the regulations and the City Council meets at 4 p.m.
Get Government & Politics updates in your inbox!
Stay up-to-date on the latest in local and national government and political topics with our newsletter.