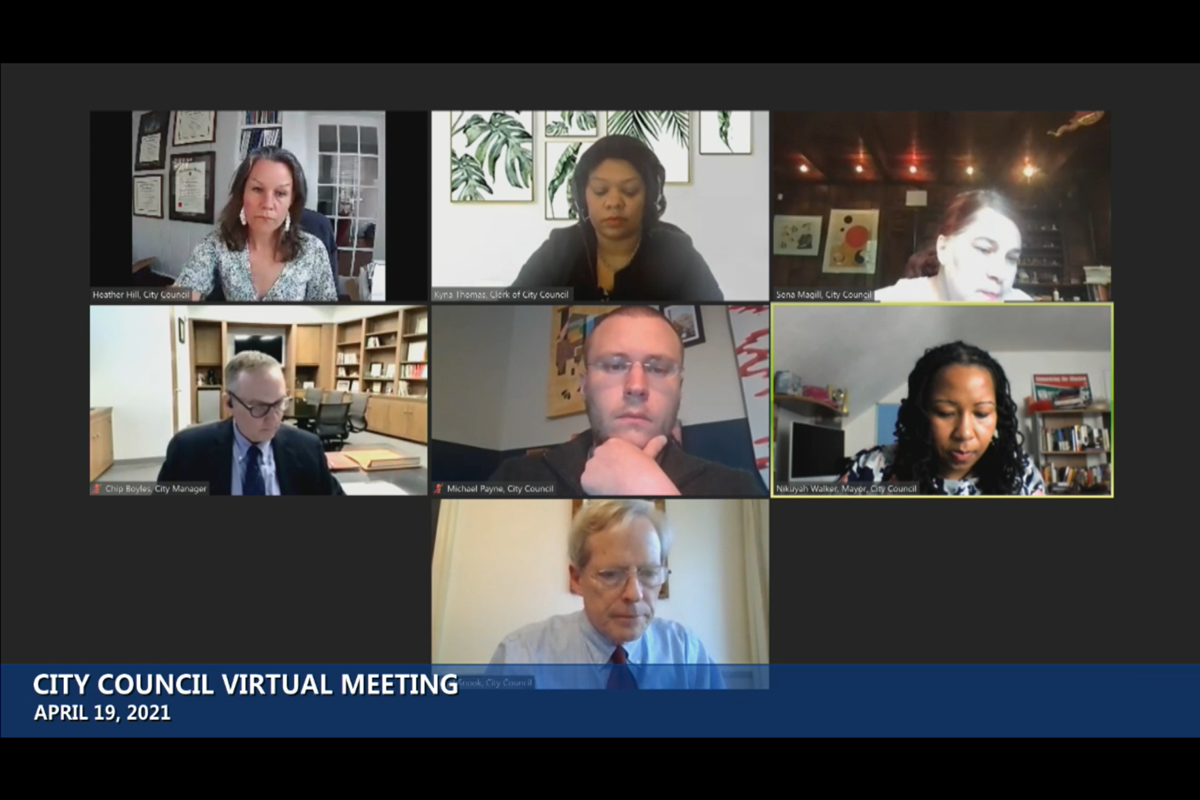 Charlottesville's City Council voted 4-1 Monday to repeal the city's COVID-19 ordinance. The city now will defer to state guidelines. Mayor Nikuyah Walker was the only councilor to vote against the repeal.
In July, both the city and Albemarle County issued similar ordinances with more restrictive measures than the state's executive order to slow the spread of the coronavirus, and have updated them multiple times over the last eight months.
During past meetings, councilors voiced concerns that it was becoming difficult for the city to follow the ordinance, which generally had stricter guidelines for gatherings and restaurants than the state does. Councilor Heather Hill introduced the resolution to repeal the ordinance as Gov. Ralph Northam's latest executive orders have been less restrictive.
The Albemarle County Board of Supervisors repealed its COVID-19 ordinance on April 7.
The city had been mostly in line with state regulations except on indoor capacity for restaurants, farm wineries, breweries and distilleries, which Charlottesville kept consistent with Albemarle at 50% of the lowest occupancy load or 50 people for places without an established occupancy rate.
With the changes, patrons indoors at restaurants, farm wineries, breweries and distilleries will be required to be separated by six feet, and private bookings are capped at 50 people.
Entertainment venues now will be able to host events at 30% of their capacity or 500 people indoors, whichever is less, while outdoor venues will be able to host at 30% of capacity.
The number of spectators at recreational sporting events will increase to 100 people indoors and 500 outdoors, or 30% of the lowest occupancy load for the venue, whichever is less.
In the past, Walker voiced concerns about repealing the ordinance. The repeal originally was part of the consent agenda of Monday's council meeting, but Walker asked to move it to a separate vote.
"Charlottesville has done relatively well and there are a lot of people committed to making sure that as a locality and regionally we were doing well, but it was because of some of those more restrictive measures," she said during an April 5 meeting. "I hope that if there's a time where we have to definitely revisit those, that we do that over the temporary feelings that people are having … I know people are angry, and a lot of you can't handle people not being happy, but I think in the longer term, they'll be happier if we get this right versus just trying to meet demands."
City Manager Chip Boyles said that because of the repeal, the city staff is currently working on a way to identify safe uses of public areas, so that the city may begin to consider special event applications again in a phased approach. Boyles said the city will be exercising caution when it comes to larger events. Currently, due to both the city and state's declarations of a state of emergency, special event applications are halted.
Local activist Tanesha Hudson urged councilors to open up special event applications, specifically for residents to hold protests and demonstrations. She cited the currently ongoing trial of former Minneapolis police Officer Derek Chauvin in the death of George Floyd.
"You know that there's a major trial happening right now in America with the George Floyd murder, and as soon as that verdict is released, you know there's going to be protests, so you may as well get ready because people will protest with or without a special event permit because that's their free speech to do so," Hudson said.
She also urged the council to reopen its chambers so that citizens can attend meetings in person.
Elizabeth Stark, co-chair of the Charlottesville chapter of the Democratic Socialists of America, also asked the council to consider granting special event permits again for protests.
"I want to make sure and clarify as the city goes and does this work where they start looking at event permits, that protests and demonstrations are something that are prioritized for the community as long as those are within the state COVID limits of attendance and size and things like that," Stark said. "Our free speech is very important."
The Charlottesville region currently has one of the highest rates in the state of residents who have received at least one dose of COVID-19 vaccine, according to Emily Pelliccia, deputy chief of operations for the Charlottesville Fire Department.
During a council work session Monday that preceded the regular meeting, Pelliccia gave a presentation on the city's COVID-19 Management Team. Pelliccia serves as incident command coordinator for the team.
As of Sunday, approximately 46,349 to 53,028 residents per 100,000 in the city and county had received at least one dose of COVID-19 vaccine, according to state data Pelliccia presented. Across the state, approximately 3.3 million people have received at least one dose of vaccine and approximately 2.1 million people are fully vaccinated. Approximately 24.6% of Virginia residents are fully vaccinated. This is prior to the state opening up vaccinations to all residents 16 and older on Monday. The Blue Ridge Health District started Phase Two of vaccinations on April 12.
"Our rate per population is actually one of the higher ones in the state," Pelliccia said. "Kind of hard to believe. I know that it's seemed like it's been very challenging in this area but I think it's just because we have so many people that want the vaccine."
Pelliccia said that 65% of the city's 1,093 employees have received at least one dose of the vaccine. Fifteen percent declined to receive the vaccine.