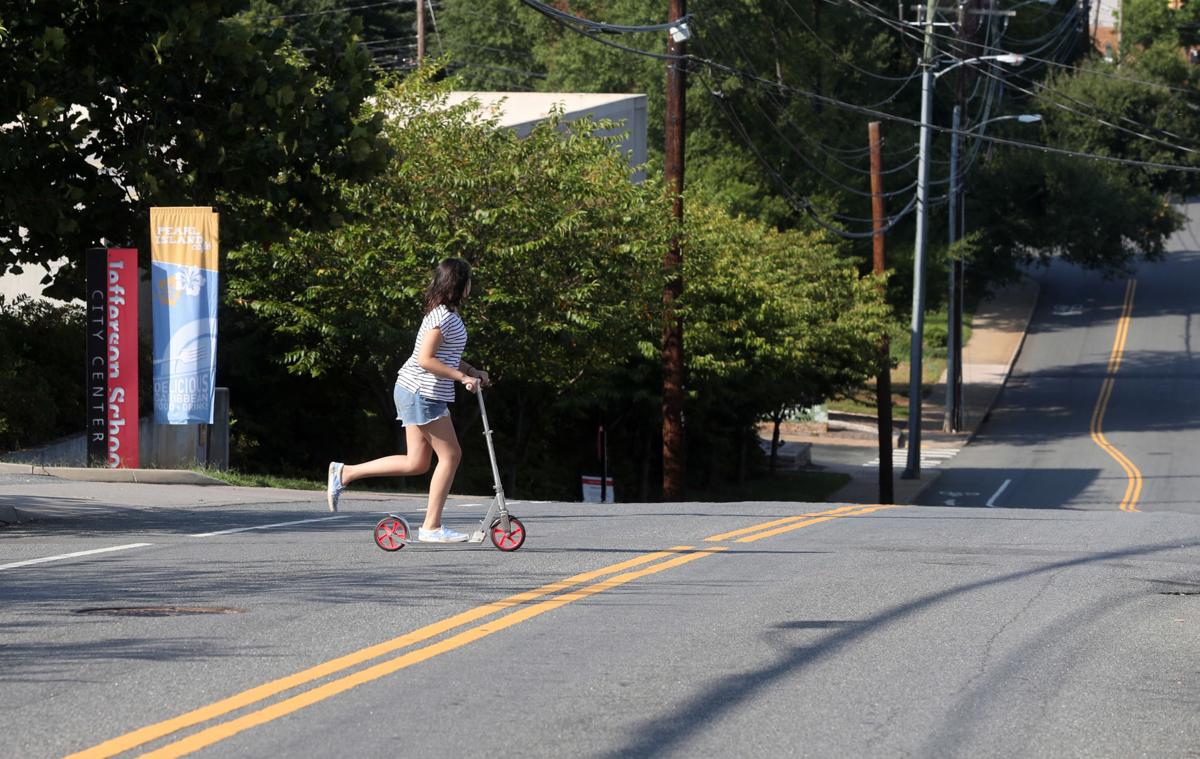 Charlottesville has received 13 proposals for honorary street designations.
The applications, which will be considered at Tuesday's City Council meeting, range from honoring Black Lives Matter to University of Virginia men's basketball coach Tony Bennett.
Last month, the council voted to suspend its honorary street naming policy and accept proposals through Aug. 31.
Honorary street names do not change the name of the street. Rather, brown signs with the honorary designation are placed near signs with the actual street name.
Two proposals would recognize the Black Lives Matter movement. Don Gathers resubmitted his request to designate Market Street between First Street Northeast and Ninth Street Northeast as Black Lives Matter Boulevard. Myra Anderson also resubmitted a proposal to designate Seventh Street Northeast between Market and Jefferson streets as Black Lives Matter Avenue.
An application from Charles Alexander, known in his educational work with children as Mr. Alex-Zan, came with a petition with dozens of signatures and letters of support from community leaders.
Alexander's application originally sought to designate Fourth Street Northwest between West Main Street and Preston Avenue as Black History Pathway. It was revised this week to be named Wyatt Johnson Way (Black History Pathway).
Fourth Street Northwest is adjacent to the Jefferson School and sits in the former Vinegar Hill neighborhood, a predominately African American neighborhood the city razed in the 1960s.
Alexander wrote that Johnson's house was the last one to be destroyed in the razing. Johnson was later involved in several community organizations and was part of the push to have the Jefferson School become an African American Heritage Center.
The Rev. Ralph E. Brown Sr. submitted an application to name 12th Street Northwest from Grady Avenue to its dead end after his father, the Rev. C.H. Brown.
Brown wrote that his father built the Holy Temple Church of God In Christ, which is on 12th Street Northwest, in 1947. His father also purchased land behind the church and built several homes on that block that became a minority-owned neighborhood.
Albemarle County Commonwealth's Attorney Jim Hingeley proposed naming Second Street Northeast between East High and East Main streets in honor of Gregory Swanson.
Swanson was an African American attorney and subject of a key federal court decision on civil rights, Hingeley wrote.
Swanson applied to UVa's law school in 1949 and, although the faculty unanimously voted to admit him, the Board of Visitors rejected his application because he was Black.
The U.S. District Court ruled on Sept. 5, 1950, that UVa violated the 14th Amendment in rejecting Swanson's application and ordered the school to admit him. Hingeley wrote that Swanson was the first African American admitted to an all-white college or university in the former Confederacy.
The federal courtroom where the case was argued was in the downtown library across Second Street from Market Street Park.
Susan Craig's application seeks to honor William Henry Martin with a designation along 10th Street. Craig wrote that Martin was enslaved at Thomas Jefferson's Monticello and may be a descendant of the third president.
During the Civil War, a local family lent Martin to a Richmond family, but he escaped dressed as a Confederate soldier and returned to Charlottesville.
Once back in the city, Martin worked at a military hospital throughout the war. After the war, he was employed at UVa, becoming head janitor and working as the school's bell ringer for 50 years. Craig wrote that Martin rang the university's bell on Oct. 27, 1895, to alert the community to a fire in the Rotunda.
Craig's application comes with a letter of support from Preservation Piedmont's president, Liz Russell.
Activist Tanesha Hudson sent in an application to mark Fourth Street between Preston Avenue and Main Street as Vinegar Hill Way to honor those who were displaced when the city razed the neighborhood.
Jack King submitted a proposal to designate Main Street from the Downtown Mall to UVa as Waneeshee Way.
King wrote that the name would recognize indigenous people of the area, particularly the Monacan tribe. He wrote that in the Algonquin language, Waneeshee means "may the journey be beautiful for you."
Stella Mattioli submitted an application with three options to recognize Charlottesville's sister city of Poggio a Caiano, Italy.
Mattioli, who represents the city on the Sister Cities Commission, selected East Jefferson Street between Park Street and Second Street Northwest as the first option. Alternatively, she proposed Fourth Street Northeast between High Street and the Downtown Mall or Monticello Avenue from the city limits to Avon Street.
Charlottesville previously has designated Second Street Northwest for its sister city of Besancon, France, and Sixth ½ Street Southwest for sister city Winneba, Ghana.
Jacqueline Webber and William Dozier have separate proposals to honor Coach Bennett. One calls for Massie Road, which is adjacent to the John Paul Jones Arena, to be named Tony Bennett Drive between Emmet Street and Faulkner Way. Another calls for Tony Bennett Way to be added to 14th Street Northwest on The Corner between Main Street and Wertland Street.
Cliff Fox has two applications that don't choose a particular street, but advocate for namesakes.
The first is Wilfred Franklin "88 Keys" Wilson Jr., who the application says made significant contributions to the UVa Medical Center and had a musical career.
Fox's second proposal would honor Theodore "Creeper" Gilbert, another musician.
The council hasn't indicated how many, if any, of the proposals it will consider approving.
In other business Tuesday, the council will consider a resolution to amend its policy on selling city-owned land.
The current policy allows people to submit proposals to purchase land to city staff, who review and prepare them for council consideration if they fall within the parameters of the policy.
The amended policy would bar city staff from considering offers to purchase park land without the consent of at least three councilors. Offers for other properties would not require council consent.
The City Council meets virtually at 6:30 p.m. Tuesday. The meeting won't be held on the typical Monday because of the Labor Day holiday.