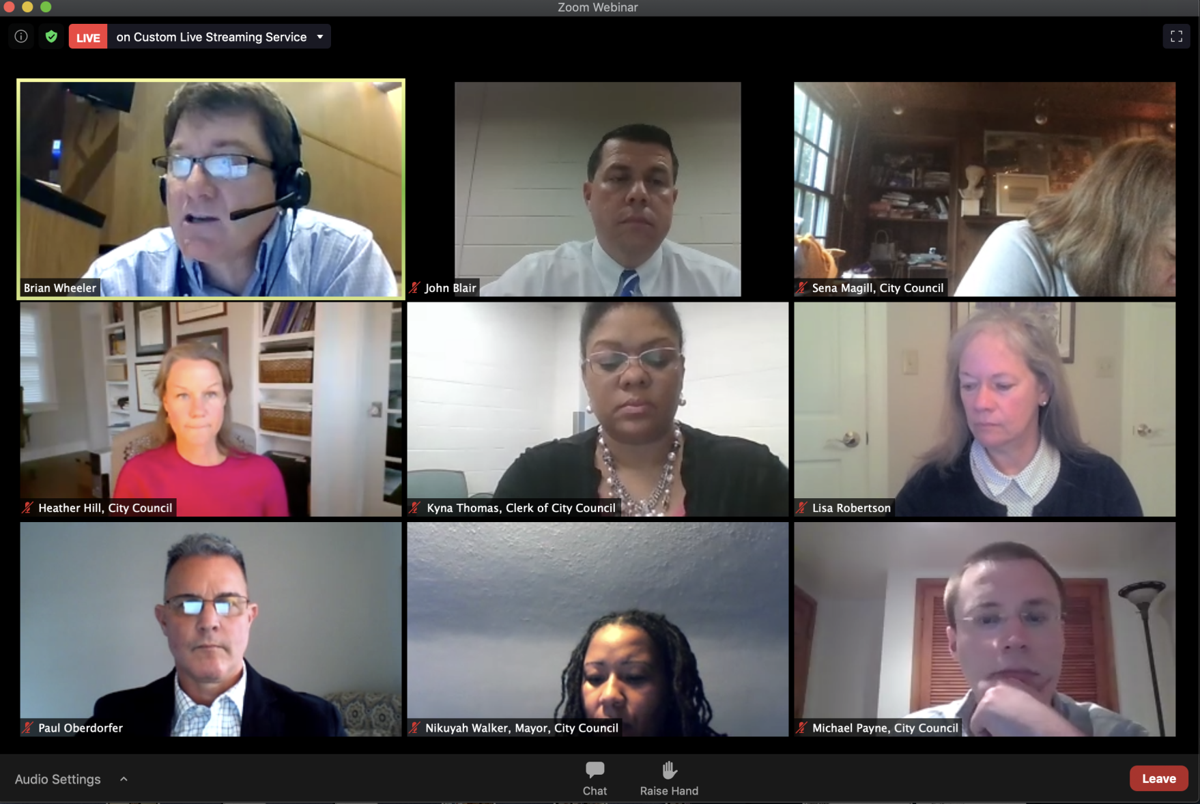 Charlottesville City Council has approved a second round of federal relief funding totaling just over $4 million that includes another set of bonus payments to employees.
The council voted 4-1 to sign off on the proposed allocation with the caveat that city staff would return with a plan for a contingency fund. Mayor Nikuyah Walker cast the lone dissenting vote during the virtual meeting Monday night.
Most of Monday's discussion centered around spending more of the proposed $625,000 planned for a contingency reserve to address any unforeseen impacts from the virus.
One main issue was employee support.
City staff initially proposed about $381,000 for a second round of bonus payments to frontline workers in the police and fire departments, Sheriff's Office and Department of Social Services.
Deputy City Manager Letitia Shelton recommended increasing the amount to $500,000 to include the social services and human services departments.
Walker mentioned including some parks and recreation employees along with utilities and janitorial staff.
"Whatever decisions we make surrounding this, we have to be able to just have an open discussion and tell the employees how we arrived at these decisions," she said.
Shelton said if those departments were included, Charlottesville Area Transit needed to receive funding, as well, and the money could quickly evaporate.
"If we're going back to include utilities, we really need to include CAT because they are really out on the frontline transporting our citizens all over the city," she said. "The broader you keep opening this, the more it's going to cost the city."
The council also received requests for funding from the Charlottesville Redevelopment and Housing Authority, Public Housing Association of Residents and at least one nonprofit.
Finance Director Chris Cullinan said the extra money for employee support and the community proposals totaled about $558,000.
"Every request we get, there is a legitimate basis for saying why this is important and a good thing," he said. "It's just unfortunate we're working with a limited amount of money and every decision is evaluating tradeoffs when every option has some real legitimate need and purpose and benefit."
The stimulus money must be spent by Dec. 31 and Councilor Sena Magill questioned what issues might arise before the deadline to justify holding so much in reserve.
Interim City Manager John Blair said operational modifications could cost more and highlighted supply chain issues globally.
About $1.3 million is for operational modifications to enhance safety. About $1 million is for the school division to take virus mitigation efforts similar to what already has been done at City Hall. The remaining money is for further improvements at city facilities.
About $60,000 will help the Charlottesville Albemarle Convention and Visitors Bureau cover costs needed to pivot its services. The tourism bureau plans to close its two brick and mortar visitor centers in Charlottesville and Albemarle County and move to mobile van-based visitor centers.
The remaining $75,000 will support businesses in commercial corridors by covering costs associated with signage, hand sanitizer stations, personal protective equipment, advertising and targeted marketing.
The city will use $639,000 for community support programs.
The majority of the money, $410,000, is earmarked for an emergency resource hotline. The pandemic has increased calls for housing assistance and eviction prevention support.
Councilor Michael Payne said the resource hotline has allowed the Thomas Jefferson Planning District Commission to leverage other funds to provide housing relief programs.
Sin Barreras will get $25,000 of the community program money for nutritional support. The Jefferson Area Board for Aging will use $40,000 to provide 2,000 meals a month to area seniors.
The city will spend $20,000 to support peer navigators serving the Westhaven complex.
Other technology work includes hardware and software for remote video, upgrades to the Neighborhood Development Services conference room for development proposals and other employee safety enhancements.
In other business, Walker announced members of a working group to address Black residents' disproportional representation in the criminal justice system.
The consultant recommended making a formal request to the Virginia Department of Corrections for probation data; requesting access to magistrate data from the Supreme Court of Virginia; evaluating available police department data on arrests, separated by calls for service and officer-initiated interactions; investing in an evaluation of legal representation; and conducting file reviews around bail and sentencing.
The consultant also recommended the city determine ways to engage the community in evaluating and monitoring action steps by giving them power to influence the process; formally convene a task force to report to the council on a regular basis; and invest in and encourage improved data collection.
Walker, Payne and Blair will be joined on the task force by Police Chief RaShall Brackney, Commonwealth's Attorney Joe Platania and Human Services Director Joe Platania.
Also on the task force will be attorneys Jeff Fogel and Janice Redinger; Harold Folley, of the People's Coalition; and Neal Goodloe, a criminal-justice planner with the Jefferson Area Community Criminal Justice Board.
Other members will be Cherry Henley, Stacey Washington, Whitmore Merrick, Joy Johnson, Khalesha Powell, Martez Tolbert, Nick Fagan, Herb Dickerson, Jay James, Tasha Smith and Jordy Yager.
Walker plans to start providing updates from the task force's meetings starting Nov. 16 and then at least once every other month.
Get Election 2020 & Politics updates in your inbox!
Keep up on the latest in national and local politics as Election 2020 comes into focus.