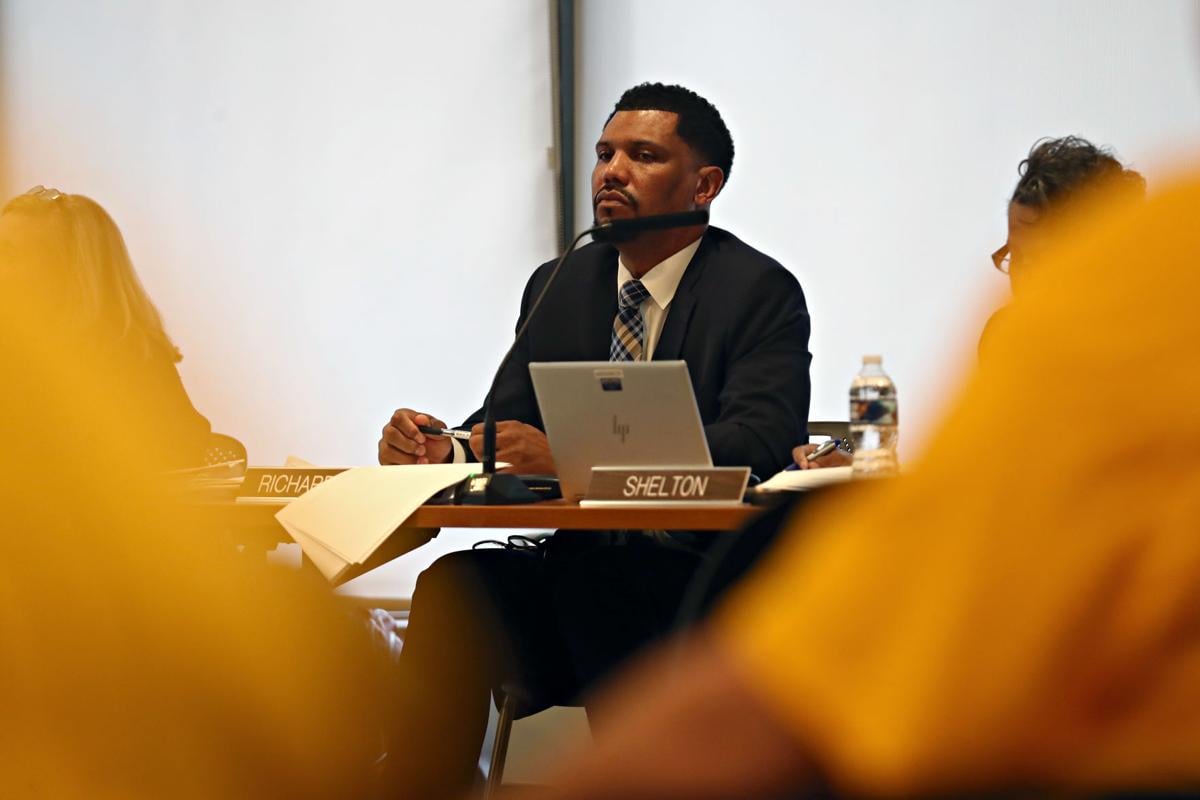 Charlottesville City Manager Tarron Richardson has resigned, ending a tenure that began in May 2019 and often saw him at odds with city staff and City Council.
The City Council accepted his resignation effective Sept. 30 during a special meeting Friday.
City Attorney John Blair has been appointed interim city manager and Deputy City Attorney Lisa Robertson will be acting city attorney.
"I'd like to thank the council for the honor to serve as a temporary bridge until we get a new city manager hired for Charlottesville," Blair said. "The one thing I would like to say personally is that I deeply believe that this city and its residents, its council and its workforce can work together and we can make this city a more just, fair, equitable and prosperous place."
Blair will take over as interim city manager on Oct. 1, but Mayor Nikuyah Walker said he will immediately start working with Richardson on the transition. Blair and Robertson signed agreements that provide a 10% pay raise for the duration of their interim duties.
Richardson said he was resigning for personal reasons and cited ongoing stress from the pandemic and protests around the death of George Floyd, although all recent protests in the city have been peaceful.
"It just was time," he said. "We worked through COVID, which took up a lot of time. We worked a lot of hours and then from that with the untimely death of George Floyd we started having a lot of protests in the city."
Richardson said he has no plans right now and, "As I've told everyone, I just want to get some sleep."
According to a resolution passed at the meeting, the decision was mutual.
Richardson's administration has been marked by spats with city staff, elected officials and local activists.
In his 16-month tenure, city leadership has been gutted of longtime employees. He has also run afoul of activists and officials from other governments while butting heads with the City Council in the early days of the pandemic.
Richardson will also receive payment for unused leave. He will continue to receive city contributions toward his health insurance for one year, unless he starts another job in that time.
The resignation comes at a key moment in the coronavirus pandemic as University of Virginia students are back in class and the virus continues to spread.
As of Friday, the Thomas Jefferson Health District reported 2,796 cases of the virus with 176 hospitalizations and 58 deaths. Of those, 867 cases are in the city with 27 hospitalizations and 24 deaths. On Thursday, UVa reported 282 cases, of which 238 are students.
Over the past year, council has met for more than 24 hours in numerous closed sessions to discuss Richardson's performance since the fall, including a four-hour meeting in October that followed a rescinded request for proposals regarding a planned consolidation of city and school administrative offices.
The first sign of discontent came as former Deputy City Manager Mike Murphy and Richardson butted heads behind closed doors before Murphy's abrupt resignation at the end of 2019.
Murphy reportedly penned a four-page memo with allegations of misconduct and mismanagement toward Richardson prior to his departure, but the city has withheld the memo and those who have seen it remain tight-lipped about its contents. When asked about the memo in December, Murphy declined to comment. When asked about it Friday, Walker said "That period in the city is in our history and we would like to keep it that way. Those matters have already been addressed."
Baxter blamed Richardson's management style for the numerous departures in city leadership in a March email, obtained by The Daily Progress via a request under the Virginia Freedom of Information Act.
"I believe in my heart that it [is] this specific type of behavior that has led to a steady loss of experienced leaders since Richardson's arrival last May," he wrote. "[A]nd, if left unchecked, will ultimately drive our City government toward a state of mediocrity never before encountered in this caring, dynamic resource-rich community."
Murphy was interim city manager until Richardson started, replacing City Manager Maurice Jones, who left in July 2018 to become town manager of Chapel Hill, North Carolina. Two months earlier, City Council announced it would not renew his contract.
Murphy remains on the city's payroll through Oct. 31 under the terms of his contract as interim city manager.
Walker said the city plans to again hire a consulting firm to lead the search for a new city manager. She said the council hasn't determined if it will do a similar public interview process, but "it would be in everyone's best interest" to gather input from the public and city staff.
Walker said high turnover rates among city staff are a concern and she can't say if it will affect hiring a new administrative head.
"All of us are concerned about those high turnover rates," she said. "The goal is to stabilize the organizations. I think if you pay attention to the election cycles, the goal for every council member at this time is to create a thriving community and to do that we will need a stable organization. So yes, it is concerning to us and it's a goal to repair it."