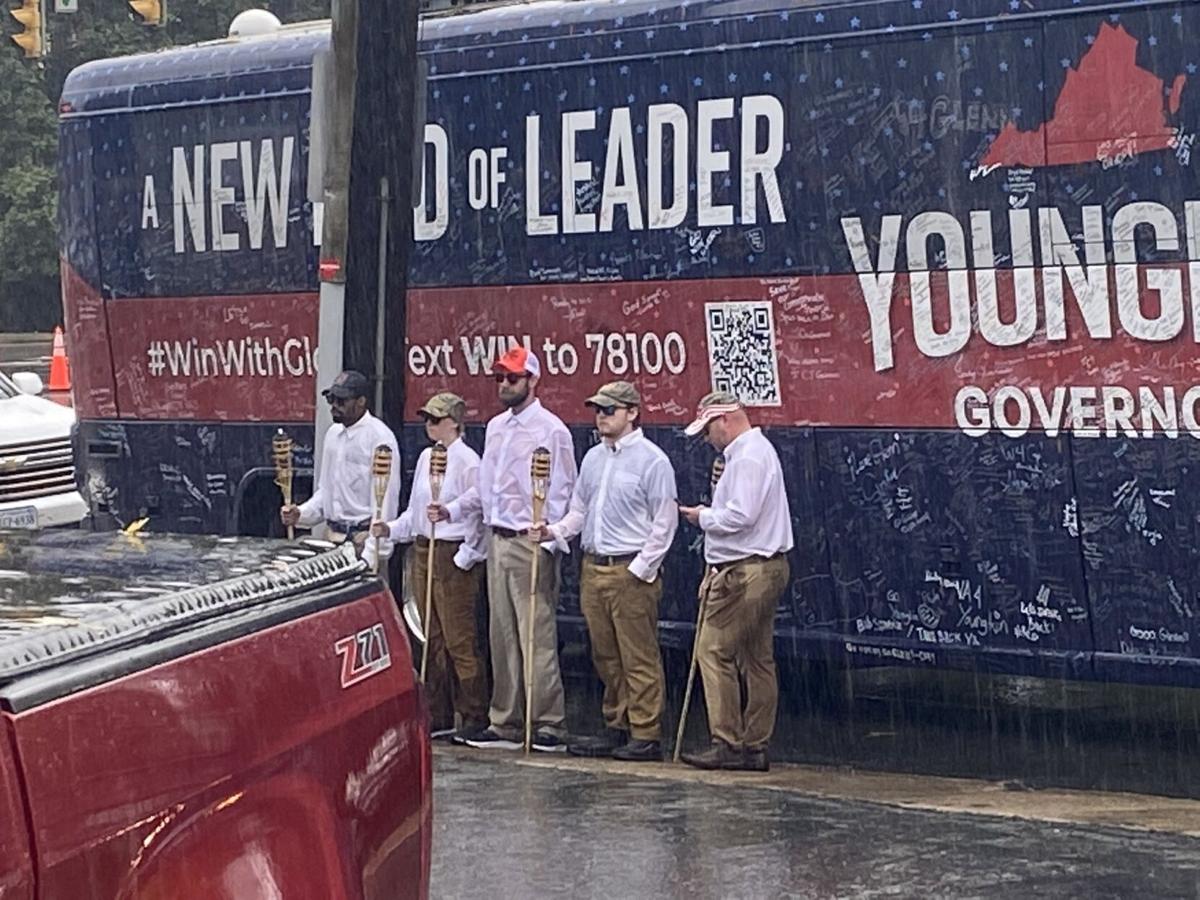 "You seem to regard 'Charlottesville' as nothing more than a political meme, and parading mock white supremacists around our city as nothing more than political cosplay. You clearly do not understand the extent to which your 'prank' inflicted real emotional pain on innocent people here in Charlottesville," the statement says in part.
The statement, addressed to Lincoln Project co-founder Steve Schmidt, was signed by all councilors except Mayor Nikuyah Walker.
Dressed in white shirts and khaki pants and wielding unlit tiki torches, five people posed in front of a Youngkin campaign bus in Charlottesville. The act drew quickly drew widespread condemnation. Both Youngkin and his Democratic opponent Terry McAuliffe denied involvement, and the Lincoln Project released a statement that took credit but offered no apology and said they may come back.
"For many of our residents who confronted the Nazis and white supremacists on our streets on August 11 and 12, seeing your operatives in white polo shirts and khakis carrying (even unlit) tiki torches caused a PTSD flashback to those traumatic days. Many of our residents were badly hurt that weekend, and they still struggle with unpaid medical and living expenses," the statement says.
"For many more who may not have witnessed the events of August 11 and 12 but who know how our friends were traumatized that weekend, your insensitivity caused great anger. And to have those images flashing again when the victims were testifying was particularly upsetting. Some thought that the 2017 attackers had returned because of the ongoing trial."
During Monday's City Council meeting, Tyler Magill, a survivor of the deadly 2017 rallies, was the first of a handful of community members to call upon councilors to demand an apology from the Lincoln Project.
"This is important. We're tired of our pain, the pain of our community being used as a prop. We're tired of our community being used for everything but the uplift of our community," Magill said.
Magill suffered a stroke and sustained life-threatening injuries after being struck with a tiki torch while protesting white supremacists rallied at the University of Virginia on Aug. 11, 2017. Magill worked for the UVa Library at the time and received the American Library Association's 2019 Paul Howard Award for Courage in recognition of his acts that night.
"I propose that council demand money to be provided by Lincoln Project to be given to local equity groups and any groups that are still helping the people who are affected by Unite the Right," he said. "I think that there's still a lot of pain in this town. And it still needs to be addressed largely by UVa and also by City Council. But most of all, by people who come into our town, use us and leave."
Magill is married to Vice-Mayor Sena Magill, who signed the City Council statement.
The Lincoln Project's statement said the stunt was in response to Youngkin's failure to denounce former president Donald Trump's assertion that "there were very fine people on both sides" at Unite the Right.
In response to this assertion, the councilors suggested the PAC could have taken more productive action if they cared about the events of 2017.
"Real – useful – repudiation of Donald Trump would involve supporting the victims of the attackers whom you mimic, through support for groups such as the Charlottesville Area Community Foundation that have helped those still dealing with unpaid expenses caused by the terrorist attack of August 11 and 12. Real – useful – opposition would also mean using your resources and platform to support the work being done in the Charlottesville community to create authentic change and confront our local history," the statement says.
The statement concludes by telling the Lincoln Project they are not welcome back.
"Please do not bring your cosplaying operatives back to Charlottesville. We do not wish to be the backdrop for your next exercise in political theater," it says.
On Monday, Walker said she didn't have any comments about the Lincoln Project stunt but said the city needs to address trauma that affected the community long before the Unite the Right rally in 2017.
"Understand that there are people in this community who had pain and trauma and suffering long before 2017 … the trauma that some people have had for centuries that has been passed down and if you understand that process of the stories being passed down through generations and the heart and heartache and pain being passed down at a cellular level, that is the main problem that we need to focus on in this community," Walker said.