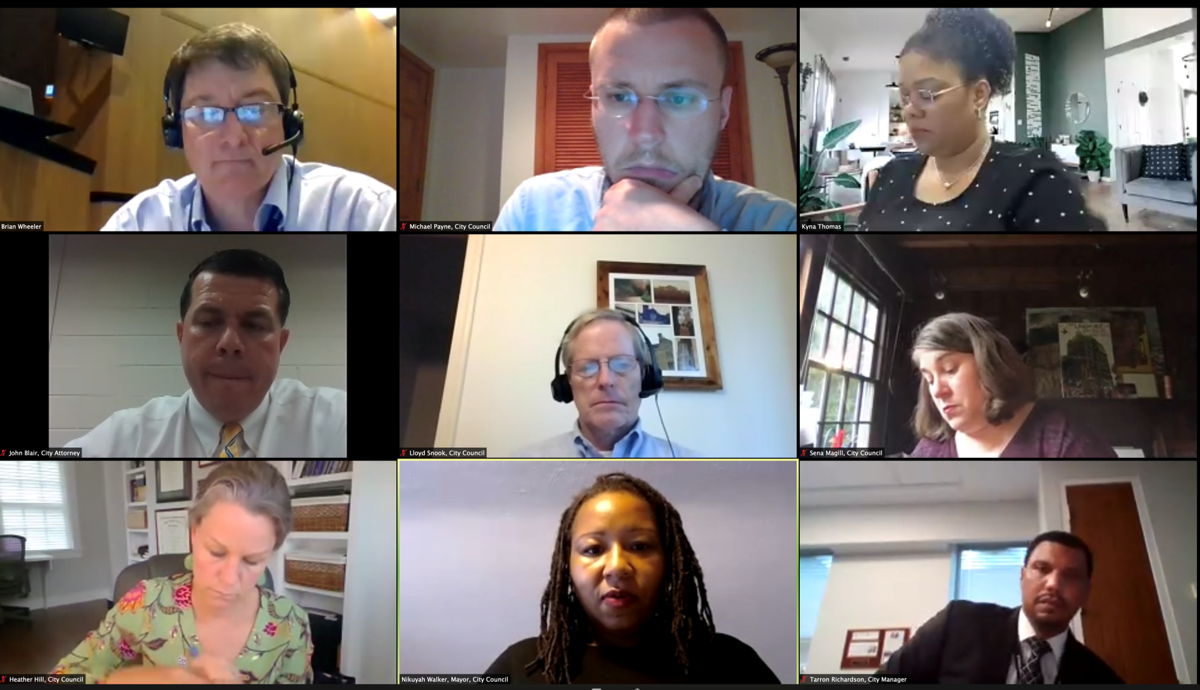 The third time's the charm.
Charlottesville City Council adopted an ordinance to prohibit guns in city facilities and properties after a third reading during its virtual meeting Tuesday.
The council typically only conducts two readings of ordinance changes, but delayed adoption of the measure in August to further craft specifics.
The ordinance bars firearms in city parks, buildings and recreational or community centers. It also prohibits guns on public streets or in the right-of-way adjacent to a city park that is being used for a permitted event.
The ordinance allows the city to implement security measures, such as metal detectors, to prevent "unauthorized access" of city properties with a weapon.
Violation of the ordinance would be a Class 1 misdemeanor, which carries a possible sentence of up to a year in jail and a fine as high as $2,500.
Inoperable firearms are allowed for special events that receive a permit from the city, but the firearms must first be inspected by a city official.
The ordinance includes exemptions for sworn law enforcement and activities of the Senior Reserve Officers' Training Corps program. Licensed and armed security officers of the Virginia Department of Criminal Justice Services who are providing security to a special event are exempt from the ordinance during the event.
The prohibition does not apply to public housing units or public parking garages.
Four people spoke against the ordinance during public comment.
"You're only giving more destructive space to those who don't even listen to the rules in the first place," said Bret Lansdell.
Lansdell incorrectly connected a similar ordinance in Alexandria to the killing of Karla Elizabeth Dominguez Gonzalez in early August. Gonzalez was killed in her apartment, according to Inside NoVa, and the ordinance had no bearing over whether or not she could own and carry a gun in her residence.
"If this moves forward, how many people will not be able to defend themselves and die like Karla?" Lansdell said.
Reid Byam said the ordinance would be redundant on top of existing gun laws.
Tamon Smith said the law would empower those who don't follow the law and not make anyone safer.
"I beg you not to rob me of my right to feel safe in my neighborhood, my town, my parks and anywhere I want to go," he said.
Two people spoke in favor of the ordinance during public comment.
Sarah Hart said that the ordinance would curtail potential intimidation during protests or other events.
"There is absolutely nothing peaceful about showing up to a gathering of people who disagree with your views by brandishing a lethal force," she said.
The measure will take effect Oct. 1 to give the city time to install signage.
Councilor Lloyd Snook said he met with City Attorney John Blair and Commonwealth's Attorney Joe Platania to ensure that Platania was comfortable with the language of the ordinance.
Snook pointed to armed militia members who came to the deadly 2017 Unite the Rally and the city had no authority to bar them from the area around the event. He also said people shouldn't feel the need to bring weapons into City Hall.
"We had no authority to say to somebody, 'This is a place where guns are not permitted, get out of here,'" Snook said. "There's no reason why somebody needs to be bringing their gun to see the city treasurer."
Get Government & Politics updates in your inbox!
Stay up-to-date on the latest in local and national government and political topics with our newsletter.