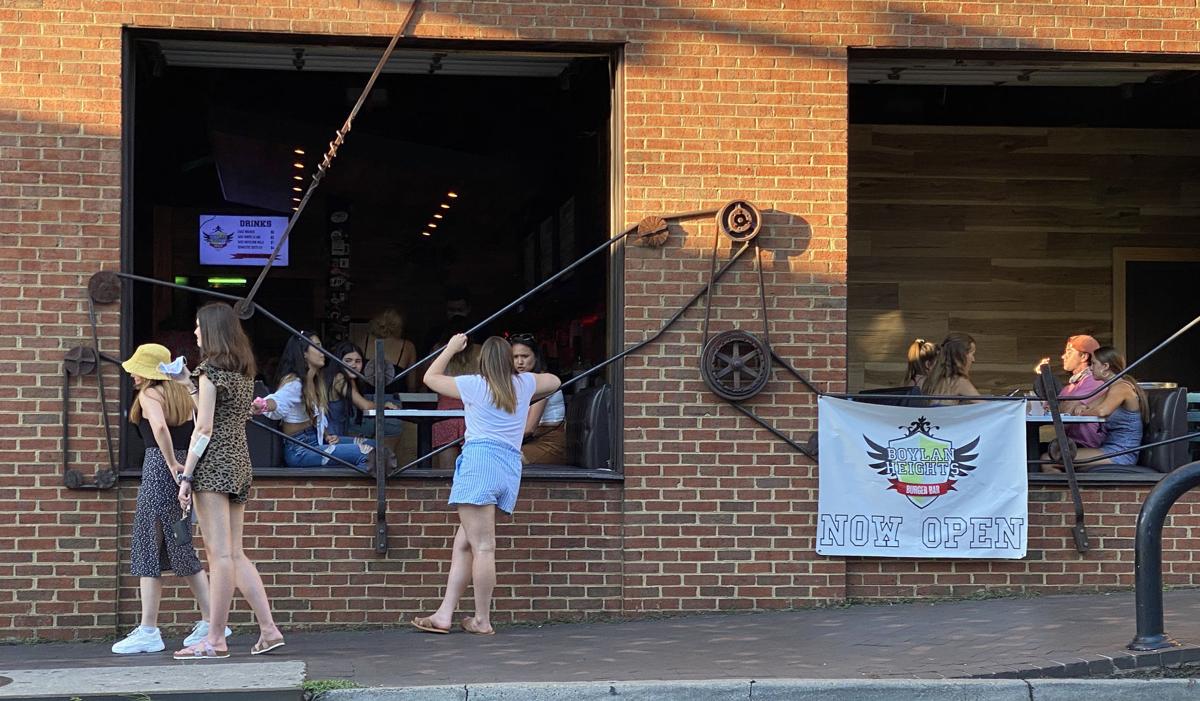 Charlottesville and Albemarle County have approved stricter restrictions to slow the spread of the coronavirus.
The ordinances make masks mandatory in public, limit restaurants to 50% occupancy indoors and restrict certain public and private in-person gatherings to a maximum of 50 people.
The new regulations take effect at 12 a.m. Saturday for a 60-day period. Officials would have to hold a public hearing and another vote to extend the measures.
"We are walking a bit of a tightrope here to make sure we're taking enough action without taking too much action," Supervisor Donna Price said. "If we don't take enough action, we run the risk of our residents getting infected. … If we do too much, we have to worry about the economic impact."
Through Monday, the Thomas Jefferson Health District reported 1,648 cases of the virus, with 133 hospitalizations and 30 deaths. Cases have increased nearly 78% since July 1, with 722 cases so far this month, compared with 926 between mid-March and the end of June.
A majority of the cases in the health district are in Charlottesville and Albemarle, which combine for 1,151 cases, 73 hospitalizations and 18 deaths.
Under the county's ordinance, indoor occupancy at food establishments, farm wineries, limited breweries and limited distilleries is capped at 50% of the lowest occupancy load. For businesses without an occupancy count, capacity is capped at 50 people. Workers do not count toward the limits.
Rather than farm wineries, breweries and distilleries, the city's ordinance includes the same regulations on micro-breweries, micro-wineries, micro-distilleries and small breweries.
Both ordinances prohibit all public and private in-person gatherings of more than 50 people, except for gatherings for religious exercises, including religious ceremonies, and wedding ceremonies and receptions. People working do not count toward the limits.
The rules also exempt spontaneous demonstrations.
K-12 schools and higher education institutions, such as UVa, are not subject to the regulations.
A big difference between the two measures are the penalties for violations, which would occur after a warning.
Both ordinances initially proposed that a business or property owner could be charged with a Class 3 misdemeanor, which carries a $500 fine, and those attending could be charged with a Class 4 misdemeanor, which carries a $250 fine.
Over the weekend, the county upped that penalty to a Class 1 misdemeanor, which could carry up to one year in jail and a $2,500 fine.
Albemarle Commonwealth's Attorney Jim Hingeley said the penalty is in line with Gov. Ralph Northam's executive orders.
The city stuck with the lighter penalties to avoid sending people to jail.
"No judge is going to put somebody in jail for failing to wear a mask," Councilor Lloyd Snook said. "I see no advantage to having it be a jailable offense."
Board of Supervisor Chairman Ned Galloway said he didn't have concerns about the difference in penalties.
The ordinances include a face covering mandate in public places, except for children ages 10 and under, those for whom wearing a face covering "poses certain risks" and employees of a public place for which regulations established by a state entity apply.
Face coverings are not required to be worn during outdoor activities so long as people maintain six feet of distance between each other, or while eating food or drinking.
The county's ordinance allows an exception for anyone "claiming that wearing a face covering poses a substantial mental or physical health risk." However, that person would be required to provide documentation specifying the medical necessity and prove that the place they want to enter cannot provide services outside.
"This is not something that can be presented later," Hingeley said. "If it were, there would be great difficulty in enforcing the ordinance."
Hingeley said that many retail establishments are offering curbside pickup so those who cannot wear a mask can receive service outside of a building.
The city's ordinance doesn't include such an exception.
The county is planning to hire a third-party vendor for four to six "ambassadors" who would conduct enforcement at first before the Albemarle County Police Department started enforcement, County Executive Jeff Richardson said.
Richardson said a vendor hasn't been selected and he wasn't sure how much the service will cost.
Deputy City Manager Paul Oberdorfer said the city is considering partnering with a vendor and using parks and recreation employees for enforcement.
UVa President Jim Ryan sent an email to the board and council on Monday supporting the ordinance, writing that, "We are putting similar measures into place on Grounds for students, faculty and staff."
Last month, Ryan announced that classes will start on Aug. 25, with reduced class sizes, some lectures online and daily symptom checks. There will be no fall break for 2020 and in-person instruction will end by Thanksgiving, with students not returning to Grounds until after Jan. 1, "to minimize travel and possible transmission of the virus."
UVa hasn't made any announcements since last month altering its plan for the coming school year.
The Charlottesville and Albemarle school boards are both set to vote on school reopening plans during virtual meetings Thursday.