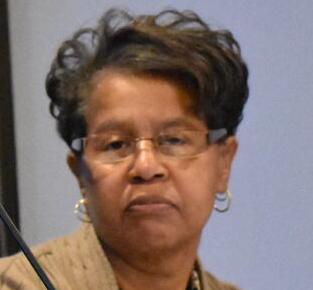 Deputy City Manager Letitia Shelton has submitted her resignation as Charlottesville's government approaches a fourth year of instability since the Unite the Right rally in 2017.
Shelton's last day will be Feb. 19, the city confirmed Thursday. The confirmation came soon after the City Council announced its second emergency meeting of the week to continue discussions around stabilizing its government.
The meeting, which starts at 1 p.m. Friday, will be a closed session to discuss prospective candidates for the city manager position, a public contract and legal consultation.
Shelton was Richardson's second-in-command at his previous job in DeSoto, Texas.
During Richardson's tenure, several officials left the city and at least a half-dozen high-level positions are vacant. Police Chief RaShall Brackney, who has been critical of the consultant, was also recently named a finalist for police chief in Dallas, although she was not selected.
Brackney's comments to the council about the consultant also thrust Utilities Director Lauren Hildebrand and Charlottesville Area Transit Director Garland Williams into the spotlight as Councilor Lloyd Snook said they didn't share the same characterization of their meeting with the firm. Hildebrand, Williams and the search firm have not returned requests for comment.
Snook has said dysfunction on the council and the actions of Mayor Nikuyah Walker led to the halt of the search for a city manager, not Brackney's concerns.
Walker, who has not returned a request for comment, has lashed out on Facebook, saying white city residents are using division within the Black community "to move their own personal agenda forward."
In a comment thread Thursday, she said she spent most of Wednesday's closed City Council session "explaining to my white colleagues that I'm not being aggressive when I tell them something they don't want to hear and that I'm not being a bully when I stand firm on my principles." She said other councilors "don't trust or respect me" and are ready for her seat to be available in the November election.
Although an entirely new council has been seated since the rally, it appears the same dysfunction still plagues the panel.
Walker and the rest of the council have received similar criticism as the 2017 panel and former Mayor Mike Signer received, with pushback from city staff, activists and the community for overstepping the bounds of the ceremonial mayorship and elected officials getting involved in operational functions.
In 2019, Richardson routinely pushed back against the council for what he called "meddling" in operations. In a March email, he wrote, "Please allow me to do my job for once instead of meddling in my day-to-day operations. I have asked for you to stop this in the past. … This [is] causing confusion. I should not hear from staff that you are communicating with them about planning without my knowledge."
Councilor Sena Magill said Thursday that, in her opinion, the city needs to look at the short term.
"The city needs somebody that is predominantly focused for the next year to two years on stabilizing our infrastructure within the city, creating a solid positive work environment, as well as addressing key legislation that will be affecting our city within the next year or two," she said.
Magill said the community is seeing in-fighting on the council, but "every single member of this council cares about this city and cares about the people of this city and cares about the staff of this city."
"We have a lot of very good people in the city," she said. "We have a lot of people we have lost, but we still have a lot of dedicated employees who it is important we support. … No one is blind that there are problems right now. We know there's issues."