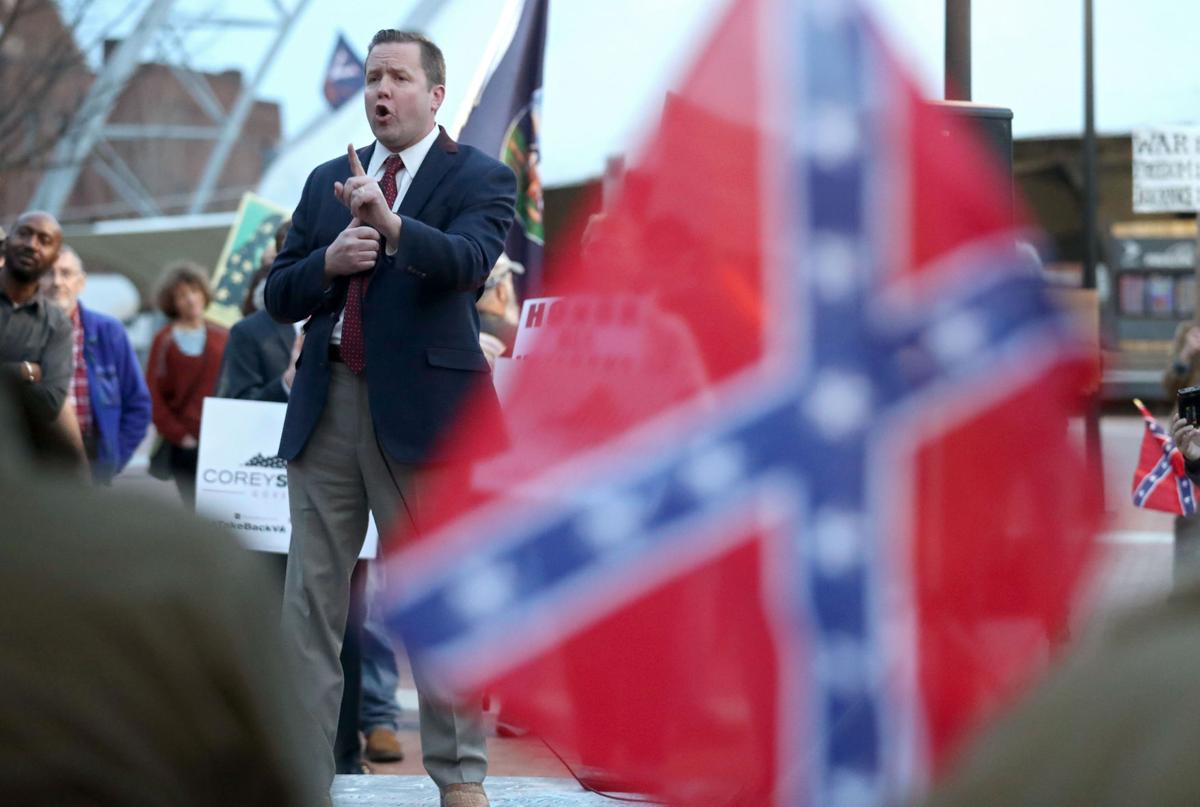 Roughly 100 people from all over the state descended upon Charlottesville's Free Speech Wall on Tuesday night — just ahead of a City Council meeting — to protest the removal of the Robert E. Lee statue from Lee Park.
Organized by Republican gubernatorial hopeful Corey Stewart, chairman of the Prince William County Board of Supervisors, the rally drew Virginia Flaggers and other Southern heritage advocates, many of whom have seen the City Council's recent decision to remove the statue as an affront.
"I'm tired of us losing our history and heritage, basically," said Theresa Willson, a Hanover County resident toting a sign that read, "Confederate Heroes Matter."
"Every day we're losing it, and it's time to stop it."
As the crowd awaited Stewart's arrival, some of his supporters took to the stage and chastised the council's efforts to remove the statue, as well as the small contingent of counter-protesters who straddled the perimeter of the rally.
"Every generation has its fight, and our fight is this," said Jason Kessler, a conservative blogger who has derided the council and sought to remove Councilor Wes Bellamy since he unearthed dozens of offensive tweets written by Bellamy years ago.
Stewart became attached to the cause this month, after he joined Kessler when he filed his petition to remove Bellamy from his seat. An attorney for Bellamy has since filed a motion to dismiss Kessler's petition, stating that Kessler has not offered any facts showing that Bellamy "misused his office or that any such misuse has had a material adverse effect upon the conduct of the office."
Kessler, continuing in his own speech to the crowd, said that "if the liberals are allowed to start destroying our history, they'll start with Robert E. Lee, they move on to Thomas Jefferson, they move on to George Washington, and soon, the entire basis of our society is going to be wrecked,"
The lambasting of counter-protesters and supporters of the statue's removal was a common theme amongst the speakers, including Thaddeus Alexander, an African-American veteran from Front Royal whose Facebook video censuring liberal protesters has turned him into a conservative star online.
Alexander was with Stewart more than a week ago when the duo and their supporters were swarmed by angry protesters at a rally in Lee Park, according to The Washington Post. Stewart's attempts to conduct the rally were frequently drowned out by protesters, who claimed that Stewart's stance was bigoted and unfounded, given that he is not a Charlottesville native.
Speaking to the impassioned crowd, Alexander noted that in that rally, as with this one, the opposing protesters were all white, despite consistently decrying "white supremacy" as a motive for the pro-statue demonstrators.
"There's no black people with you right now," Alexander said. "Because you don't represent me or anyone else that's black."
Alexander warned that removing the statue would create an all-or-nothing approach to racial history and that those against the statue needed to "know their history" when it came to Lee and slavery.
"If you want to destroy that statue, then you have to go and take any other monument you have and take it down," Alexander said.
When Stewart arrived at the stage, he quickly echoed the sentiments of the speakers before him, calling the council members "tyrants" while referring to Lee as a "brave and honorable" American hero.
After speaking briefly to Lee's virtues as a soldier and a patriot, Stewart launched into his own tirade against Bellamy, calling him "one of the most despicable human beings who I have ever heard hold office anywhere in the United States of America."
"Can you imagine if a white politician said the things about black women that this guy has said about white women," Stewart asked rhetorically. "He would have been run out of office years ago."
Stewart went on to praise the efforts to keep the statue in place as a continuation of the renewal of conservative values in modern culture, which he claims began with the rise of Donald Trump. Stewart was Trump's Virginia campaign chairman during last year's election until October, when Trump's campaign fired him for taking part in an unauthorized protest outside of the Republican National Committee headquarters in Washington.
Stewart called for the reclamation of the University of Virginia, Charlottesville and the state from the "liberal wacko left," before asking the crowd to help him win the Republican primary against opponent Ed Gillespie. Stewart's other opponents include state Sen. Frank W. Wagner, R-Virginia Beach, and Nelson County distillery owner Denver Riggleman.
In a statement sent ahead of Tuesday's rally, Riggleman said that while he also opposes the statue's removal, he would fight it simply using the "full force of law."
"We don't need screaming, we need commonsense problem-solving," Riggleman wrote. "Cool, calm heads can solve this issue without having things result in screaming, violence or worse."
 "We have a big fight," Stewart said, referring to the upcoming statewide votes this year. "We have a very big fight, and I've got to tell you, the very first step that I've got to take is I've got to win a Republican primary on June 13."
As Stewart exited the stage, his campaign manager took the floor, imploring the citizens to send in forms that would help put Stewart on the ballot.
Asked why he came from Prince William County to weigh in on the statue controversy, Stewart responded that, "this is not a local issue."
 "Robert E. Lee was a Virginia hero, an American hero, and this was placed here by the citizens of Charlottesville, not the City Council," Stewart said. "It's my position that the City Council does not own that statue, they don't have the power to remove it, that this was placed here with pride by the citizens of Charlottesville."
He went on to say that, if elected governor, he would pass legislation that prevented the removal of "any war memorial, whether it's Confederate or Union, any memorial that pays tribute to fallen soldiers." He went on to assert that if the statue was removed and he was elected, he would force the city to, "at their expense, put it back."
Asked about his stance on whether the statue was offensive to some city residents, he remarked, "that's tough."
"There's all kinds of things that offend people, but that doesn't make it right," he said. "That doesn't make it so. This is a part of our history; if you don't like our history, that's too damn bad."