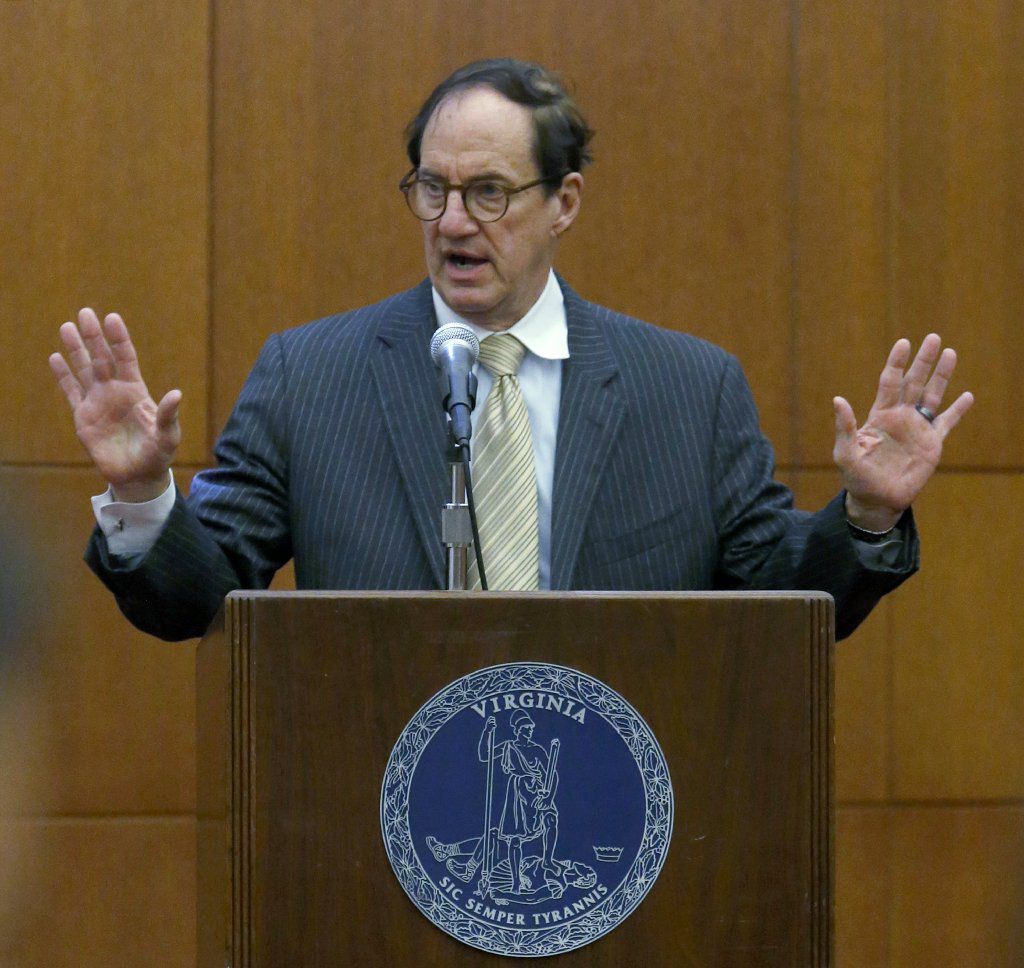 An expert who gave a crash course in free speech law Tuesday to Virginia officials reviewing last month's violent white nationalist rally in Charlottesville said he believes authorities can restrict weapons as a condition of special-event permits without violating demonstrators' constitutional rights.
A presentation from Rodney A. Smolla, the dean of Widener University Delaware Law School and a former law school dean at the University of Richmond and Washington and Lee University, was the main event at the first meeting of a state task force reviewing policies surrounding civil unrest at the request of Gov. Terry McAuliffe.
The task force, made up almost entirely of government officials pulled from the state and local levels, is scheduled to deliver a report to the governor by Dec. 1 on policy changes that should be considered after the Aug. 12 rally that led to the death of one anti-racism protester.
Secretary of Public Safety and Homeland Security Brian Moran, the leader of the 23-member task force, asked Smolla how the state can preserve First Amendment rights when demonstrators on both sides "were coming weaponized."
Smolla said localities or the state could theoretically ban guns through the permitting process for events expected to draw large crowds, but an across-the-board prohibition on guns at political rallies may be a difficult sell from a constitutional standpoint, particularly in open-carry states. But the presence of guns also could empower law enforcement to take a more forceful role.
"It lowers the threshold at which a police officer, mayors, state police others in charge can say this now has gotten more dangerous," Smolla said. "If you come armed to these rallies, you come much more at your peril for being shut down."
Moran noted that at a subsequent high-tension rally in Boston, which is not bound by open-carry laws, authorities were still able to restrict backpacks and other objects that could be used for purposes of mayhem.
"Even any weapons like flags with large poles, they were present on August 12," Moran said. "There's some further work to be done with respect to putting that in the initial permit itself."
"I agree," Smolla said. "And I think it could be done in a way that would be legal, would be constitutional."
The task force's first meeting focused largely on changes to the permitting process for special events, with a particular emphasis on how the state should prepare for possible protests at the state-owned statue of Confederate Gen. Robert E. Lee on Richmond's Monument Avenue. McAuliffe has ordered a temporary freeze on permitted events at the Lee statue, but a Confederate heritage group has said it plans to hold a rally at the statue on Saturday regardless of the governor's ban.
McAuliffe dropped by Tuesday's meeting to briefly address the group. He made an appeal for improvements in an area that seems more rooted in basic crowd control tactics than bigger questions of constitutional law.
"The goal should be to keep the different groups separated as much as you possibly can, as they were able to do in Massachusetts through their permits. No weapons. No sticks. And they had a huge barrier between the two groups," McAuliffe said. "But I'll let you make your recommendations to me. I'm not telling you anything I haven't said on television before. Just common sense stuff is what we need."
Smolla said existing free speech law should pose no problems to police keeping two opposing groups separate.
"The cases do not seem to ever crack down on government keeping warring groups apart from one another," Smolla said.
During the meeting, Moran announced that a separate, after-action review on the state's handling of Charlottesville will be led by the International Association of Police Chiefs with assistance from The Olson Group and Center for Naval Analyses, two security-focused research and consulting groups based in Northern Virginia.
The city of Charlottesville is conducting its own independent review led by former U.S. Attorney Tim Heaphy.