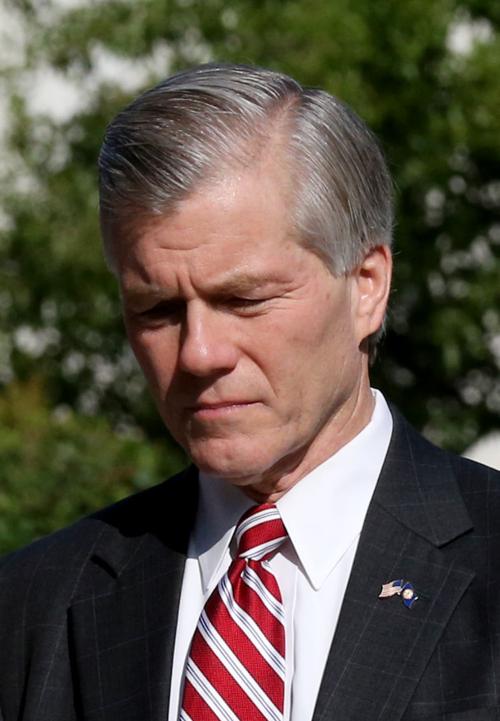 RICHMOND — History will be made on the seventh-floor of Richmond's federal courthouse today where Bob McDonnell, the first Virginia governor convicted of corruption, will learn his immediate if not long-term future.
In a hearing set to start at 10 a.m. before U.S. District Judge James R. Spencer, McDonnell faces a decade or more in prison sought by the government; intensive community service sought by his lawyers; or something in between.
The 71st governor of Virginia and his wife Maureen were convicted of 11 and nine charges respectively in a six-week jury trial for accepting $177,000 in gifts and loans from Jonnie R. Williams Sr., the former CEO of Star Scientific, in exchange for help promoting a product.
RICHMOND — Former NFL quarterback Steve Beuerlein confirmed Monday that Bob McDonnell's sist…
The judge later threw out one of the nine convictions of Maureen McDonnell, who will be sentenced Feb. 20.
The guideline sentencing range recommended by the federal probation office of 10 years and one month to 12 years and seven months will factor in Spencer's decision. The range is determined by a formula that includes the nature of the crimes and the background of the defendant and other factors.
A significant part of today's hearing could be argument over the the guidelines which Spencer can revise. The judge is also free to sentence above or below the guideline range.
Prosecutors agree with the probation office recommendation, while McDonnell's lawyers contend the correct range is 33 to 41 months and, in any case, they are asking Spencer for a sentence of community service in lieu of prison time.
Each side may also call witnesses and they are expected to do so. The former governor will also be given a chance to make a statement before a sentence is imposed.
Charles E. "Chuck" James, a Richmond lawyer and former federal prosecutor, said that Spencer will notify McDonnell he has 10 days to note an appeal. "However, I think it likely the appeal is noted almost immediately," said James.
McDonnell's appeal would be made to the Richmond-based 4th U.S. Circuit Court of Appeals.
McDonnell's lawyers Monday asked Spencer to allow him to remain free pending the appeal should the judge impose a prison term.
In a 29-page memo the lawyers argue that McDonnell is not a danger to society or a flight risk and that he has a substantial appeal issue which could result in a reversal.
Andrew G. McBride, a former federal prosecutor, said it is highly unlikely Spencer would approve the request. He said McDonnell, essentially, would have to persuade the judge he made a significant error during the trial and that it is likely the appeal will succeed.
Randall Eliason, former chief of the Public Corruption/Government Fraud Section at the U.S. Attorney's Office in Washington, agreed. "I don't sense that Judge Spencer thinks that's the case here, so I'd be a little surprised if he allows McDonnell to remain free pending appeal.
"But you never know," he said.
McBride said that while it is unlikely McDonnell will allowed to be free during his appeal, "They do have a legitimate argument that there is a big legal issue in this case."
McDonnell's lawyers said the most significant issue on appeal is whether actions McDonnell took were, as the government alleged, "official acts."
Spencer accepted a wider definition of official acts consistent with that of the 4th U.S. Circuit Court of Appeals, while other appeals courts have taken a more narrow view.
The definition is critical in determining whether the actions the McDonnells took in exchange for the gifts and loans were illegal, said McBride.
James said that absent some unforeseen circumstance, Spencer will allow McDonnell to self-surrender several weeks after sentencing.
"In many white-collar cases, where risk of flight is not at issue, judges routinely allow defendants to report to whichever Bureau of Prisons facility to which they are assigned," said James.